Buzzfeed is a great way to gain exposure and increase traffic as a food blogger. In this post I will tell you all about how I get featured not only on Buzzfeed's Community and Food sections, but also on the Front Page several times a week, and how you can get there, too!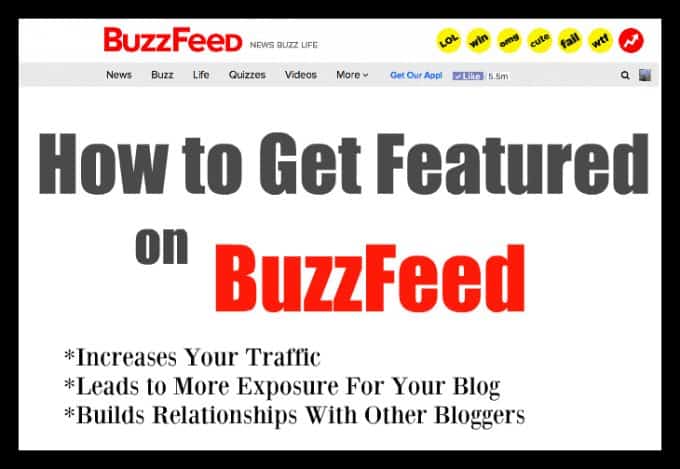 If you've been looking for a way to increase your traffic, gain followers, and create lasting relationships with other food bloggers, then this is the article for you. I outline exactly how to create a Buzzfeed profile, post your first article, and give away my own secrets to being featured on Buzzfeed's front page multiple times a week!
Why You Should Be Posting to Buzzfeed
Before we begin, let's take a second to look at why you should be posting to Buzzfeed. When I first started Dishing Delish, I would spend hours researching how to get my recipes up on sites like Foodgawker, Tastespotting, Tasteologie, and other big "foodporn" sites.
Why did I do this? 
One word: Traffic.
I do receive a small jump in traffic when my photos are accepted to these sites, but it's minimal, and only lasts a day or so. Only a few short years ago, these sites would send you thousands of hits at a time. Today, the bulk of their traffic has gone to sites like Pinterest, so the most you'll probably receive is a few hundred hits on a good day.
So what's that real reason to apply to these sites? When you get accepted to big sites like Foodgawker, there is a chance that you'll get picked up and featured by other big-name websites, like the Huffington Post and Buzzfeed. Their editors use these sites to find mouth-watering photos to feature in front of their 200+ million unique visitors.
You heard me right. 
Buzzfeed is current getting about 200+ million unique visitors every month from around the world. 1+ Billion if you include their Youtube channel. This information comes from the Buzzfeed Advertise With Us page.
While you're not guaranteed to get featured on their main page, there are a few things you can do as a food blogger to help you get there.
In the spirit of full disclosure, I'll share with you my traffic before and after I began posting on Buzzfeed. I don't usually share this with others. This is not to show off, I want you to realize the full potential of this process.
My first post was on October 27th, and the last article I posted was on November 19th. I definitely plan on writing more. 
Here's a snapshot from the week of October 18th, before I started posting to Buzzfeed: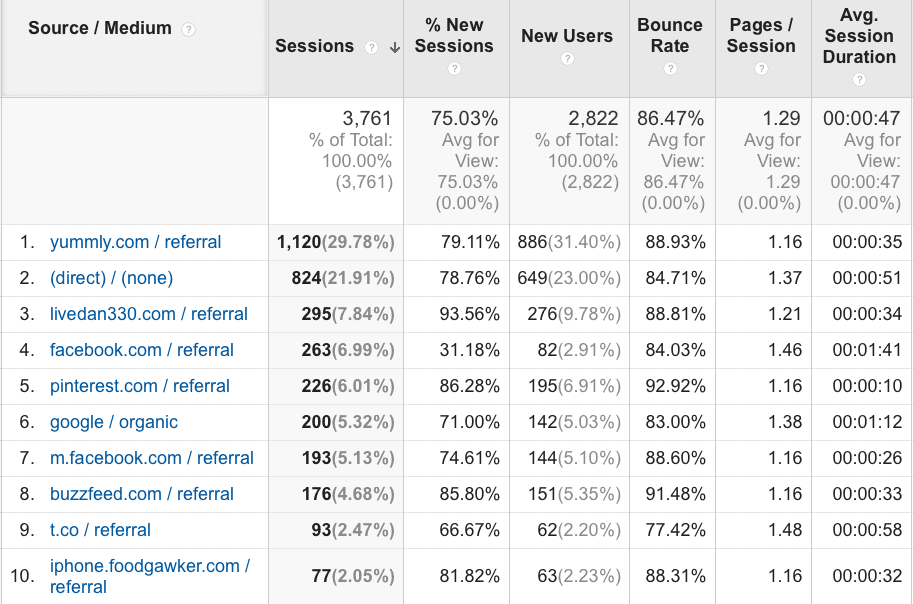 Here's a snapshot the week of October 25th, the week I began submitting to Buzzfeed:
I submitted three articles this week, and two of them made it to the front page of Buzzfeed.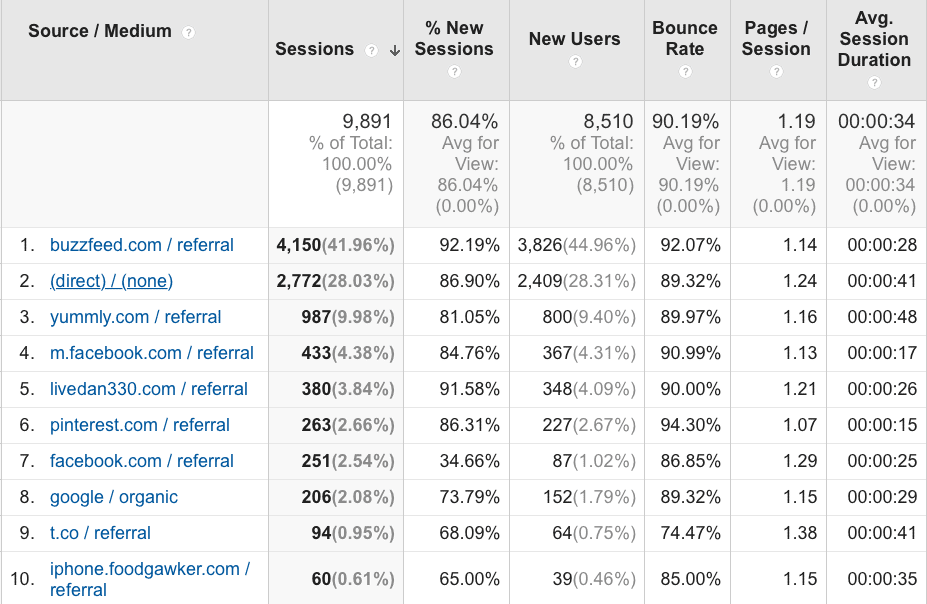 Here's a snapshot of what my analytics look like now, for just one week! Starting November 8th:
I've submitted 12 posts to Buzzfeed. 11 of them have been featured on all three of Buzzfeed's pages (main, food, and community), and one went viral on social media. I'm on target to have ~120,000 visitors this month, which far exceeds my personal goal of 10,000.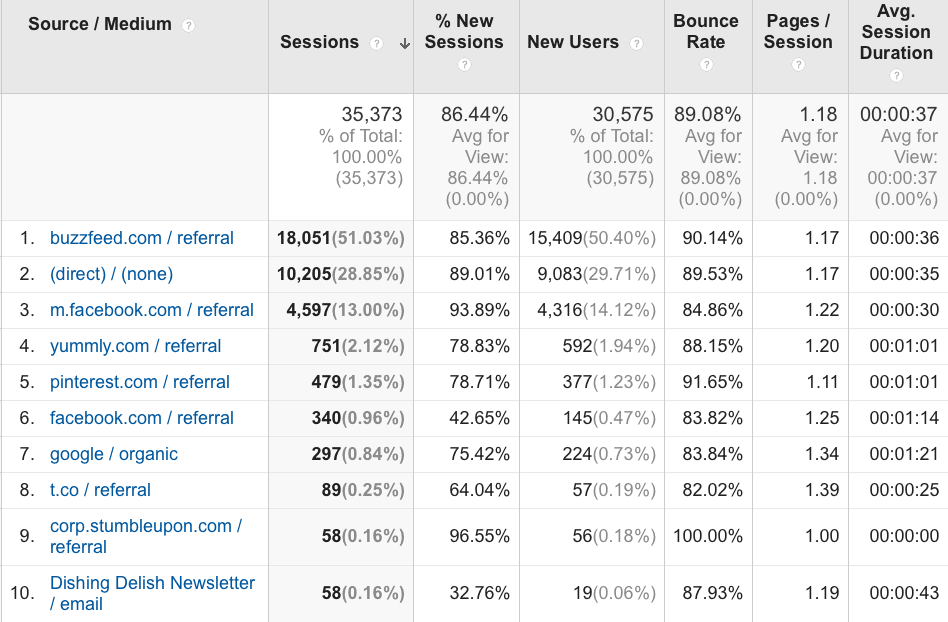 Here's how my last week compares to the week before I started posting to Buzzfeed:
As you can see, my sessions have gone up by more than 800% in less than a month.

Will this stick if I stop writing for Buzzfeed? The answer is no, they will not stay as high once the Buzzfeed article is pushed down their page by new content. But it will not go back to what it was before. The fact is, I've increased my subscribers and still see increased traffic, even when I don't write an article for a few days. My returning visitor rate has increased as well.
Personally, I try to post a Buzzfeed article every time I put a new recipe on my site, which is about three times per week. This seems to be working for me, but everybody will be different.
Are you convinced yet?
There are things I'm still working on. Like lowering my bounce rate, increasing the session durations, and converting people into returning users. Like viral posts, it's a challenge to make them last longer, but one I'm willing to take on!
To me, there is far more upside than downside. The pageviews alone have increased my income via ads on my pages, and warranted acceptance into several higher-traffic advertising networks. I've also gained hundreds of new e-mail subscribers, and have been contacted by other high-traffic sites to write for them.
I've also gained something that I value above all else – relationships with other food bloggers! I am now in contact with many bloggers who I have featured in my articles, and others who are working towards similar goals. As a food blogger, this is perhaps the most important part of the process (in my humble opinion). We help each other, promote each other, and offer each other emotional support when we burn our latest recipe and have to start over. It's invaluable. 
Are you ready to get started yet?
Let's go!
---
Monetize Your Blog By Becoming a Linqia Influencer!
Click Below to Sign Up For Free.
---
1.) Create Your Account. 
Go to Buzzfeed.com/post
This box should pop up. You want to click the "Sign Up" tab at the top right corner: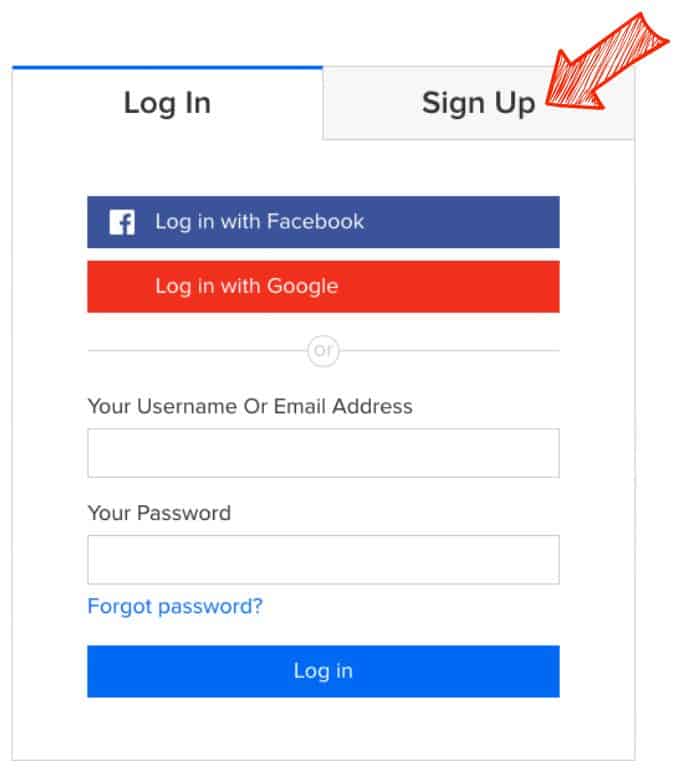 Then fill out your username and password. I recommend using your actual (or pen) name here. Buzzfeed changed the rules about promoting your own page. I'll go into more detail about that later.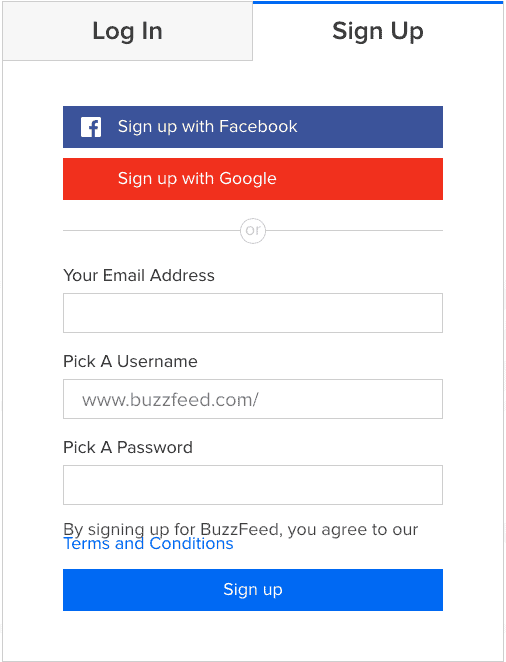 Go confirm your subscription in your email. We're almost ready to start posting!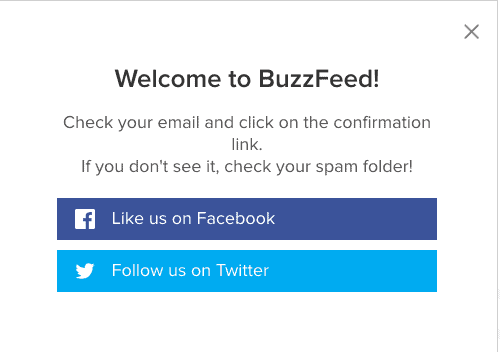 After you've confirmed your account, you should be directed to a page that looks like this:

Go ahead and sign in the "old-fashioned way".

2.) Set Up Your Profile. 
This is your chance to link your social media and mention your blog, so use it wisely! Go to "Settings" from the top right corner, and fill in the form. Remember to hit "save settings" at the bottom of the form.
I set the top of my profile page with a collage from some of my own food photography. You can set any picture here, just make sure it's 1020 x 155 pixels. I don't suggest using your blog name here, to avoid getting your account suspended by Buzzfeed. I mentioned my blog in my profile, along with my other credentials. Keep it professional, not promotional.
Here's what Buzzfeed has to say about it: BuzzFeed is no longer supporting new posts from Community Brand Publisher accounts, which include any accounts with a political, commercial, or promotional agenda. You can learn more about our new guidelines for brands and Community accounts here. Please note that if you do post on behalf of a brand, organization, political/public figure, etc., your account will likely be removed.
*This does NOT mean that you can't add your recipes to your own posts. In fact, you SHOULD do that, with a hyperlink back to your recipe.
It means that you cannot blatantly promote your own site. For example, you should be making your profile look like your page and not your blog's page. It also means you should NOT write things like, "For more great recipes check out DishingDelish.com!" in your articles.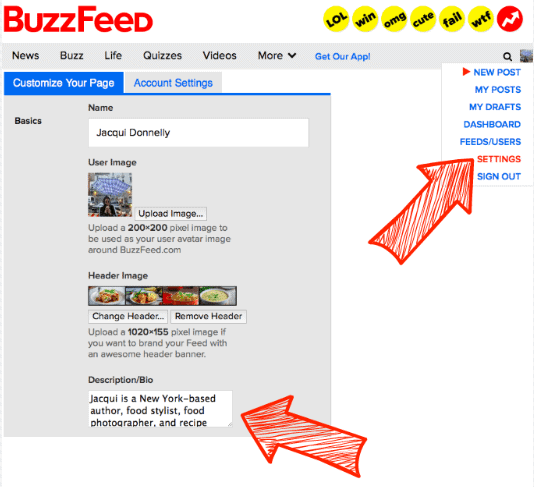 3.) Start Your First Post. 
After you've completed your profile, go to "My Posts" in the top right corner. On this page you'll be able to see all of your past posts, and start a new one by clicking on "Start Posting".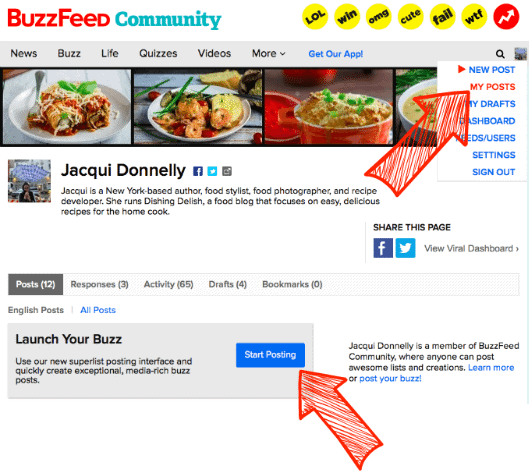 Now it's time to start your very first Buzzfeed article! You should now be here.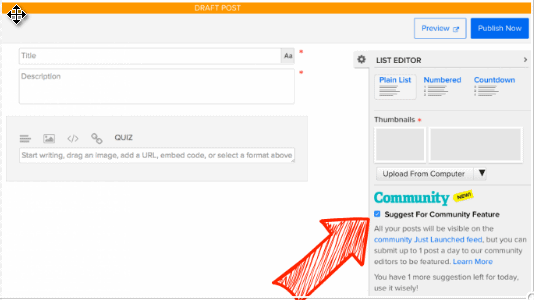 First, before you do anything else, make sure you check the button "Suggest For A Community Feature". According to Buzzfeed, if you forget to check this box, it will still be promoted if the editors like your piece.
Here's what Buzzfeed says: "Our team of Community editors will review your post, whether you suggested or not. So if you forgot to click suggest, no worries! As long as the team of editors likes your post, it will still get promoted."
Personally, I don't like to take the chance, so I always click the button before I do anything else. 
What are you writing about?
It's a good idea browse though Buzzfeed.com/food and make sure your topic hasn't been done recently.
If it has, you can still do it, but put another creative spin on it. For example, I saw that slow cooker recipes had been done recently. Instead, I created this article, 19 Reasons You Should Be Making Dessert In Your Slow Cooker.
Buzzfeed has probably posted something similar to your topic before. It doesn't mean that it won't be promoted, so don't be discouraged! Content is cycled quickly through Buzzfeed, and there's still a really good chance that yours will make it up there.
Add your title.
Browse through some of the titles on Buzzfeed.com/food (Buzzfeed's main food page). For example, my last one was 21 Mind-Blowing Desserts You Need To Know About For The Holidays.
Buzzfeed tends to use catchy click-bait words in their titles like "Life Changing", "Insanely Easy", "Mind Blowing", "Insanely Delicious", "Mouth-Watering", etc. Don't spend too much time thinking up a catchy title, though.
There's a pretty good chance Buzzfeed editors will change it to what fits on their page that day.
Add your description.
Your Buzzfeed description should be one or two sentences max. I'm sure there are exceptions to this rule, if you really feel motivated to write more.
Personally, I don't want to spend 20-30 minutes on this article so I can get back to my own blog, so the less work I can do the better.
My last description was, "Can't talk… Eating cookies…", and that article has had 218K total views at the time of this article.
4.) Adding Content.
Now you're ready to start adding content to your article! So where do you get it from?
Personally, I get the recipes featured in my Buzzfeed posts from two places. I post roundup requests on food blogger Facebook groups, or I search on Foodgawker. I never post a blogger's full recipe in the Buzzfeed post, only a picture, and always include a link back to their blog.
I don't usually ask permission if I source the photo from Foodgawker, but I have received a lot of feedback from bloggers I've featured thanking me for the traffic boost. If I'm featuring a blogger on my own blog, I always ask permission.
Start your roundups with your own recipe. Seriously. This recipe is likely to get the most hits from Buzzfeed readers, and you want it to be yours. 
You want to click on the button below. This lets you add a picture to your roundup.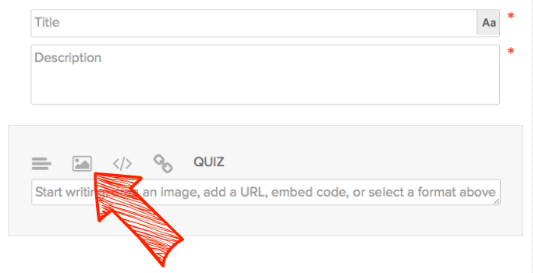 It should open up a box like this.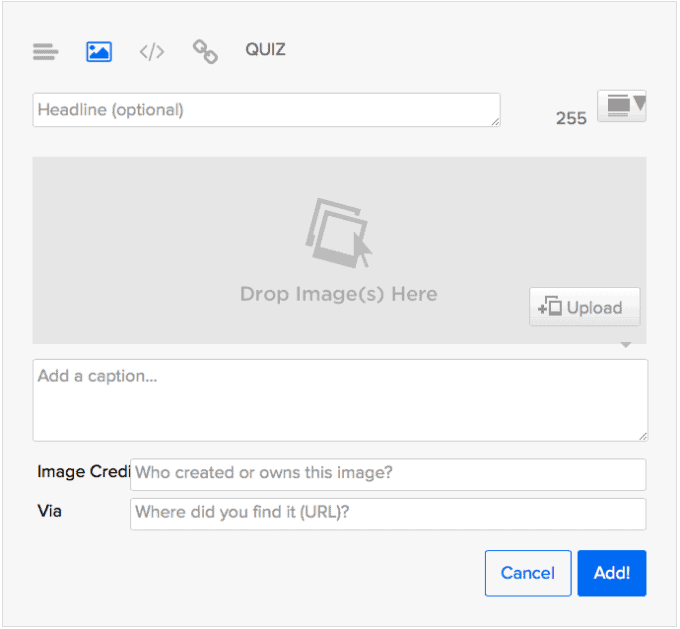 Next, upload the photo you are featuring. Then fill in the form, and click "Add!".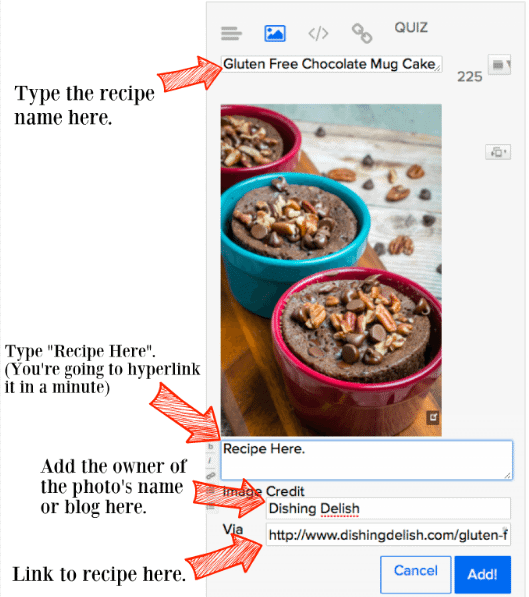 Here's how to hyperlink "Recipe Here":
Highlight the words "Recipe Here", then click on the icon pointed out below. When the box pops up, copy and paste the recipe's link into this box, then click "Add Link URL".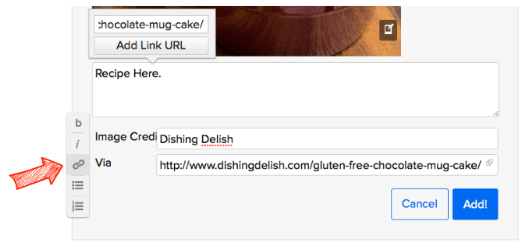 Don't bother writing witty descriptions here. Again, I'm sure there are exceptions to this rule, but most often the Buzzfeed editors will delete or change them, and it'll end up being "Recipe Here", anyway.
And that's it!
Repeat these steps for as many recipes as you'd like to add to your Buzzfeed post.
Try to get at least 15 recipes featured in your articles. The most I usually include is 21, because that amount seems to do well. I won't include my own recipes more than three times, to avoid seeming self-promotional (which is against Buzzfeed rules).
5.) When you're featured, you'll receive an email from Buzzfeed. You don't have to keep checking the actual site, just monitor your email and they'll let you know as it appears on the site.
6.) A Few More Things Before You Start!
Buzzfeed allows you to submit one post per day to be considered for a feature. At least until you have more cat power. You can read more about cat power (because, you know, the internet is powered by cats), here.
A Buzzfeed editor needs to review your post before it can be featured. Which means all of the links you put into your article won't work until it has been reviewed. If you see your links not working right away, just come back later and they will be.
You might want to wait until your links have been approved to start promoting your post. I've noticed now that I've done multiple articles, the links seem to work a lot faster. I've also noticed that my articles get picked up a lot faster during working hours on the weekdays. The main office is in NYC, so Eastern Standard Time.
If your links are still not working after 24 hours, you might want to send an email to Buzzfeed to make sure it's not in their spam folder. If it is, they should be able to fix it. I've never had this issue, but I've heard of others who have.
Promote. Your. Post. Once your links have been approved. Tweet it, like it on the bottom of the post (click all of the good words on the bottom of your post: "yaaas", "omg", "heart icon", "win"). Hit up your blogging friends to share your post, and to go like it and share it on their social media. Make sure you contact all of the bloggers you've featured, and ask if they'll share it on their own social media. The more it's liked and shared, the more likely Buzzfeed will pick it up on their own main page. I spend at least 20 minutes tweeting the article and tagging all bloggers who are featured, so it will be easy for them to just hit retweet and share it. I make sure to post it on my own social media pages, and also re-share it when Buzzfeed sends it out on Twitter and Facebook. Generally, the bloggers featured in my posts share it several times while it's active, because it's in everyone's best interest for it to do well.
There are three main Buzzfeed pages a food blogger can be featured on. The first is the community page, then the food page, then Buzzfeed's main page. Usually, you'll gain the most traffic through the main page, and the least through the community page. Being featured on the community page is still a good thing! It will result in traffic, and that is never bad. Your article can be featured on one or all of these pages, and you'll usually know within two days if it's going to be.
Your article might not be picked up at all. I'm sorry to say, not everything makes it to the featured pages. So, what do you do if it doesn't? In short, move on, and try again. Always try again! There could be a few reasons it didn't get picked up, from the photos you choose, to being too close to a recently featured topic. Don't be discouraged. Give yourself more chances to win by putting out more chances to get picked up.
Speaking of photos, you'll need to know what to look for. Pick out the photos that make you want to reach into the screen and eat the food. Seriously. If you're not saying, "Oh. My. Gosh. YUM." when you look at a photo, then you probably shouldn't use it. Buzzfeed's food readers are visual, and the better your pictures, the better your article will do.
Things I've noticed that do well are cheese, desserts, one dish, few ingredients, and any impending holiday roundups. If you notices any more trends, please add them to the comments section below to share with everyone.
Buzzfeed will also email you awards. These are fun little badges that will appear on your Buzzfeed profile. They don't really mean anything, but they do let you know when you reach certain milestones.
So that's it! I hope you've learned some things about Buzzfeed today, and I wish you all possible success on your blogging journey.
If you enjoyed this post, please share it! 
If you have any questions, please post them in the comments section below, so others can benefit from them!