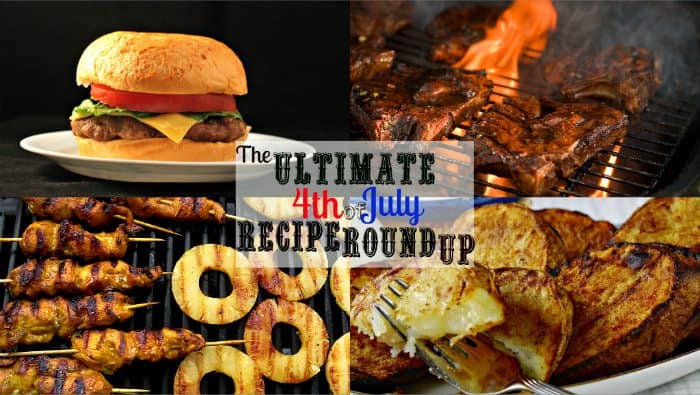 For Americans, the 4th of July can mean many things. It's a day to celebrate our independence, a day to break out every red, white and blue article of clothing we own, and a day to take off from work and spend the weekend at the beach. At least, that's what I'll be doing. 
It's also a day to remember all of the brave men and women who have protected this country since the declaration of independence was signed all those years ago.
My fiancé, Andrew (aka Dishing Delish's resident food photographer), has been especially enjoying the upcoming holiday weekend, taking a lot of fantastic shots of the fireworks and weekend food truck events. Here's one of my favorites so far. I just love the colors in it!
Fireworks and festivals aside, we all know what we're really looking forward to this 4th of July weekend…
BBQ. And lots of it!
In preparation for your holiday weekend, I've rounded up the best of the best for all of your weekend BBQ recipe needs.
So, without further adieu, the Ultimate 4th of July BBQ Recipe Round-Up!
BBQ Sauces, Marinades and Rubs
Maple Bourbon BBQ Sauce Recipe
Salads, Side Dishes & Veggies
Marinated & Sliced Grilled Potatoes
Red White & Blueberry Salad with Maple Balsamic Vinaigrette
Charred Corn Salad with Roasted Poblano Peppers
Yukon Gold and Green Onion Potato Salad with Bacon Vinaigrette
Tex Mex Corn on the Cob
Grilled Veggie Fajitas with Creamy Jalapeño Sauce
Burgers
All American Classic Bacon Cheeseburger
Beef & Pork
Grilled Flank Steak with Chimichurri Sauce
Smokey Ribs with Spicy Rum BBQ Sauce
Grilled Lemon Herb Steak Foil Packet
Bacon Explosion BBQ Sausage Recipe
Grilled Pork Tacos with Pineapple Salsa
Grilled Seafood
Lemon and Dill BBQ Salmon Kabobs
Grilled Swordfish with Garlic Soy Marinade
Grilled Fish with Citrus Herb Crust
Grilled Whole Fish on Banana Leaf
Grilled Lemon Tilapia in a Foil Packet
Chicken 
Ginger Sesame Marinated Chicken Skewers
Sweet and Spicy Beer BBQ Chicken
Coconut Encrusted Pineapple & Fish Kebabs with Mango Salsa
Tony Roma's Inspired BBQ Chicken
Boneless Stuffed Turkey on the Rotisserie
Grilled Mediterranean Chicken Kebabs
Perfect Grilled Chicken
How to Grill A Whole Chicken over Charcoal
Grilled Fruit & Other Desserts