Beef Lo Mein is a gluten free version of your favorite Chinese takeout dish! It's noodles sautéed in sesame oil, ginger, garlic, and tamari, with tender pieces of beef and vegetables. You'll be surprised how easy this is to make at home!
I love figuring out how to make my favorite takeout dishes at home, like this Slow Cooker Chicken Tikka Masala, and Slow Cooker Butter Chicken!
Beef Lo Mein (Gluten Free Lo Mein)
Beef Lo Mein is a quick and easy recipe for your favorite Chinese takeout dish! Honestly, I thought I would have to give this up when I went gluten free 18 years ago. But when there's a will, there's a way! And I really think I've managed to come up with something really good here. So much so that I'm even willing to make this on nights where I'd rather order some kind of takeout. It's that good!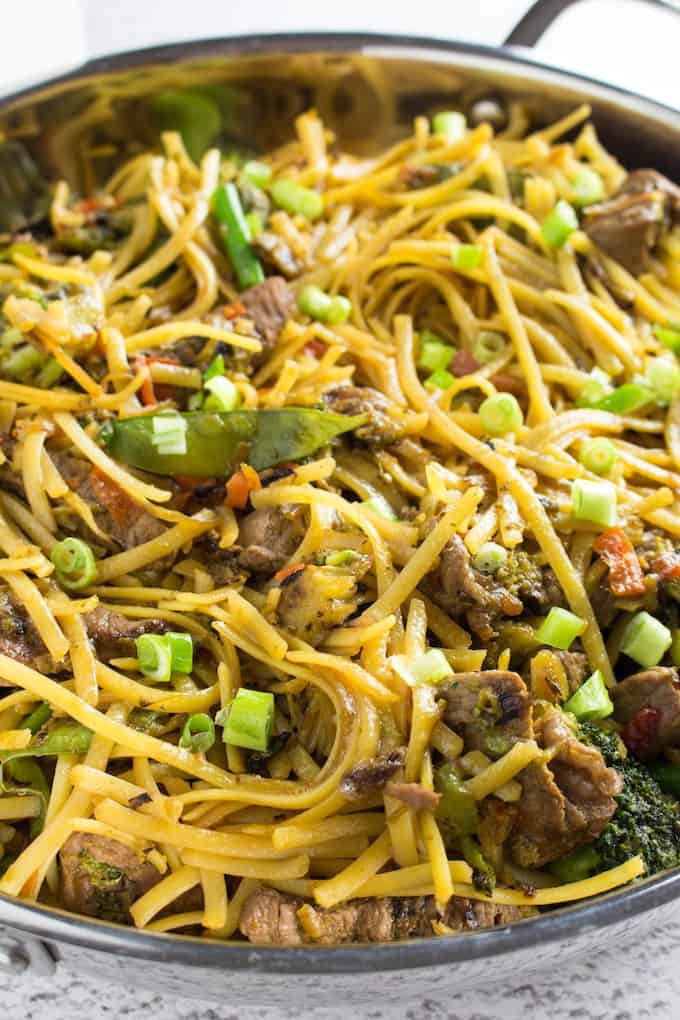 Chow Mein vs Lo Mein?
Chow Mein vs Lo Mein, what is the major difference? These dishes may look very similar, but they are actually pretty different. The main difference is the cooking style, sauce, and added ingredients after the noodles. In fact, "mein" actually means "noodle", and both dishes are customarily make with egg noodles. Often you'll find chow mein noodles that are a different texture than regular egg noodles, to help make them more crispy. In the end with chow mein vs lo mein, they are often confused with one another.
Because I have yet to find gluten free egg noodles, I just use pasta noodles in mine, until I can find something more traditional without wheat in it. 
Chow Mein is a Chinese food takeout dish that usually means "stir-fried noodles". This dish has noodles that are more crispy than lo main, because they are parboiled and then sometimes fried before tossing them with sauce, meat, and veggies. Chow mein uses less sauce than lo mein, but more oil to help crisp up the noodles. You can find chow mein mixed with cabbage, carrots, bean sprouts, celery, and chicken, pork, beef, shrimp, or tofu. You can also get steamed chow mein, for a slightly healthier option that is less crispy.
Lo Mein is another popular Chinese food takeout dish that translates to "tossed noodles". The noodles are boiled, then tossed with veggies, meat, and a savory sauce, like in the recipe below. Lo mein has more sauce than chow mein, and skips the crispy noodle frying step. You can find lo mein with veggies like cabbage and bok choy, along with proteins like beef, chicken, pork, shrimp, or tofu.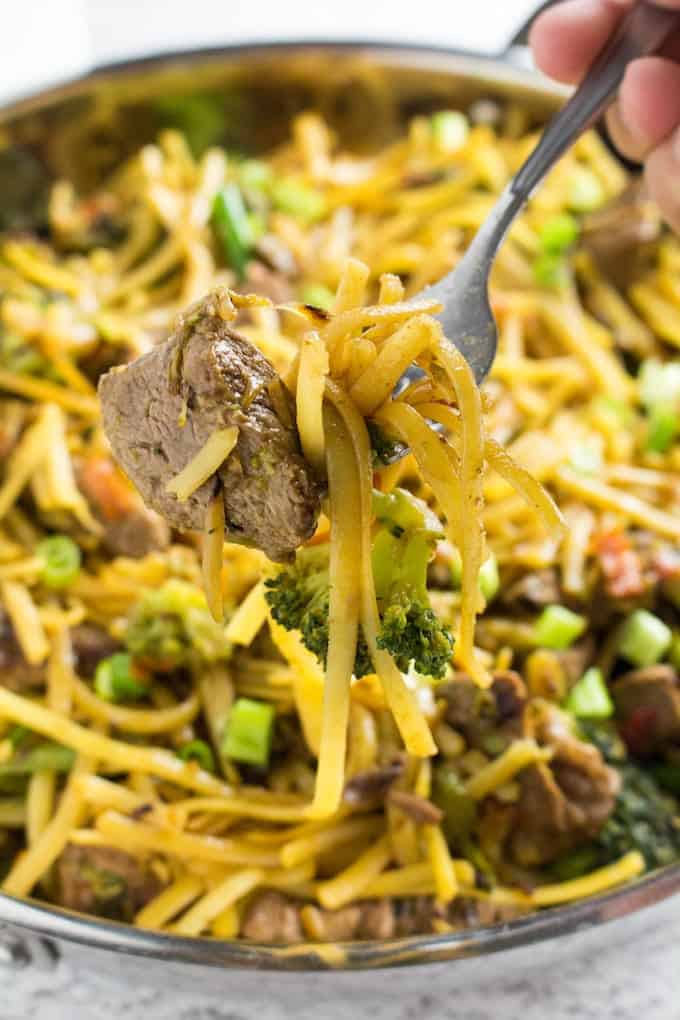 How to Make Lo Mein Sauce
Gluten Free Lo mein is all about the sauce, and it's really easy to make! Just whisk your ingredients and add them to your noodles when you toss everything together.
Here's what I included in this gluten free lo mein sauce:
Sesame oil
Ginger
Garlic
Tamari
Brown sugar
Oyster sauce (gluten free)
Chile paste
Chile paste comes in both sweet and spicy varieties. I like a bit more spice for my lo mein sauce. Most importantly though, make sure your chile paste, oyster sauce, and tamari are all labeled gluten free! But once you learn how to make lo mein, you might change these flavors up a bit to suite your own preferences.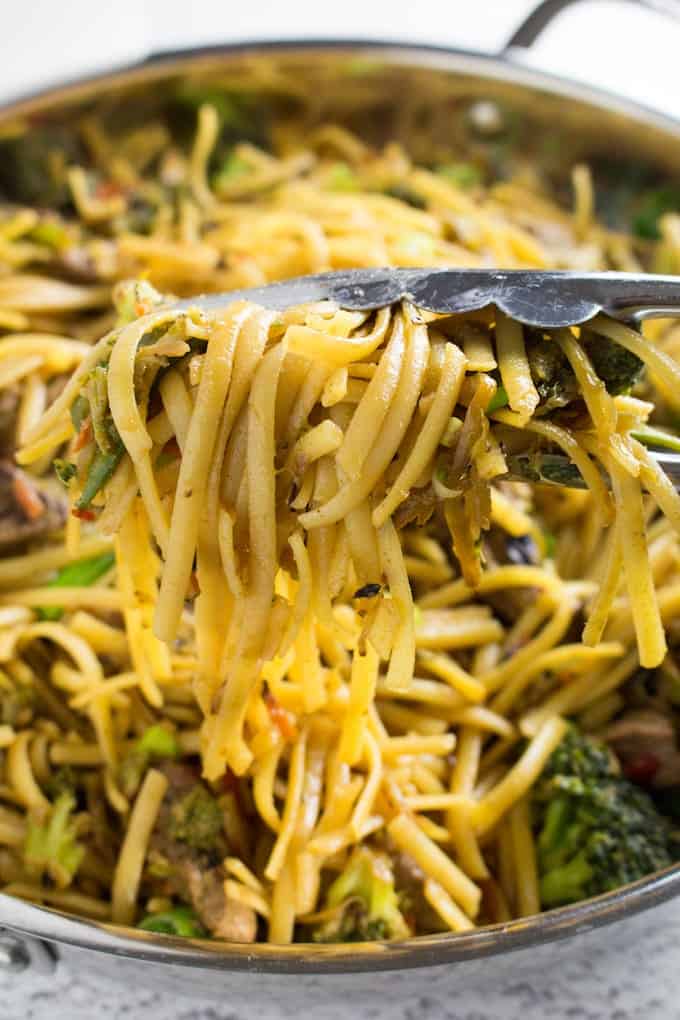 How do you make house special lo mein?
House special lo mein is like your typical lo mein recipe, but usually includes a mix of different proteins like pork, beef, chicken, and shrimp. It varies depending on where you order it from. If you're going to make it at home, I would just choose whatever proteins you'd like and include them all. Hey, it's your house, so it's your house special! And now that you know how to make lo mein, you can adjust it any way you'd like!