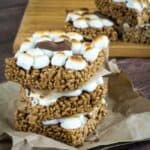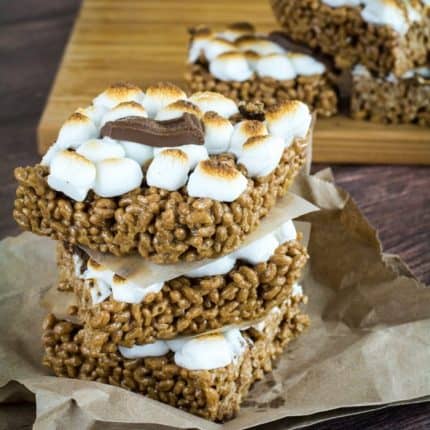 These s'mores krispie treats are sweet, crispy and easy to make. With the flavor of graham crackers, melted marshmallows and bits of chocolate, these gooey treats are sure to be the latest addition to your recipe box.
Grease a 13x9-inch baking dish.

Add cocoa crispies and 1 cup chocolate chips to a large mixing bowl and set aside.

In a saucepan over low-medium heat, melt butter. Add one package of marshmallows, stirring often. When they begin to melt, add brown sugar, molasses, cinnamon and vanilla extract. Stir until marshmallows are completely melted and all ingredients are mixed in well.

Add melted marshmallows to crispies and quickly stir until all ingredients are combined. Transfer into baking dish, pressing down until evenly spread out.

Top with remaining chocolate chips and marshmallows. If you'd like to melt the marshmallows, place pan under broiler for 2-3 minutes, or until marshmallows look toasted.
When you're pressing the treats into the baking dish, use parchment paper to make this easier, or a well-greased spatula.
The broiler will cook the marshmallows VERY quickly, keep an eye on them the entire time!