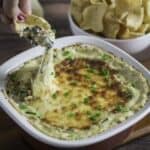 Cheesy, rich, and comfortingly creamy, it doesn't get much better than this classic Spinach Artichoke Dip. Topped with mozzarella cheese and baked to perfection, this dip recipe can be served with tortilla chips or a toasted baguette. You may want to make extra, this is one flavorful party food that won't last long once it's on the table!
Preheat oven to 375°F. Grease a small baking dish and set aside.

In a large skillet melt 2 tbsp butter. Add garlic and spinach and sauté until spinach is wilted. Remove from skillet and set aside to cool.

Add remaining butter, artichoke hearts and green onions. Sauté artichoke hearts and green onions for additional 2 minutes.

Add cream cheese, sour cream, 1 cup mozzarella, parmesan, and pepper. Stir all ingredients together as the cheese melts.

Roughly chop spinach (if it is too watery, press into a strainer to drain some of the water out). Stir spinach into melted cheese.

Remove skillet from heat and add spinach artichoke dip to baking dish. Sprinkle remaining 1 cup mozzarella cheese on top.

Bake uncovered for 15-20 minutes, or until cheese is golden brown and melted on top.

Serve hot with tortilla chips, toasted baguette or crackers.