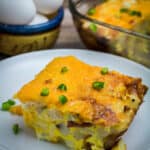 Savory hash browns, crispy bacon, cheese, and protein-rich eggs come together perfectly in this Easy Breakfast Casserole. Add green bell pepper and a dash of cayenne to take this breakfast (or brunch!) to the next level. You won't believe how incredibly quick and easy this hearty breakfast casserole is to make, and all in one dish!
Preheat oven to 350°F. Grease a 9" x 13" baking dish.

Add hash browns, bell pepper, green onions, chopped bacon, and 2 cups cheese to baking dish. Carefully stir just to mix ingredients together.

In a separate bowl whisk together eggs, cream, cayenne, salt, and pepper, and pour evenly over hash brown mixture.

Top with remaining cheese.

Bake for 45-50 minutes, or until cheese is golden brown and casserole is firm.
You can also use sausage in place of bacon. If you use sausage, cook in a skillet until almost done, then add to casserole. It will finish cooking in the oven.
Add other vegetables to this casserole! Suggestions: Mushrooms, asparagus, spinach, broccoli, tomato, onion.
You can leave the cayenne out entirely if you don't care for it.