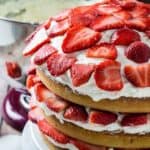 Three layers of moist vanilla cake, sweet whipped cream cheese frosting, and sliced strawberries piled high to make the ultimate Gluten Free Strawberry Cake. This is the perfect springtime strawberry dessert, and is sure to impress your guests!
For the Frosting
4

cups

heavy cream

cold

2

8oz packages

cream cheese

1

cup

white sugar

1

tbsp

vanilla extract

1

tbsp

orange zest

2

tsp

cream of tar tar
For the Cake
Preheat oven to 350°F. Grease 3 cake pans and set aside.

Using a stand mixer or electric hand mixer, beat together butter, sugar, and vanilla.

Next, beat in eggs one at a time.

In a separate bowl, combine salt, flour, and baking powder.

Add flour mixture to egg mixture slowly, until fully incorporated. Next, add cream until all ingredients are well combined.

Add batter to cake pans.

Bake for 20-25 minutes, or until a toothpick comes out clean. Remove cakes from oven and allow to cool completely before frosting.

When cakes are completely cool, remove first cake from pan and place on serving plate. Spread layer of frosting, then decoratively place a layer of strawberries on top.

Place a spoonful of frosting on top of strawberries (in the middle).

Add next layer of cake. Repeat frosting and strawberries for the next two layers.
For the Frosting
In a stand mixer (or with an electric hand mixer) beat heavy cream and cream of tar tar on low to med-low until stiff peaks appear (this may take a few minutes).

Once whipped, place cream in a bowl and refrigerate.

With a stand mixer, beat cream cheese, sugar, vanilla extract, and orange zest together.

On low, slowly add whipped cream to cream cheese mixture to combine.

Once just combined, refrigerate until ready to use.
If your cake bakes up taller in the middle, you make have to take a knife and cut just the very top layer off. This will prevent the cakes from sliding off of each other. Don't do this for the very top layer.
I recommend refrigerating this cake until you're ready to serve. Because the frosting is whipped cream based, it could melt.