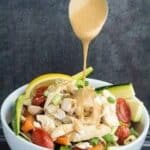 Savory, sweet, and just a touch of heat, this Grilled Chicken Salad with Thai Peanut Dressing has it all. Super creamy texture from a blend of coconut milk and peanut butter, sweetness from honey, savory soy sauce, and just a dash of cayenne pepper give this dressing a flavor combination you're going to love. Served on top of a healthy grilled chicken salad, this really is the perfect lunch time meal!
For the Grilled Chicken Salad
For the Thai Peanut Dressing
3/4

cup

creamy natural peanut butter

1

5oz can

coconut milk, unsweetened

3

tbsp

honey

2

tbsp

gluten free tamari

2

tbsp

apple cider vinegar

2

tbsp

lemon juice

1

tbsp

sesame oil

1

tsp

garlic powder

1/4

tsp

cayenne pepper
On a grill or in a large pan cook chicken until cooked through (no longer pink in the middle and juices run clear). Set chicken aside. Once cooled, cut into strips.

Add coconut milk to a small sauce pan. Cook until simmering, about 5 minutes. Remove from heat.

In a food processor or blender, blend together all other ingredients for dressing (peanut butter, honey, soy sauce, vinegar, lemon juice, sesame oil, garlic powder, cayenne pepper).

Add hot coconut milk to peanut dressing and blend together.

In a serving bowl, mix together lettuce, zucchini, cucumber, carrots, and green onions.

Top salad with chicken.

Drizzle peanut sauce over salad to taste.
You have to use natural peanut butter in this recipe or it will be too sweet. The only ingredients in peanut butter should be Peanuts and Salt or Oil. Regular brands like Jiffy have too much sugar for this recipe.
This recipe makes a lot of dressing, but if you like less dressing on your salad you may have some left over. I recommend dipping veggies into it as a snack!
*If you are gluten free, you need to get a soy sauce that specifically says "gluten free" on the label. Many soy sauces contain wheat.