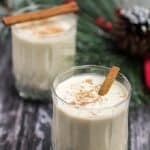 Creamy, sweet, and thick, this traditional holiday eggnog is one step away from being a custard dessert. Cinnamon, nutmeg, and vanilla combine perfectly with the smooth texture and the optional kick of rum. Why settle for store-bought when it's easy and fun to learn how to make homemade eggnog!
12

large

egg yolks

3

cups

milk

2

cups

light cream

1

cup

sugar

1/2

cup

rum

4

whole cloves

1 1/2

tsp

vanilla extract

1

tsp

ground cinnamon

1/4

tsp

nutmeg
In a saucepan add milk, 1/2 tsp. vanilla extract, cloves, and cinnamon.

Slowly bring milk to a boil over low heat (about 5 minutes). Then remove from heat.

In a mixing bowl add egg yolks. Whisk together with sugar until thick and completely combined.

Pour hot milk into eggs, whisking quickly.

Pour whole mixture back into sauce pan and heat over medium-low heat, stirring constantly until thickened (about 2-3 minutes).

Use a strainer or slotted spoon to remove cloves. Discard cloves.

Remove from heat and let cool for about an hour.

Once cooled, whisk in cream, rum, 1 tsp vanilla extract, and nutmeg.

Serve immediately, or refrigerate until cold and serve.