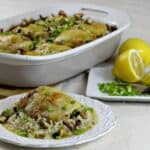 Busy weeks call for quick food, and this One Dish Chicken Thighs with Mushroom & Sage Rice is pretty much as quick as it gets while still staying home-made and healthy. The crispy skin on the chicken thighs and the savory flavor of the rice really hits the spot, and without much effort in the kitchen! The best part about this dish is that there is minimal cleanup, since the entire thing is made using one casserole dish.
Preheat oven to 400°F.

In a lightly greased casserole dish combine rice, olive oil, white wine, lemon juice, onion, mushrooms, sage, garlic powder, kosher salt and pepper. Add broth and spread evenly in dish.

Place chicken thighs over rice, leaving a little bit of space between each piece. Spray lightly with cooking spray.

Place dish in oven (uncovered) and bake for about 45 minutes, or until chicken thighs are cooked through and crispy on top. When done, top with chopped green onions and serve.