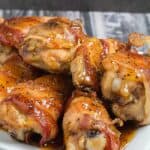 Tender chicken wings wrapped with bacon and smothered in a sweet and spicy sauce. Bacon Wrapped Chicken Wings with Tequila Chipotle Sauce is so insanely delicious that you'll never need another chicken wing recipe again!
First Boil the Wings
Add water to a large pot, leaving at least 4-5 inches of room from the water to the top of the pot.

Using a large slotted spoon, add chicken wing pieces to simmering water a few at a time. Once water begins to boil, reduce heat to a simmer.

Allow wings to simmer for about 15 minutes. Once done, using a large slotted spoon, remove wings and place on a wire rack. Allow wings to rest for 15-20 minutes, giving them a chance to dry.

Wrap a wing with a piece of bacon.

In a large skillet over medium-low heat, pan fry bacon-wing until bacon is cooked through, making sure to turn over to cook evenly on each side. Repeat for all wings.
For the Sauce
In a medium saucepan, whisk together all ingredients over medium heat.

Bring to a light boil, then reduce heat to a simmer, whisking often. Simmer for about 5 minutes.

Serve sauce warm on the side, or drizzle over wings before serving.
I use Cholula brand hot sauce because I really like the flavor, but you can use your favorite chipotle hot sauce.