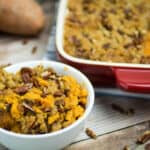 This traditional Thanksgiving casserole recipe uses baked sweet potatoes mashed together with brown sugar and autumn spices, then topped with a sweet and crunchy layer of crumble and pecans. A touch of maple syrup brings the rich, buttery taste of this Easy Sweet Potato Casserole with Pecan Crumble Topping to the next level! This really is the perfect side dish for your holiday table.
For the Potatoes
5

medium

sweet potatoes

skinned and mashed

2

large

eggs

beaten

8

tbsp

unsalted butter

melted

1/2

cup

milk

1/4

cup

white sugar

2

tbsp

maple syrup

1

tsp

vanilla extract

1

tsp

cinnamon

1/2

tsp

salt

1/4

tsp

nutmeg
Preheat oven to 325°F.

Wash potatoes and poke a few holes in each one with a fork. Bake for 40-50 minutes, or until soft and a fork can go through them easily. Remove from oven and allow to cool. Once cool, remove skins (they should practically fall off).

In a mixing bowl, add sweet potatoes, eggs, butter, milk, sugar, maple syrup, vanilla, cinnamon, nutmeg, and salt. Mix all ingredients together until well blended.

Add mixture to greased 9 x 13" baking dish.

In a mixing bowl, stir together brown sugar, flour, and salt. Add butter in pieces and stir together until it forms a coarse meal. (It's also easier to use your hands for this part).

Stir in pecans.

Add topping evenly over potatoes.

Bake uncovered for 30-35 minutes, or until topping is golden brown.
How many potatoes you need will depend on the size of the potatoes. You need 3 cups of the mashed potato without skins.