Easy Sweet Potato Casserole with Pecan Crumble Topping
This post may contain affiliate links. Please check our privacy and disclosure policy.
This traditional Thanksgiving casserole recipe uses baked sweet potatoes mashed together with brown sugar and autumn spices, then topped with a sweet and crunchy layer of crumble and pecans. A touch of maple syrup brings the rich, buttery taste of this Easy Sweet Potato Casserole with Pecan Crumble Topping to the next level! This really is the perfect side dish for your holiday table.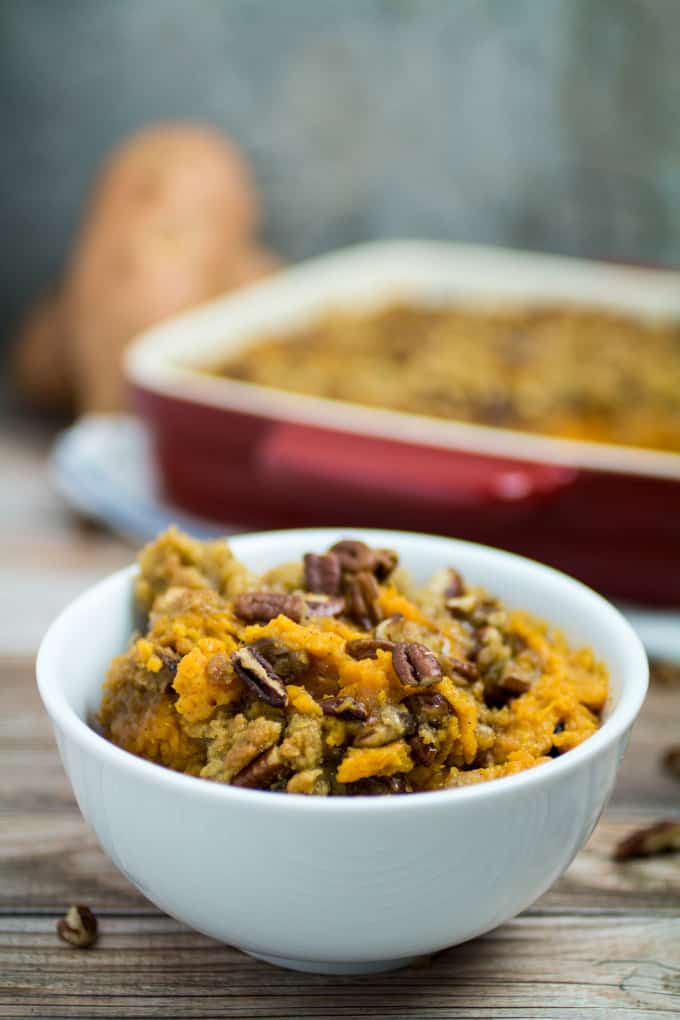 Are you ready for Thanksgiving yet?
No? That's OK, I'm not either. There's just so many recipes to try! I can't figure out which ones to make first. Today we're venturing into sweet potato-land. They're super versatile, and make an appearance in so many different ways during Thanksgiving that it's really hard to keep count. From plain, to pie, to casseroles, and each way more delicious than the last.
Which brings us here, to this Easy Sweet Potato Casserole with Pecan Crumble Topping. It's so sweet, rich, and buttery, that you'll want to make this all year round!
Every Thanksgiving, Andrew and I have dinner at my parent's house, then have dessert with his family. The reason we always eat with my parents is because I have to be gluten free. My mother is also gluten free, so they prepare the entire Thanksgiving dinner with 100% gluten free I-can-actually-eat-the-food ingredients, and I don't have to worry about cross contamination. It's just a big stress relief, especially around the holidays when things are already stressful.
Speaking of gluten free, do you have your stuffing recipe yet? If you want really melt-in-your-mouth good, check out my Root Vegetable Gluten Free Stuffing. I'll definitely be making it this year.
While I love that we have this option of a gluten free Thanksgiving (except when I get my own house, in which case I hope to be hosting!), I do sometimes feel bad that Andrew doesn't get a chance to spend the main meal with his family. So, I'm trying to bring some of the traditional foods that he's used to over to our table.
Starting with this easy sweet potato casserole. Andrew's mother is from Georgia, so he's used to traditional I-can't-get-enough-of-this-because-it's-so-damn-good Southern cooking.
And you know this wouldn't be a real sweet potato casserole without pecans. Because with this recipe, we're in the south now.
When Andrew saw me making this over the weekend, he mentioned that I should have soaked the pecans in bourbon first. I'm not sure how I feel about that.
It's probably better that I didn't tell him beforehand.
Or, is it?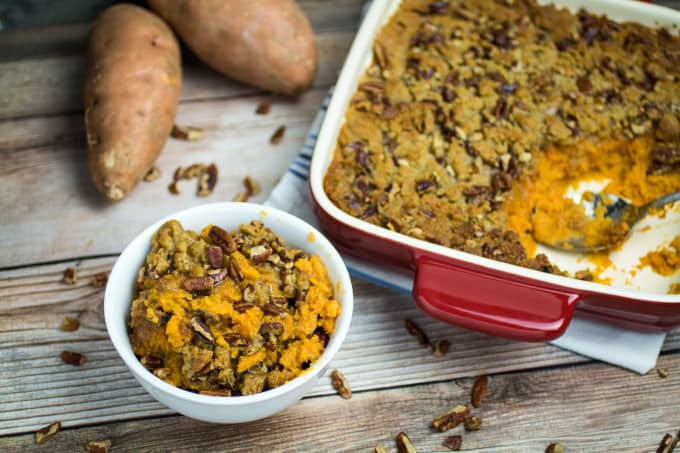 Let's take a minute and just appreciate this pecan crumble crust.
So crunchy. So sweet. So delicious.
I might start putting this on everything. Casseroles? Yes. Salad? Absolutely.
As a side dish all by itself? More, please.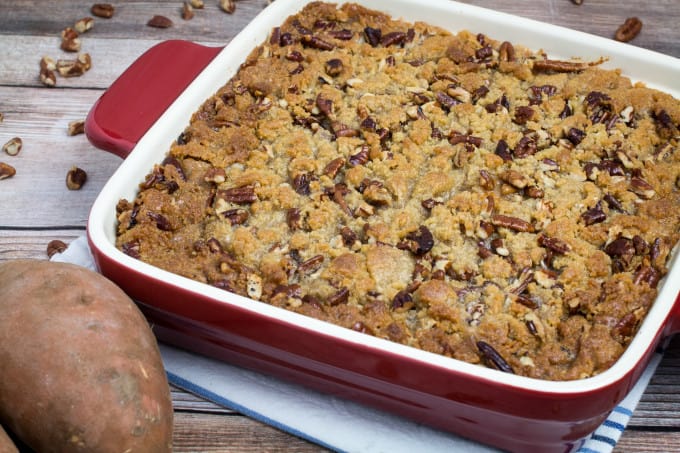 Living in New York City, it's really easy to get caught up in the fast-paced culture. Sometimes it seems like everybody is rushing around to go nowhere. We work too much, sleep too little, and don't spend nearly as much time as we should on the important things in life.
Like family. Home. Love. Sweet potato casseroles. Hobbies. Ourselves.
That's something that Southern food reminds me of. It reminds me to slow down, take a breath, and just enjoy what I already have in front of me. There will be time for everything else later. Right now, I need to sit down at the table and spend time with my family.
And this deliciously easy sweet potato casserole.
There's that crust again…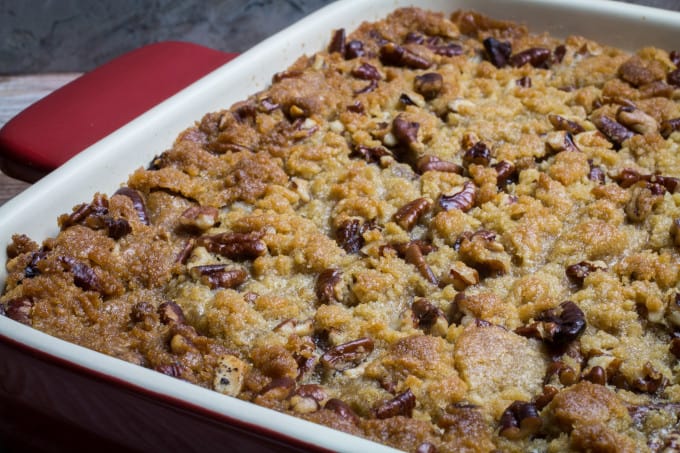 Do you want to know why the pecans rock so much in this dish?
It's because when this casserole is baking in the oven, everything just gets nice and toasty. That's right. The flour and butter just crisp up with the toasted pecans, giving this dish the dreamy crunch that pairs perfectly with the rich, creamy potatoes.
I also recommend baking the potatoes instead of boiling them. I've seen it done both ways, but I'm a firm believer that baking will bring out the sweet flavors of the potatoes a lot more than boiling them. PLUS, if you're baking, you won't need to peel them. Once they're done, just cut them in half and scoop out the centers. SO easy!
Now, I'm feeling like I'm so ready for Thanksgiving.
Or at least more ready, now that I have Easy Sweet Potato Casserole with Pecan Crumble Topping.
If you like this recipe, be sure to follow me here on Pinterest!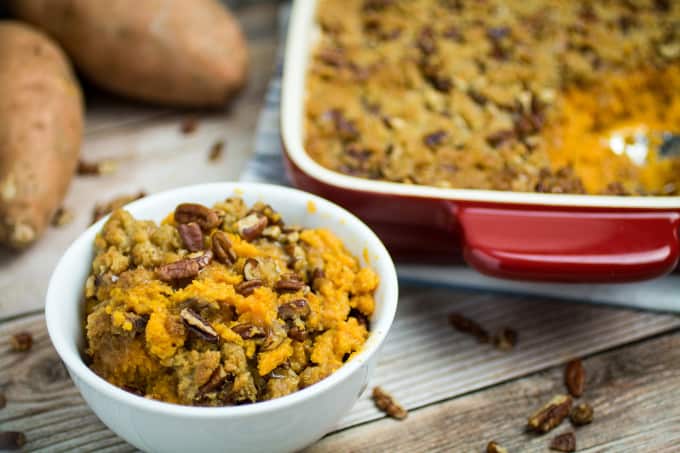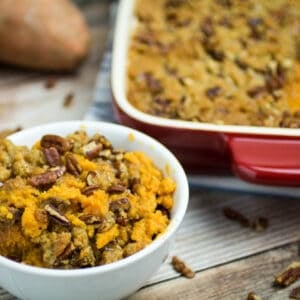 Easy Sweet Potato Casserole with Pecan Crumble Topping
Easy Sweet Potato Casserole with Pecan Crumble Topping is a rich and buttery Thanksgiving casserole, made with baked sweet potatoes mashed together with brown sugar and spices, topped with a sweet and crunchy layer of sugar and pecans.
Ingredients
For the Potatoes
5

medium

sweet potatoes

,

skinned and mashed

2

large

eggs

,

beaten

8

tbsp

unsalted butter

,

melted

1/2

cup

milk

1/4

cup

white sugar

2

tbsp

maple syrup

1

tsp

vanilla extract

1

tsp

cinnamon

1/4

tsp

nutmeg

1/2

tsp

salt
For the Topping
3/4

cup

brown sugar

1/3

cup

gluten free all-purpose flour

1/8

tsp

salt

3

tbsp

unsalted butter

,

softened

3/4

cup

pecans

,

chopped
Instructions
Preheat oven to 325°F.

Wash potatoes and poke a few holes in each one with a fork. Bake for

40-50 minutes

, or until soft and a fork can go through them easily. Remove from oven and allow to cool. Once cool, remove skins (they should practically fall off).

In a mixing bowl, add sweet potatoes, eggs, butter, milk, sugar, maple syrup, vanilla, cinnamon, nutmeg, and salt. Mix all ingredients together until well blended.

Add mixture to greased 9 x 13" baking dish.

In a mixing bowl, stir together brown sugar, flour, and salt. Add butter in pieces and stir together until it forms a coarse meal. (It's also easier to use your hands for this part).

Stir in pecans. Add topping evenly over potatoes.

Bake uncovered for

30-35 minutes

, or until topping is golden brown.
Notes
Click on the time in the instructions to start a timer!
How many potatoes you need will depend on the size of the potatoes. You need 3 cups of the mashed potato without skins.
Nutrition
Calories:
486
kcal
(24%)
Carbohydrates:
64
g
(21%)
Protein:
6
g
(12%)
Fat:
24
g
(37%)
Saturated Fat:
11
g
(69%)
Polyunsaturated Fat:
3
g
Monounsaturated Fat:
8
g
Trans Fat:
1
g
Cholesterol:
89
mg
(30%)
Sodium:
292
mg
(13%)
Potassium:
597
mg
(17%)
Fiber:
6
g
(25%)
Sugar:
37
g
(41%)
Vitamin A:
20618
IU
(412%)
Vitamin C:
4
mg
(5%)
Calcium:
106
mg
(11%)
Iron:
2
mg
(11%)
We are a participant in both the RewardStyle and Amazon Services LLC Associates Program, which are affiliate advertising programs designed to provide a means for sites to earn advertising fees by advertising and linking to amazon.com and through RewardStyle.