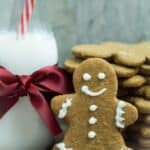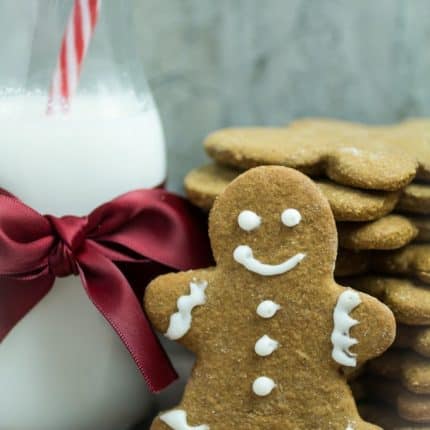 These Gluten Free Gingerbread Men Cookies are as easy and fun to make as they are to decorate! Sweet, soft-baked, and made with the traditional flavors of cinnamon, ginger, brown sugar, and molasses. Gluten free doesn't mean you have to give up your favorite holiday traditions!
Dry Ingredients
3 1/4

cups

gluten free all purpose flour

plus extra for dusting

1/2

cup

light brown sugar

1 1/2

tsp

baking soda

1

tsp

xanthan gum

(omit if your flour blend has this already)

1

tsp

cinnamon

1

tsp

salt

1/2

tsp

ginger

1/4

tsp

nutmeg
In a large mixing bowl or stand mixer beat together brown sugar and butter until fluffy.

Add water, molasses, and vanilla extract and continue to mix until ingredients are combined.

In a separate bowl add flour, baking soda, xanthan gum, cinnamon, salt, ginger, and nutmeg.

Slowly add flour mixture while still mixing, until all ingredients are combined into a wet dough.

Lightly sprinkle flour on dough and wrap in plastic wrap. Press into a disc-shape and refrigerate for at least two hours (or overnight).

Preheat oven to 350°F. Line baking sheet with parchment paper (or grease).

Roll out dough to about 1/4-inch thick, generously sprinkling rolling surface and dough itself with extra flour. Add flour as needed if it feels too sticky.

Use a cookie cutter lightly dusted in flour to cut out your gingerbread men and transfer to baking sheet. If they are sticking to the surface, lightly flour a spatula and use this to move them to the baking sheet.

Roll leftover dough back into a ball and repeat the process of rolling and cutting until all dough is used up.

Bake for 8-10 minutes, or until cookies are puffed and slightly brown on the edges. The longer you leave the cookies in the oven, the more firm they will be.

Wait for cookies to cool completely before decorating.
How many cookies this recipe makes depends on the size of your cookie cutter. Mine made 26 with a smaller cutter.
The cookies should cook off the white flour in the oven. If there are still spots, you can use a slightly damp paper towel to lightly dab any spots off.
You can also roll the dough out between plastic wrap or a piece of parchment paper.
If you roll your cookies out to be smaller than 1/4-inch thick they may cook faster and be more crisp.
If your cookies fall apart easily, they may need to be cooked an additional 2-3 minutes.
I used Bob's Red Mill Gluten Free All-Purpose flour with this recipe.