Gluten Free Gingerbread Men Cookies
This post may contain affiliate links. Please check our privacy and disclosure policy.
These Gluten Free Gingerbread Men Cookies are as easy and fun to make as they are to decorate! Sweet, soft-baked, and made with the traditional flavors of cinnamon, ginger, brown sugar, and molasses. Gluten free doesn't mean you have to give up your favorite holiday traditions!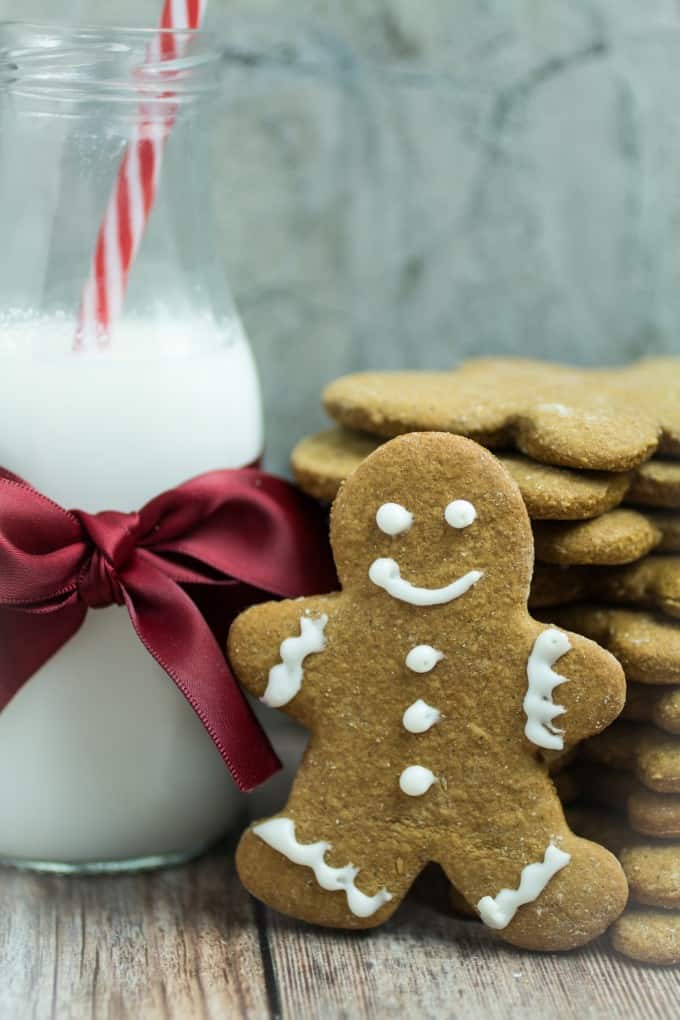 Christmas is almost here!
This is my favorite time of the year. There's decorating to do, gifts to buy, parties to plan, and cookies to decorate!
That's right, you heard me. Cookies. Glorious, soft-baked, ginger-molasses-brown sugar-deliciousness to bake in huge batches to be served to guests, handed out to friends, or eaten straight from the oven while I watch Christmas movies on rerun over and over again.
The best part about these Gluten Free Gingerbread Men Cookies? Well, like it says in the title, they're gluten free!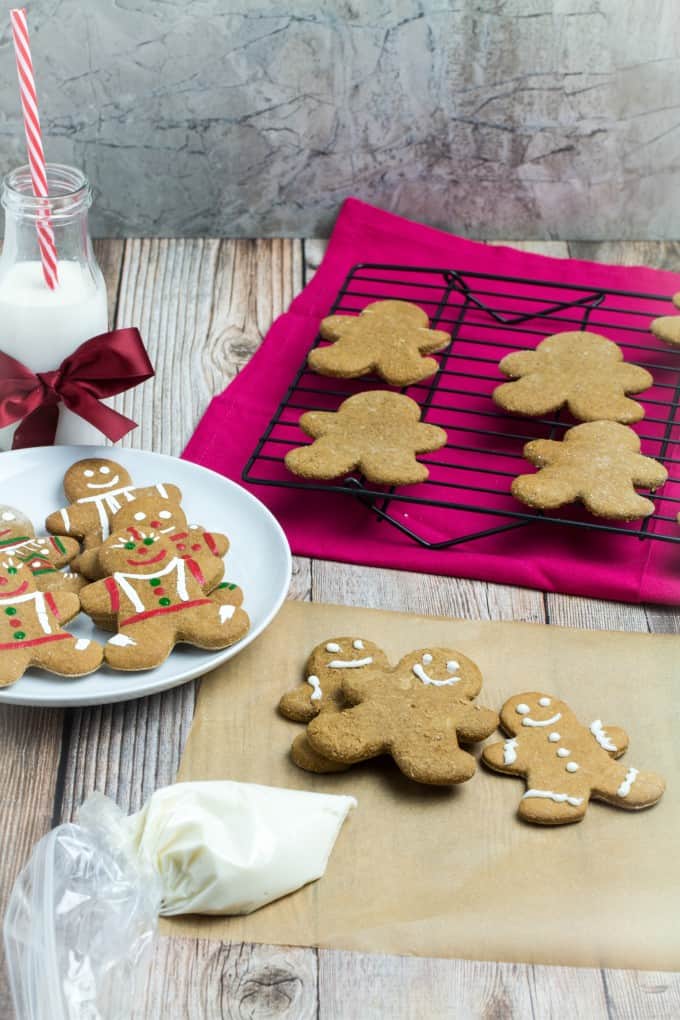 I'm a firm believer that gluten free doesn't have to mean taste free, and it also doesn't have to mean giving up the traditions we grew up loving. When I was first diagnosed with Celiac, it felt like I couldn't eat anything anymore (this was before gluten free foods hit the store shelves). While it was easy to deal with it on a day-to-day basis, this feeling really hit home on the holidays.
Food is one of the most nostalgic things in the world. One bite can take you back years, triggering fond memories of when you were a child, or places you've traveled, or people who cooked for you.
For me, it really means a lot to have recipes I can use that remind me of past holidays, and all of the great times spent with family and friends. That's why I've developed these Gluten Free Gingerbread Men Cookies.
To me, they're all of the holidays past wrapped up into one perfectly sweet little cookie package.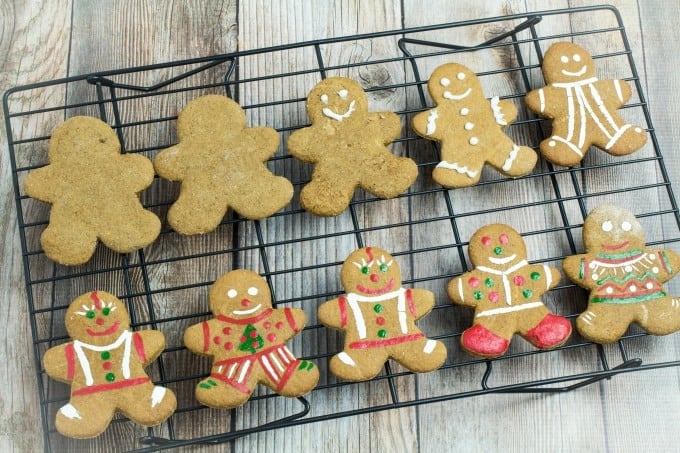 Did I mention how much fun cookies are to decorate?
My mom and I had a blast decorating these! We were on the floor laughing so much at some of the designs we came up with.
When in doubt, give your cookie an ugly Christmas sweater, right?
Speaking of ugly Christmas sweaters, I'm on the hunt for one! If you know of any good ones, please send them my way. My family is having an Ugly Christmas Sweater Holiday Party this year, and I'm determined to find a good one!
Have you finished your Christmas shopping yet? With the exception of a few small things, I do all of my Christmas shopping online. It's so easy! This is the time of year when the Amazon Prime I signed up for pays for itself in free shipping. I really, really don't like being stuck in traffic and waiting on long lines, so if I can have something delivered straight to my house, I'm on board!
I've even finished shopping for Andrew! I got him a super-awesome… Just kidding. I know Andrew reads this, so I'm not about to give it away early! Sorry. 🙂 
I'm sewing the gifts for my sister and her boyfriend this year, which I hope to finish this weekend. You know, around my cookie-eating schedule. I always love home-made gifts. They just mean something a little extra. And cookies. I love those, too. So much…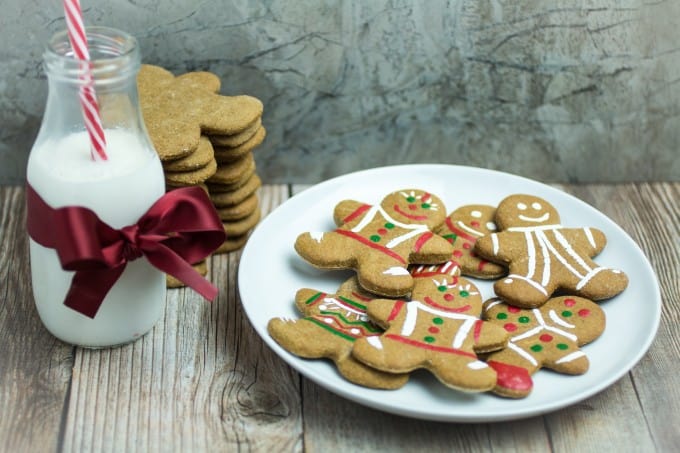 The thing with these Gluten Free Gingerbread Men Cookies is that the dough is sticky from the molasses. When you roll it out, you have a few options.
Option 1: Liberally sprinkle extra gluten free flour on the surface you're rolling on. Then flour the top of the dough, and your hands. After each roll or two, turn the dough to make sure it's not sticking to the surface. Apply more flour as needed (This is what I do, and I keep the bag near me for easy access). 
Option 2: Use plastic wrap or parchment paper under the dough and on top, then roll it out. Peel the plastic wrap or parchment paper off before cutting. Remember to use more than you think you need, because this dough will roll out probably more than a food wide.
You also need to refrigerate this dough for at least two hours before rolling it out, or it will be too warm and sticky to work with. So give yourself enough time. This step is important, don't skip it!
This gives the butter a chance to harden up again. I actually make this dough the night before, dust it with some flour, wrap it in plastic wrap, and refrigerate it until I'm ready to work with it the next day.
You can also flatten it a bit when it's wrapped up in the plastic wrap. This helps it chill faster, and makes it a bit easier to roll out later.
These Gluten Free Gingerbread Men Cookies make great holiday gifts, an activity for friends, or a treat for yourself. I'm seriously considering wrapping a few of these up in cellophane with some decorative ribbons and giving them out for the Christmas.
Adorable, right? I may need to practice my cookie decorating skills first.
I'll just have to make another batch.
Which means I get to eat more cookies, right?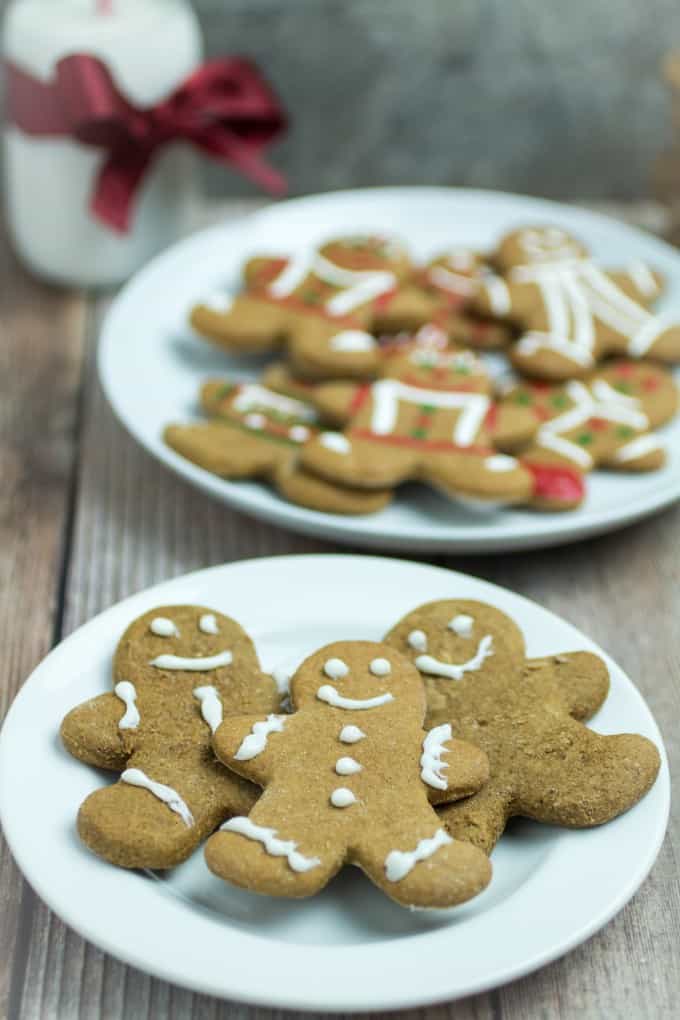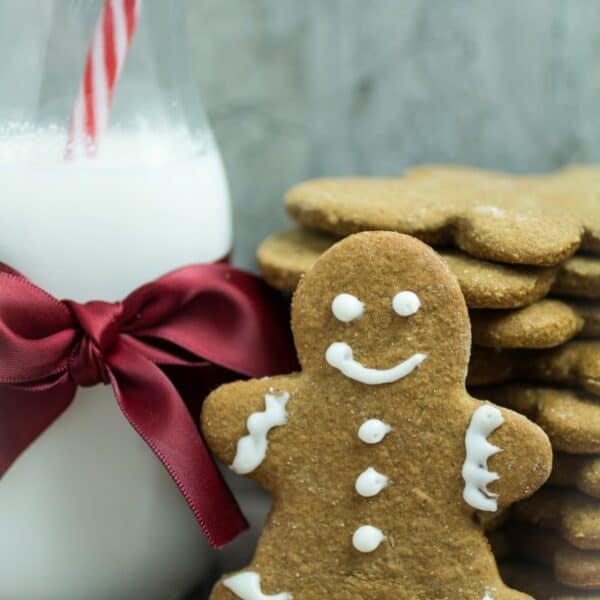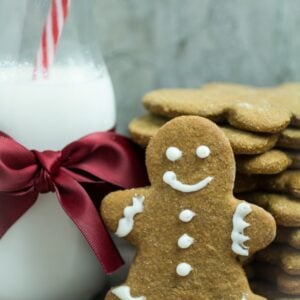 Gluten Free Gingerbread Men Cookies
These Gluten Free Gingerbread Men Cookies are as easy and fun to make as they are to decorate! Sweet, soft-baked, and made with the traditional flavors of cinnamon, ginger, brown sugar, and molasses. Gluten free doesn't mean you have to give up your favorite holiday traditions!
Ingredients
Dry Ingredients
1/2

cup

light brown sugar

3 1/4

cups

gluten free all purpose flour

,

plus extra for dusting

1 1/2

tsp

baking soda

1

tsp

cinnamon

1

tsp

salt

1/2

tsp

ginger

1/4

tsp

nutmeg
Wet Ingredients
1/2

cup

unsalted butter

,

room temperature

1/4

cup

water

3/4

cup

molasses

1

tsp

vanilla extract
Equipment
Sheet pan

Gingerbread men cookie cutter
Instructions
In a large mixing bowl or stand mixer beat together brown sugar and butter until fluffy.

Add water, molasses, and vanilla extract and continue to mix until ingredients are combined.

In a separate bowl add flour, baking soda, xanthan gum, cinnamon, salt, ginger, and nutmeg.

Slowly add flour mixture while still mixing, until all ingredients are combined into a wet dough.

Lightly sprinkle flour on dough and wrap in plastic wrap. Press into a disc-shape and refrigerate for at least

two hours

(or overnight).

Preheat oven to 350°F. Line baking sheet with parchment paper (or grease).

Roll out dough to about 1/4-inch thick, generously sprinkling rolling surface and dough itself with extra flour. Add flour as needed if it feels too sticky.

Use a cookie cutter lightly dusted in flour to cut out your gingerbread men and transfer to baking sheet. If they are sticking to the surface, lightly flour a spatula and use this to move them to the baking sheet.

Roll leftover dough back into a ball and repeat the process of rolling and cutting until all dough is used up.

Bake for

8-10 minutes

, or until cookies are puffed and slightly brown on the edges. The longer you leave the cookies in the oven, the more firm they will be.

Wait for cookies to cool completely before decorating.
Notes
Click on the time in the instructions to start a timer!
How many cookies this recipe makes depends on the size of your cookie cutter. Mine made 26 with a smaller cutter.
The cookies should cook off the white flour in the oven. If there are still spots, you can use a slightly damp paper towel to lightly dab any spots off.
You can also roll the dough out between plastic wrap or a piece of parchment paper.
If you roll your cookies out to be smaller than 1/4-inch thick they may cook faster and be more crisp.
If your cookies fall apart easily, they may need to be cooked an additional 2-3 minutes.
Nutrition
Calories:
126
kcal
(6%)
Carbohydrates:
22
g
(7%)
Protein:
2
g
(4%)
Fat:
4
g
(6%)
Saturated Fat:
2
g
(13%)
Trans Fat:
1
g
Cholesterol:
9
mg
(3%)
Sodium:
158
mg
(7%)
Potassium:
150
mg
(4%)
Fiber:
2
g
(8%)
Sugar:
12
g
(13%)
Vitamin A:
109
IU
(2%)
Vitamin C:
1
mg
(1%)
Calcium:
35
mg
(4%)
Iron:
1
mg
(6%)
We are a participant in both the RewardStyle and Amazon Services LLC Associates Program, which are affiliate advertising programs designed to provide a means for sites to earn advertising fees by advertising and linking to amazon.com and through RewardStyle.