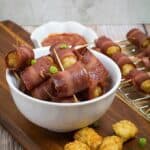 So incredibly simple to make, Bacon Wrapped Tater Tots are sure to be a hit at your next party! Soft, savory potatoes wrapped in crispy bacon. These seriously take no time to make, and includes two ingredients that people love: Bacon and Tater Tots. Be sure to make extra, these little appetizers are going to go fast!
Preheat oven to 425°F. Grease a large baking sheet (or line with parchment paper).

Wrap one piece of bacon around one tot. Put toothpick through bacon tot to hold in place and put on baking sheet. Repeat for all pieces.

Bake for 20-25 minutes, or until bacon is crispy and cooked through.