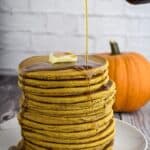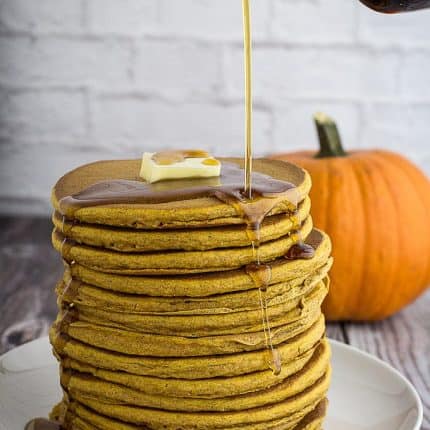 The Best Gluten Free Pumpkin Pancakes are perfect for a chilly autumn breakfast. Soft, fluffy gluten free pancakes made with real pumpkin and pumpkin spice, then topped with sweet maple syrup. As an added bonus, your house will smell amazing while they're cooking!
Heat griddle or frying pan to medium heat.

Whisk all dry ingredients in in a large mixing bowl (flour, sugar, baking powder, baking soda, spice, salt).

Add wet ingredients (pumpkin, milk, eggs, oil, vinegar, vanilla).

Whisk all ingredients together until well combined.

Pour about 1/4 cup batter on griddle per pancake. Leave room between each pancake.

When top starts bubbling and sides look firm (2-3 minutes), flip pancake over. Cook an additional 2-3 minutes, or until pancake is cooked through.

Repeat until batter is gone.
Use a 1/4 cup measuring cup to get evenly sized pancakes.