The Best Gluten Free Pumpkin Pancakes
This post may contain affiliate links. Please check our privacy and disclosure policy.
The Best Gluten Free Pumpkin Pancakes are perfect for a chilly autumn breakfast. Soft, fluffy gluten free pancakes made with real pumpkin and pumpkin spice, then topped with sweet maple syrup. As an added bonus, your house will smell amazing while they're cooking!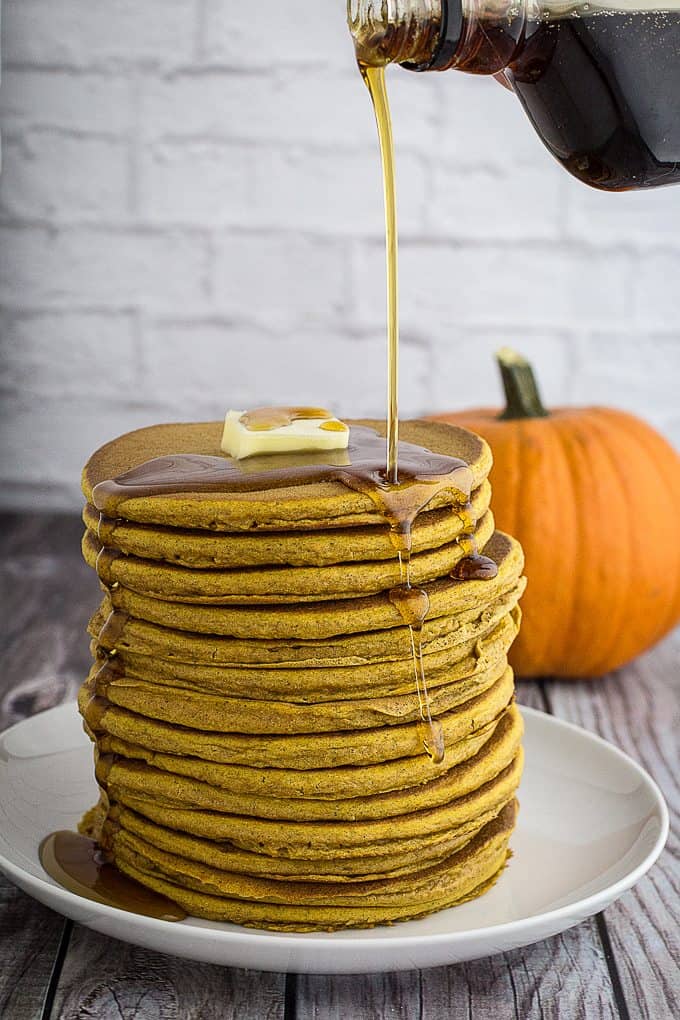 Gluten free pumpkin pancakes is a serious business. I mean it. I'm not messing around when I tell you that these are, hands down, the best gluten free pancakes I've ever made from scratch.
Sure, you could go buy some fancy box of gluten free pancake mix. But when you have the chance to add real, wholesome ingredients to your food, why would you want to settle? Also, with enough practice, you'll soon have the ability to turn literally any recipe into pumpkin spice. Any. Recipe.
Just remember, with great power comes great responsibility.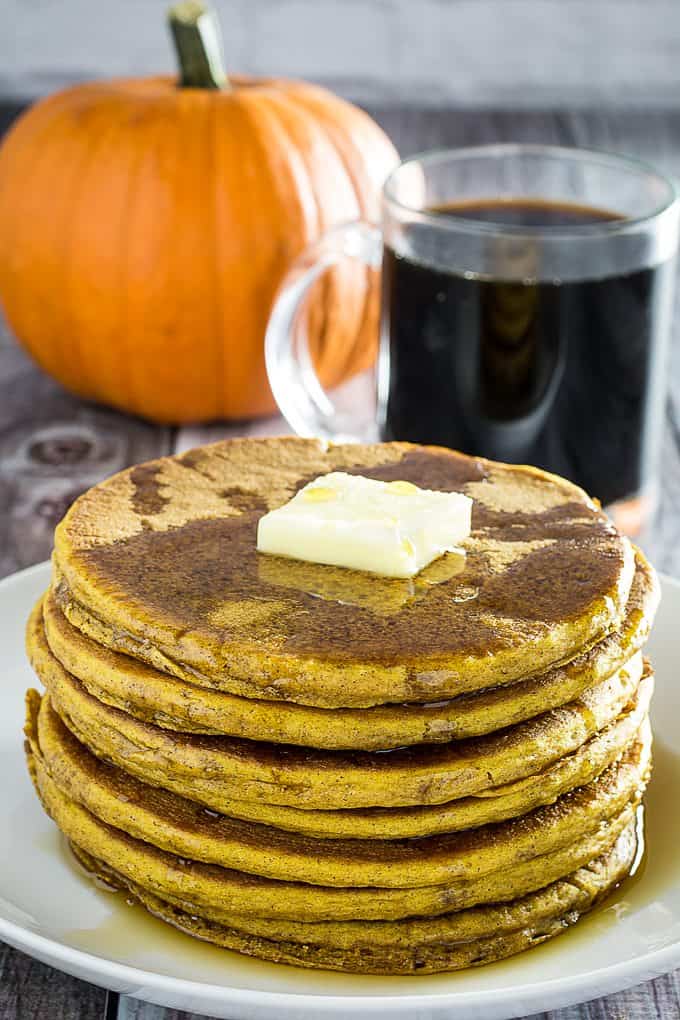 I don't know about you, but I like my gluten free pumpkin pancakes with a healthy dose of maple syrup. And, if I'm feeling particularly into the pancake scene, maybe even some butter. Or a third option, topped with some fruit and honey. But the honest truth is, any way to stack them (ha! see what I did there?), these are pretty darn good on their own.
Personally, I stand by the idea that pumpkin just makes everything better. It's tasty, it's a vegetable, and it brings you into a seasonal bliss any time you want it. Not to mention, it takes gluten free baking to an entirely different level. It adds a light, fluffy texture to pretty much any baked good I've used it in. I'm taking soft and airy here, people.
Pumpkin also keeps your gluten free pancakes from getting all crumbly, which as we all know, gluten free products are known for. But for some reason, and I'm not exactly sure why, pumpkin prevents that from happening. If you know why this happens, please tell me!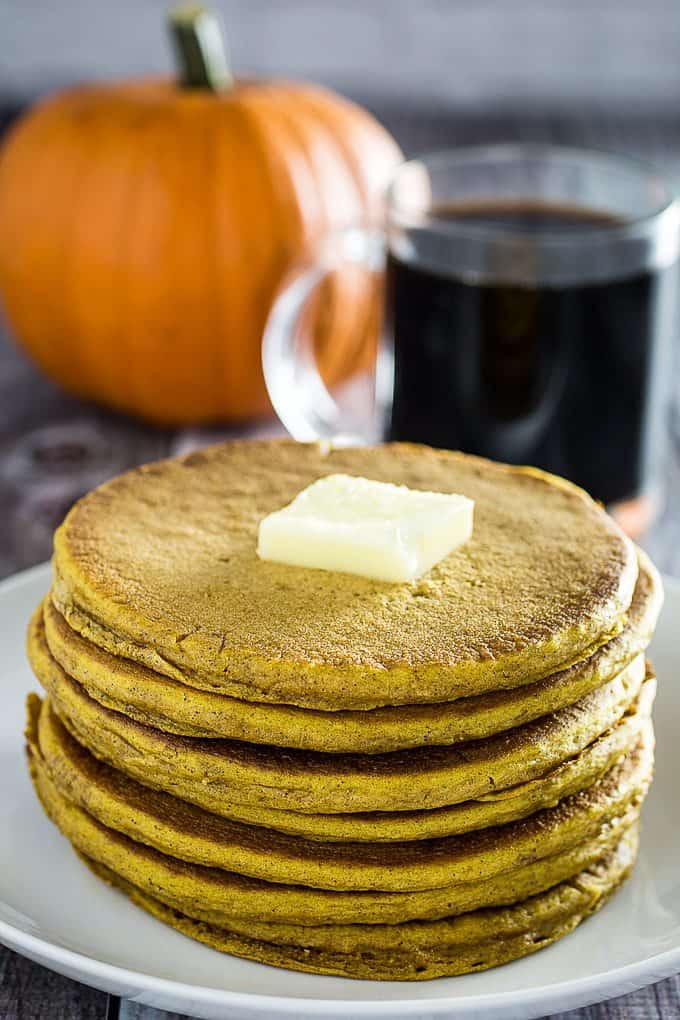 Andrew and I had these for dinner-breakfast (brinner?) last night. Because sometimes you're just not in the mood to put a whole lot of effort into dinner. And sometimes you just want breakfast for the hell of it. And sometimes, you also just want to have gluten free pancakes in your life. It gives your life a whole new syrup-covered, warm and fluffy, drippy sweet griddle cake meaning.
Maybe I'm exaggerating, but I just really like these pancakes.
Did I mention that I finally invested in an electric griddle? It's pretty much my universe now. It's so easy to use and clean up after, and I can spread all of my ingredients around on our giant island in the kitchen and cook right there. Convenience!
So, we got out the big 'ole mixing bowl, and made up a really quick batch of gluten free pumpkin pancakes to test out our new fancy electric griddle! And, wouldn't you know it, the griddle just jumped off of the top of the refrigerator where we had safely tucked it away the other day. Maybe we didn't use it fast enough. Maybe it just didn't want to live on top of the fridge. The world may never know.
Now we have a semi-fancy griddle missing one leg and propped up with masking tape. But it still made these pancakes, which was the ultimate goal in the end, right?
Still counts? I think so.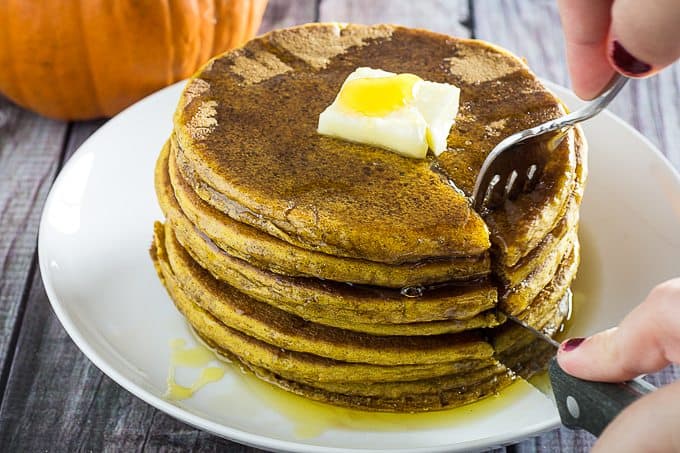 The trick to getting these to come out evenly, believe it or not, is using a measuring cup as your scoop. It's so simple, I almost didn't think of it!
I used a 1/4 cup, and it made about 17 pancakes. I think. It was hard to keep count, because they kept getting eaten as soon as they came off the griddle. But I'm pretty sure I counted 17 gluten free pumpkin pancakes in the end.
You might also have noticed that vinegar is in this recipe. Don't freak out. You won't taste it in the finished product, I promise. I'm going to get a little technical for a minute here. The reason we're using vinegar is because of the chemical reaction that's happening with the baking soda. Did you ever make a baking soda/vinegar volcano as a kid? That lava is actually the chemical reaction between the two, creating carbon dioxide. And not only does this make an awesome science project, it's also awesome for giving your baking an extra fluffy boost!
So, basically, the vinegar will make your pancakes super fluffy, but they won't taste like vinegar in the end. They'll taste like syrup-soaked pumpkin-spiced autumn breakfast heaven.
I promise.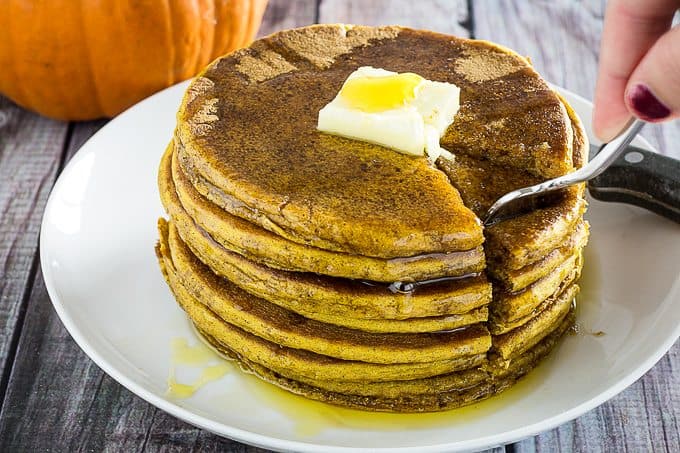 Impromptu pancake party? Bring. It. On.
You got this.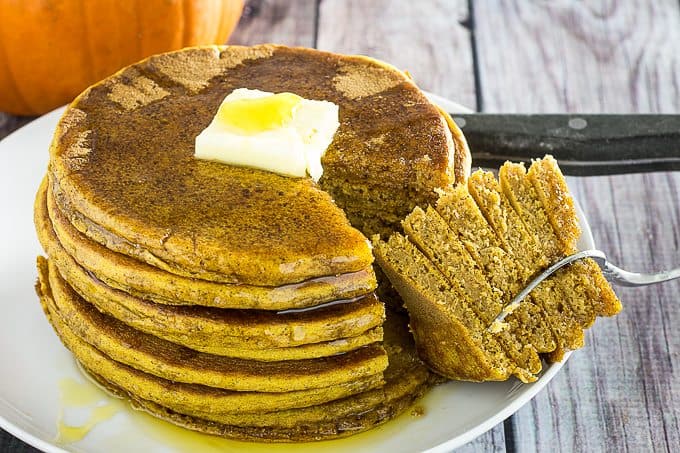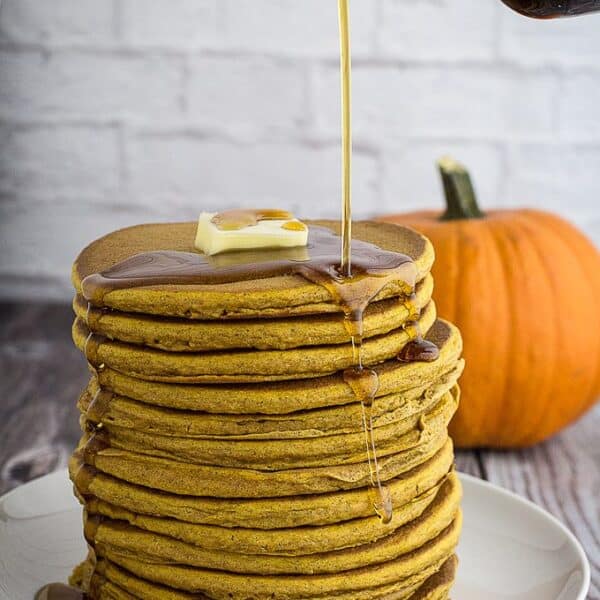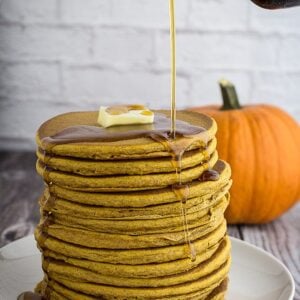 The Best Gluten Free Pumpkin Pancakes
The Best Gluten Free Pumpkin Pancakes are perfect for a chilly autumn breakfast. Soft, fluffy gluten free pancakes made with real pumpkin and pumpkin spice, then topped with sweet maple syrup. As an added bonus, your house will smell amazing while they're cooking!
Ingredients
2

cups

gluten free all purpose flour

1 1/2

cups

whole milk

1

cup

pumpkin puree

2

large

eggs

3

tbsp

brown sugar

2

tbsp

vegetable oil

2

tbsp

white vinegar

2 1/2

tsp

pumpkin pie spice

2

tsp

baking powder

,

double acting

2

tsp

baking soda

1

tsp

vanilla extract

1/2

tsp

salt
Instructions
Heat griddle or frying pan to medium heat.

Whisk all dry ingredients in in a large mixing bowl (flour, sugar, baking powder, baking soda, spice, salt). Add wet ingredients (pumpkin, milk, eggs, oil, vinegar, vanilla). Whisk all ingredients together until well combined.

Pour about 1/4 cup batter on griddle per pancake. Leave room between each pancake.

When top starts bubbling and sides look firm (

2-3 minutes

), flip pancake over. Cook an additional

2-3 minutes

, or until pancake is cooked through.

Repeat until batter is gone.
Notes
Click on the time in the instructions to start a timer!
Use a measuring cup to get evenly sized pancakes.
Nutrition per 2 pancakes.
Nutrition
Calories:
208
kcal
(10%)
Carbohydrates:
32
g
(11%)
Protein:
6
g
(12%)
Fat:
7
g
(11%)
Saturated Fat:
4
g
(25%)
Cholesterol:
51
mg
(17%)
Sodium:
502
mg
(22%)
Potassium:
273
mg
(8%)
Fiber:
4
g
(17%)
Sugar:
9
g
(10%)
Vitamin A:
4908
IU
(98%)
Vitamin C:
1
mg
(1%)
Calcium:
148
mg
(15%)
Iron:
2
mg
(11%)
We are a participant in both the RewardStyle and Amazon Services LLC Associates Program, which are affiliate advertising programs designed to provide a means for sites to earn advertising fees by advertising and linking to amazon.com and through RewardStyle.