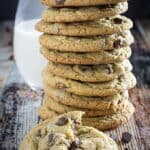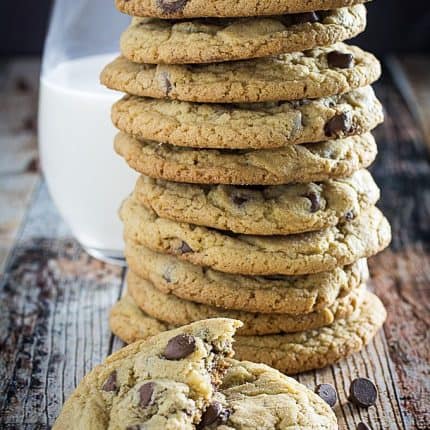 Gluten Free Chocolate Chip Cookies have crispy edges, chewy centers, and are oh-so easy to make. Here's my favorite chocolate chip cookie recipe of all time, and the perfect thing to take to your next holiday party!
Preheat oven to 350°F.

Mix together butter, shortening, and white sugar. Add brown sugar and vanilla extract until well combined.

Add eggs one at a time, only beating until eggs are just mixed in.

In a separate bowl, whisk together dry ingredients (flour, salt, baking soda, baking powder).

While mixing, slowly add flour to butter and sugar, until all flour is added and dough is completely mixed together.

Fold in chocolate chips.

Cover bowl and refrigerate at least 30 minutes.

Scoop dough into 1-2 inch balls and place on baking sheet. Leave a few inches of space between each ball.

Bake for 8-10 minutes, or until cookies are beginning to turn golden brown.
How many cookies this makes depends on the size of your cookies. Use an ice cream scoop to make scooping the dough onto the baking sheet easier.