Gluten Free Chocolate Chip Cookies
This post may contain affiliate links. Please check our privacy and disclosure policy.
Gluten Free Chocolate Chip Cookies have crispy edges, chewy centers, and are oh-so easy to make. Here's my favorite chocolate chip cookie recipe of all time, and the perfect thing to take to your next holiday party!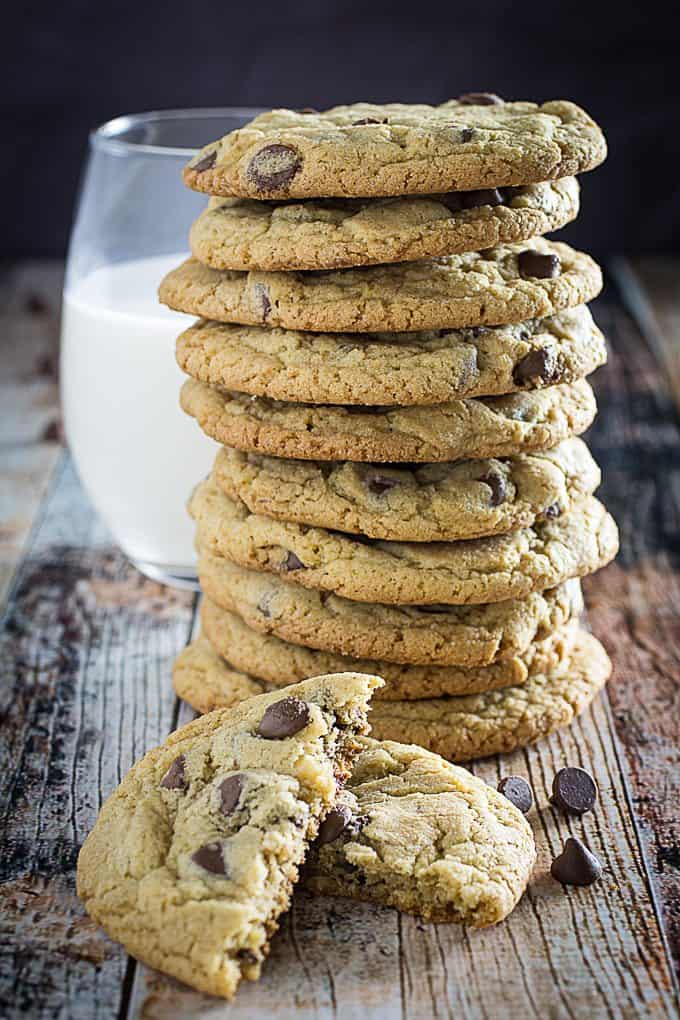 Gluten Free Chocolate Chip Cookies
There are probably a million different chocolate chip cookie recipes out there. I know what you're thinking, this is probably just one more to add to the already mile-long list. But, stay with me on this one, because these cookies are seriously my favorite of all time. And I've tried recipes for a lot of gluten free chocolate chip cookies!
These particular gluten free chocolate chip cookies have crispy edges, while maintaining a delightfully chewy center, and are packed full of indulgent chocolate chips. You can make a big batch of these and bring them to your next holiday party for a dessert that's easy to make, and easy to transport. Best of all, you won't even be able to tell they're gluten free!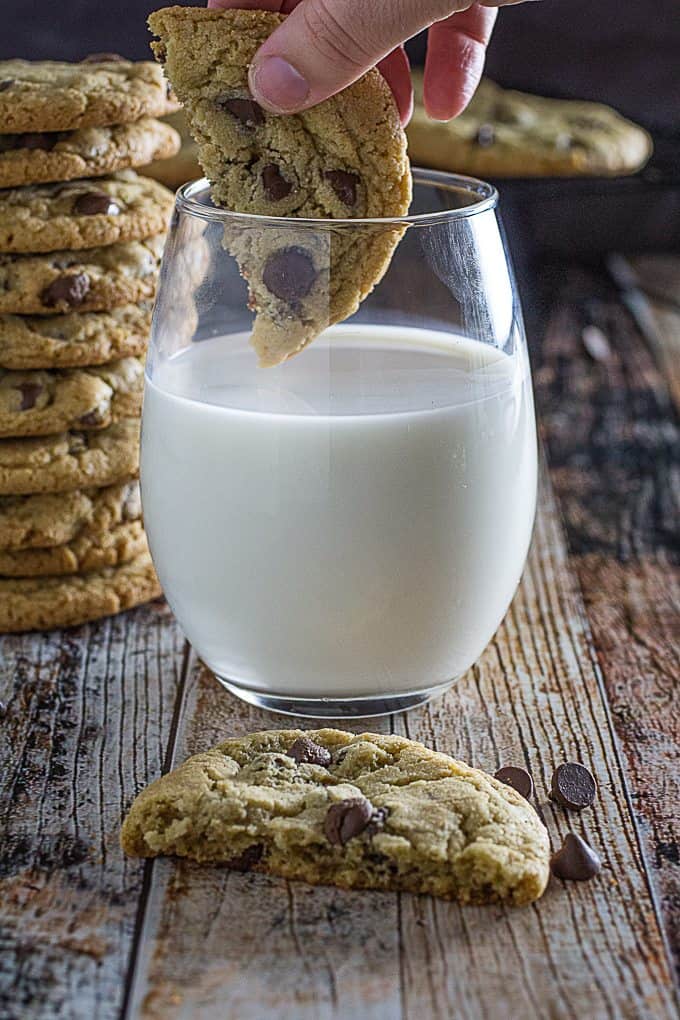 I've been told that these cookies are the things that dreams are made of.
Ok, maybe I'm exaggerating slightly. But they are really good, and I have been told that you wouldn't even know that these gluten free chocolate chip cookies are, in fact, gluten free. In my book, that's a giant win. I'm always the first to raise my hand when someone asks if anyone will be bringing food to an event. And when I find a recipe that's a.) easy to make, and b.) as close as it gets to what my non-GF counterparts are used to eating, I make sure to save it in my recipe box, ready to pull out at a moment's notice.
And this recipe happens to be one of those recipes.
They're crispy on the outer edges, and chewy in the centers. Melt-y chocolate chips just throw these gluten free chocolate chip cookies over the top. They don't break apart like gluten free cookies sometimes tend to do, which is another big thing in my house.
Another personal favorite is my Soft Baked Gluten Free Pumpkin Oatmeal Cookies, which are perfect for the fall, and for Thanksgiving.
These cookies are pretty much the best chocolate chip cookies I have had the pleasure of making. And that says a lot, because I've tried making a lot of different cookie recipes.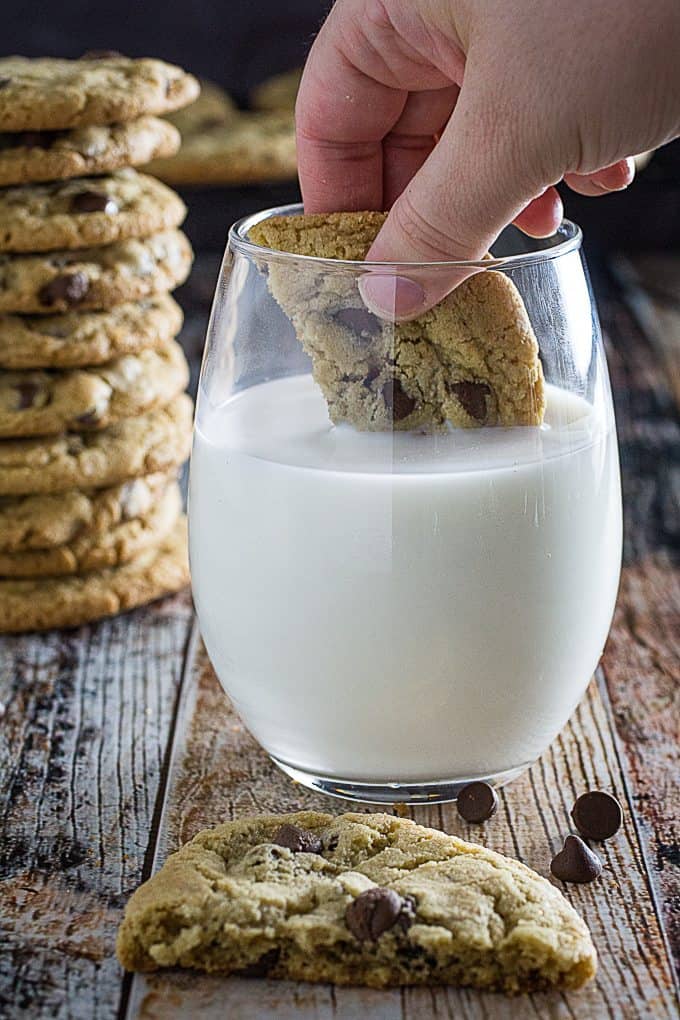 You can use a lot more than chocolate chips here, too. I love getting creative with different kinds of fillings in these cookies. I fully encourage you to be as well.
A few of my personal favorites would be white chocolate chips, M&Ms, dried cranberries, and walnuts. In fact, a combination of the chocolate chips and walnuts always wins in my house. But I left them out of this recipe because I really wanted to go for the classic cookie here.
And, as always, you should serve this with a big glass of milk. Because cookies and milk = cookie heaven.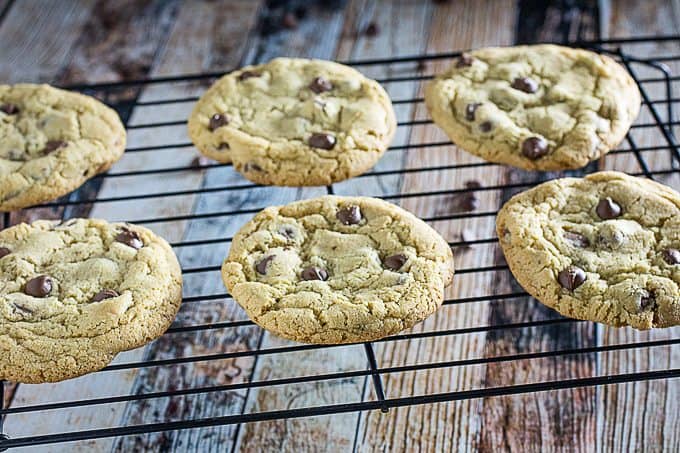 Let's talk about making absolutely perfect gluten free chocolate chip cookies for a minute here. There's a lot that goes into making these little delights as perfect as they are. Let's start with a few of the basics, as these also apply to most other cookie recipes. It takes a lot of trial and error to really get the perfect recipe that you'll go back to every time, but here's a few tips that I know have helped me in the past.
Because with a little bit of practice, you'll soon be making cookies better than any bakery in town. Start with some of these simple, basic rules of cookie baking.
How to Make The Perfect Gluten Free Chocolate Chip Cookies
Use good baking sheets. Your baking sheet can make all of the difference between your cookies coming out golden brown with chewy centers, or burning on the bottom. Or not cooking all the way through on the top. Invest in a nice set of baking sheets, which should only run you less than $15, depending on the brand.
Use a mix of butter and shortening. If you have a recipe that calls for all butter and you're finding that your cookies are coming out too flat for your liking, you may want to try taking half of the butter in the recipe and substituting in shortening. Butter melts much faster than shortening, causing your cookies to flatten out while they're baking. Shortening, on the other hand, melts much slower, giving your cookies that chewy center we all love so much.
Check your oven temperature. This is another critical step if your cookies are burning on the bottom too quickly. Temperature is a key element in any cookie process. Use an oven thermometer to check and see if the temperature is what it should be, and adjust up or down accordingly.
Make life easier…
If you're making cookies that drop, use an ice cream scoop. Seriously, this will save you SO much time. If you normally form your cookie dough into little balls and place them on the baking sheet to watch them form into discs while cooking, invest in a decent ice cream scoop. You can buy them in many different sizes, but make sure you get the kind with a release button on the side to get the dough out.
Refrigerate the dough. We discussed how the butter melts quickly, right? The same idea is at work here. If you refrigerate the dough for at least a half hour before scooping it onto the baking sheet, you'll give the butter a chance to get colder, thus making the cookies drop more slowly. This will help them flatten less and get nice and chewy in the center.
Well, there you have it. A few of the many, many cookie rules to live by. If you're having trouble getting your cookies to behave, don't hesitate to leave me a comment below. Or send me an email and I'd be happy to help you troubleshoot.
Remember, with great power, comes great responsibility. ♡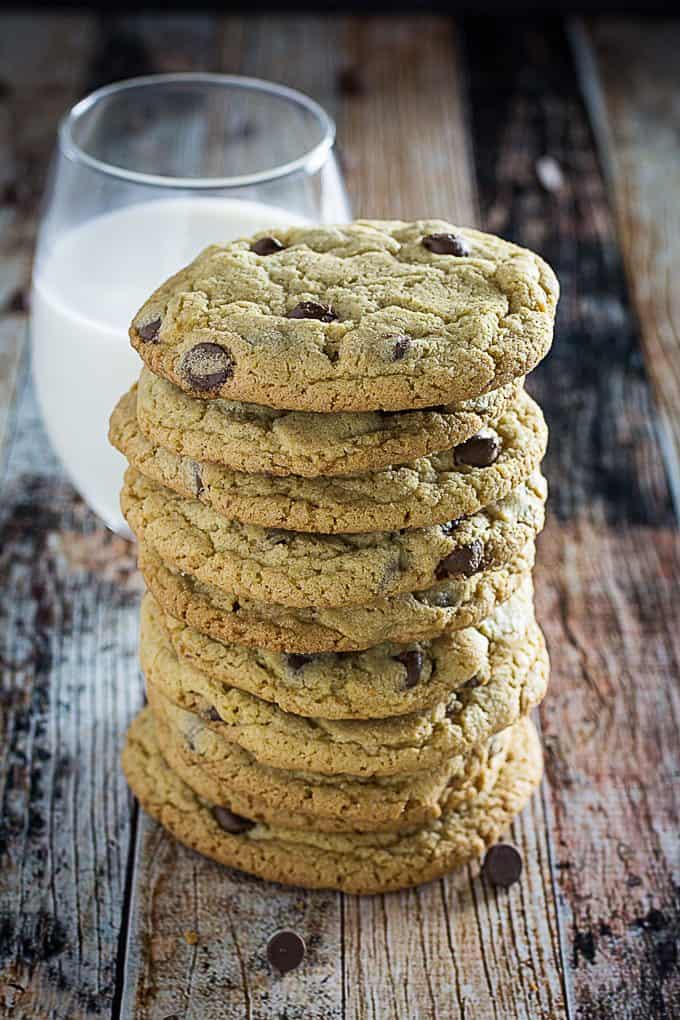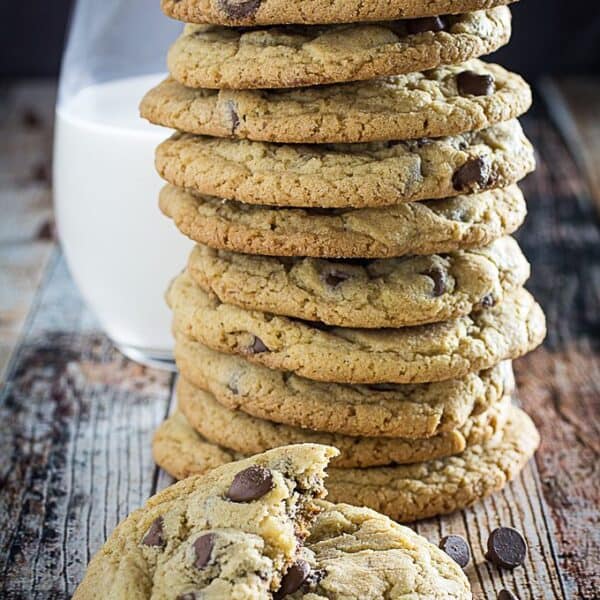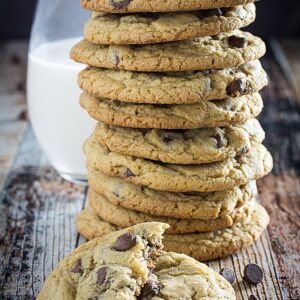 Gluten Free Chocolate Chip Cookies
Gluten Free Chocolate Chip Cookies have crispy edges, chewy centers, and are oh-so easy to make. Here's my favorite chocolate chip cookie recipe of all time, and the perfect thing to take to your next holiday party!
Ingredients
2 1/4

cups

gluten free all-purpose flour

2

cups

chocolate chips

1

cup

white sugar

3/4

cup

brown sugar

2

large

eggs

½

cup

unsalted butter

,

softened

½

cup

shortening

1

tbsp

vanilla extract

1

tsp

baking soda

1

tsp

baking powder

,

double acting

½

tsp

salt
Instructions
Preheat oven to 350°F.

Mix together butter, shortening, and white sugar. Add brown sugar and vanilla extract until well combined. Add eggs one at a time, only beating until eggs are just mixed in.

In a separate bowl, whisk together dry ingredients (flour, salt, baking soda, baking powder).

While mixing, slowly add flour to butter and sugar, until all flour is added and dough is completely mixed together. Fold in chocolate chips.

Cover bowl and refrigerate at least

30 minutes

.

Scoop dough into 1-2 inch balls and place on baking sheet. Leave a few inches of space between each ball.

Bake for

8-10 minutes

, or until cookies are beginning to turn golden brown.
Notes
Click on the time in the instructions to start a timer!
How many cookies this makes depends on the size of your cookies. Use an ice cream scoop to make scooping the dough onto the baking sheet easier.
Nutrition
Calories:
251
kcal
(13%)
Carbohydrates:
34
g
(11%)
Protein:
2
g
(4%)
Fat:
12
g
(18%)
Saturated Fat:
6
g
(38%)
Cholesterol:
28
mg
(9%)
Sodium:
120
mg
(5%)
Potassium:
36
mg
(1%)
Fiber:
2
g
(8%)
Sugar:
25
g
(28%)
Vitamin A:
174
IU
(3%)
Vitamin C:
1
mg
(1%)
Calcium:
43
mg
(4%)
Iron:
1
mg
(6%)
We are a participant in both the RewardStyle and Amazon Services LLC Associates Program, which are affiliate advertising programs designed to provide a means for sites to earn advertising fees by advertising and linking to amazon.com and through RewardStyle.