Best Slow Cooker Sweet & Sour Chicken
This post may contain affiliate links. Please check our privacy and disclosure policy.
The Best Slow Cooker Sweet & Sour Chicken is the perfect way to have Chinese takeout while knowing it's 100% gluten free. Sweet pineapple, savory tamari, ginger, and chopped bell peppers thrown in a slow cooker making this popular chicken dish the easiest thing you'll make all week!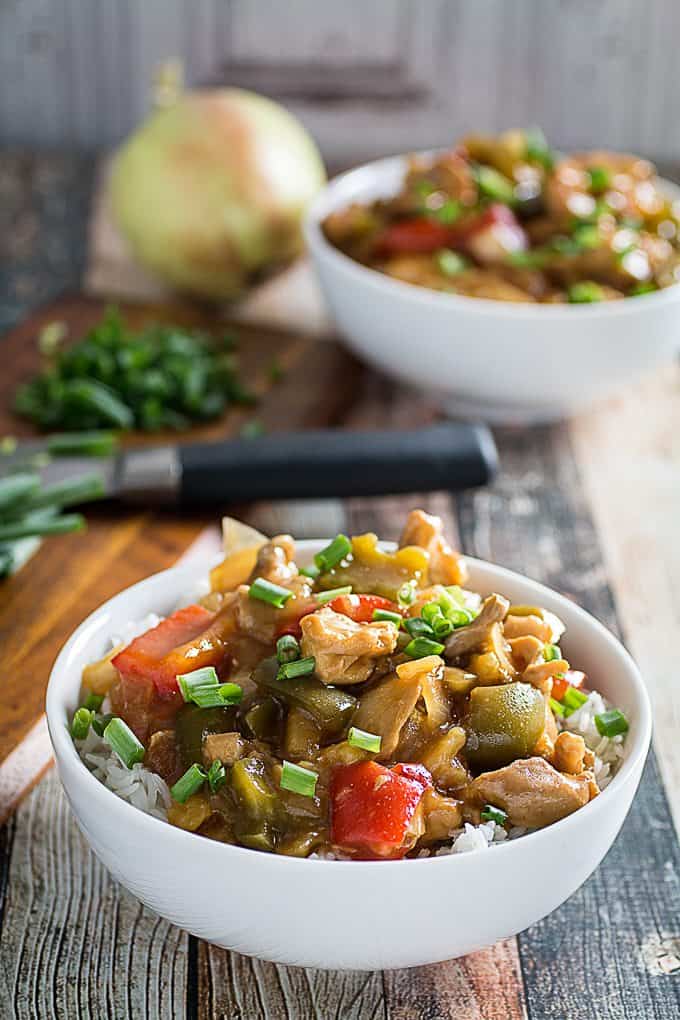 I don't know about you, but being on a gluten free diet makes me miss certain things. And one of those things, without a doubt, is takeout Chinese food. It fits that I-want-sweet-and-salty-for-dinner craving, and it's just so easy to pick up the phone and have it delivered to your house after a long workday. While maybe this isn't quite as easy as that, the slow cooker definitely makes this a minimal effort meal. And the best part? You won't have to worry about cross-contamination in your gluten free food, while still enjoying the flavors of Chinese takeout!
Personally, I love coming home and having my kitchen smell like dinner is ready. There's nothing quite as satisfying as knowing that when you walk in the door, you can have a hot meal and spend the rest of your night relaxing instead of cooking. The Best Slow Cooker Sweet & Sour Chicken is one of my favorite weeknight meals, and I think you're going to love it, too!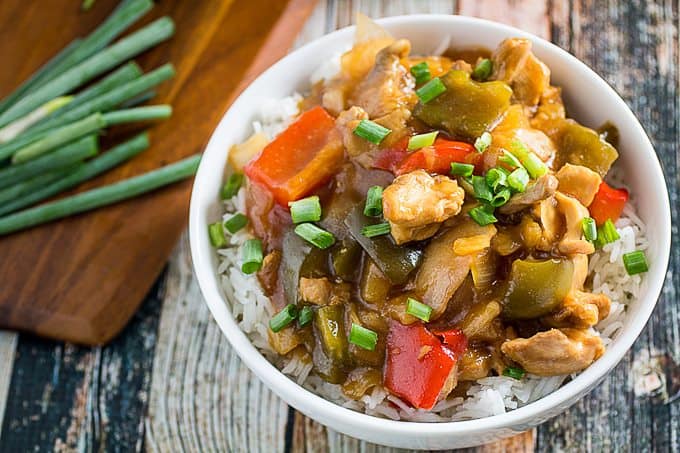 Chinese takeout. We all love it, and if you're gluten free, it can be a struggle to find a reliable restaurant. One that doesn't throw your food into the same wok they just made lo mein in. If we're being totally honest with ourselves, Chinese takeout is a celiac's worst nightmare. The food is SO good, but it's also a big risk. Yikes!
Before I moved across the country to sunny Florida, I used to have a restaurant that really got the whole gluten free menu thing. The best phrase in the world might just be: Gluten Free Chinese Food. They knew about cross contamination, and they took all of the right measures to avoid it. They would even make you gluten free dumplings if you called ahead! The celiac community organizes group trips to this restaurant, it's that good!
Alas, now here I am, a thousand miles away from the nearest gluten free Chinese takeout restaurant, and longing for my rice noodle lo mein like crazy. What's a girl to do?
So now, I'm determined to make my favorite gluten free Chinese food dishes, and eventually get them up here on the blog. I started with Slow Cooker Sweet & Sour Chicken because it was the easiest thing I could think of, while still being insanely popular among my gluten free friends.
You know, I didn't bother breading and frying the chicken. I won't lie, it's because that's a whole lot of work, and I wanted to keep this as simple as possible. Also, I have an electric stove, which made using my wok kind of a disaster. Now it's sitting in the back of my cupboard, waiting for the day I get my own house with a gas stove…
But! I'm confident that this dish came out just as good as I remember it, minus the frying. I see that as a bonus, adding a bit of health back into the dish. And because I'm wok-less, the slow cooker was the next best step to make this dish (almost) as easy as takeout, and ready for you when you get home from work.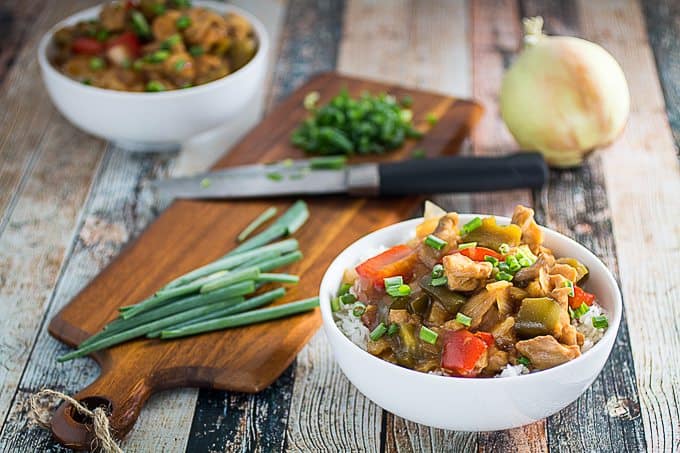 Because I know how much Chinese takeout means to all of us in the gluten free community… I did reach out to a few of my gluten free food blogger friends! Together, we managed to put together a bit of a menu for you. Just in case you want to branch out into other gluten free Chinese food dishes! None of these are hard to make (which is pretty much a mandatory thing in my kitchen – hence the easy slow cooker sweet & sour chicken), and they're all jam-packed with flavor.
Who's missing Chinese takeout again? Not this girl!
I like to serve my slow cooker sweet & sour chicken over jasmine or basmati rice, but it would definitely go well next to a side of gluten free lo mein!
The biggest thing you should be looking out for here is the soy sauce, or other pre-made sauces. Make sure they say "gluten free" on the bottle. I use Tamari in most of my recipes, which is almost always labelled "gluten free". Gluten free oyster sauce isn't always on the supermarket shelf. But, I have seen gluten free versions of that online before. So you may want to plan ahead for that one. Also I have started to vacuum seal to keep food fresh, found good reviews about vacuum sealers here.
I'd like to know, what takeout dish do you miss the most? Is it slow cooker sweet & sour chicken? I hope it is 🙂
If it's not, I'll do my best to get a recipe for whatever you're missing the most!
Because gluten free doesn't have to be flavor free. All of those good things you're missing?
They're totally doable, and we're going to figure it out together.
I promise. ♡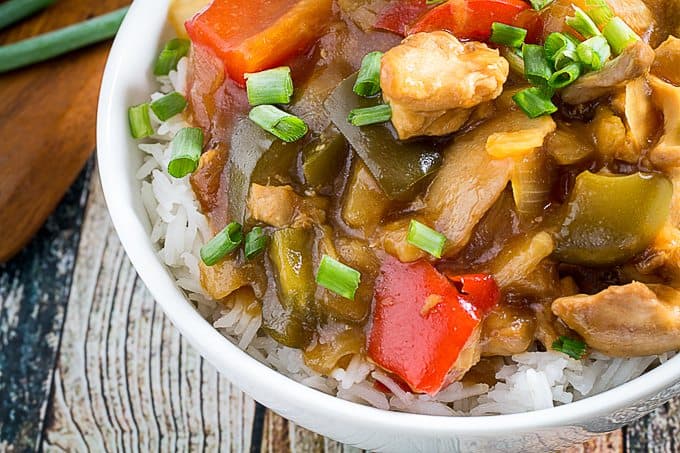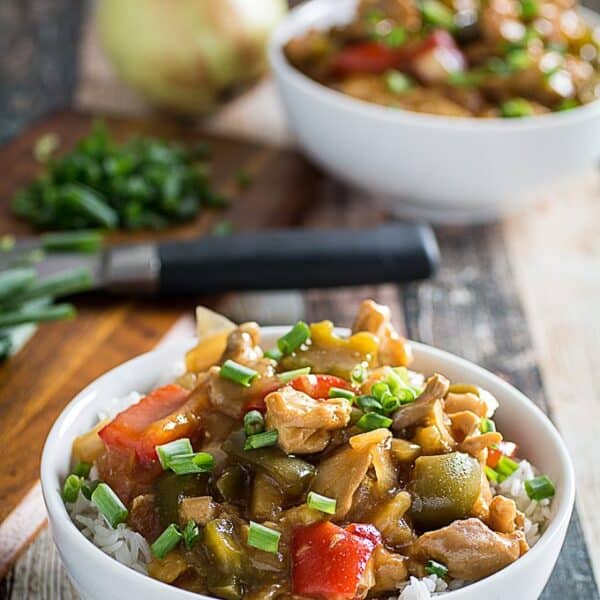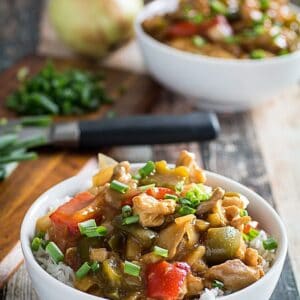 Slow Cooker Sweet & Sour Chicken
The Best Slow Cooker Sweet & Sour Chicken is sweet and savory, made with pineapple, savory tamari, ginger, and chopped bell peppers in a slow cooker and served over rice.
Ingredients
2

medium

bell peppers

,

chopped, any color

1

medium

yellow onion

,

chopped

20

oz

pineapple chunks

,

drained

1 1/2

lb

chicken thighs

,

boneless skinless

1

bunch

green onions

,

chopped (pale green part only - for garnish)
For the Sauce
1/2

cup

brown sugar

1/2

cup

ketchup

1/3

cup

orange juice

1/4

cup

tamari

,

gluten free

4

tbsp

corn starch

2

tbsp

apple cider vinegar

1

tsp

ginger powder

1/2

tsp

garlic powder
Instructions
Place bell peppers, onion, pineapple, and chicken in slow cooker.

In a mixing bowl, whisk together all of the sauce ingredients. Pour sauce over vegetables and chicken in slow cooker. Stir all ingredients together.

Heat on HIGH

4 hours

, or LOW

6-8 hours

(or until chicken is cooked through and vegetables are soft). Top with green onions before serving.
Notes
Click on the time in the instructions to start a timer!
If you have a larger slow cooker, you can double this recipe. I doubled it in my 7 quart slow cooker and it fit well.
Nutrition
Calories:
453
kcal
(23%)
Carbohydrates:
50
g
(17%)
Protein:
21
g
(42%)
Fat:
19
g
(29%)
Saturated Fat:
5
g
(31%)
Polyunsaturated Fat:
4
g
Monounsaturated Fat:
8
g
Trans Fat:
1
g
Cholesterol:
111
mg
(37%)
Sodium:
819
mg
(36%)
Potassium:
618
mg
(18%)
Fiber:
3
g
(13%)
Sugar:
40
g
(44%)
Vitamin A:
1548
IU
(31%)
Vitamin C:
69
mg
(84%)
Calcium:
57
mg
(6%)
Iron:
2
mg
(11%)
We are a participant in both the RewardStyle and Amazon Services LLC Associates Program, which are affiliate advertising programs designed to provide a means for sites to earn advertising fees by advertising and linking to amazon.com and through RewardStyle.