Gluten Free Pumpkin Muffins Recipe – Soft & Fluffy!
This post may contain affiliate links. Please check our privacy and disclosure policy.
Gluten Free Pumpkin Muffins made with pumpkin puree are soft, sweet, and full of fall flavors like cinnamon and nutmeg. Top with cream cheese, butter, or even a drizzle of maple syrup for a treat your whole family will love!
If you love these gluten free pumpkin muffins, check out my Strawberry Banana Muffins, Gluten Free Cherry Muffins, and Gluten Free Pumpkin Bread!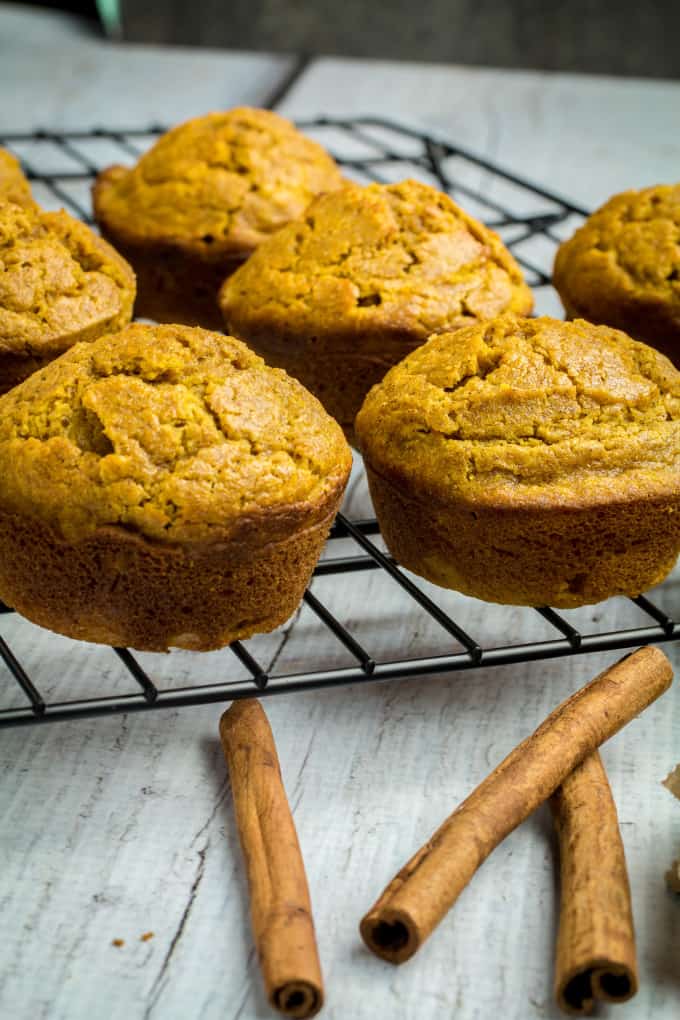 Gluten Free Pumpkin Muffins
Gluten free pumpkin muffins are the perfect grab-and-go breakfast in the morning, and even better when you have a chance to sit down and really enjoy them with some cream cheese and a cup of coffee. Don't even get me started on pairing these with coffee. They're Bonnie and Clyde. Mickey and Minnie. Sunny and Cher. R2D2 and C3PO. They just belong together.
I even freeze these gluten free pumpkin muffins in batches, so I can pull them out of the freezer and pop them in the microwave when I get to work. Convenience can be hard to come by in the gluten free world, and that's what I'm all about with this recipe.
So, how long has it been since you've had a really good gluten free muffin? I mean, really good? Like, I-refuse-to-share-these-with-anyone kind of good?
These gluten free pumpkin muffins are that good.
I'm talking downright delicious. They're sweet, and the fluffiest of fluffy. Serve them warm and prepare to be delighted.
More Gluten Free Recipes
How to Make Gluten Free Pumpkin Muffins in a Larger Muffin Pan
I made this recipe for a smaller muffin tin. You know, the kind that makes about 12 muffins at a time. You can make these in a larger muffin tin, but I have a few suggestions if you do:
Lower the heat to 375°F
Doubling the recipe to make sure you have enough batter for a full 6 muffins (you'll probably have extra, but who doesn't like extra muffins, amirite?)
Increase the cooking time by about 5-10 minutes. Keep an eye on them to make sure they don't over cook.
Can you freeze gluten free pumpkin muffins?
Yes, you can freeze gluten free pumpkin muffins! I like to make a double batch of these, so I can freeze half and grab them on my way out the door to work in the morning. Just make sure to wrap them tightly in plastic wrap, and then in a ziplock bag to keep any freezer burn off of them.
How long do gluten free pumpkin muffins last?
Gluten free pumpkin muffins will last on the counter for 3-4 days, and longer in the refrigerator.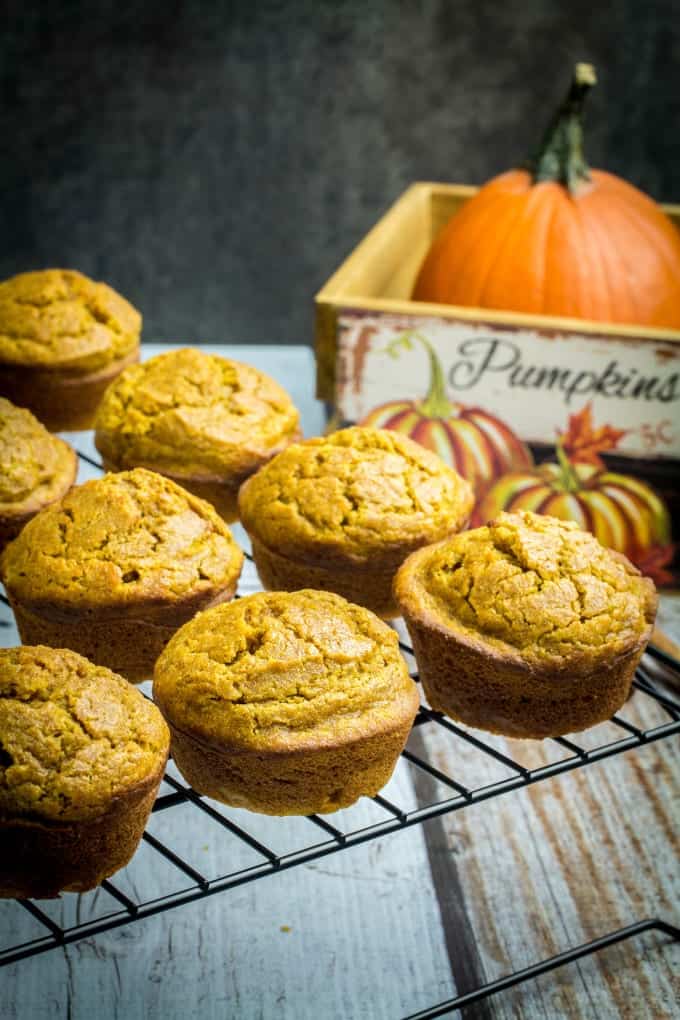 Can you substitute baking soda for baking powder?
This recipe uses two teaspoons baking powder. If you don't have baking powder, I would recommend substituting 1/2 teaspoon baking soda plus 2 teaspoons of lemon juice in its place. You can also use 2/3 teaspoon baking soda, but I find the acid from the lemon juice helps the muffins rise more.
What can I add to gluten free pumpkin muffins?
Add in chocolate chips or dried cranberries to the muffin batter, or a sprinkle of brown sugar to the top of the muffins for some different variations. I would start with 1 cup of chocolate chips with your dry ingredients for this muffin recipe.
Add in nuts like almonds or pecans at the end for extra crunchy flavor!
Add a teaspoon salt mixed with a teaspoon ground cinnamon to the top of the muffins for a sweet and savory flavor. Make sure to use flakey salt, and use 1 teaspoon for the whole batch with just a small sprinkle on top of each one.
In a large bowl, mix together a streusel topping to make my pumpkin streusel muffins!
This recipe calls for 1 cup pumpkin puree, but you can substitute that for other pureed vegetables. Try zucchini, or butternut squash! Just make sure the veggies aren't watery, press them with a paper towel first if you think they are.
Add a teaspoon of vanilla extract for a different flavor. If you don't have vanilla extract, you can also try other flavors like almond or orange extract!
I prefer to eat these with a bit of cream cheese, but you can also add butter or drizzle them with some maple syrup.
How to Make Pumpkin Pie Spice
You can buy pumpkin pie spice, but it's also really easy to make on at home! Here's my favorite pumpkin pie spice recipe that I make a big batch of every year. It's also worth mentioning that this pumpkin spice is way cheaper than buying it at the store! Just whisk everything together.
4 tbsp cinnamon
1 tbsp nutmeg
1 tbsp ginger
1 tsp allspice
1 tsp cloves
Tips for How to Make Gluten Free Pumpkin Muffins
Don't replace the half and half. When you're using gluten free flour, you want to use half and half or cream instead of milk, because cream has more naturally occurring acid in it. This affects the rise of the muffin, and also creates the muffin top we all know and love.
Remember that you want to keep the pumpkin pie spice a bit higher than in non-GF baking. It's all about flavor!
I like to use real butter in this recipe, because the fat can help keep the muffins moist. If you're trying to make healthier gluten free pumpkin muffins, you can substitute the butter with applesauce to cut down on the fat. Make this muffin recipe dairy free or vegan by also using almond milk instead of half and half.
Make sure the baking powder says "double acting" on the packaging. If it doesn't, then you should start mentally preparing yourself for the horror that is flat muffins.
Cut the prep time down by making a large batch of dry ingredients at night and storing them in an airtight container. Then in the morning, all you have to do is measure out the pre-mixed dry ingredients with the wet ingredients and bake.
Pro tip for any muffin recipe is to make sure you use the right type of eggs. This recipe (and most recipes) call for large eggs. Make sure they are room temperature when you start! You also want your butter to be room temperature, to make it easier to mix the batter.
Pour this batter into a bread pan to make gluten free pumpkin bread! It's ready when a toothpick comes out clean, a total time of around 60 minutes. You can also sprinkle with ground cinnamon on top decoratively.
I use cup-for-cup gluten free all-purpose flour for this pumpkin muffin recipe. Every gluten-free flour blend is a little bit different. Some have ingredients like oat flour, xanthan gum, or almond flour. I'm partial for Bob's Red Mill cup-for-cup gf flour, because I like how the texture of the recipes I make turn out every time.
Use paper muffin cups in your muffin tin to help make cleanup easier!
Shop This Recipe
[eafl id="12839″ name="Wilton Large Muffin Tin" text="Muffin Tin"]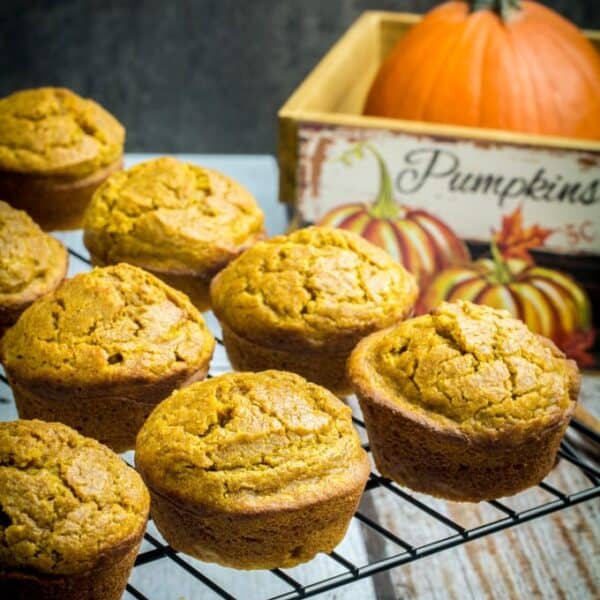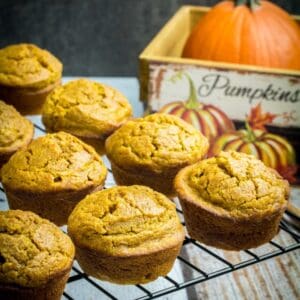 Gluten Free Pumpkin Muffins
Gluten Free Pumpkin Muffins made with pumpkin puree are soft, sweet, and full of fall flavors like cinnamon and nutmeg. Top with cream cheese, butter, or even a drizzle of maple syrup for a treat your whole family will love!
Ingredients
Wet Ingredients
1

cup

pumpkin puree

2

large

eggs

,

room temperature

1/4

cup

butter

,

room temperature

1/4

cup

half and half
Instructions
Preheat oven to 400°F. Grease a muffin pan and set aside.

Combine dry ingredients in a mixing bowl (flour, brown sugar, baking powder, pumpkin pie spice, cinnamon, nutmeg, salt). In a separate bowl beat eggs, then add to dry ingredients.

Add cream, butter, and pumpkin puree to dry ingredients. Stir all ingredients together (or use an electric beater or stand mixer) until well combined.

Add muffin batter to greased muffin tin evenly among 9 of the cups. (You can spread them among 12, but the muffins will be slightly smaller).

Bake for

20-25

, or until muffins are golden brown and slightly firm to the touch.
Notes
Click on the time in the instructions to start a kitchen timer!
You can add 1/2 cup of chocolate chips, butterscotch chips, or raisins to this recipe if you'd like!
Nutrition
Calories:
209
kcal
(10%)
Carbohydrates:
33
g
(11%)
Protein:
4
g
(8%)
Fat:
8
g
(12%)
Saturated Fat:
4
g
(25%)
Cholesterol:
63
mg
(21%)
Sodium:
138
mg
(6%)
Potassium:
196
mg
(6%)
Fiber:
3
g
(13%)
Sugar:
19
g
(21%)
Vitamin A:
4486
IU
(90%)
Vitamin C:
1
mg
(1%)
Calcium:
90
mg
(9%)
Iron:
1
mg
(6%)
We are a participant in both the RewardStyle and Amazon Services LLC Associates Program, which are affiliate advertising programs designed to provide a means for sites to earn advertising fees by advertising and linking to amazon.com and through RewardStyle.