Chewy Almond Paste Cookies
This post may contain affiliate links. Please check our privacy and disclosure policy.
Almond Paste Cookies are sweet and chewy, made with almond paste and gluten free flour, topped with sliced almonds. It's the perfect gluten free cookie for the holidays!
If you need more holiday cookie ideas, check out my White Chocolate Macadamia Nut Cookies, Chewy Gluten Free Browned Butter Chocolate Chip Cookies, and Flourless Oatmeal Cookies!

Chewy Almond Paste Cookies
Chewy Almond Paste Cookies are one of my FAVORITE cookies to make on the holidays, because they are the perfect mix of sweet and chewy on the inside, with crunchy on the outside. They're rolled in sliced almonds and coated in powdered sugar. You can find different versions of this cookie across europe, but I've always known them from the Italian bakery. If you want something closer to ricciarelli, you can add a teaspoon of orange zest to the filling. You can also dip half in chocolate decoratively if you want something more like a german horn (if you want the horn you'll have to pipe it into the shape before baking).
Is almond paste the same as marzipan?
Almond paste and marzipan are similar, but marzipan has more sugar, which makes it better to use for decoration. While almond paste is sticky and better as an ingredient only.
Can you use almond paste instead of extract?
I make this using my Homemade Almond Paste, which has both almond flour and almond extract, giving it a really strong flavor. You can add more or less extract according to your taste and the other ingredients in your recipe.
With my homemade recipe, you can also scale it up or down, depending on how many ounces almond paste your recipe calls for. Plus if you don't have almond flour, you can just use finely ground almonds from the food processor to make the paste.
If you don't feel like making it yourself, you can usually find the pre-made version in the baking aisle.
If you don't have almond extract for your cookies, you'd be fine leaving it out. But I add 1/2 teaspoon almond extract into the cookies because I like a little stronger flavor at the end. You can add a whole teaspoon if you'd prefer a more intense almond flavor. If you don't care for a strong almond flavor, you can also replace it with a teaspoon vanilla extract.
How do you know when almond paste cookies are done?
These are done with the bottoms start looking slighly brown around the edges. The cookies themselves will still be really soft, just leave them to cool for 10-20 minutes before moving them to a cooling rack. Cool completely before adding the additional powdered sugar (not including what's in the recipe already). You should end up with a crunchy outer shell, and a soft almond center. I've seen recipes that add the decorative powdered sugar before baking, but I like how it looks when it's added at the end.
Can you freeze chewy almond cookies?
Yes you can bake these ahead of time and freeze them for later. I recommend layering them with parchment paper so they don't freeze together. Wrap them tightly in an airtight container, or in a ziplock bag that's wrapped in tinfoil for an extra layer of protection.
If you don't want to bake them ahead of time, you can also drop the cookies before baking (already rolled in almonds) onto a cookie sheet lined with parchment paper. Freeze for about an hour, or until solid, then place them into a ziplock bag and freeze. You can place them directly onto a lined baking sheet from the freezer and bake.
These will freeze for 2-3 months.
How long do almond cookies last?
Almond cookies will last at room temperature in an airtight container for about 1 week. Any longer than that and I would freeze them in the interim.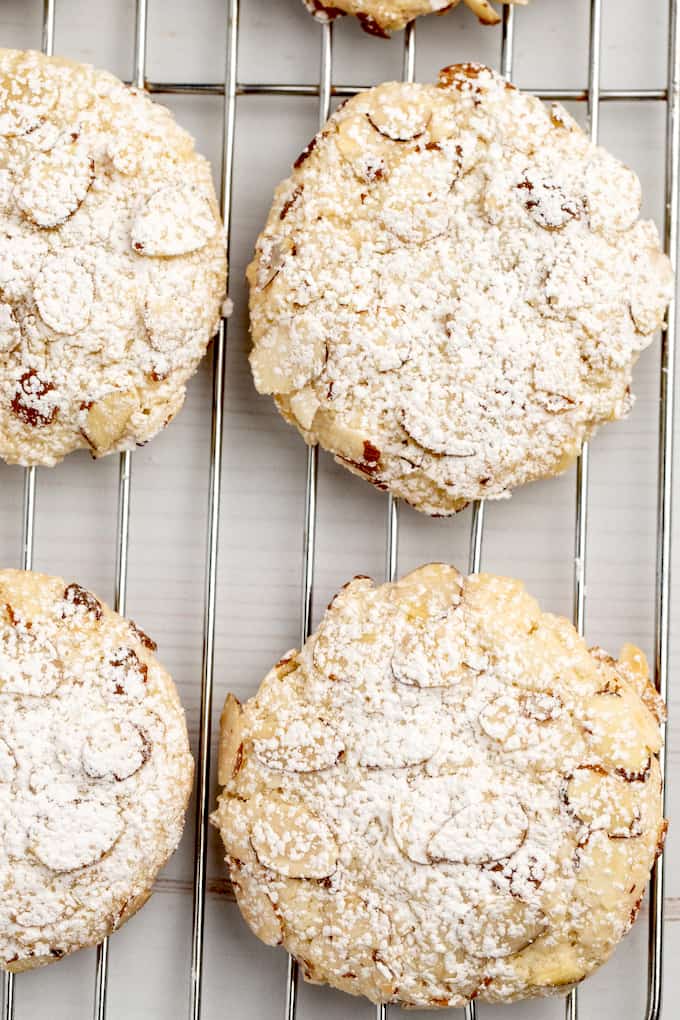 Tips for Making This Recipe
If you leave the mixture in the refrigerator for 15-20 minutes, it will be easier to roll them into balls. I've also left it in for a few hours before, I just let it sit out on the counter for about a half four before starting.
This cookie dough is really sticky. If your hands get too sticky with the almond paste mixture and it's hard to roll a ball of dough, rinse your hands in warm water to quickly clean them off. It's also easier to roll the dough into balls if it's cold.
Because this is a really sticky dough, I always line the baking sheets with parchment paper or a silicone baking mat. If you don't have prepared baking sheets, it'll be hard to remove them once they're baked.
How many cookies this makes depends on the size of your scoops. I recommend using a cookie scoop so they all come about the same size. You can make smaller or larger ones depending on the occassion. If you don't have a cookie scoop, use two teaspoons to form your cookie dough to roughly the same size.
If you want to be creative, add a handful of dark chocolate chips to the dough before rolling and add a pinch of flakey salt on top when they come out of the oven. The pinch of salt adds a deeper flavor when combined with the chocolate.
Another creative option would be to add some lemon zest and roll in crushed pistachios, or add a teaspoon of instant coffee and ground cinnamon to add flavor.
I always use 1-to-1 gluten free all-purpose flour, so if you don't have to avoid gluten you can just use the regular stuff.
If you're not sure what to do with the yolks after you remove the egg whites, may I recommend Avocado Brownies? If you make other recipes that use egg whites, like angel food cake for example, you can always make homemade eggnog with the yolks.
I use sliced almonds because they're aesthetically pleasing, but you can also use crushed almonds in the food processor if that's what you have.
As always, make sure you're using measuring cups specific to dry ingredients, and leveling them off before adding to the bowl.
I use a stand mixer to cream together the almond paste and granulated sugar before adding the other dry ingredients. If you use a stand mixer instead of a bowl, be careful not to over-mix.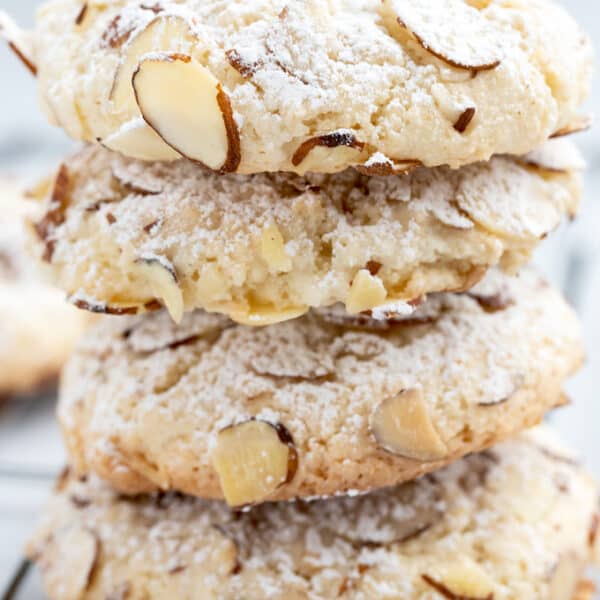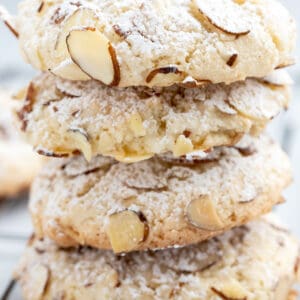 Chewy Almond Paste Cookies
Almond Paste Cookies are sweet and chewy, made with almond paste and gluten free flour, topped with sliced almonds. It's the perfect gluten free cookie for the holidays!
Ingredients
16

oz

almond paste

1

cup

white sugar

1

cup

powdered sugar

3/4

cup

gluten free 1-to-1 flour

1/2

tsp

salt

1/2

tsp

almond extract

4

large

egg whites

,

beaten

1

cup

sliced almonds
Instructions
Preheat oven to 350F. Line a large baking sheet with parchment paper.

In a stand mixer, cream together almond paste, granulated sugar, and powdered sugar until combined. On the slowest setting add flour, salt, almond extract, and egg whites. Combine until just mixed together.

Use an ice cream scoop to scoop out dough. Roll into a ball with your hands and roll in sliced almonds, then place on baking sheet. Repeat for the rest of the dough.

Bake for

15-20 minutes

, or until cookies are starting to turn golden brown towards the bottom half of the cookie. Cool before serving.
Notes
Click on the time in the instructions to start a timer!
Nutrition
Calories:
216
kcal
(11%)
Carbohydrates:
31
g
(10%)
Protein:
4
g
(8%)
Fat:
9
g
(14%)
Saturated Fat:
1
g
(6%)
Trans Fat:
1
g
Sodium:
71
mg
(3%)
Potassium:
121
mg
(3%)
Fiber:
2
g
(8%)
Sugar:
24
g
(27%)
Vitamin A:
1
IU
Vitamin C:
1
mg
(1%)
Calcium:
57
mg
(6%)
Iron:
1
mg
(6%)
We are a participant in both the RewardStyle and Amazon Services LLC Associates Program, which are affiliate advertising programs designed to provide a means for sites to earn advertising fees by advertising and linking to amazon.com and through RewardStyle.