Best Tofu Scramble Recipe is a quick and easy breakfast scramble using tofu instead of eggs, along with savory spices and veggies. It's gluten free, vegan, and only takes 20 minutes to throw together!
I love quick and easy breakfast recipes, like these grab-and-go Breakfast Oatmeal Craisin Cookies, Gluten Free Granola, or Instant Pot Steel Cut Oats!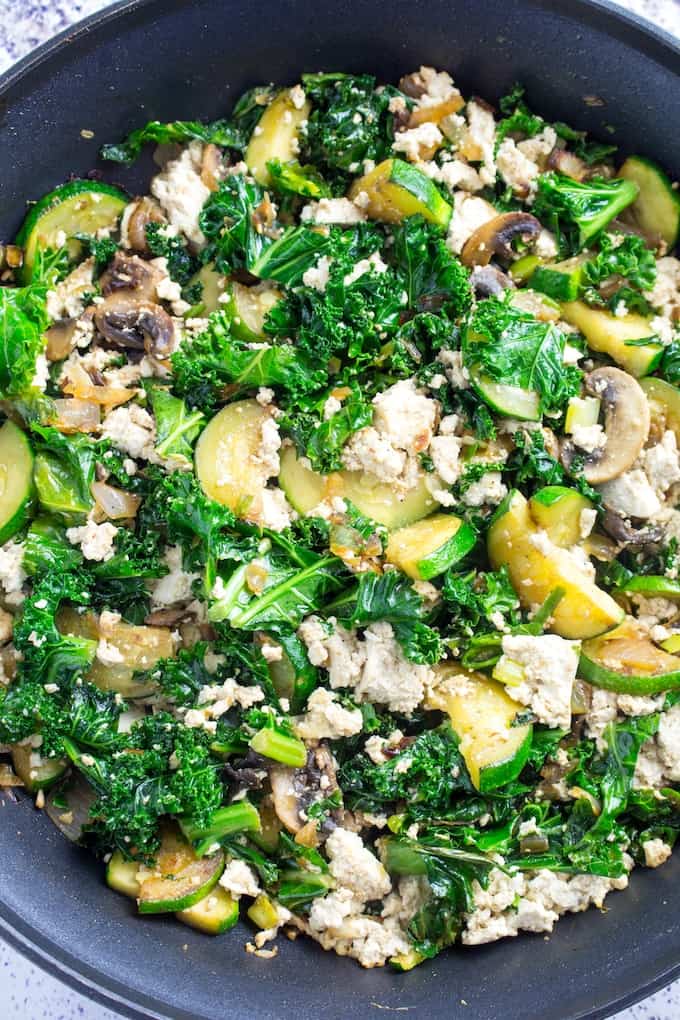 Best Tofu Scramble Recipe
Best Tofu Scramble Recipe is an easy breakfast that's vegan, gluten free, and really quick to make. You can throw any veggies you have in your fridge in here. Personally, I like to go with greens and mushrooms. That's the best part about tofu! It's bland by itself, which means it can soak up any flavors you cook it with, making the end product all kinds of delicious!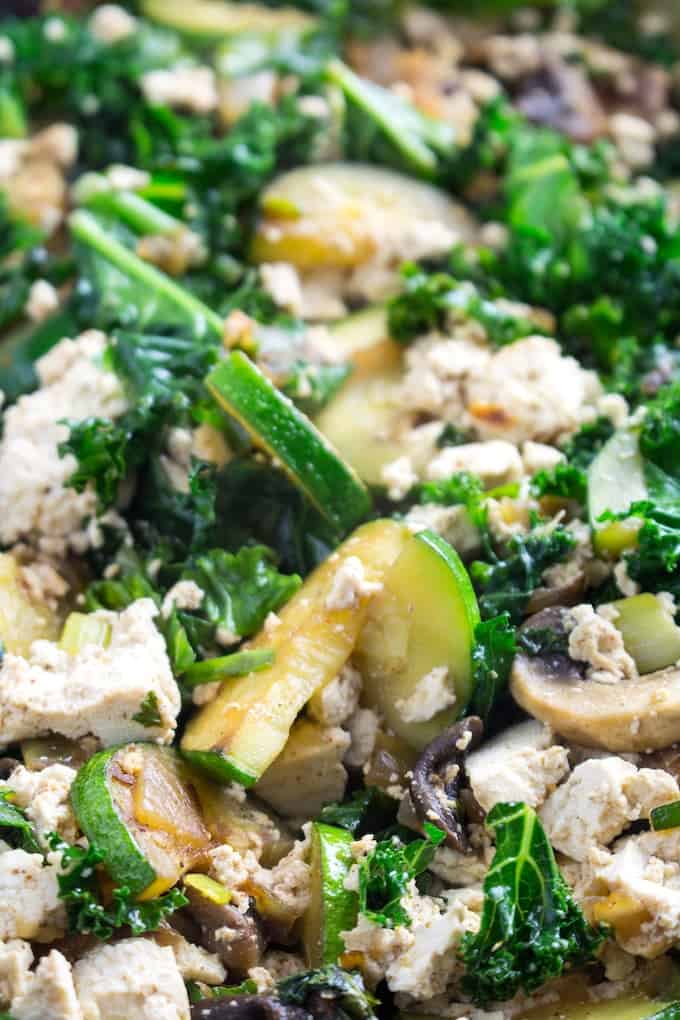 How to Make Tofu Scramble
Scrambled tofu is one of my favorite breakfasts to make on the weekends. It's super quick and easy, I feel great knowing I'm eating lots of veggies to start my day, and it's packed with protein! I learned how to make tofu scramble a few years ago, and we've been making it ever since.
Here's a few tips on how to make tofu scramble, the best tofu scramble recipe ever!
Put the block of tofu on top of a paper towel (or regular towel). Now take another paper towel on top of the block, and gently press down to release the water in the block. I'll fold the paper towel and repeat this step until there's almost no more water coming out of the block.
Cook your onions, then veggies first, because you're also going to release a lot of water from this step. You can sautee them until the water is steamed off. Otherwise you end up with a watery mess instead of the best tofu scramble!
Crumble the tofu in with your hands and stir to combine. You want to cook it until the tofu is heated through at this step, then you're done!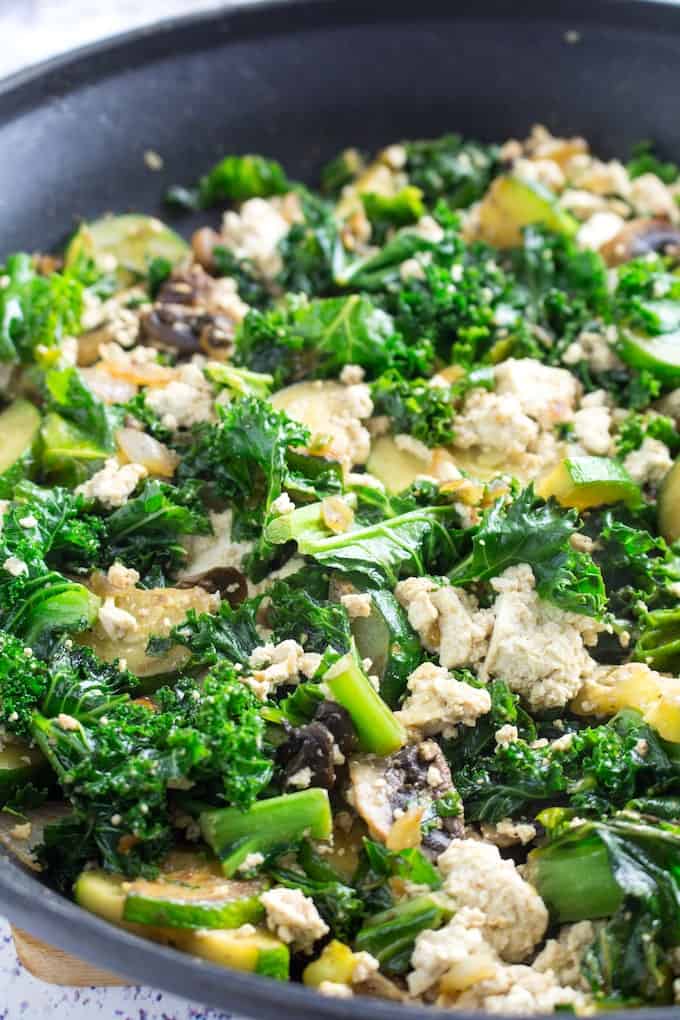 Can tofu scramble be reheated?
Yes, I have reheated tofu scramble many times. Just make sure it's stored in a tightly sealed container in the refrigerator. Then when you're ready, just take it out and either sautee it for a few minutes over medium heat, or microwave it for a minute or two.
The tofu is not going to dry out like eggs or meat would, so reheating is not really an issue. It will last in the refrigerator about 3-4 days.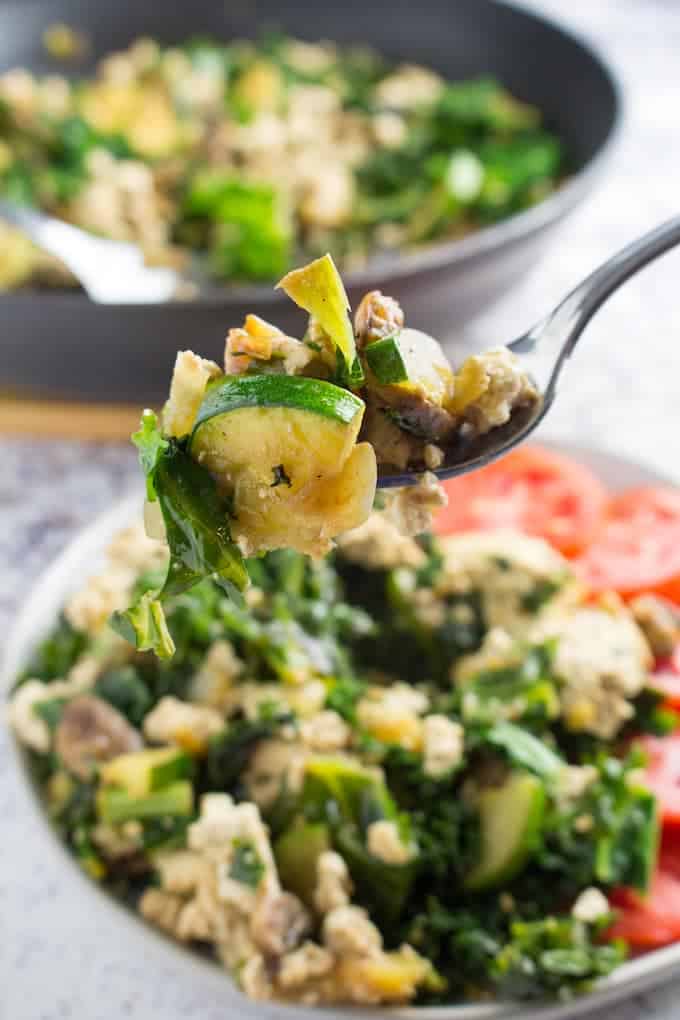 What type of tofu is best for tofu scramble?
For this easy tofu scramble I like to use extra firm tofu, because it crumbles really nicely without breaking apart too much. I think firm tofu mimics eggs as closely as you can get in a tofu scramble dish. Silken tofu is too soft (it's better for smoothies!), and medium tofu isn't quite as good as firm for this dish. You can learn more about different types of tofu here.
Vegan Tofu Scramble!
Another thing I love about this dish is that it's a vegan tofu scramble, which is great for anyone with dietary concerns. Personally, I'm not vegan, but I do love having options for when guests are over. And it's so packed with flavor anyway that I make vegan tofu scramble even when I don't have guests over!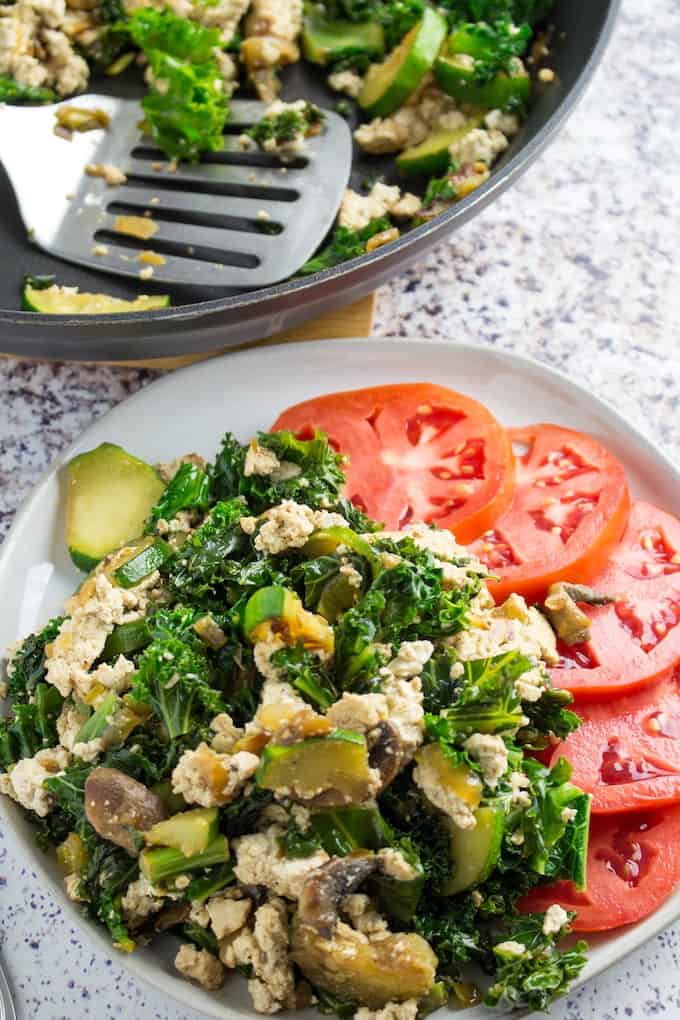 Can you freeze easy tofu scramble?
No, I do not recommend freezing this easy tofu scramble. The vegetables will be fine, but freezing tofu can change its consistency a bit. It won't completely ruin the dish, so if you're in a pinch and it's either freeze or throw away, I would freeze it. But it won't be at 100% quality like freshly made or refrigerated would be. Hey, it's easy tofu scramble, so I like to make it fresh!