Cherry Cobbler Recipe is a super simple dessert made from frozen cherries, sugar, and a buttery, crispy golden brown crust on top. This is so good that your family will be requesting it every weekend!
If you love this cherry cobbler recipe, check out this Gluten Free Blueberry Cobbler, and Slow Cooker Apple Crisp!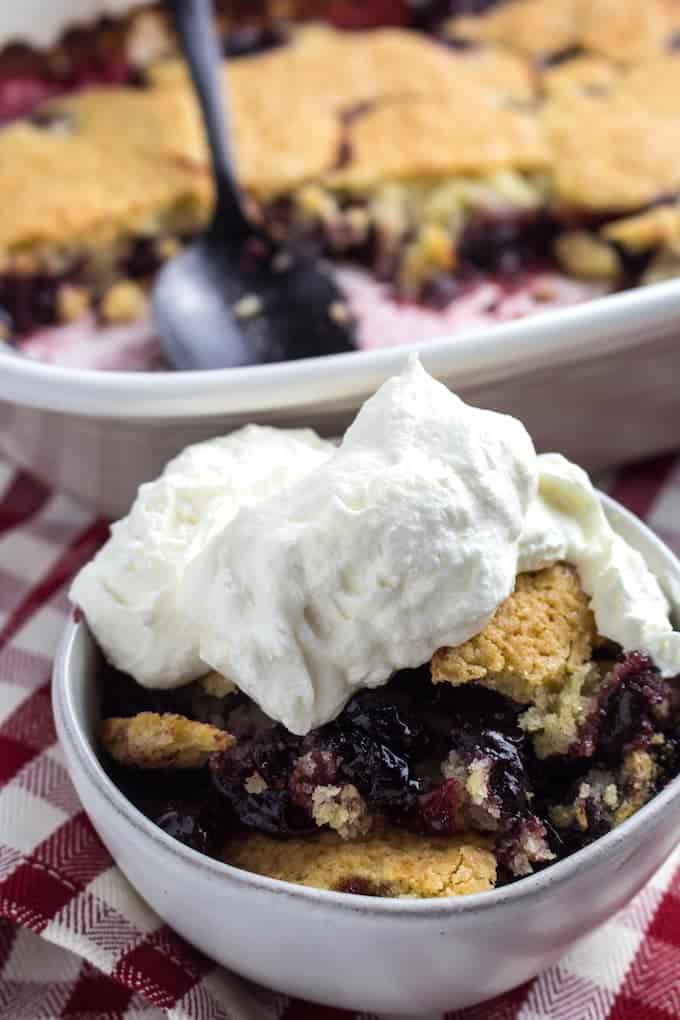 Cherry Cobbler Recipe (Gluten Free!)
Cherry Cobbler with frozen cherries is one of my all-time favorite dessert recipes. It's really simple to throw together, and it's a personal family favorite over here. Not to mention, Florida cherry season is incredible! Most of the year I'll use frozen cherries, but when cherry season hits all bets are off! I love to serve this right out of the oven with some vanilla ice cream on top. It's sweet and indulgent, while also getting your daily serving of fruit (hey, it counts, right?). Either way, this easy cherry cobbler recipe is always a slam dunk at my house!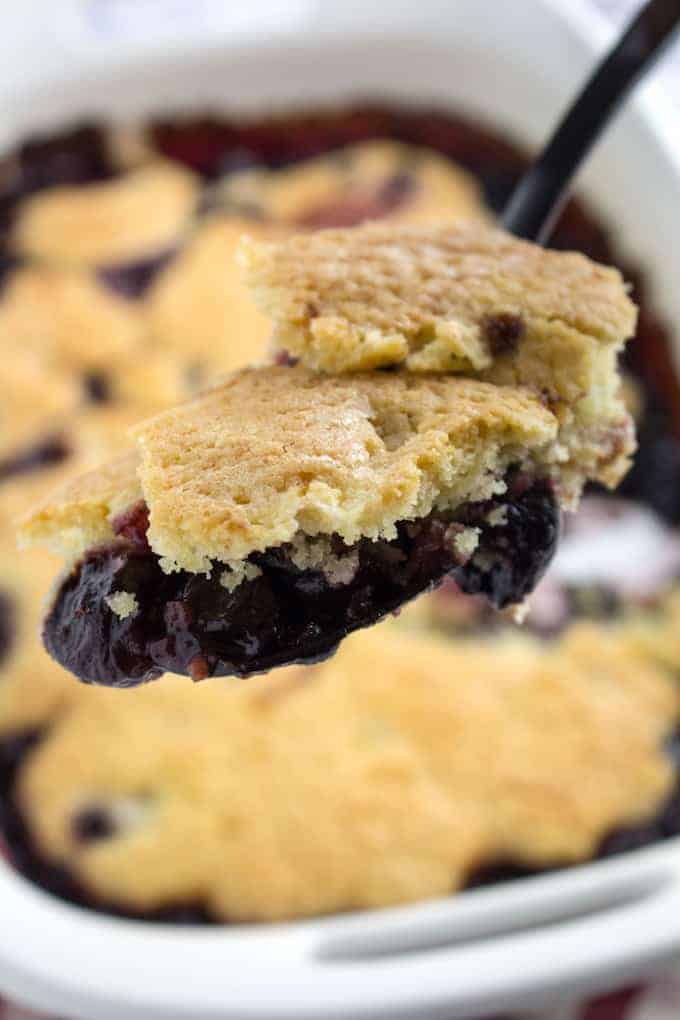 How do you make homemade cherry cobbler?
Homemade cherry cobbler is super simple to make. Most of these ingredients are probably already in your pantry or freezer!
Preheat your oven to 375F and grease your baking dish.
Mix cherries together with corn starch, cinnamon, lemon juice, and brown sugar. Try to get the corn starch coating the cherries as evenly as you can, so you don't get any clumps in there. Pour into baking dish.
Mix your remaining dry ingredients together.
Cream together butter and remaining sugar, egg, and vanilla extract, then add your try ingredient mixture.
Add batter evenly to the top of your cherries in dollops.
Bake! Until it's golden brown and delicious-looking.

Can I make cherry cobbler with fresh cherries?
You can easily make cherry cobbler with fresh cherries. First you'll need to take the pits out. Here's a video that will teach you how to pit cherries in four ways! Then you can follow the recipe as usual.
Personally, I'll use frozen cherries in just about any recipe that calls for fresh cherries, because I buy a big bag and keep them in my freezer for smoothies already. But if I have fresh cherries on hand (helloooooo cherry season!), I'll make muffins, breads, jams, pie filling, and more! But if you're going to make cherry cobbler with fresh cherries, or cherry cobbler with frozen cherries, make sure you save me a piece, because I want some!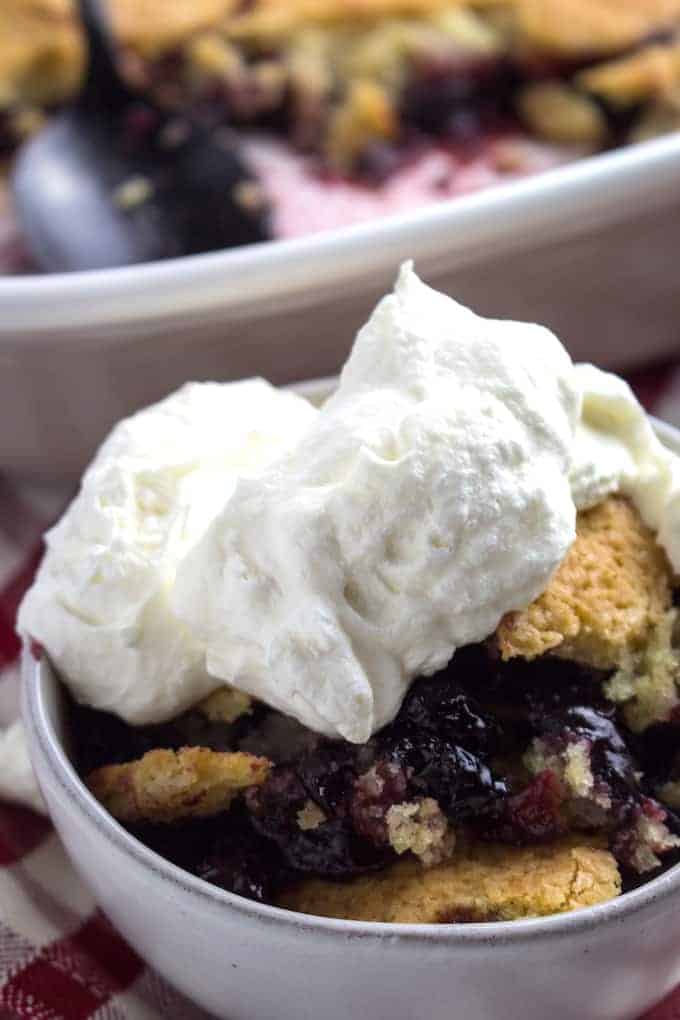 Can fresh cherries be frozen?
Yes, you can easily freeze fresh cherries. Make sure you remove the pits beforehand. Then wrap them tightly and put them in the freezer. Then you can pull them out for easy cherry cobbler any time.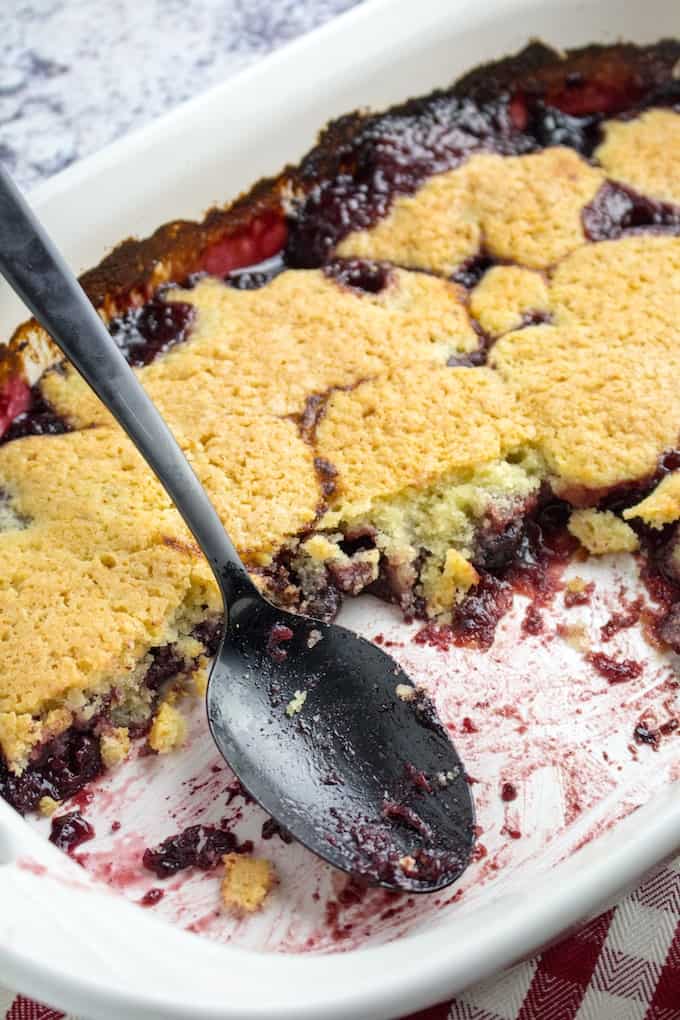 Can you make easy cherry cobbler with pie filling?
Yes, if you have cherry pie filling on hand you can definitely use it for this easy cherry cobbler. Simply add the pie filling to a greased baking dish, then follow the topping and baking portion of the recipe.