Cinnamon Baked Apples
This post may contain affiliate links. Please check our privacy and disclosure policy.
Cinnamon Baked Apples will remind you of hot apple pie straight from the oven. Sweet fuji apples, brown sugar, gluten free oats, and spices like cinnamon and nutmeg make this the only skillet dessert recipe you'll ever need!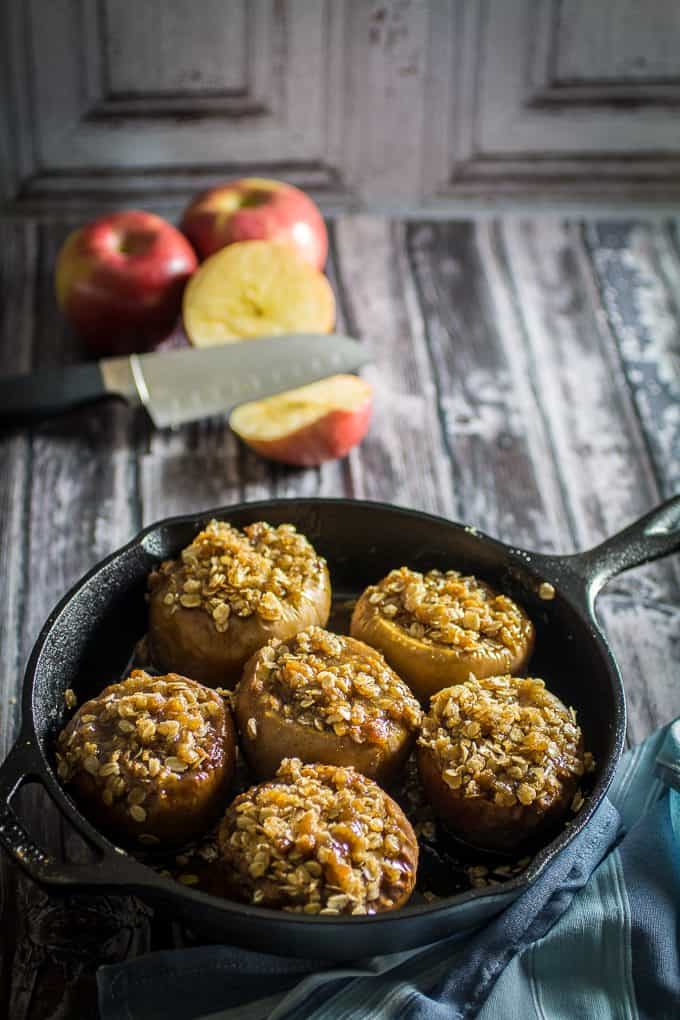 Cinnamon Baked Apples
Cinnamon Baked Apples are made with wholesome oats, brown sugar, and cinnamon. Have you ever just been in the mood for apple pie, but didn't want to go through the whole pie-making process? I mean, it's great for holidays and all, but sometimes hauling out the rolling-pin and making a mess on the counters is just too much for a lazy Sunday afternoon.
That's where Cinnamon Baked Apples step in. All of the flavor of apple pie, none of the messy setup. Plus, it's way easier to make!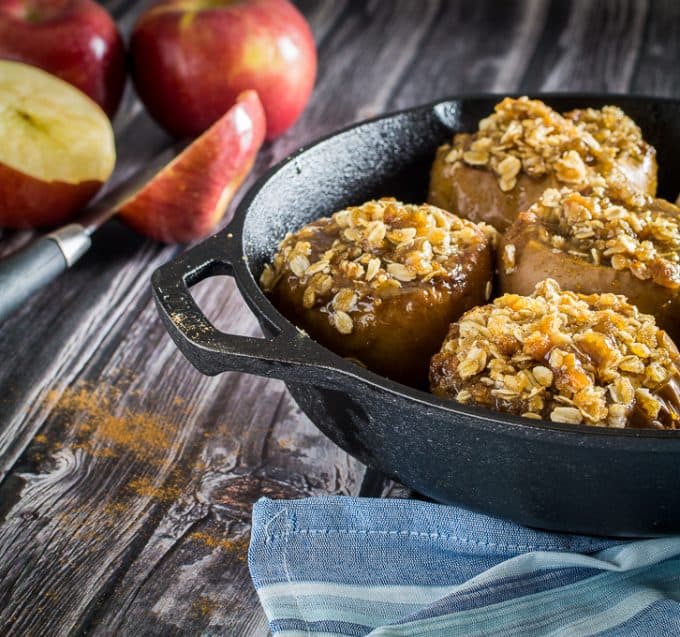 If you checked last week's post, Gluten Free Carrot Cake with Coconut & Cream Cheese Frosting, you might have noticed that I've been in a dessert mood lately. And, if I have to be in a dessert mood, the least I could do is stuff it into an apple and fill it with oats.
The healthy ingredients cancel out the sugar, right? Right?!
I'm going to keep telling myself this until I really believe it.
I've also made my triumphant return from Ohio. Hooray! It was a very interesting trip, and I definitely learned a lot. Now, more than ever, I'm feeling inspired to pursue a master's degree in food science. I've started looking into requirements for online programs.
You know, so I can attend class while my next blog recipe is in the oven. Multitasking, right?
I've always thought I'd attend graduate school someday, and there's no time like the present, right? To be honest, I really miss college. Not because of the carefree lifestyle many college kids live. Or the parties. Or when my biggest responsibility was to make sure I spent that hour studying in the quad instead of checking facebook.
Even though I don't exactly not miss those things.
What I miss most, in the nerdiest way, is learning. The answer to this, I think, is graduate school.
It's time for a Master's degree.
For these Cinnamon Baked Apples, I highly recommend using fuji apples. They're a little bit sweeter, and just work really well in this recipe. If I had granny smith apples on hand I might use them, too.
I'm also thinking that this recipe would be pretty good with pears. I haven't tried it yet, but I definitely think that's going to make an appearance around the holidays.
No, but seriously, I'm snacking on one of these cinnamon baked apples as I type this. And they are an "OMG" kind of good.
They are the almost didn't make it through the photo shoot without being eaten kind of good.
They are the I would share, but I don't think I'm physically capable of sharing these because they're so good kind of good.
Also, and I think you're going to love this part, you can freeze them! I made a big batch of these cinnamon baked apples, put them in individual plastic bags and put them in the freezer. Then, whenever I'm craving one I just put it in a bowl and microwave it for 2-3 minutes.
It's kind of like cinnamon baked apples on demand.
Yes, I think I can get on board with this.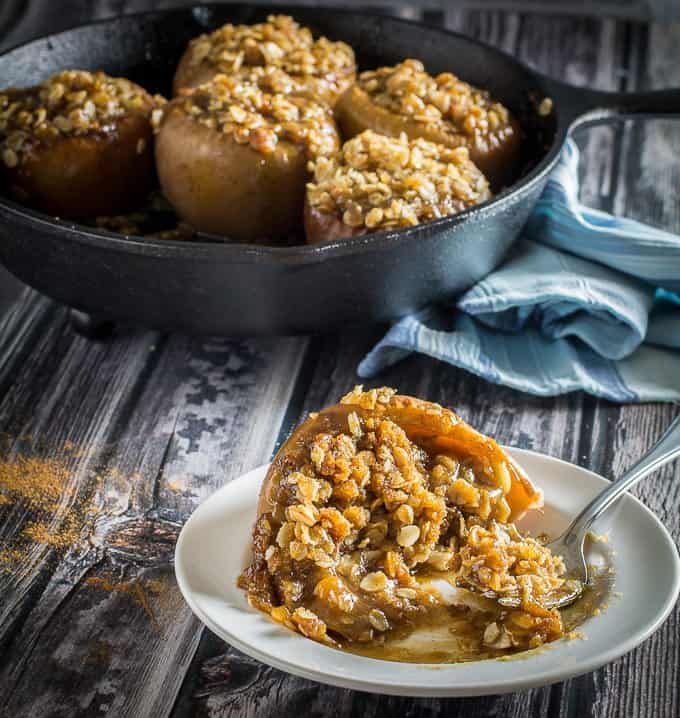 Cinnamon Baked Apples
These Cinnamon Baked Apples will remind you of hot apple pie straight from the oven. Sweet fuji apples, brown sugar, gluten free oats, and spices like cinnamon and nutmeg make this the only skillet dessert recipe you'll ever need!
Ingredients
6

medium

fuji apples

1 1/2

cup

light brown sugar

1/2

cup

golden raisins

2/3

cup

gluten free rolled oats

2/3

cup

gluten free all purpose flour

8

tbsp

unsalted butter

,

softened

1

tsp

cinnamon

1/2

tsp

allspice

1/4

tsp

nutmeg

1/4

tsp

kosher salt

4

tbsp

honey
Instructions
Preheat oven to 350°F. Grease a large skillet and set aside.

Cut tops off of apples (about 1/2 inch down from top). Use a spoon to scoop out middle of apples (with core). Discard. Stand apples up in skillet.

In a medium bowl, mix together sugar, raisins, oats, flour, cinnamon, nutmeg, allspice, and salt. Add softened butter and work all ingredients together until moist. Evenly distribute all filling into apples.

Drizzle apples with honey.

Cover skillet with tinfoil and bake for

15 minutes

. Remove foil and bake an additional

15-20 minutes

, or until tops of apples are golden brown and a fork goes through the apples easily. Let cool slightly and serve.
Notes
Click on the time in the instructions to start a timer!
Nutrition
Calories:
597
kcal
(30%)
Carbohydrates:
116
g
(39%)
Protein:
4
g
(8%)
Fat:
17
g
(26%)
Saturated Fat:
10
g
(63%)
Trans Fat:
1
g
Cholesterol:
40
mg
(13%)
Sodium:
119
mg
(5%)
Potassium:
406
mg
(12%)
Fiber:
7
g
(29%)
Sugar:
92
g
(102%)
Vitamin A:
567
IU
(11%)
Vitamin C:
9
mg
(11%)
Calcium:
87
mg
(9%)
Iron:
2
mg
(11%)
We are a participant in both the RewardStyle and Amazon Services LLC Associates Program, which are affiliate advertising programs designed to provide a means for sites to earn advertising fees by advertising and linking to amazon.com and through RewardStyle.