Creamy Coleslaw Dressing Recipe – Southern & Homemade
This post may contain affiliate links. Please check our privacy and disclosure policy.
This Creamy Coleslaw Dressing Recipe is the classic southern style that you can easily make with ingredients you already have in your kitchen. It's sweet, creamy, tangy and crunchy, just like a good southern coleslaw should be.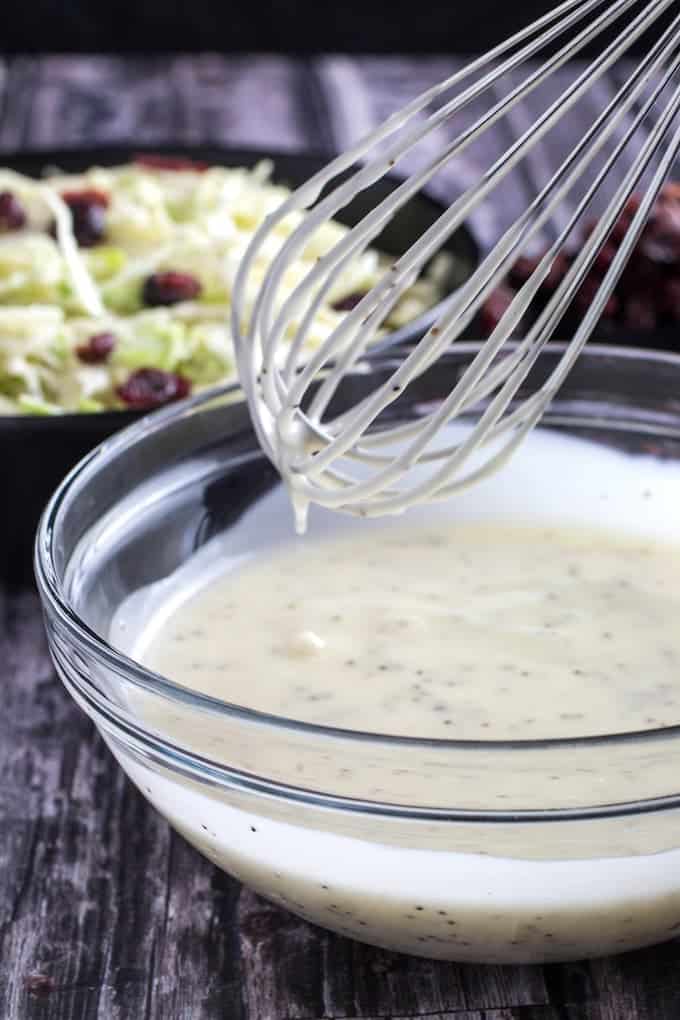 Coleslaw Dressing Recipe
Happy Monday, and welcome April! Let's start this month off right with a little bit of creamy, a little bit of crunchy, and a whole lot of comfort. This Coleslaw Dressing Recipe is the sweet and tangy start we all need this month. I'm getting ready for spring time which means plenty of BBQ and family gatherings. And while I'm gearing up the grilling recipes, we're always going to need some side dishes to go along with it. And that's where this super quick and easy slaw recipe comes in handy!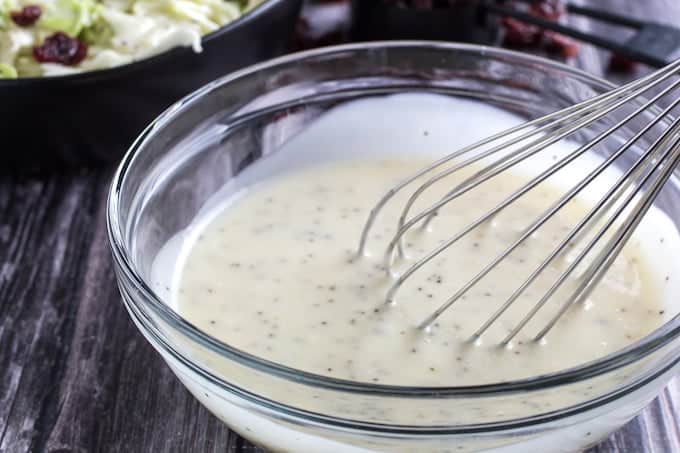 Southern Coleslaw Dressing
I hope everyone had a great holiday. I spent the day with family, just cooking and enjoying the beautiful weather down here in Florida.  Right now it's in the mid 80's, which is perfect weather to take the dogs to the park and break out the grill. In fact, I have a series of grilling recipes for the spring and summer coming up over the next few weeks, so don't miss it! For now, check out these smoked ribs, to hold you over. And yes, you can make them on a gas grill!
But for today, I want to share with you something that often gets overlooked, but deserves its own chance to shine. My southern coleslaw recipe.
What Makes A Southern Coleslaw Recipe Different?
That's a little bit of a tricky question to answer, because everyone has a different idea of what a southern coleslaw recipe is. The short answer involves two important factors.
1.) Southern Coleslaw has an incredibly creamy, sweet, and tangy texture.
This is usually from mayonnaise or buttermilk (or both).
Plus a vinegar or acid taste, to balance out the sweetness.
Sugar is involved in this glorious blend. And if you get the blend right, it won't be an overpowering sweetness, either.
2.) Southern Coleslaw is comfort food.
Do you feel comforted after you eat it, or can you pair it with your favorite comfort foods like Smoked BBQ Ribs?
It's really easy and simple to make, but it still tastes like it was made with a whole lotta' love, ya'll.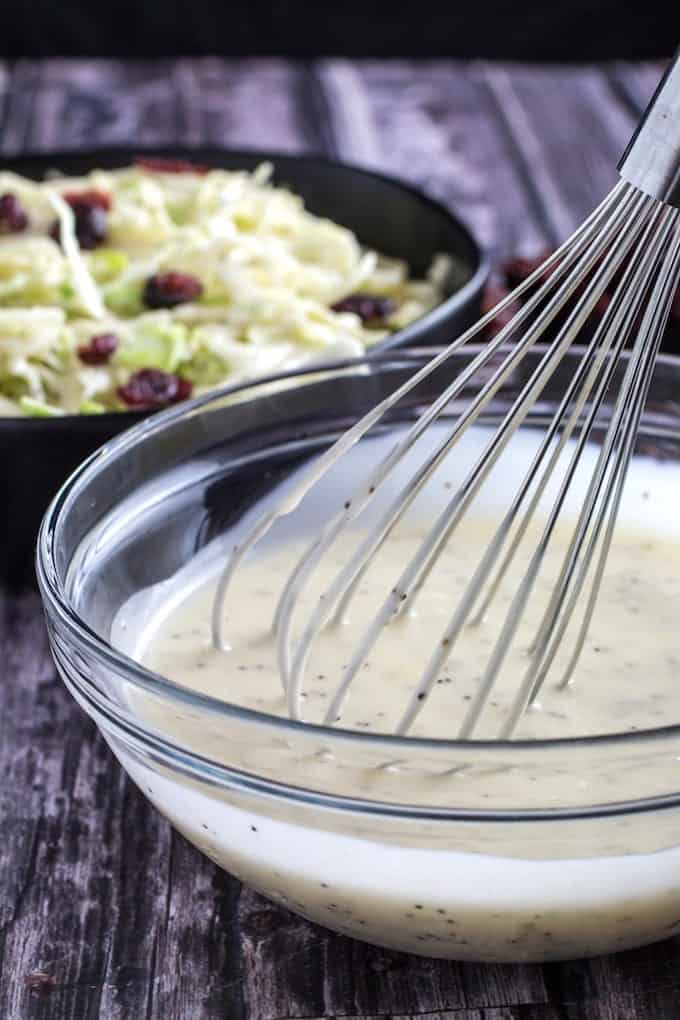 How to Make Coleslaw Dressing
If you've been wondering how to make coleslaw dressing, look no further. I'm here to tell you how incredibly easy this is to do. All you need is a whisk, a few ingredients, a bowl, and a pocket full of dream. But first, we should discuss the three typical coleslaw ingredients you're going to come across.
Sour Cream
Mayonnaise
Buttermilk
Classic Coleslaw Dressing Uses Mayonnaise.
There's no way around this one if you want to achieve that creamy, crunchy texture of a good comforting coleslaw recipe. You'll find a lot of different variations or blends if you do a quick internet search. In my opinion, none of them come close to the mayo version. This is how restaurants make it so irresistible! But I'm trying to keep it a little bit healthy here, so I'm using light mayonnaise in my version.
Let's Not Forget About Buttermilk!
I admit it, as a transplant southerner, buttermilk is like currency in the potluck community. You'll find it sneaking into all kinds of recipes, including coleslaw. It adds another layer of flavor to the creamy texture, but it also adds another layer of fat. Great for holidays, or a get-together. But if I'm making this for my family, I'll probably leave this one out.
Last But Not Least, Sour Cream.
If I'm in a pinch, I might use some light sour cream instead of (or in addition to) mayonnaise. This also adds another layer of flavor to the dressing, so you have to like how sour cream tastes to really enjoy this version of the salad.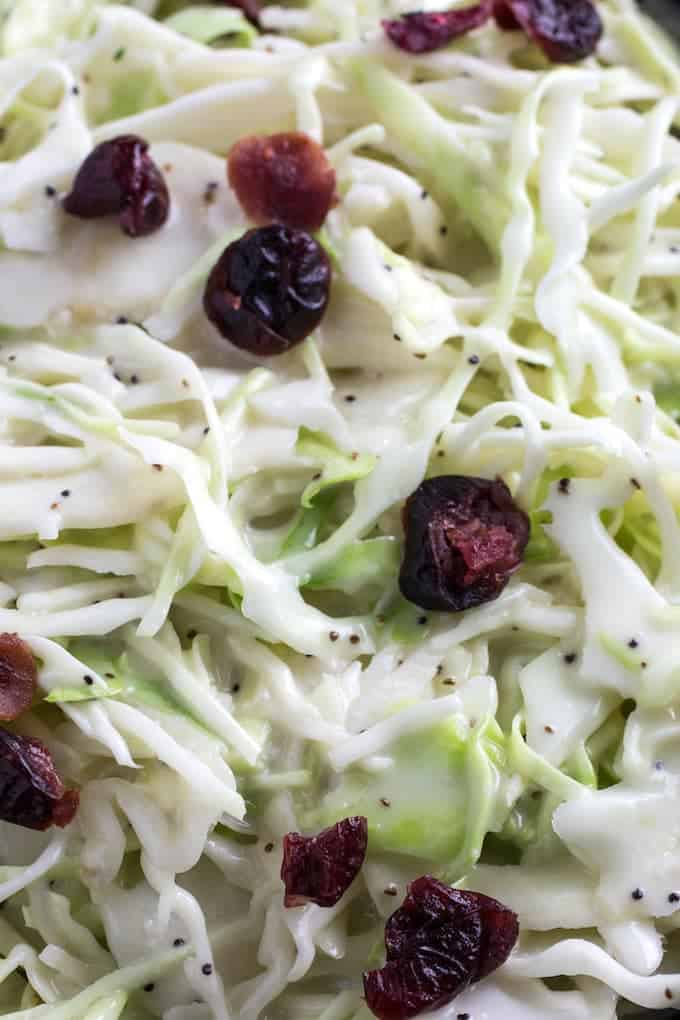 What Else Can We Add to Homemade Coleslaw Dressing?
After the three main ingredients, you're looking at what type of flavor profile you want to achieve in your homemade coleslaw dressing. You have a few options here.
Vinegar – This will add a good brightness and tang to your dressing, but you want to be careful about how much you add. A little bit goes a long way! Try to keep it to around 3-4 tablespoons, max. Vinegar will also balance out the sweetness of the dressing overall.
Seasoning – A lot of times you'll find the usual salt and pepper. But here you can really think outside the box! Try celery seed, poppy seeds, garlic, or even a little Dijon mustard. Experiment until you get the flavor you want.
Sugar – It's not enough to make your salad taste like candy, but it's more like a balance between the sweet and the savory here. If you're finding your homemade coleslaw too sweet, you can cut back on the sugar and go up on the vinegar just a touch. Everyone has different tastes here, so find a balance that works for you.
Cabbage – Last but not least, the cabbage. I am partial to green, but I have a confession to make here. I buy the pre-cut version. That's right! I want my homemade coleslaw to be quick and easy. I whisk up a few ingredients, and throw it on top of the pre-cut bag of cabbage. But you can cut up a blend of different cabbage varieties if you want, or even try it out with broccoli-slaw!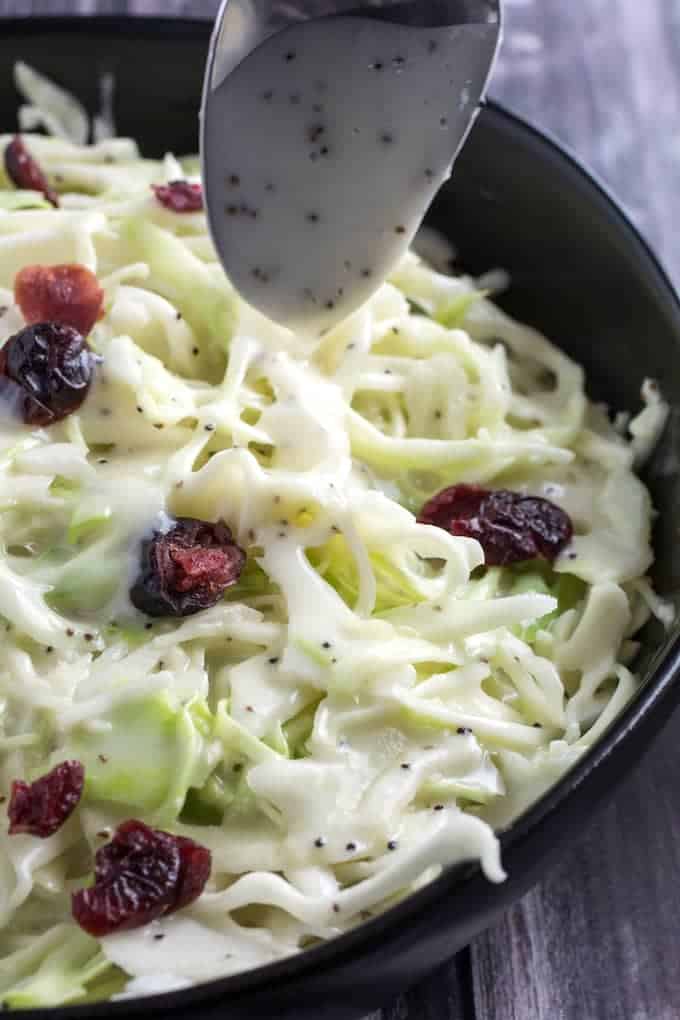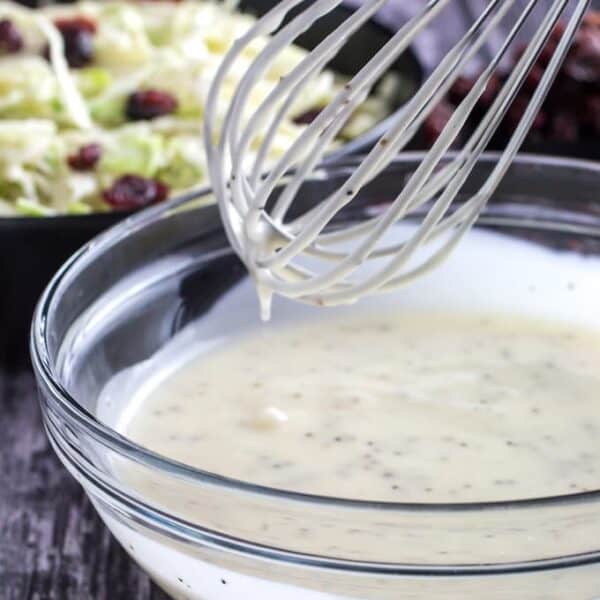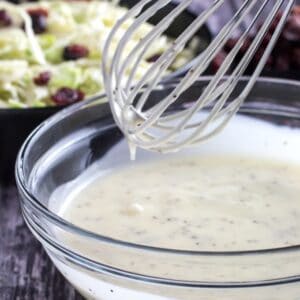 Creamy Coleslaw Dressing Recipe - Southern & Homemade
This Creamy Coleslaw Dressing Recipe is the classic southern style that you can easily make with ingredients you already have in your kitchen. It's sweet, creamy, tangy and crunchy, just like a good southern coleslaw should be.
Ingredients
1

cup

light mayonnaise

1/2

cup

white sugar

3

tbsp

apple cider vinegar

1/2

tsp

onion powder

1/4

tsp

celery salt

1/4

tsp

poppy seeds

1

16oz bag

shredded cabbage
Instructions
In a medium bowl whisk together mayo, vinegar, and sugar. Whisk in spices and poppy seeds until everything is well combined.

To make coleslaw, add this to a 16oz bag of pre-cut cabbage or coleslaw mix.
Notes
Try adding about 1/2 cup to 3/4 cup of the dressing to the cabbage at first and see what you think. I like my coleslaw with a good amount of dressing, but this way you can test it out before adding too much.
Nutrition
Calories:
131
kcal
(7%)
Carbohydrates:
19
g
(6%)
Protein:
1
g
(2%)
Fat:
6
g
(9%)
Saturated Fat:
1
g
(6%)
Cholesterol:
4
mg
(1%)
Sodium:
292
mg
(13%)
Potassium:
105
mg
(3%)
Fiber:
1
g
(4%)
Sugar:
15
g
(17%)
Vitamin A:
75
IU
(2%)
Vitamin C:
21
mg
(25%)
Calcium:
26
mg
(3%)
Iron:
1
mg
(6%)
We are a participant in both the RewardStyle and Amazon Services LLC Associates Program, which are affiliate advertising programs designed to provide a means for sites to earn advertising fees by advertising and linking to amazon.com and through RewardStyle.