Easy White Chocolate Strawberry Cheesecake + 8 Tips For The Perfect Cheesecake!
This post may contain affiliate links. Please check our privacy and disclosure policy.
Creamy, sweet, and indulgently rich, you're going to love this Easy White Chocolate Strawberry Cheesecake. The best part about this insanely delicious dessert? The crust is gluten free! Get your fork ready, because the hardest part about this cheesecake is only having one piece!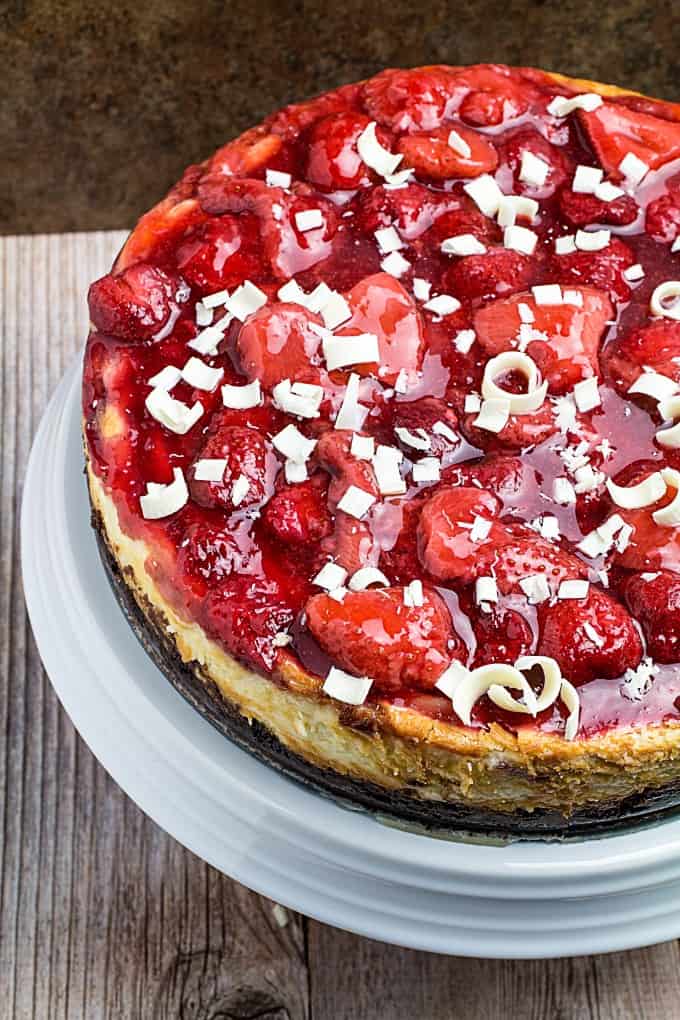 It's finally here. My favorite time of the year. The best season of all of the seasons.
It's CHEESECAKE SEASON.
Oh, yes. Cheesecake season is a thing. It's the time of year where you can bring a cheesecake with you pretty much everywhere you go, and nobody is going to question it.
Christmas dessert cheesecake? Great!
Friendly gathering cheesecake? Lovely! 
Corporate holiday part cheesecake? Here's a raise! (Ok, this one's wishful thinking). 
I smothered this white chocolate cheesecake in strawberries as an homage to the chocolate strawberry, but this would work well with any berry of your choice. Get creative. It's your cheesecake, your rules.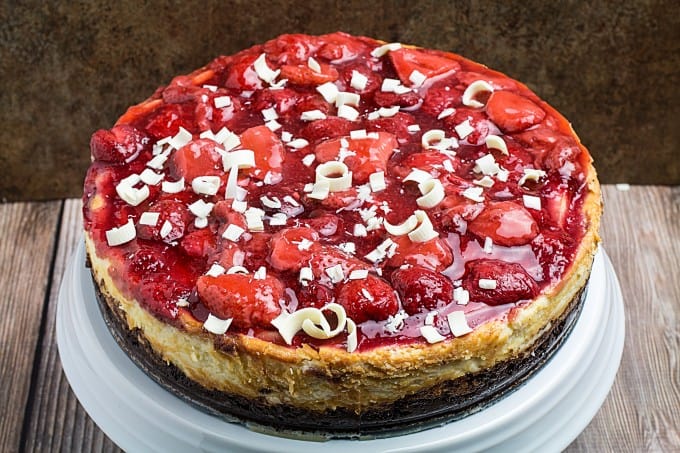 When it comes to making the ultimate cheesecake, there's a few things you need to know. A few tips and tricks that can take your cheesecake from good to OMG-I-NEED-IT-NOW. Not to mention avoiding unsightly cracks in the finished product.
Here we go!
Bring your ingredients to room temperature. The first step is to blend the sugar and the cream cheese together. If your cream cheese is too cold, you'll get a lumpy cheesecake. And a lumpy cheesecake is a sad cheesecake. Even if we eat it anyway. Which we will. This step is non-negotiable.
Don't Over-Bake. Your cheesecake is done when the sides are set (about an inch in), but the middle is still wiggly. Don't let the wiggly cheesecake fool you, it's going to finish baking by itself without your oven, and finish setting in the refrigerator. When you over-bake, you get cracks in the top of your cheesecake. Set your timer for a few minutes less than you think you do, and watch it closely from there.
Don't over-beat the batter once the eggs are added. Cheesecake should be rich and creamy, starting with the batter. When it's over-beaten, eggs can cause air to get incorporated into the batter, which means over-rising and cracks in your cheesecake. Beat the cream cheese and sugar really well, so you won't have to beat much after the eggs are added.
Use a springform pan. This pan is special for cheesecake. It releases on the side of the pan, allowing you to lift the sides of the pan away from the cake instead of dumping the cake out of it. Cheesecake is delicate, give it the pan it deserves.
Don't open the oven door while it's cooking. This can also cause cracks. The only time I open the door is after my timer goes off, and I'm checking to make sure the sides are cooked right. Once you've made your cheesecake recipe a few times, you should be able to set a timer and not open the door at all until it's done.
Let it cool in the oven. Once your cake is done (set on the outside, wiggly in the center), crack the oven door open a few inches and let the cake cool for about an hour. Avoiding sudden temperature changes is key to keeping your cake from cracking.
Run a knife around the edge once it's out of the oven. Cheesecake sets in the refrigerator, so running a knife to loosen the cake from the edge of the springform pan helps keep the pan from pulling the edges of the cake once you're ready to remove it. Do this gently.
Plan ahead. A cheesecake takes hours to set properly, so you may want to make it a day ahead of time. When you're ready to serve, dip a knife in hot water and dry completely before each cut for the perfect slice.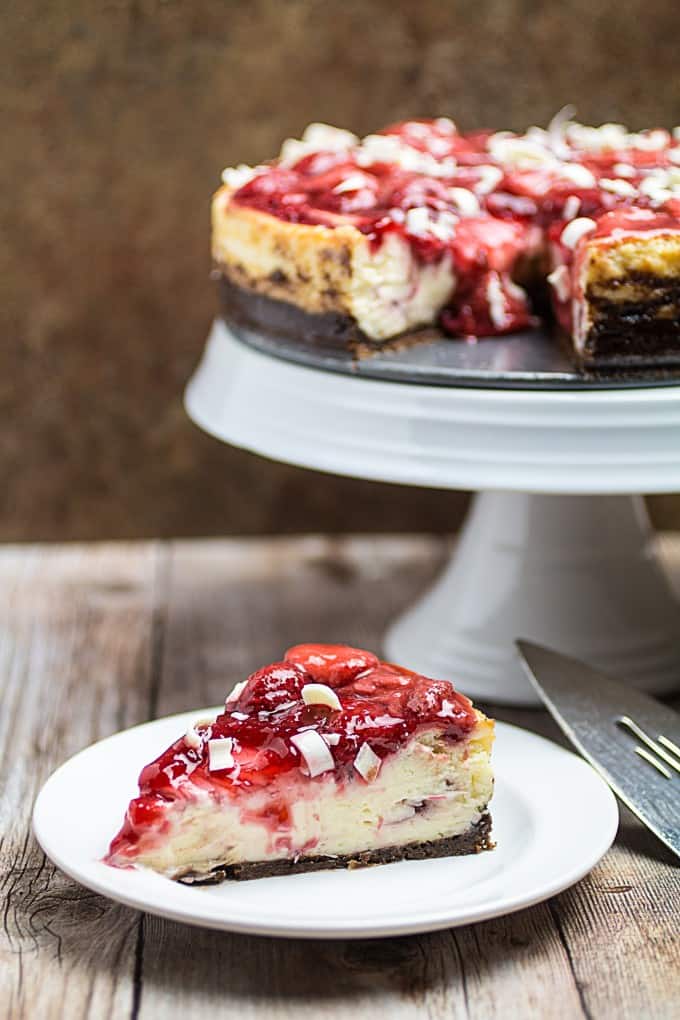 Alright, now that we're all cheesecake warriors, are you ready to take on this White Chocolate Strawberry Cheesecake? If you're a first time cheesecake maker, or a cheesecake connoisseur, I'm sure you're going to love this one.
The best part of White Chocolate Strawberry Cheesecake, in my opinion, is that the crust is gluten free. Alright, it doesn't have to be, but I only make gluten free foods so you can be assured that my cheesecake recipes will always call for gluten free crusts. If you don't eat gluten free, you can follow the recipe the same way but with regular ingredients.
Now if you'll excuse me, I have a White Chocolate Strawberry Cheesecake to eat.
I mean share. I'm sharing it. With others.
…Or something like that.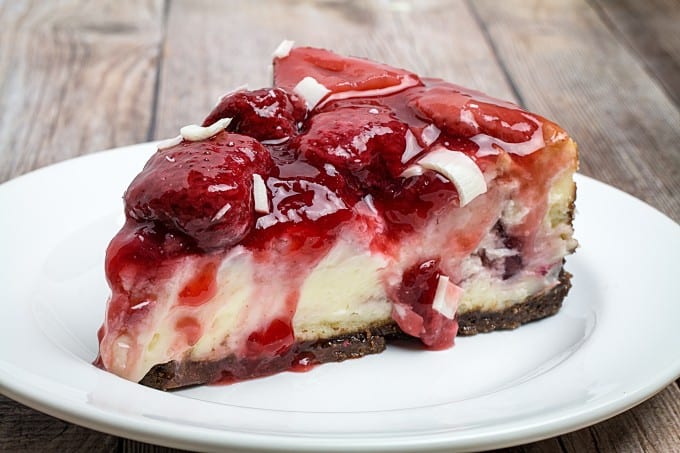 If you like this recipe, be sure to follow me on Pinterest!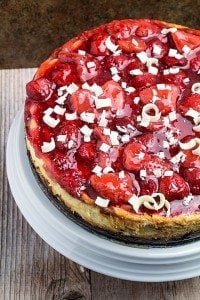 Easy White Chocolate Strawberry Cheesecake
Creamy, sweet, and indulgently rich, you're going to love this Easy White Chocolate Strawberry Cheesecake. The best part about this insanely delicious dessert? The crust is gluten free! Get your fork ready, because the hardest part about this cheesecake is only having one piece!
Ingredients
For the Crust
1 1/2

cups

gluten free chocolate chip cookie crumbs

1/2

tbsp

white sugar

3

tbsp

unsalted butter

,

melted
For the Topping
12

oz

frozen strawberries

1/2

cup

water

2

tbsp

white sugar

1

tbsp

corn starch
For the Filling
2

cups

white chocolate chips

,

gluten free

1/2

cup

half and half

24

oz

cream cheese

,

at room temperature

1/2

cup

white sugar

1

tsp

vanilla extract

3

large

eggs

,

at room temperature
Equipment
Springform pan

Stand mixer

Saucepan

Bowl

Whisk
Instructions
Preheat oven to 325°F. Grease a 9-inch springform pan with butter.

Add cookie crumbs to a medium bowl. Stir in sugar and melted butter until combined. Press cookies into bottom of springform pan evenly.

Over medium heat, add strawberries, water, sugar, and corn starch to saucepan. Whisk to mix corn starch in with liquid. Bring to boil then lower heat to simmer, stirring occasionally. Simmer for about

5 minutes

, or until sauce begins to thicken. Remove from heat and set aside.

In a double boiler, melt white chocolate. Whisk in half and half. Once smooth and combined, remove from heat and let cool slightly.

In a large mixing bowl (or stand mixer), beat together cream cheese and sugar until smooth. Add vanilla. Slowly incorporate one egg at a time, waiting until completely combined before adding next egg. Add melted white chocolate to cream cheese mixture and mix until just combined.

Pour half of the batter into springform pan. Drizzle with 3-4 tbsp sauce from strawberry topping. Add remaining batter and smooth with a spoon until spread evenly.

Bake

45-50 minutes

, or until sides of cake are set (about 1-inch in) and middle still wiggles. Once done, turn off oven and open door a few inches. Allow cheesecake to cool in the oven for about

60 minutes

.

Remove from oven, top with strawberries, cover in plastic wrap and refrigerate for about

8 hours

before removing from pan and serving.
Notes
Click on the time in the instructions to start a timer!
Cookie crumbs can be made easily by pulsing cookies in a food processor. You can follow this recipe with gluten free or regular cookies.
I recommend placing a baking sheet under your springform pan, just in case it leaks, depending on the quality of your pan.
Make a double boiler by simmering water in a clean saucepan and placing a glass bowl on top. Melt the chocolate in the glass bowl, stirring often. 
Nutrition
Calories:
615
kcal
(31%)
Carbohydrates:
54
g
(18%)
Protein:
9
g
(18%)
Fat:
41
g
(63%)
Saturated Fat:
23
g
(144%)
Polyunsaturated Fat:
4
g
Monounsaturated Fat:
11
g
Trans Fat:
1
g
Cholesterol:
129
mg
(43%)
Sodium:
338
mg
(15%)
Potassium:
293
mg
(8%)
Fiber:
1
g
(4%)
Sugar:
41
g
(46%)
Vitamin A:
965
IU
(19%)
Vitamin C:
17
mg
(21%)
Calcium:
139
mg
(14%)
Iron:
1
mg
(6%)
We are a participant in both the RewardStyle and Amazon Services LLC Associates Program, which are affiliate advertising programs designed to provide a means for sites to earn advertising fees by advertising and linking to amazon.com and through RewardStyle.