Gluten Free Vegetable Lasagna
This post may contain affiliate links. Please check our privacy and disclosure policy.
Cheesy, gooey goodness layered up with fresh vegetables, pasta, tomato sauce and topped with basil. Gluten Free Vegetable Lasagna is the perfect Italian twist to your weeknight routine. You can make this ahead of time or freeze for an EASY weeknight dinner!
There's nothing quite like a really, really good Italian meal. It fills your home with the perfect aroma of herbs and tomato sauce, and makes your whole family eagerly await the mouth-watering goodness.
Gluten free vegetable lasagna is an easy weeknight staple in my house, and I think you're going to love it, too. I make a big pan of this in the morning and place it in the refrigerator until I'm ready to cook later that night. This is especially great when you have guests over, so you're not spending all night in the kitchen! Or, I make a big pan of this and freeze half of it for another night.
It's easy. It's versatile. And, most importantly, you can freeze it. Does it get any better than that, really?
If you had a chance to catch up on my last recipe post, Slow Cooker Black Bean Chili, I talked about how crazy my life has been in the past few months. Well, I'm really happy to report that it's finally sloooooowed down a bit. I finally feel like I can breathe again. 
Maybe it's because there's less stress now. Maybe it's the lasagna.
I'm on team lasagna.
Not only do we love living here in Florida, I'm pretty sure I'm turning into a mermaid based on how many times I've been in the ocean in the past two weeks.
Seven. I've been in the ocean seven times. In March. ♡
Now that we're settled, there's about 500,000 boxes to unpack (mostly kitchen stuff), pictures to hang, and furniture to arrange. And so many places in the area to go see! It really gives me a chance to procrastinate the unpacking process. Like fishing! We've taken up fishing (mostly sitting on the beach), which it turns out I'm really bad at. But once I catch something, you're going to be getting the best damn trout/grouper/snapper recipe there is!
But enough about me, let's get back to this big Italian pan of deliciousness right here. I've assuming you've had lasagna before (this is a thing that everyone has had, right? Right?? I need this to be true). You know when you cut into your first piece, and that Ah-Maaaazing string of steaming hot mozzarella just calls you to it?
Yea, that's what I'm taking about here.
It's also packed with fresh veggies, which appeals to the I-should-probably-do-healthy-things-even-though-I-really-want-ice-cream part of me. I packed this gluten free vegetable lasagna with spinach, mushrooms, onions, and tomato. You can add any veggies you'd like. I suggest broccoli, zucchini, or any type of squash. It's all delicious when you smother it in mozzarella, right?
Right?
♡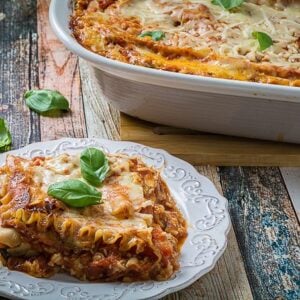 Gluten Free Vegetable Lasagna
Cheesy, gooey goodness layered up with fresh vegetables, pasta, tomato sauce and topped with basil. Gluten Free Vegetable Lasagna is the perfect Italian twist to your weeknight routine. You can make this ahead of time or freeze for an EASY weeknight dinner!
Ingredients
1 1/2

boxes

Gluten Free lasagna noodles

5

cups

marinara sauce

16

oz

ricotta cheese

3

cups

fresh chopped spinach

2

cups

shredded mozzarella

1

cup

mushrooms

,

sliced

1

greenhouse tomato

,

sliced thin

1

bunch

fresh basil

,

chopped (for garnish)

Cooking spray or olive oil to grease pan
Instructions
Preheat oven to 375°F. Grease lasagna pan.

Spread 1/2 cup of sauce on bottom of pan.

Arrange 4-5 noodles in dish (or however many you need to cover the bottom of your pan).

Add 1 cup of sauce over noodles, spread evenly.

Add about half of the ricotta cheese, distributing evenly over noodles.

Arrange layer of spinach and mushrooms over ricotta.

Pour 1 cup sauce over spinach, spreading evenly with spoon.

Next, place another layer of noodles over sauce.

Add an additional 1 cup sauce over noodles, again spreading evenly.

Sprinkle onions over sauce, and place layer of thinly sliced tomatoes in rows.

Add remaining riccotta cheese, spreading evenly over tomatoes.

Sprinkle 1 cup shredded mozzarella cheese over tomatoes, and additional 1/2 cup sauce.

Place final layer of noodles, topping with leftover 1 cup sauce and 1 cup shredded mozzarella cheese.

Cover lasagna pan with tinfoil and bake for about 45 minutes, or until a fork goes through the noodles easily.

Uncover lasagna and bake for an additional 15 minutes, or until cheese is brown on top.

Allow to cool slightly, then top with fresh basil and serve.
Notes
How many noodles (or sauce) you'll need may depend on the size of your pan. I usually use 1 1/2 boxes gluten free lasagna noodles.
You can also add ground turkey or beef to this. Cook in sauté pan until just done before adding to lasagna.
Check the cooking directions on your box of lasagna noodles, but most gluten free noodles do not need to be cooked before layering.
Some people prefer to sauté the vegetables before layering them into the lasagna. I think it's fine without the extra step, but you can also do it this way.
We are a participant in both the RewardStyle and Amazon Services LLC Associates Program, which are affiliate advertising programs designed to provide a means for sites to earn advertising fees by advertising and linking to amazon.com and through RewardStyle.