Low Carb Chili (No Bean Chili) is the perfect blend of your favorite chili ingredients like peppers, onions, and tomatoes with a kick of spice. It's incredibly easy to make, just throw everything in the slow cooker and forget about it until it's done!
Just in case you're entering the next chili cook-off in your town, here's a few more chili recipes: Slow Cooker Black Bean Chili and Slow Cooker Turkey Chili!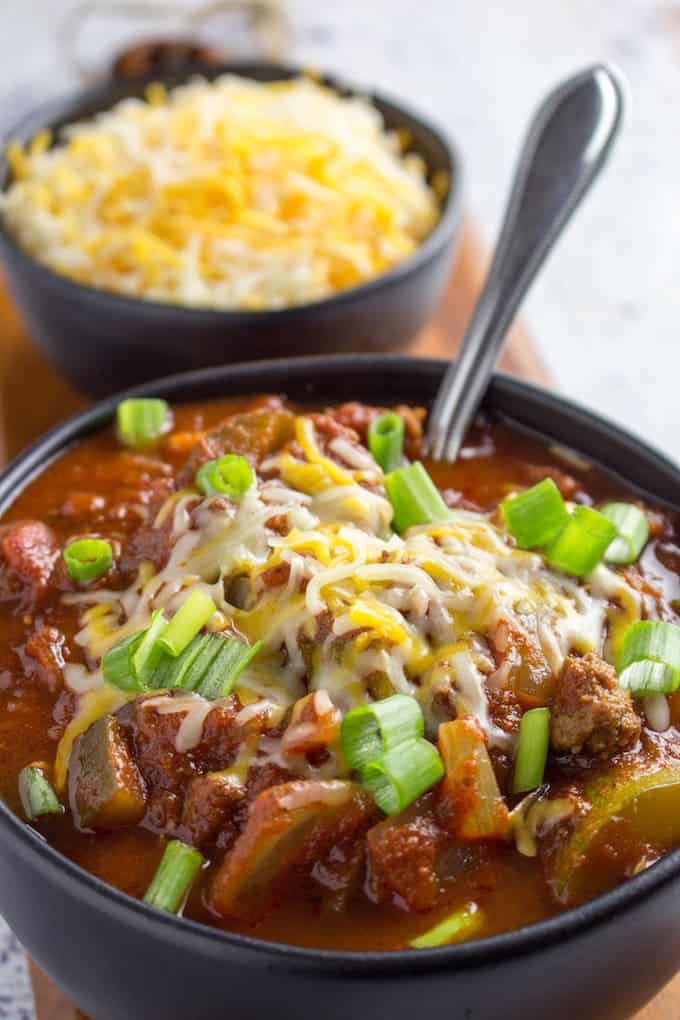 Low Carb Chili Recipe (No Bean Chili)
Low Carb Chili (No Bean Chili) is a ridiculously simple low carb crock pot chili recipe using bell peppers, onions, zucchini, and tomato. I love making this when I want something as comforting and filling as chili, but want to make it a little bit healthier. Plus it's a great way to hide a few extra vegetables in your meal!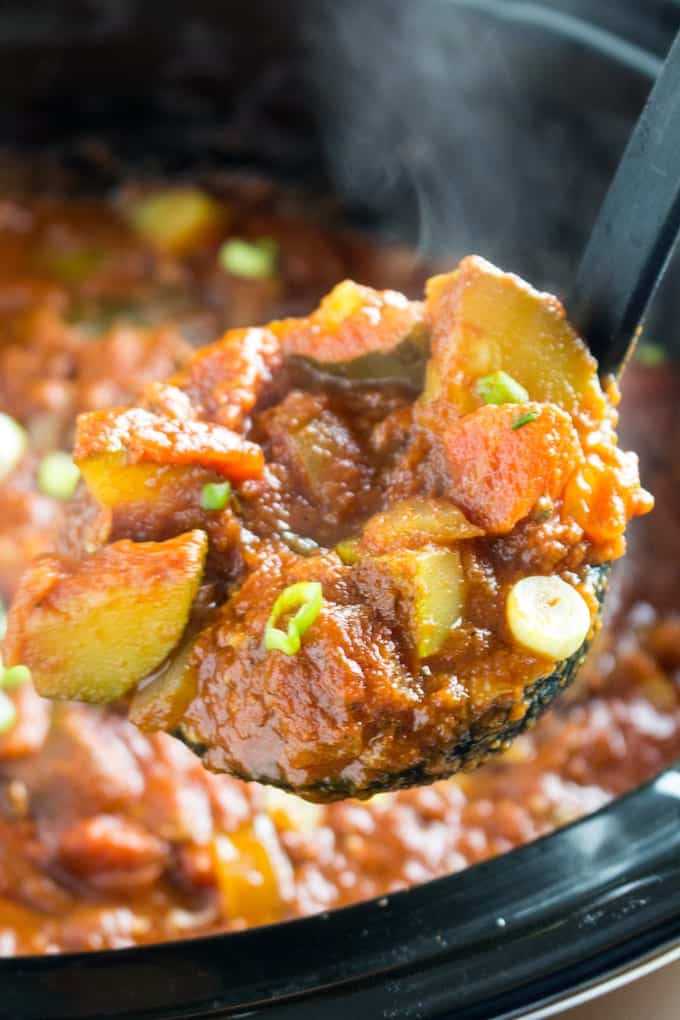 What you need for this crockpot chili no beans recipe
Crock pot
Serving spoon
Sautee pan
Ingredients
How do you cook low carb crock pot chili?
Low carb crock pot chili is a really easy no bean chili recipe that only takes a few minutes to throw together. Then you get to leave it in the crock pot until it's hot and ready.
Saute the meat.
Add all ingredients to crock pot.
Cook low and slow.
That's it! You probably have all of these ingredients in your pantry already, and since this is a no bean chili recipe, that's one less ingredient you'll have to worry about!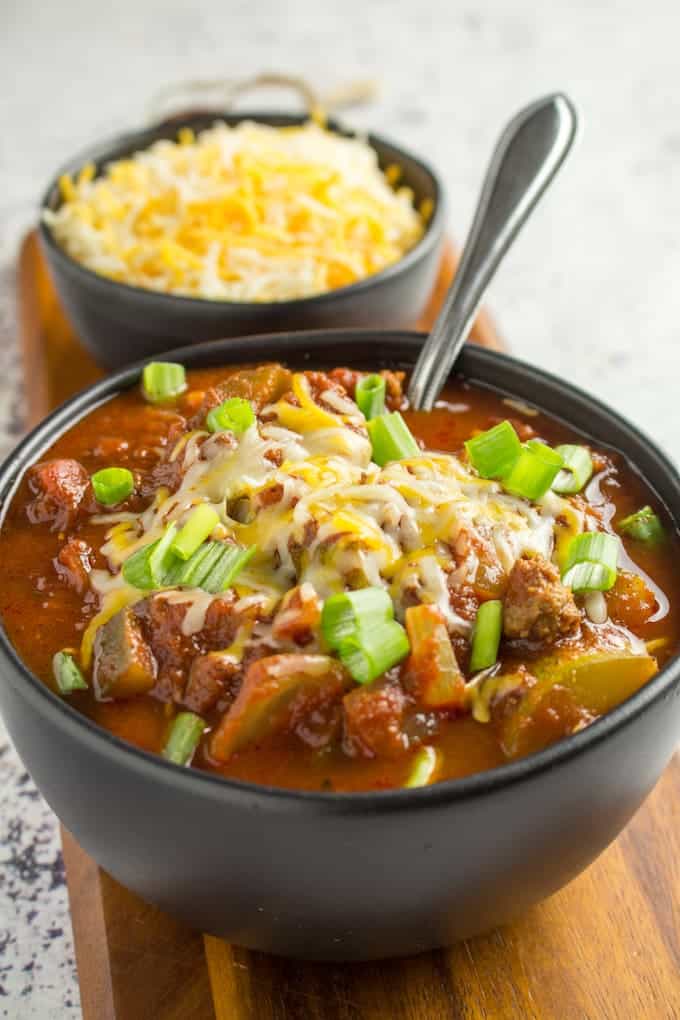 Is chili supposed to have beans in it?
Technically, chili is not supposed to have beans in it. But as we all probably know, Americans today classify chili as a dish with a good helping of beans and meat, smothered in cheddar cheese. Personally, I think you should just make a chili recipe no beans however you like it. And just know that when you make a chili without beans, you're technically doing it the right way!
What do you put in chili without beans?
Tomato. If it's just for the base, go with a puree and some paste. If it's a bulking thing, use diced or chopped.
Onions, peppers, and spices, of course.
Ground meat. You can use beef or turkey.
Extra veggies. I used zucchini for this recipe, but you can throw in whatever you have in your pantry.
I love making this a crockpot chili no beans recipe. That way I can set it and forget it for the rest of the day! And when you're done running your errands, you know that you have crockpot chili no beans waiting for you, in all of its delicious glory.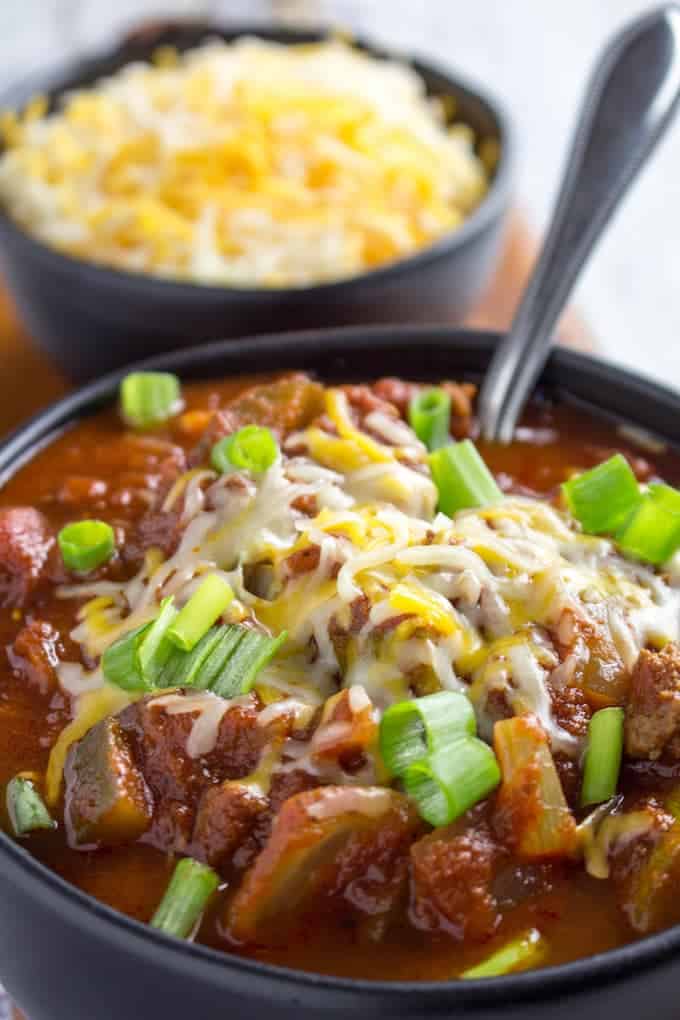 What is a good substitute for chili sauce?
I always like to start with a good tomato base when I'm making a chili without beans. Using the tomato puree and paste really brought a creamy bulk to the dish, and you can add any kind of seasoning you'd like. To replace a chili sauce, I'd recommend a mixture of cayenne pepper and a pinch of cumin, with a dash of vinegar. Here's a great recipe for homemade chili sauce.