Oven Fried Fish Tacos with Spicy Avocado Cream Sauce
This post may contain affiliate links. Please check our privacy and disclosure policy.
Crispy, juicy, oven-fried fish smothered in a creamy, spicy avocado sauce and nestled in a warm corn tortilla. These Oven Fried Fish Tacos with Spicy Avocado Cream Sauce are simply perfect. Top with crunchy cabbage, cilantro, and a squeeze of fresh lime for an incredible flavor in this insanely easy-to-make dish!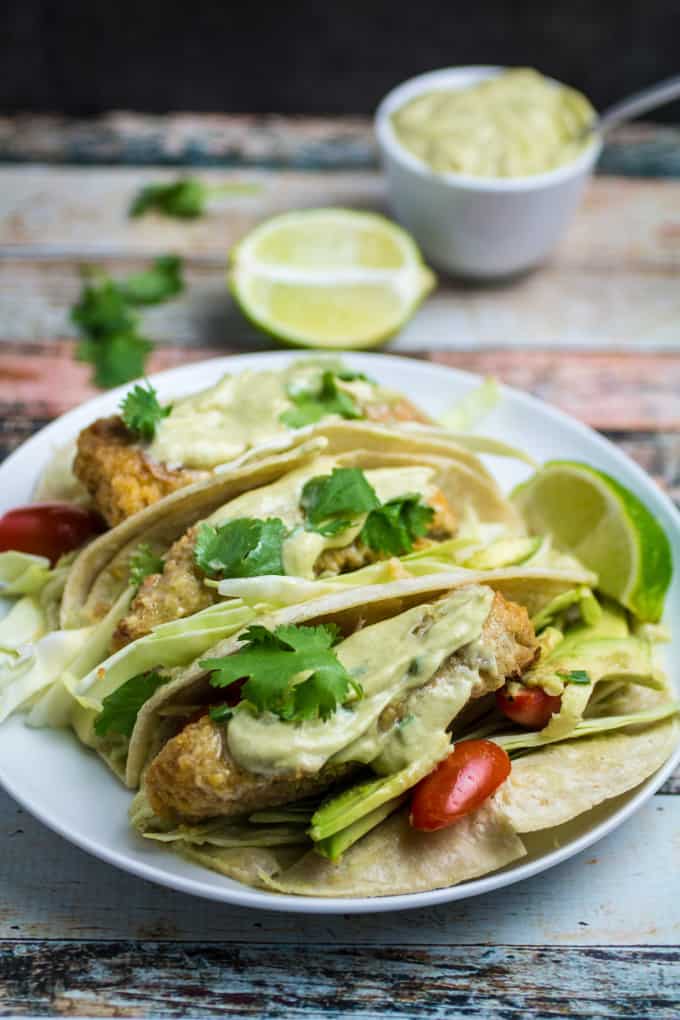 I know what you're thinking. Fish tacos? Aren't fish tacos a summertime food?
Alright, I'll give you that one. But hear me out on this. Fish tacos can be light, fresh, and full of the flavors of your garden. But these? Oh, man. These fish tacos are just a whole different level.
Oven-fried fish tacos are seriously warm, seriously filling, and seriously comforting after a long day. It's something about the seasoned, crispy breading. Or, maybe it's the thick, creamy, and spicy avocado sauce that accompanies these tender little fish morsels.
Either way, this recipe brings fish tacos to another level.
Let's talk about fillings. Personally, I'm on team raw cabbage, salsa verde and tomato. I love the crunch and freshness it brings to the dish. Andrew counters this with lettuce, extra avocado sauce, and a squeeze of fresh lime. I tried them both ways, and honestly, they're both really good.
Mine's just a little bit better
…Don't tell Andrew I said that.
Moving on!
One of the things I love about these fish tacos is that while you get the flavor of a fried fish, they're a bit healthier when you bake them in the oven and avoid all of the oil.
That's all of the flavor, less of the calories. I'm cool with that.
I used a gluten free all-purpose flour and 4c gluten free breadcrumbs for the fish in these pictures. It came out awesome, as per usual when I use the 4c breadcrumbs. I'm a fan. You can also make this recipe using regular flour and breadcrumbs and follow the recipe as normal.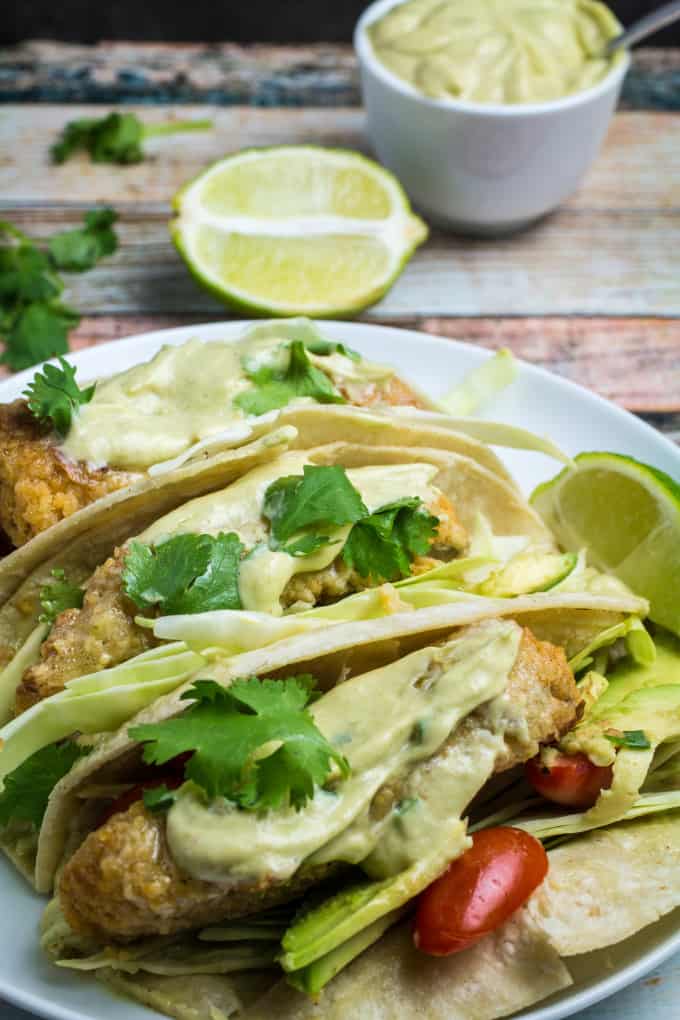 There are two ways to cook corn tortillas that I am aware of. If you have a stove that has real flames, you can place them on the open burner (over really low heat) and lightly toast them until they're warm, with pretty little grill marks on them. You can also accomplish this on a real grill, but here in the Tri-State area it's just a little too cold out to be outside grilling.
Unless you really, really like the cold weather. In which case, go for it. I'll be watching from inside, where it's warm.
The other way I know how to cook corn tortillas is to wet a piece of paper towel (big enough to wrap around your stack of tortillas), squeeze out the excess water, and wrap all of your tortillas in this paper towel at once. Put them on a plate and microwave them for about a minute to a minute and a half. Unwrap and serve.
While the first method generally tastes better, I'm guilty of usually applying the second method. Hey, I'm a busy lady.
Fish tacos will always and forever remind my of my favorite restaurant, a little place called Surf Taco. Just in case you're ever in the area, or you happen to walk/drive/run past one in your travels, I implore you to go inside. No, really. Go. Order a taco. Bask in all of its glory. Sing it a song if you want to. You'll want to. It's that amazing.
Andrew and I recently celebrated our anniversary, and every time we have something to celebrate we get tickets to a local theater by us and visit Surf Taco.
For our tickets, this time we saw a musical called Pirate's of Penzance, one of my favorite shows. I grew up training as an opera singer, so I may be bias when it comes to Gilbert and Sullivan shows, but Andrew loved it, too. I actually had a chance to perform in this show once, but that's a story for another time.
Ok, back to the fish tacos. Sure, we could go to the fancy Italian restaurant down the corner. Don't get me wrong, I love dining and enjoying a nice glass of wine as much as the next girl. But we resigned a long time ago to doing the things we love, not the things we think we should do. And we love Surf Taco. So we go there. Don't even get me started on the salsa bar. I mean, come on… SALSA BAR! Unlimited salsa goodness. That'll be a 50% fish/50% salsa taco, please. But that's just me.
While I'm not sure these are an exact copy of our favorite restaurant's fish tacos, what I can tell you is that they come pretty damn close.
I'll take that any day.
If you like this recipe, be sure to follow me here on Pinterest!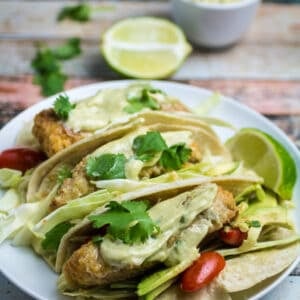 Oven Fried Fish Tacos With Spicy Avocado Cream Sauce
Oven Fried Fish Tacos with Spicy Avocado Cream Sauce are crispy, juicy, oven-fried fish smothered in a creamy, spicy avocado sauce in a warm corn tortilla. Top with crunchy cabbage, cilantro, and a squeeze of fresh lime.
Ingredients
For the Fish
1

cup

gluten free breadcrumbs

1

cup

gluten free all-purpose flour

1

tsp

garlic powder

1/2

tsp

cumin

1/2

tsp

cayenne pepper

1/4

tsp

salt

1/4

tsp

black pepper

1

large

egg

1/2

cup

buttermilk

1

lb

tilapia

Cooking spray oil
For the Avocado Cream Sauce
1

medium

avocado

,

peeled with pit removed

1

cup

half and half

1/2

cup

mayonnaise

1

clove

garlic

,

minced

2

tbsp

extra virgin olive oil

1

tbsp

fresh cilantro

,

chopped

1/2

tsp

cayenne pepper

1/2

tsp

salt

1/2

tsp

black pepper

2

tbsp

lime juice

,

or about the juice of 1 lime
Instructions
For the Avocado Cream Sauce
In a food processor, add all ingredients and process until smooth.

Refrigerate until ready to serve.
For the Fish
Preheat oven to 400°F. Grease a baking sheet and set aside.

Pat fish dry using a paper towel. Cut fish filets lengthwise, then again in half.

Place two bowls next to the baking sheet. Mix breadcrumbs, flour, garlic powder, cumin, cayenne, salt, and pepper together in one bowl.

In second bowl beat together egg and buttermilk.

Taking one piece of fish, coat in flour/breadcrumb mixture, lightly shaking fish to remove excess.

Then dip into buttermilk, coating fish completely.

Next coat same piece completely with breadcrumb mixture for a second time.

Place fish on baking sheet. Repeat for all pieces of fish.

Use cooking spray oil to lightly coat tops of fish with oil.

Place baking sheet on top rack in oven and bake for

10-12 minutes

, or until fish is golden brown and flakes easily with a fork. Serve on a warm corn tortilla with a spoonful of sauce.
Notes
Click on the time in the instructions to start a timer!
I used a gluten free all-purpose flour and gluten free breadcrumbs for the fish in these pictures. 
You can leave out the cayenne pepper out of breadcrumbs and avocado sauce if you don't like spicy.
Suggested toppings: Raw sliced cabbage, tomato, fresh lime juice, cilantro leaves, sliced avocado. Serve on warm corn tortillas or over rice.
Nutrition
Calories:
374
kcal
(19%)
Carbohydrates:
25
g
(8%)
Protein:
17
g
(34%)
Fat:
24
g
(37%)
Saturated Fat:
6
g
(38%)
Polyunsaturated Fat:
8
g
Monounsaturated Fat:
9
g
Trans Fat:
1
g
Cholesterol:
70
mg
(23%)
Sodium:
376
mg
(16%)
Potassium:
385
mg
(11%)
Fiber:
4
g
(17%)
Sugar:
2
g
(2%)
Vitamin A:
323
IU
(6%)
Vitamin C:
4
mg
(5%)
Calcium:
76
mg
(8%)
Iron:
1
mg
(6%)
We are a participant in both the RewardStyle and Amazon Services LLC Associates Program, which are affiliate advertising programs designed to provide a means for sites to earn advertising fees by advertising and linking to amazon.com and through RewardStyle.