Pecan Cranberry Baked Brie
This post may contain affiliate links. Please check our privacy and disclosure policy.
Pecan Cranberry Baked Brie is the perfect EASY and impressive holiday appetizer, made with only 5 ingredients and ready in 15 minutes!
If you're looking for more great holiday appetizer ideas, check out these Bacon Wrapped Dates & Goat Cheese, Cream Cheese Sausage Balls, and Best Ever Spinach Balls!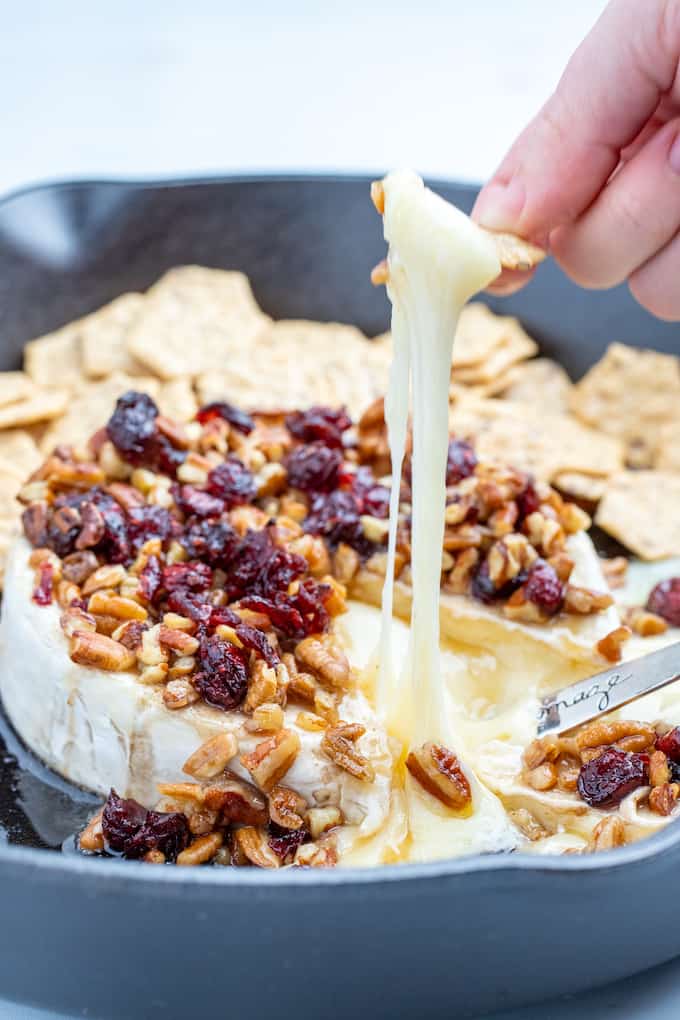 Pecan Cranberry Baked Brie
Pecan Cranberry Baked Brie is one of my favorite appetizers, made with gooey melted brie cheese topped with crunchy pecans with sweet dried cranberries and maple syrup. It's the best of all worlds, sweet and savory, crunchy and creamy. Plus it looks amazingly festive on a holiday table to impress your guests, with minimal effort in only 15 minutes!
You can swap out the nuts for your favorite kind (try walnuts or almonds), or add some spices to the topping like cinnamon or allspice. You don't need to buy an expensive brie wheel to make this either, it turns out perfect with whatever you can find in the grocery store!
Do you take the rind off the brie before baking?
You do not have to take the rind off of your wheel of brie before baking. The rind is edible, and helps keep the cheese from melting out of shape while baking.
After baked, the rind softens enough that you can easily break through it with your favorite crackers or piece of toasted baguette. You can also cut just the top of the rind off (leave the edge) before serving if you want easier access to the melted center.
What goes with baked brie?
Baked brie goes perfectly with gluten free crackers and toasted gluten free baguettes. If you are gluten free, make sure you pick a brand that has sturdy crackers, as some break more easily.
For the holidays I always go for baked brie recipes. I like to serve it with sweet toppings like dried cranberries with brown sugar, honey, or maple syrup. The sweet toppings pair really well with hot brie for the perfect sweet and savory combo.
You can also serve this with fruit like apple slices, grapes, or dried apricots. Cranberry baked brie is perfect for Christmas or Thanksgiving, and the fruit on the plate makes it look more festive!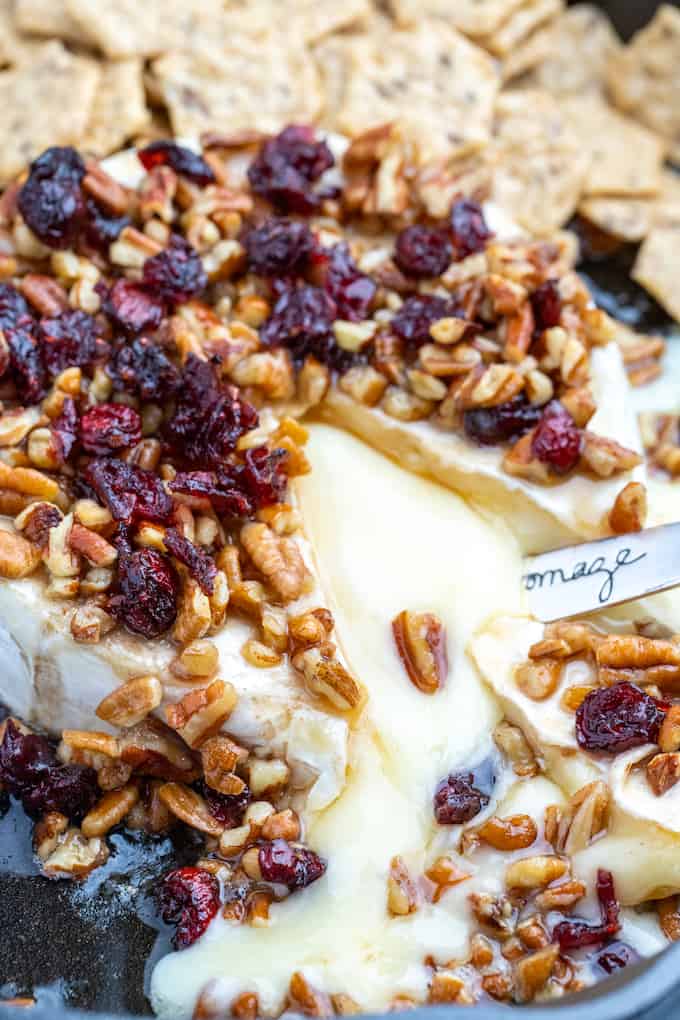 Should brie be served warm or cold?
Brie tastes best when it's warm or at room temperature. When the cheese is cold, it can taste completely different (tasteless or bland) compared to when you allow it to warm up. Room-temperature brie has a creamy soft texture and overall better flavor.
Be careful to avoid over-cooking brie, which can take it from creamy-melted goodness to tough and rubbery.
Does brie have to be refrigerated?
Yes, this cheese has to be stored in the refrigerator until you're ready to bake. Once it's out of the refrigerator, I would not leave it out longer than 3-4 hours for food safety.
Store any leftover brie in the refrigerator in an airtight container.
How do you know when brie is done?
Baked brie only needs to cook until the cheese is melted, about 10-15 minutes. If it's still too solid, bake it for another 5 minutes or so until the center is melted and gooey.
The baking time can vary depending on your oven temperature. If it's taking too long or cooking too fast, use an oven thermometer to make sure the degrees set on your oven match.
Your baked brie appetizer will stay gooey for 15-20 minutes, so make sure to serve it right away.
Tips for Making This Recipe
If you want to try something a little different, wrap your cheese in a sheet of puff pastry (the gluten free version if you need it) before baking. Leave all of your brie toppings on the inside of the pastry, and bake until golden brown.
You can substitute the pecans for whatever nuts you have on hand. Try almonds, walnuts, or pistachios. You can also make this with only the nuts if you don't want to add cranberries.
A lot of recipes call for spreading jam on brie instead of the other toppings. You can also top this with homemade cranberry sauce (or leftover cranberry sauce) instead of dried cranberries. Also try apricot jam and a drizzle of honey, or a combo of honey & nuts with pear slices.
If you don't want to use maple syrup you can use the same amount of granulated sugar. You can also use brown sugar for a deeper flavor.
You can make this in a shallow baking dish or a cast iron skillet, just keep in mind that the dish will be really hot when serving, so you don't want it to be too deep. Either grease your dish with some butter or line with a sheet of parchment paper.
If you use a sheet of parchment paper, you can carefully lift the cheese out to place on a platter with crackers (leaving the parchment paper under it, so it doesn't break open). Just keep in mind that the cheese will spread once broken open to eat, so leave room for the cheese to spread on the plate.
I always recommend using unsalted butter so you can control how salty the dish turns out.
The toppings should be placed in the middle of the cheese when baking, because once it's broken open they will run down the sides and mix with the melted cheese for a really tasty combo.
You can take the chilled brie straight from the refrigerator, add toppings, and place into the oven. There's no need to bring it to room temperature before baking.
Try using the leftovers to make a festive grilled cheese for lunch or dinner the next day!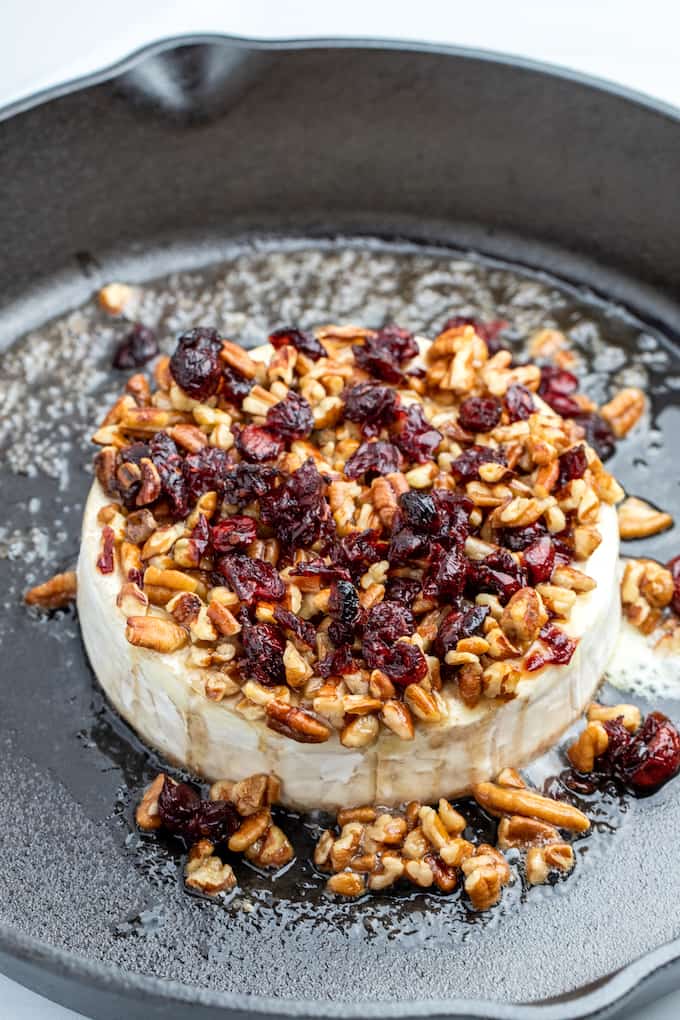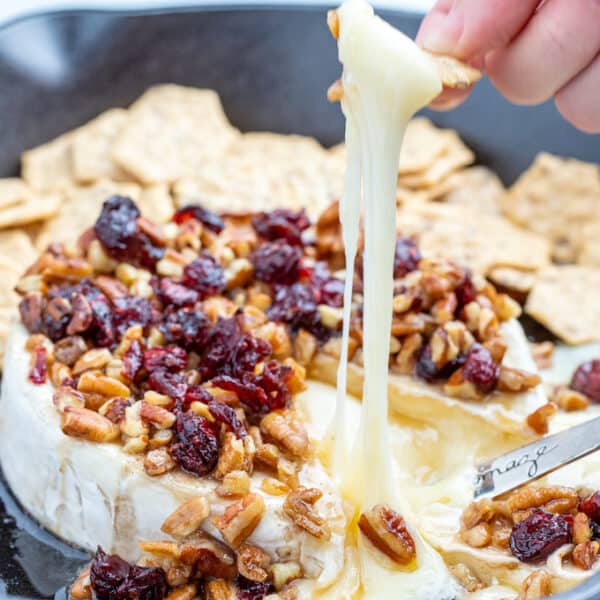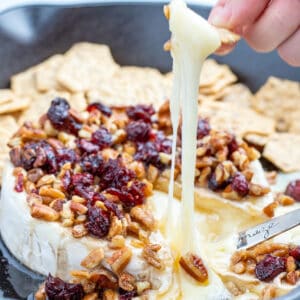 Pecan Cranberry Baked Brie
Pecan Cranberry Baked Brie is the perfect EASY and impressive holiday appetizer, made with only 5 ingredients and ready in 15 minutes!
Ingredients
1

12 oz

round brie cheese

3

tbsp

unsalted butter

,

melted

2

tbsp

maple syrup

1/2

cup

pecans

,

chopped

1/4

cup

dried cranberries
Instructions
Preheat oven to 400F. Grease a baking dish, and place the brie in the center.

In a separate bowl, mix together melted butter, maple syrup, dried cranberries, and pecans. Place on top of the brie.

Bake uncovered for

10 minutes

, or until cheese has softened.
Notes
Click on the time in the instructions to start a timer!
I used a 12 oz brie but this recipe will work with whatever size you have, usually between 8 and 16 oz. 
Nutrition
Calories:
165
kcal
(8%)
Carbohydrates:
5
g
(2%)
Protein:
6
g
(12%)
Fat:
14
g
(22%)
Saturated Fat:
7
g
(44%)
Trans Fat:
1
g
Cholesterol:
36
mg
(12%)
Sodium:
179
mg
(8%)
Potassium:
69
mg
(2%)
Fiber:
1
g
(4%)
Sugar:
4
g
(4%)
Vitamin A:
258
IU
(5%)
Vitamin C:
1
mg
(1%)
Calcium:
60
mg
(6%)
Iron:
1
mg
(6%)
We are a participant in both the RewardStyle and Amazon Services LLC Associates Program, which are affiliate advertising programs designed to provide a means for sites to earn advertising fees by advertising and linking to amazon.com and through RewardStyle.