Baked Potato Bar Ideas – Entertaining On A Budget!
This post may contain affiliate links. Please check our privacy and disclosure policy.
Baked Potato Bar is a buffet of baked potatoes and toppings. It's a really easy way to impress your guests, while entertaining on a budget!
Baked Potato Bar is the perfect thing to serve with No Bean Chili, Slow Cooker Turkey Chili, or Slow Cooker Black Bean Chili!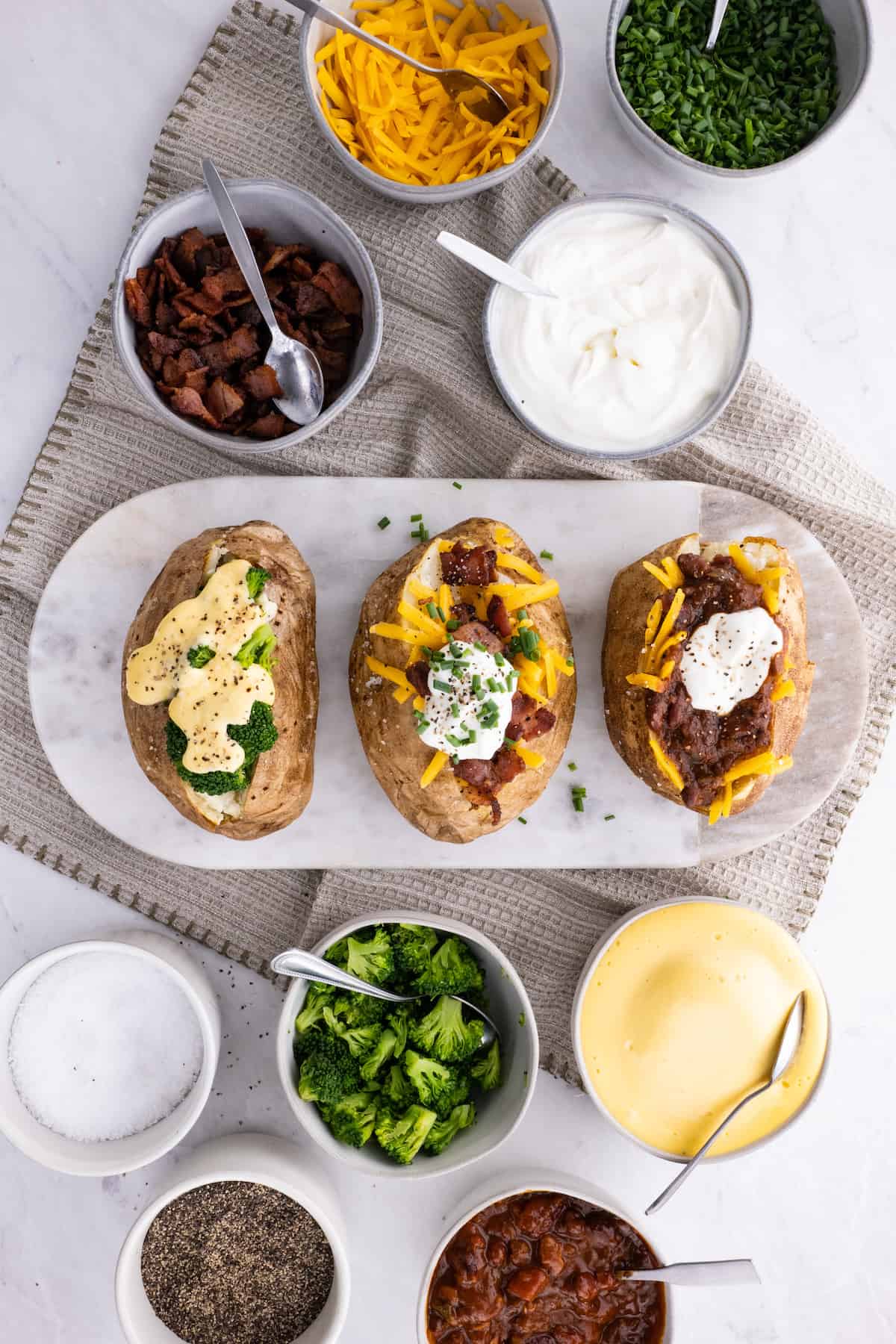 Baked Potato Bar Ideas
Baked Potato Bar is one of the best things I've ever done in my entertaining life. That is, it's one of my favorite things to serve when I'm entertaining a crowd. I have yet to meet someone who doesn't love a good baked potato, and everyone loves the idea of getting creative with the fresh toppings. It's a bit of fun, plus a hot filling dinner. We all love our comfort food and there's nothing better than a warm baked potato covered with your favorite toppings!
What goes on a baked potato bar?
A Potato Bar features the classic baked potato that can be done in the oven, slow cooker or on a grill. Just be sure to choose good sized potatoes so there's lots of room for your favorite baked potato bar toppings.
What are some good baked potato bar toppings?
When choosing the baked potato bar toppings, get creative! Of course we want the basics like sour cream and butter, but I like to add salsa for those who like a little spice in their spud. Black beans, onions, chives, broccoli, and don't forget the cheese! I like to use a cheddar blend, but any cheese will work; mozzarella, gouda, swiss, or any of your favorites.
Brown some ground beef with taco seasoning, or cook up some chili and you've got more potato bar ideas. Yum! I love a warm baked potato topped with spicy chili, personally. With a good selection of baked potato bar toppings you can layer on your favorites. I like salsa, black beans, and cheddar cheese.
Here are all of my baked potato bar ideas:
Diced onions or green onions
Chives
Cheese
Salsa
Broccoli
Crumbled Bacon
Black Beans
Chili
Sour cream
Butter
What kind of potatoes should I use?
Russet and Sweet potatoes are the best choice for your Potato Bar as they are starchy and tend to make the fluffiest potato. Yukon Gold can also be baked as it's one of the more versatile spuds. Personally, I always choose russet potatoes, because they come in a much larger size and you can usually pick up a big bag of them for a party.
How do I make Baked Potatoes on the grill?
Baking Potatoes on the grill is easy. Depending on the size of the spud, it will take between 45 minutes to an hour. Scrub them up, sprinkle with salt and wrap tightly in foil. Place on the hottest part of the grill and close the lid. Remove the tinfoil immediately when they're done cooking.
Can I Bake Potatoes in a slow cooker?
The crock pot is a great way to bake potatoes, I would do 4 to 6 potatoes in one slow cooker. First scrub the potato with water to remove any dust and pierce the skin with a knife. Then rub with a little bit of olive oil, just enough to put a thin coat on the potato. You can sprinkle the potato with sea salt at this point if you wish, this helps to keep the moisture in the potato.
Wrap them up in aluminum foil and place in your crock pot. Cook on low heat for 6-7 hours or high heat for 4-5 hours. This is a great way to get them ready so you can concentrate on preparing your toppings for later.
Once done, remove them from the tinfoil immediately, so they don't sit in the danger zone temperature for too long!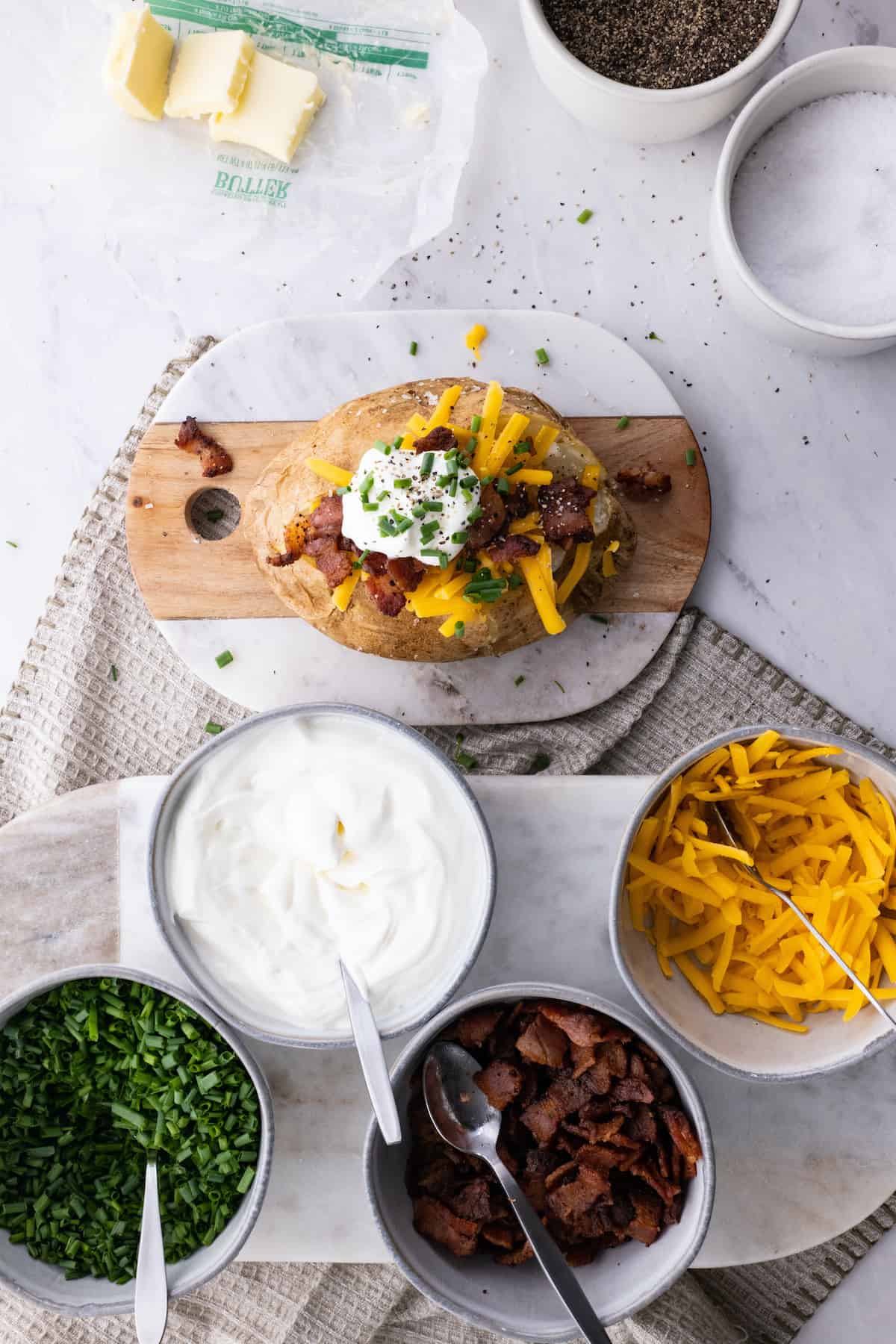 What temperature do you bake potatoes at in the oven?
Potatoes can be baked at 400F. Preheat your oven and make sure it reaches optimum heat, then pierce the potato skin with a fork or knife. Just a small cut will prevent the skin from splitting when baking and release the steam.
Place potatoes on the middle rack and bake. It takes between 45 minutes to an hour to cook potatoes depending on the size. The bigger the spud, the more time it takes to cook it through to tender.
If you're putting the potatoes directly on the rack, I recommend putting a baking sheet on the rack below the potatoes, to catch any liquid (especially if you use sweet potatoes). If you wrap them in tinfoil, remove the tinfoil immediately after they're done.
How do I know the potato is baked?
The potato is baked to perfection when it can be easily pierced with a fork.
What goes well with a Potato Bar?
What doesn't go well with a baked potato? Steaks on the grill, BBQ ribs, burgers, and chicken all work really well with a Baked Potato Bar. It also makes a great appetizer bar for those special occasions. There are really no limits to what you can add to your baked potato bar.
Here are some of my favorite main dishes you can serve along with any baked potato bar ideas: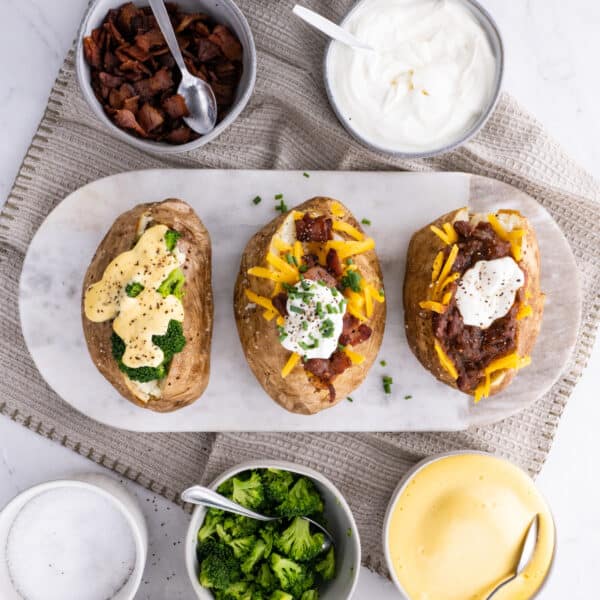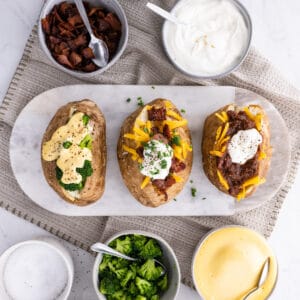 Baked Potato Bar Ideas
Baked Potato Bar is a buffet of baked potatoes and toppings. It's a really easy way to impress your guests, while entertaining on a budget!
Ingredients
8

large

russet potatoes

,

washed

1

cup

onion

,

diced

2

large

beefsteak tomatoes

,

chopped

12

oz

salsa

1

bunch

chives

,

chopped

14

oz

black beans

1

bunch

broccoli

,

chopped

12

oz

sour cream

1/4

cup

unsalted butter

1

cup

cheddar cheese

,

shredded
Instructions
Rub potatoes with coarse salt and pierce with a fork. Bake for

40-45 minutes

, or until potatoes are soft and a fork goes through easily. 

Arrange all other ingredients in their own dish so guests can serve themselves.

Cut potatoes down the middle, leaving the sides and bottom intact.

Serve potatoes and toppings in one spot, allow guests to dress their own potatoes as they'd like.
Notes
Click on the time in the instructions to start a timer!
Sometimes I'll print out little cards with "recipe suggestions" for anyone who's not sure how to top their potato.
Nutrition
Calories:
474
kcal
(24%)
Carbohydrates:
71
g
(24%)
Protein:
15
g
(30%)
Fat:
15
g
(23%)
Saturated Fat:
9
g
(56%)
Cholesterol:
41
mg
(14%)
Sodium:
373
mg
(16%)
Potassium:
1743
mg
(50%)
Fiber:
9
g
(38%)
Sugar:
5
g
(6%)
Vitamin A:
1025
IU
(21%)
Vitamin C:
73.4
mg
(89%)
Calcium:
212
mg
(21%)
Iron:
4.1
mg
(23%)
We are a participant in both the RewardStyle and Amazon Services LLC Associates Program, which are affiliate advertising programs designed to provide a means for sites to earn advertising fees by advertising and linking to amazon.com and through RewardStyle.