Cheesy Hamburger Potato Casserole is a simple but impressive dinner that is perfect for potlucks or a Sunday meal. Layers of seasoned ground beef with a homemade cheese sauce and savory potatoes. This will become your signature dish, once you serve it your guests will request it over and over!
For more quick and easy dinners, check out this Buffalo Chicken Mac & Cheese, or Chicken Broccoli Alfredo Bake!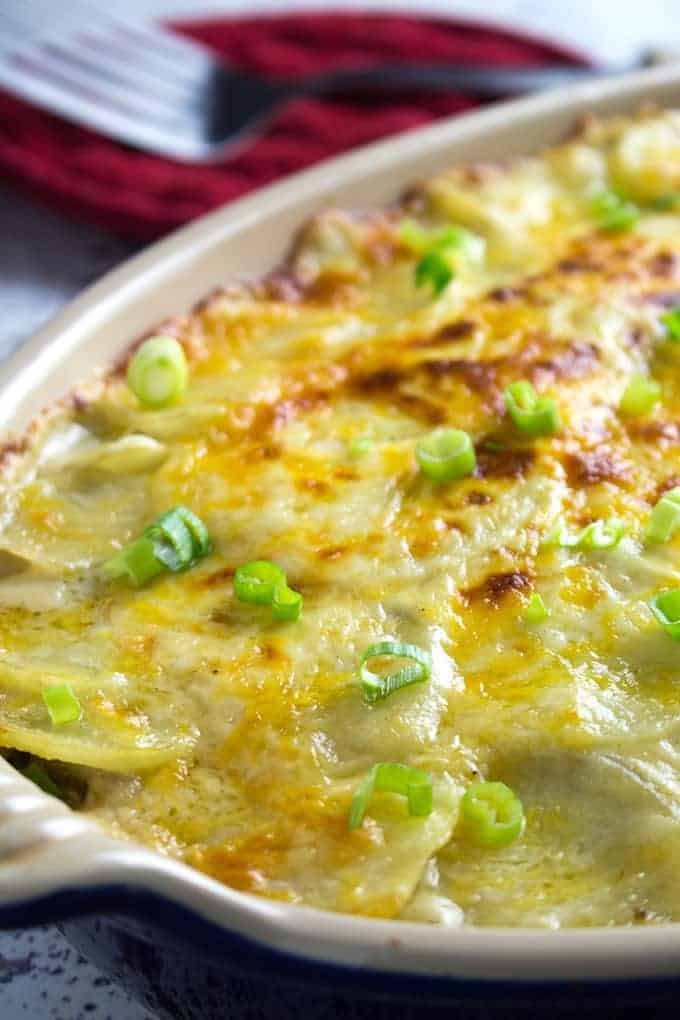 Cheesy Hamburger Potato Casserole
Cheesy Hamburger Potato Casserole is the perfect potluck dinner recipe that will have all of your friends asking for the recipe. It's creamy, meaty, cheesy, and basically everything you could ever want in a casserole dish. I like to make this when I have leftover ground beef from another recipe. You can also use ground turkey, or leave out the meat entirely for a vegetarian recipe.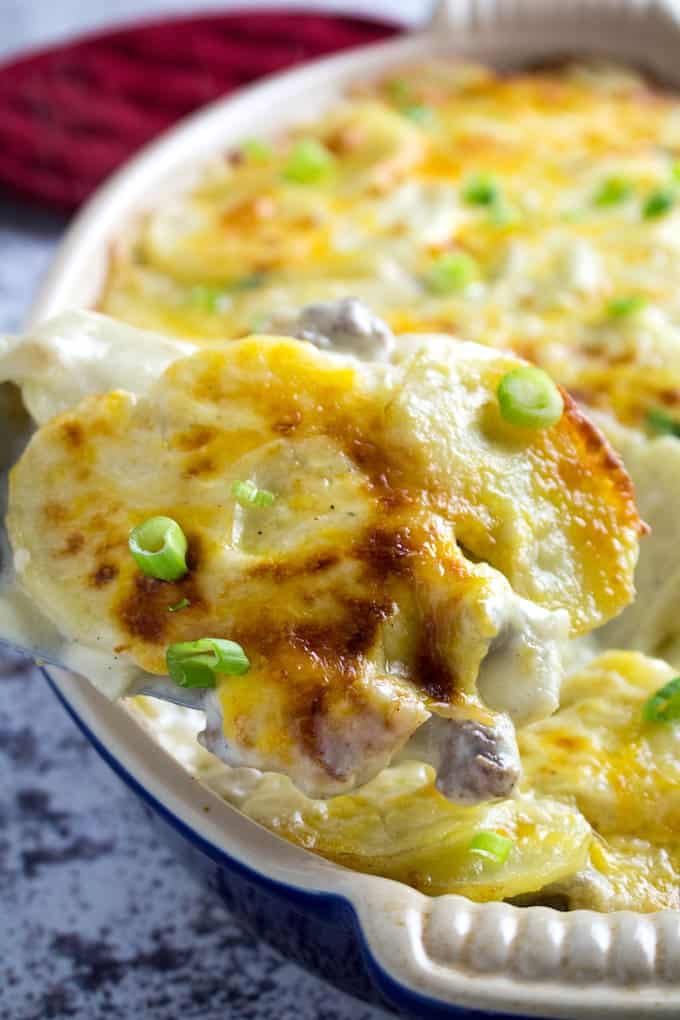 How do you make cheesy potato casserole easy?
This cheesy potato casserole is probably the most impressive-looking dish that I know how to make, while also being one of the easiest. And if you can make this dish, you'll be able to make any easy mac and cheese sauce, too! 
The secret to an easy cheesy potato casserole is in the roux. Just melt butter in a saucepan, then sprinkle in the flour and whisk like your life depends on it. The key is to whisk continuously, then when it starts to brown you slowly pour in the milk. Once the milk is in, you can relax a little, but keep whisking slowly. It will thicken up into a sauce, and from there you can add your spices and shredded cheese. Voila! You've just made cheese sauce. Easy, and way tastier than the store-bought fake cheese products.
If you have a mandolin, it will make slicing these potatoes a breeze. Just make sure to follow safety instructions!
You can certainly use freshly browned ground beef or turkey for this recipe. But I've also found that leftovers work just as well, too, if you want a fresh spin for the following night's dinner.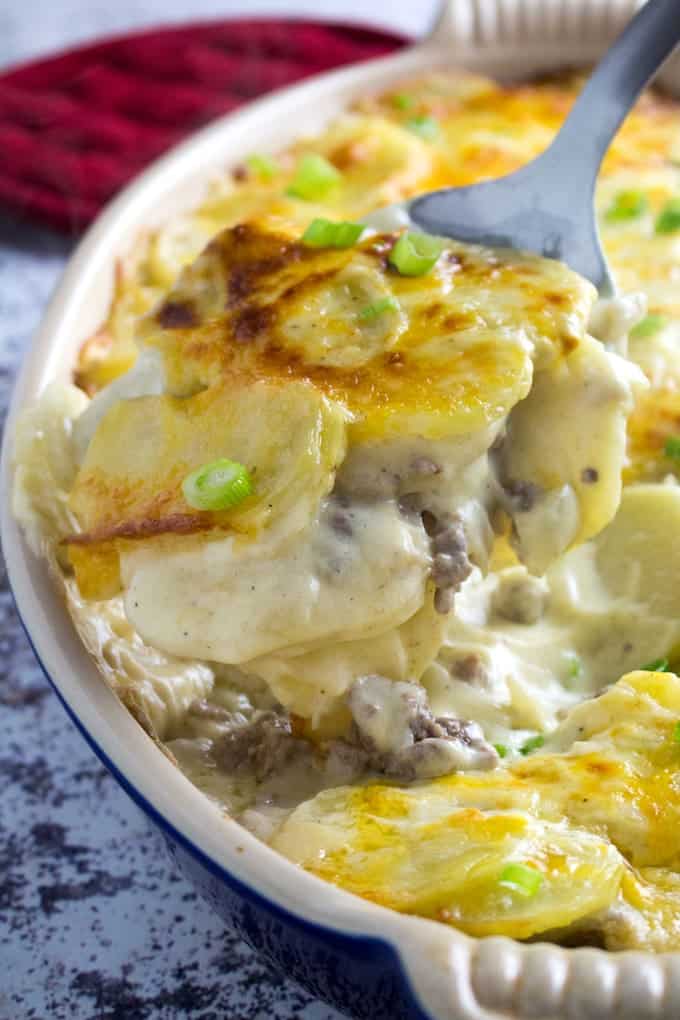 How do you make ground beef and potato casserole?
Preheat oven to 375F. Grease a baking dish and set aside for later.
In a large pan, brown ground beef with Worcestershire sauce. Set aside.
In a medium saucepan, make a roux from butter and flour. Slowly add milk and spices, and whisk until thickened. Add most of the shredded cheese, saving some for the topping. Stir to combine.
In the baking dish, add layers of cheese sauce, potatoes, and ground beef. Finish with a cheese sauce layer, then sprinkle with remaining shredded cheese and paprika.
Cover dish with tinfoil and bake for 45 minutes. Remove tinfoil and bake another 15-20 minutes, or until potatoes are soft and cheese is golden brown.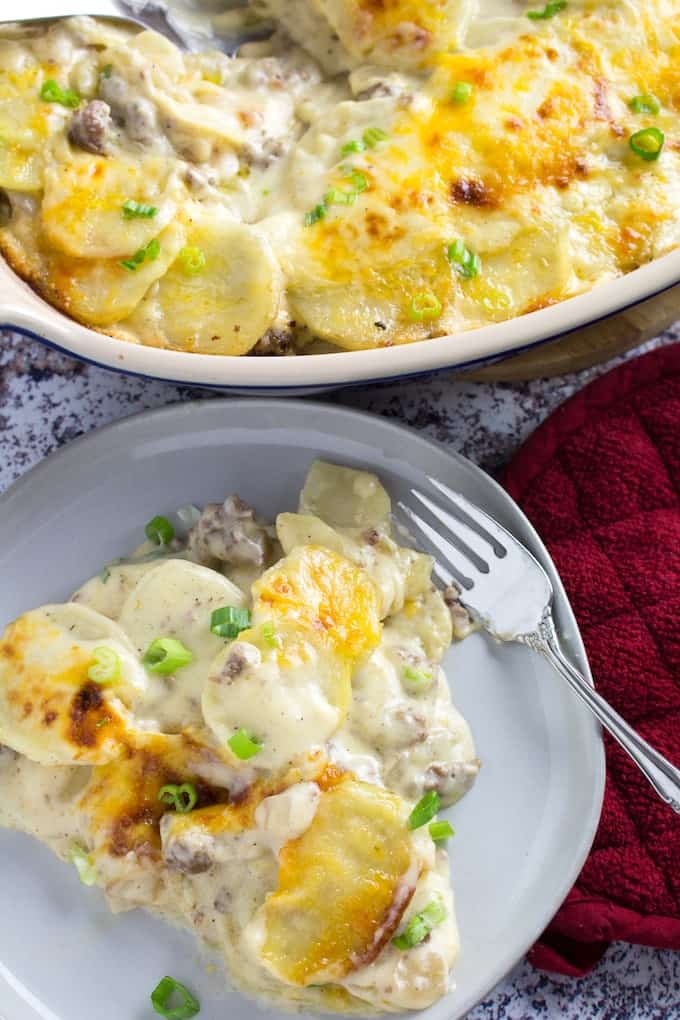 How do you make ground beef and potato casserole with cream cheese?
If you're not quite up to making a roux just yet, you can try making ground beef and potato casserole using cream cheese instead. When you're browning your meat, add 2 – 8oz packages of cream cheese (or neufchatel cheese) and stir until melted and creamy. Then add the shredded cheese and spices, and mix until everything is combined. You can use this to layer between the potatoes. You won't get quite the same cheesy effect that you would with the sauce, but this will still be a really tasty ground beef and potato casserole!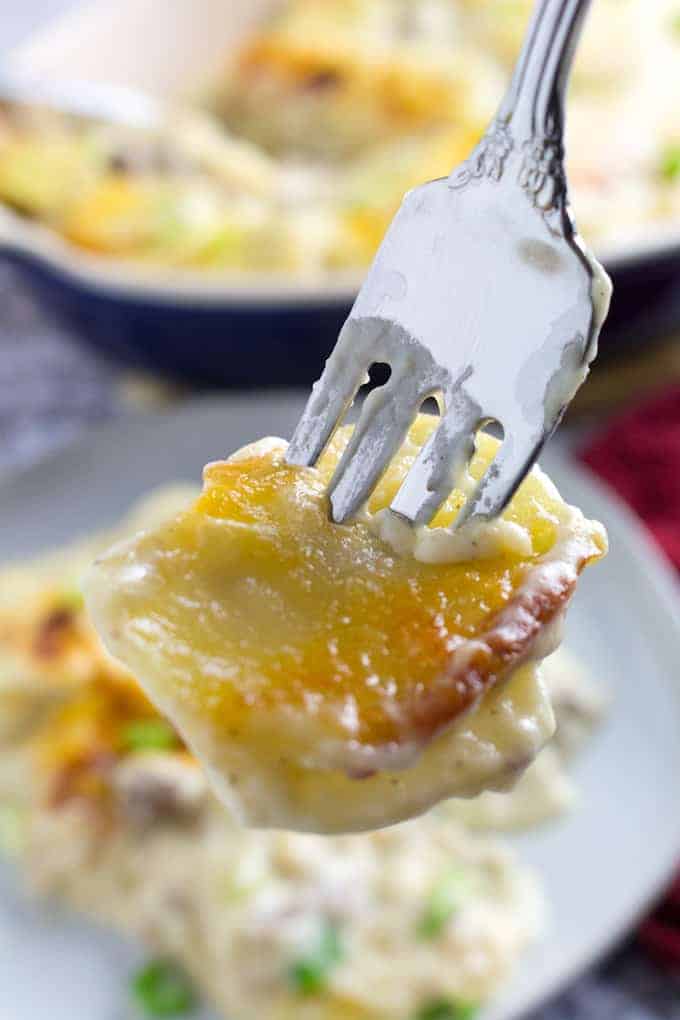 Can you use other meat in ground beef casserole with potatoes?
You can absolutely use other meat in ground beef casserole, instead of ground beef. I would try ground turkey, ground pork or ground pork sausage, or even extra firm tofu crumbled up. If you do use tofu, make sure to remove as much water as possible first, so your casserole won't come out watery. Personally, I think ground beef casserole works best with ground beef. But that's a personal preference!