Dragon Fruit Smoothie
This post may contain affiliate links. Please check our privacy and disclosure policy.
Dragon Fruit Smoothie is a refreshing boost of energy made with sweet dragon fruit, strawberries, banana, vanilla yogurt, honey, almond milk, and cinnamon!
I love smoothies because they are a quick and easy way to get some much-needed energy on busy days! If you like this dragon fruit smoothie, check out my Green Monster Smoothie, Strawberry Banana Chia Seed Smoothie, and Breakfast Pumpkin Pie Smoothie!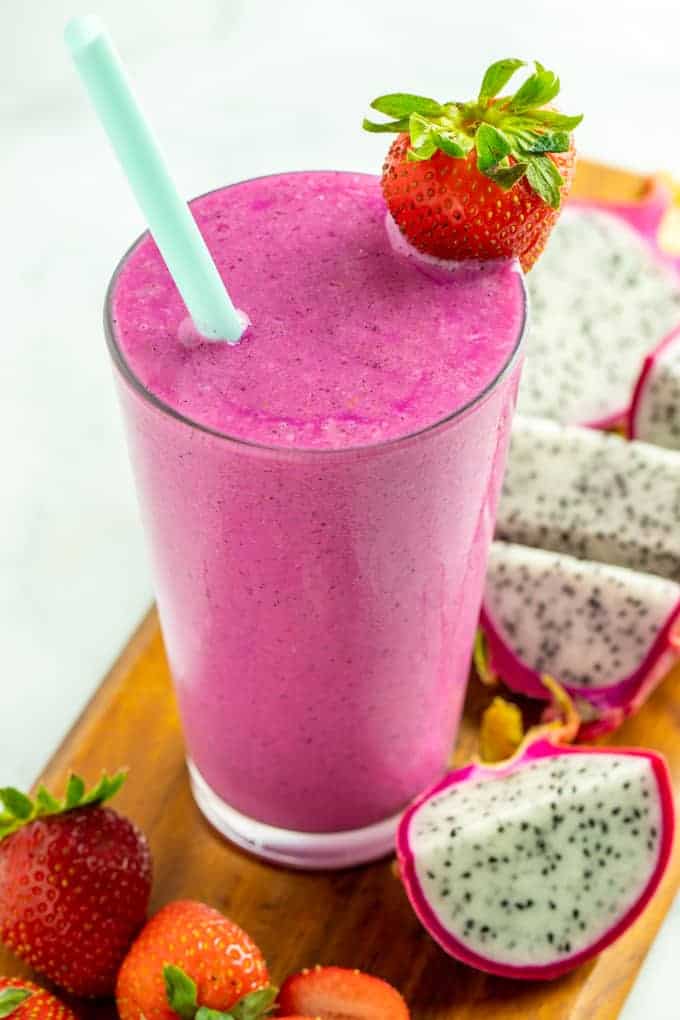 Dragon Fruit Smoothie
Dragon Fruit Smoothies are sweet but not too sweet, and full of healthy energizing ingredients like strawberries, banana, cinnamon, honey, almond milk, and vanilla yogurt. Just throw everything into a blender and you have a mid-day treat you can feel good about! You can also make this recipe using regular milk instead of almond milk, or any berries you have on hand.
Dragon Fruit Smoothies were something I started drinking after our trip to Singapore (they even had dragon fruit in our hotel room!).  They're right up there next to my favorite Strawberry Spinach Flax Seed Smoothie. And while not as indulgent, I've even replaced my Chocolate Chip Mocha Breakfast Smoothie with it on occasion!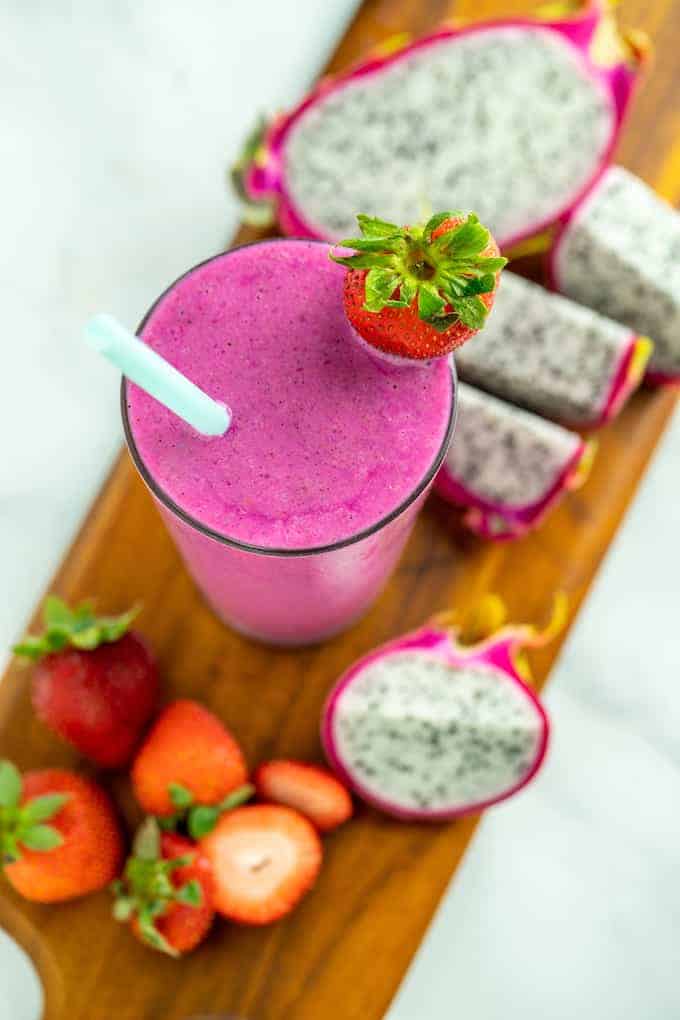 What does dragon fruit taste like?
Dragon fruit tastes like a less sweet and less tart kiwi. I like it best when in a fruit salad, or with other ingredients like in this smoothie, because it can be a little bit bland on its own. It has the same consistency as kiwi, in my opinion.
What fruits go well with dragon fruit?
Dragon fruit goes well with strawberries, raspberries, oranges, pineapple, mango, and kiwi. Because dragon fruit is bland, it is best paired with acidic or tart fruits, like berries and citrus. You can add any of these fruits to a dragon fruit smoothie for different variations!
What is dragon fruit good for?
Dragon fruit is good for a healthy snack, or as a healthy ingredient to smoothies or fruit salads. It is rich in vitamins and minerals, and low in calories. You can also add dragon fruit to your fruit basket to add some great pops of color, and a good conversation starter, when you're having company!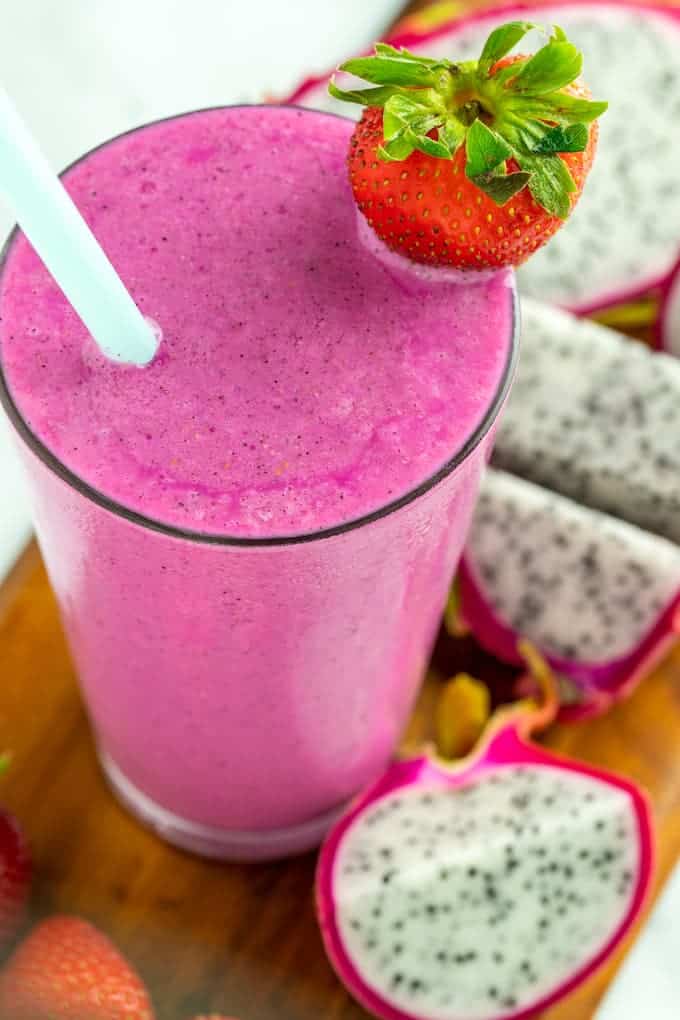 How to Tell if Dragon Fruit is Ripe
Dragon Fruit is ripe when it is slightly soft when you squeeze it, but not too soft. It is a lot like a pear in this way. You also want the skin to be evenly colored and bright pink. You should be able to easily cut into it without much resistance. If it's too hard to cut into, then it is not ripe enough.
Tips for Making Dragon Fruit Smoothie Recipe
Don't eat the skin of the dragon fruit. It is part of the cactus family, and the skin can be high in pesticides and too tough to really digest. The white part inside, however, is fine to consume, and high in vitamin C!
I buy pre-cut dragon fruit cubes in the frozen isle of the grocery store. Then I don't have to worry about cutting and peeling, or the fruit going bad before I can make my dragon fruit smoothie!
If you're using fresh fruit, just cut the whole fruit in half right down the center, then use a spoon to scoop out the middle. Then cut into cubes for the blender.
You can substitute the almond milk for regular milk. You can also use plain yogurt if you're avoiding sugar.
I add a banana to give the smoothie some sweetness and a creamy texture. If you want it to be even creamier, try adding some avocado!
Add some flax seeds or chia seeds to get some omega-3's in here!
Add some lime or lemon juice if you want this to be extra tart.
You can make dragon fruit margaritas by leaving out the yogurt and milk, and adding some lime juice, tequila, and ice to the blender! (Sorry, it's the weekend when I'm writing this…)
Use a pinch of ginger or mint to add some different flavor.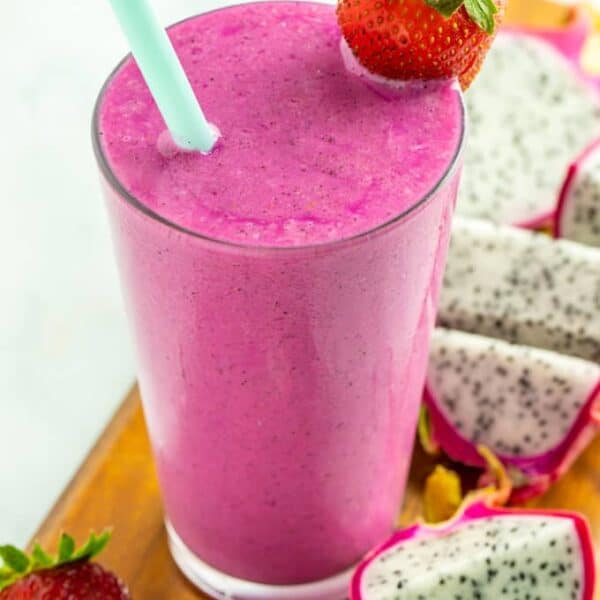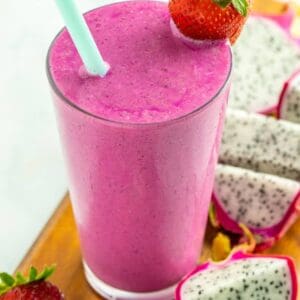 Dragon Fruit Smoothie
Dragon Fruit Smoothie is a refreshing boost of energy made with sweet dragon fruit, strawberries, banana, vanilla yogurt, honey, almond milk, and cinnamon!
Ingredients
2

cups

dragon fruit

,

frozen

2

cups

strawberries

,

frozen

2

cups

unsweetened vanilla almond milk

1

cup

nonfat vanilla yogurt

1

medium

banana

1

tbsp

honey

1

tsp

cinnamon
Instructions
Add all ingredients to blender and blend until smooth. If it's too thick, add a small amount of almond milk until it reaches the desired consistency.
Notes
Dragon fruit skin is not edible! Make sure you're only using the white part inside of the fruit for this smoothie.
This recipe makes 2 smoothies. 
Nutrition
Calories:
345
kcal
(17%)
Carbohydrates:
68
g
(23%)
Protein:
8
g
(16%)
Fat:
5
g
(8%)
Saturated Fat:
1
g
(6%)
Cholesterol:
2
mg
(1%)
Sodium:
459
mg
(20%)
Potassium:
669
mg
(19%)
Fiber:
7
g
(29%)
Sugar:
54
g
(60%)
Vitamin A:
38
IU
(1%)
Vitamin C:
91
mg
(110%)
Calcium:
522
mg
(52%)
Iron:
2
mg
(11%)
We are a participant in both the RewardStyle and Amazon Services LLC Associates Program, which are affiliate advertising programs designed to provide a means for sites to earn advertising fees by advertising and linking to amazon.com and through RewardStyle.