Easy Marinara Sauce
This post may contain affiliate links. Please check our privacy and disclosure policy.
You probably have your own idea of what a great marinara sauce should be. Or, you at least know someone who has an old, and usually secret, family recipe. If you don't, it's better late then never.
A great marinara sauce recipe is to a chef what a pen is to a great writer. Sure, they could use a keyboard, and they'll probably finish faster, but it's never going to feel quite the same. The same way that jarred sauce is never really going to hold a candle to the flavor of the one you're about to make.
At this point in this post, if you do have an old family marinara sauce recipe, you should share this delicious secret with me below in the comments section.
I'll wait…
Now that that's out-of-the-way, let's get back to business.
While marinara sauce is traditionally a simple tomato sauce with garlic, oil and sometimes onions, you'll also find recipes with ingredients like carrots, celery or even seafood such as anchovies (possibly because "marinara" comes from the Italian phrase "alla marinara", or "sailor-style").
With so many variations, it can be easy to lose sight of the real, home-made pleasure that comes with making this versatile sauce. Which is why I'm bringing you this simple marinara sauce recipe to add to your cooking arsenal. Trust me, you'll never want to buy a jar of sauce again.
Before you begin, let's take a look at some tips to making the perfect marinara sauce every time…
Ingredient timing is crucial.
If you're adding dried herbs, add them at the beginning of the recipe. If you're adding fresh herbs, add them towards the end of the recipe, about 10 minutes before you take the sauce off of the heat. If you're adding onions, saute them with the oil and garlic for a few minutes before you add the tomatoes. These things all matter when it comes to your finished sauce's flavor.
Use a large pot,
Seriously. I'm not kidding here. Even if you're not making that big of a batch. The sauce can spit while it's cooking, and a larger pot will help avoid a mess.
You'll thank me when you're not scrubbing sauce off of the stove all night. 
Sugar can help.
Sometimes.
If it's off-season for tomatoes, they may taste too acidic. Adding a pinch of sugar to your marinara sauce recipe can help balance the overall savory flavor. If you're using canned tomatoes, like the ones this recipe calls for, you probably won't have to worry about acidity.
Use good wine.
A general rule of thumb is to never cook with a wine you wouldn't drink by itself. If you're adding wine to your sauce make sure you like the flavor, or you won't like it in the food, either. In the words of Julia Child, "I enjoy cooking with wine, sometimes I even put it in the food."
Simmer that sauce.
Keep an eye on the heat when you're making this recipe. You want the sauce to stay on a nice simmer, not a boil. If you start seeing big bubbles or a lot of spitting, turn the heat down. You want the tomatoes to be cooked as the sauce begins to thicken. If you cook the marinara sauce too hot, the seeds in the tomatoes can become bitter, and even sugar might not fix that.
And without further adieu, I give you my Easy Marinara Sauce Recipe!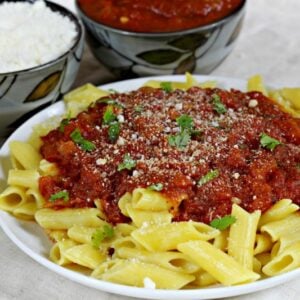 Easy Marinara Sauce
This thick and savory marinara sauce will make you never want to open another jar of store-bought sauce again. While this recipe uses dried herbs, you can always use fresh herbs instead. You can make this ahead of time and freeze for later, and it cooks up in only 30 minutes.
Ingredients
1/4

cup

olive oil

,

extra virgin

1

medium

vidalia onion

,

chopped

4

cloves

garlic

,

chopped

2

tbsp

basil

,

dried

2

tbsp

oregano

,

dried

2

tsp

kosher salt

1

tsp

black pepper

1/2

cup

white wine

28

oz

crushed tomatoes

28

oz

petite diced tomatoes

6

oz

tomato paste
Instructions
Heat a large pot over medium-high heat. Add olive oil, onion and garlic. Saute until onions are tender and starting to turn brown, about

5 minutes

, stirring occasionally.

Add basil, oregano, salt and pepper to sauteed onions and stir. Then add white wine and stir all ingredients together.

Pour in crushed tomatoes, diced tomatoes and tomato paste. Stir all ingredients together until combined.

Bring all ingredients to a simmer and reduce heat to low-medium. Continue simmering the sauce for

20-25 minutes

. If it begins to boil, reduce heat to low.
Notes
Click on the time in the instructions to start a timer!
Nutrition
Calories:
172
kcal
(9%)
Carbohydrates:
24
g
(8%)
Protein:
5
g
(10%)
Fat:
8
g
(12%)
Saturated Fat:
1
g
(6%)
Polyunsaturated Fat:
1
g
Monounsaturated Fat:
5
g
Sodium:
1016
mg
(44%)
Potassium:
884
mg
(25%)
Fiber:
6
g
(25%)
Sugar:
14
g
(16%)
Vitamin A:
800
IU
(16%)
Vitamin C:
25
mg
(30%)
Calcium:
110
mg
(11%)
Iron:
4
mg
(22%)
We are a participant in both the RewardStyle and Amazon Services LLC Associates Program, which are affiliate advertising programs designed to provide a means for sites to earn advertising fees by advertising and linking to amazon.com and through RewardStyle.