Gluten Free Stuffing Mix made with gluten free bread and seasoning is the perfect way to prepare for this holiday season, and it's ready in under 30 minutes! It can be stuffed inside of turkey or cooked separately in a casserole dish for quick and easy gluten free stuffing!
I'm SO ready for the holidays this year! And just in case you need some help menu planning, we're cooking up Root Vegetable Stuffing, Easy Sweet Potato Casserole, and Creamy Garlic Parmesan Mashed Potatoes!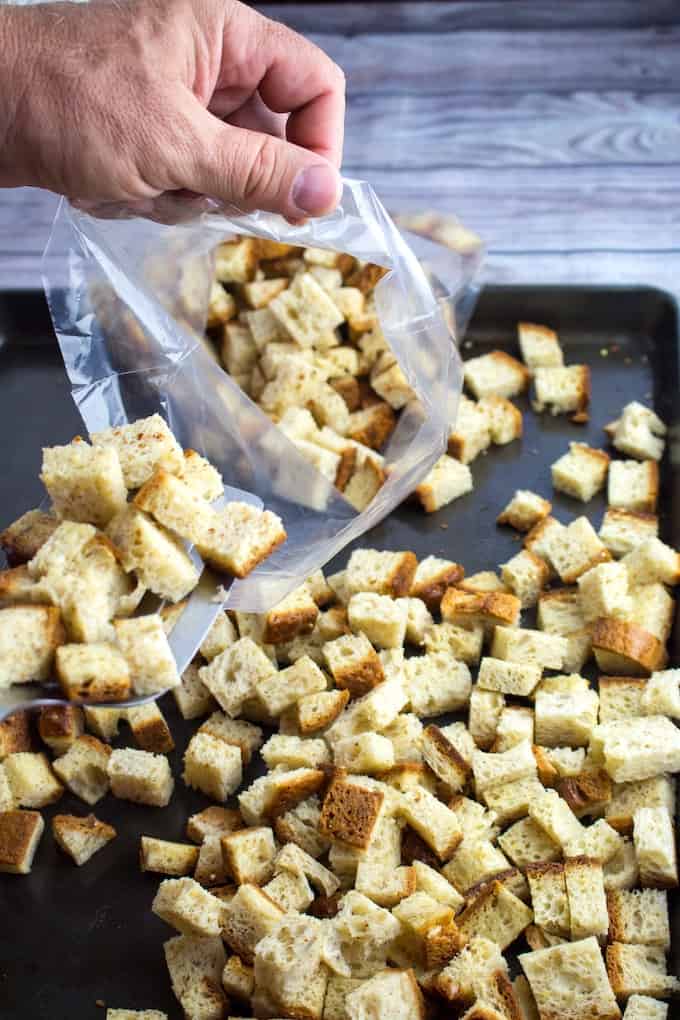 Gluten Free Stuffing Mix
Gluten Free Stuffing Mix is super easy to make, all you need is a loaf of gluten free bread, some spices, and a baking sheet. You can add dried vegetables and fruits to this mix depending on what you like. Personally, I like to add the other ingredients fresh when it's time to make the stuffing. The idea is that you can make this ahead of time, then when it comes time to make dinner you just add your extra ingredients and bake. So easy!
What kind of seasonings are best for homemade gluten free stuffing?
Properly seasoning the bread is the most important step to making good gluten free stuffing mix. You can mix it up a bit depending on your own taste, but I like to start with garlic, basil, and sage.
Go spicier by adding some cayenne, or a light dusting of chili powder (depending on your chicken recipe).  It all depends on what kind of stuffing you're looking to make.
For a gluten free Thanksgiving stuffing, I would stick with sage, rosemary, and the more traditional flavors. Also keep in mind what you're adding to it later, like cranberries, apples, or raisins, and make sure the spices would match. 
How do you store gluten free stuffing mix?
You can make this gluten free stuffing mix ahead of time and store on the countertop overnight. It's basically seasoned toasted bread, so you don't have to worry about it going stale. If you're going to make it a week or more ahead of time, I would freeze it, and just defrost it in the refrigerator the day before I'm going to use it.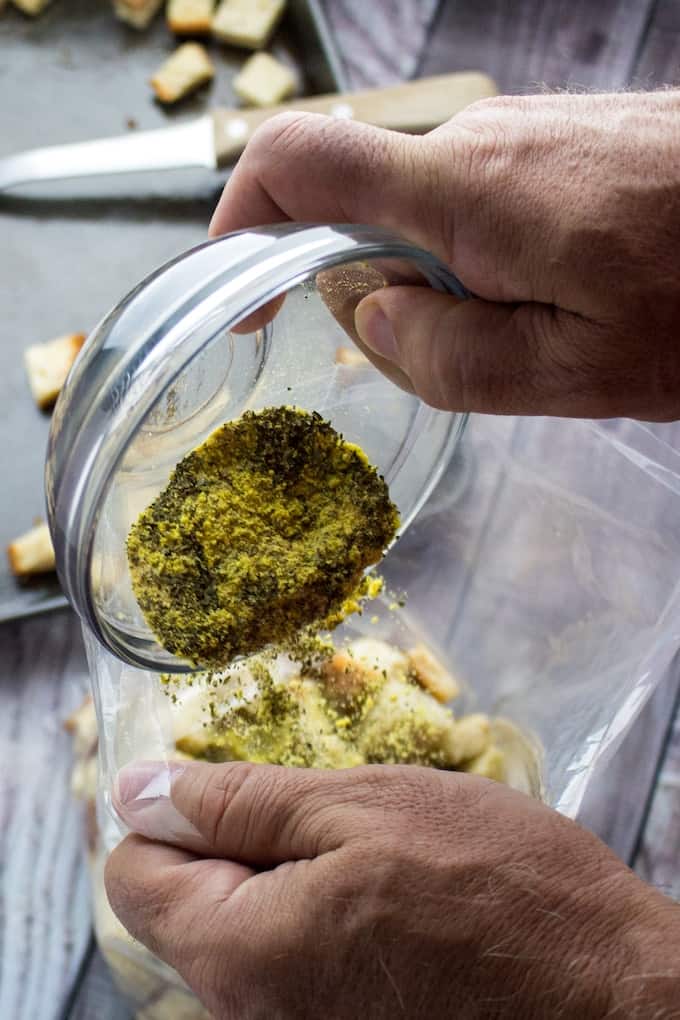 How long do you cook the stuffing mix?
Once your bread is cubed and seasoned, spread the stuffing mix evenly on a baking sheet and place in the oven for 10 minutes. Then use a spatula to turn the pieces over so the other side of the bread has a chance to get toasty, about another 5 minutes.
That's it! It's super quick to make, and you can use this gluten free stuffing mix recipe for basically any recipe that calls for stuffing mix. Make the cubes larger or smaller depending on your own personal preference (or to be more like your favorite boxed mix).
What kind of stuffing can you make with this mix?
Gluten Free Stuffing mix is the perfect base for any kind of gluten free stuffing recipe. This mix can be combined with your favorite ingredients like sausage, cranberries, apples, or mushrooms along with the staples of celery and onion. 
Here's a bonus! Gluten Free Stuffing Mix also makes flavorful croutons for salads!