Honey BBQ Sauce Recipe (Gluten Free!)
This post may contain affiliate links. Please check our privacy and disclosure policy.
Finally, a gluten free Honey BBQ Sauce Recipe! And trust me, you'll want to bottle this up and share it with everyone. It's that good. It has the tangy BBQ flavor you love, with the sweetness and flavor of honey. Spicy, tangy, sweet, and basically the best thing you'll taste all year. Plus, it's super easy to make!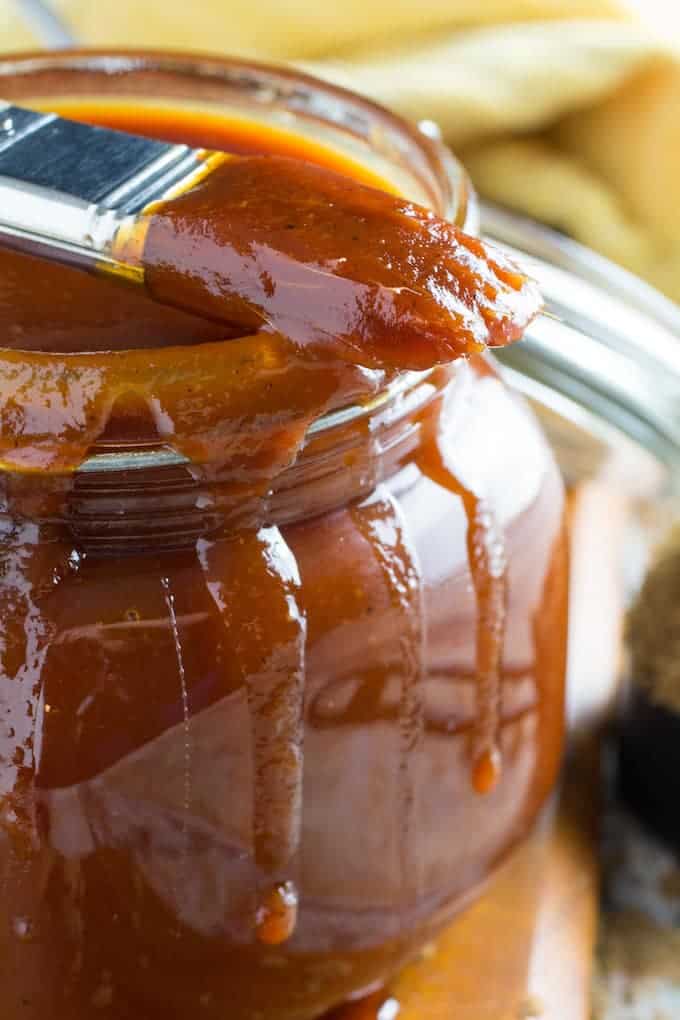 Honey BBQ Sauce Recipe – Gluten Free!
It's just about summertime, and I've been firing up the grill in anticipation almost every night. And with that comes a brand new collection of gluten free BBQ sauces that I'm totally excited to share with you! And here's a really great rum-based honey bbq sauce recipe that I'm sure will be your new favorite! It has a tangy smokey flavor from the seasonings, and sweetness from the honey and brown sugar. It's pretty much the perfect combination!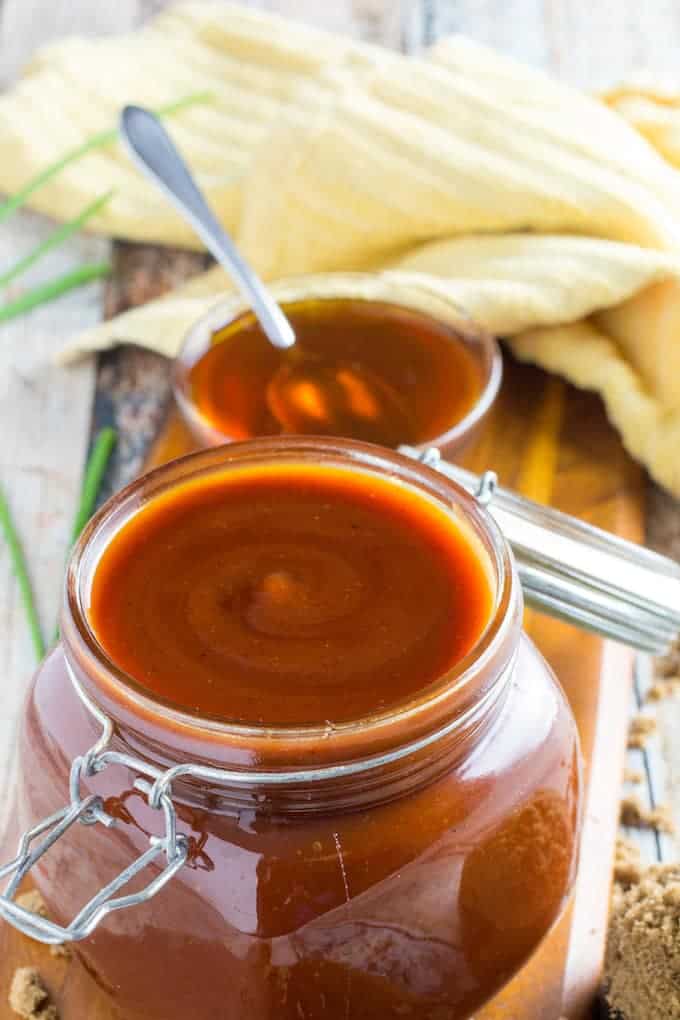 How To Make A Sweet BBQ Sauce Recipe
BBQ sauce is a delicate balance of flavors, so it can be tricky to make it your own. In the case of sweeteners, there's a few classic ones you can stick to until you get brave enough to venture out on your own and make your own favorite sweet bbq sauce recipe.
Brown Sugar. This forms the base sweetness for a lot of BBQ sauces, and for good reason. It has the sugar intensity you're looking for, while also bringing some of the great molasses quality. In my opinion, the darker the better. But if you only have light brown sugar in your cabinet, that's ok, too.
Molasses. While we're on the subject of molasses flavors, you can also jump right in and add it straight to your BBQ sauce. Keep in mind though that this will be strong flavor. So you're going to have to balance the savory carefully.
Honey. This is what we're using today, because it adds a really distinct honey flavor in addition to sweetness. Personally, I think it helps balance out the whole thing, and it's natural!
Those are the three big ones, in my opinion. If you have another, I'd love to hear about it! Tell me all about your sweet bbq sauce recipe. I might just feature it on the blog!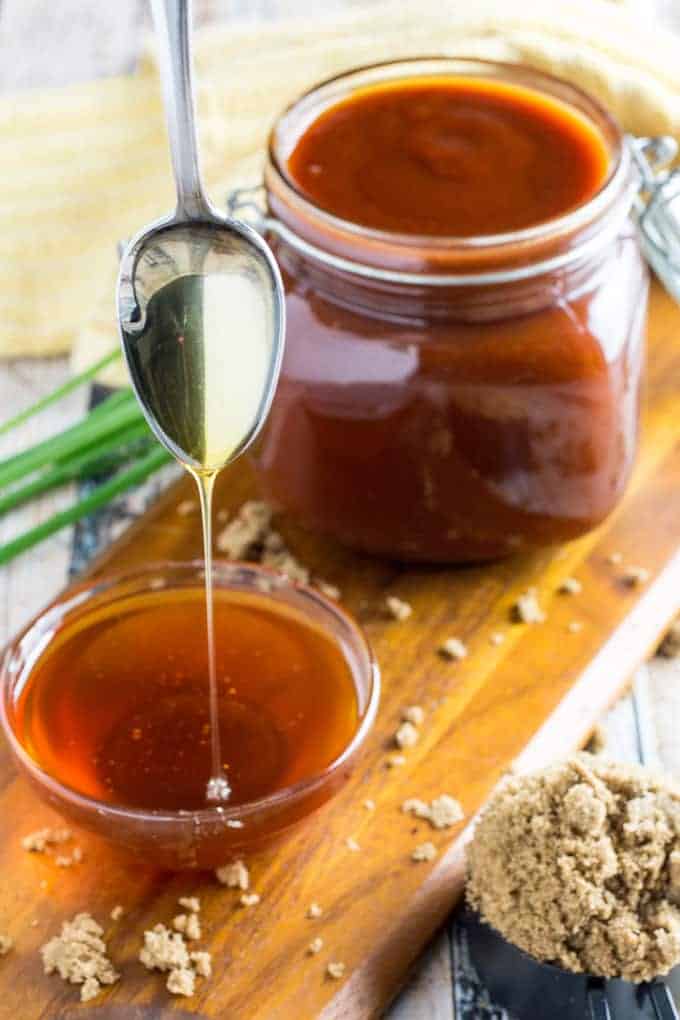 What If I Also Want A Spicy BBQ Sauce Recipe?
Personally, I like to balance the sweet bbq sauce recipe with the spicy bbq sauce recipe. A little bit of both makes something that everyone will be craving once grilling season hits. It's really easy to add a kick to your spicy bbq sauce recipe!
Cayenne Pepper. I like adding this one because I always have it available in my cabinet. In fact, it's in this very recipe! I also use it in my other sweet & spicy gluten free bbq sauce recipe here.
Peppers. For this recipe in particular, you can get creative and start adding your own favorite spicy peppers. Maybe a little jalapeno, or poblano. You can add them in to sauté with the onions, then strain them out the same way. It'll add a kick though, so get ready! You might want to start with half a pepper and see how you like it, then go more or less next time.
Smoke Flavor. Alright, you might not classify this one as "spicy" per-se, but if you add a little more it'll give your BBQ sauce more of a kick that I think you'll find surprisingly similar.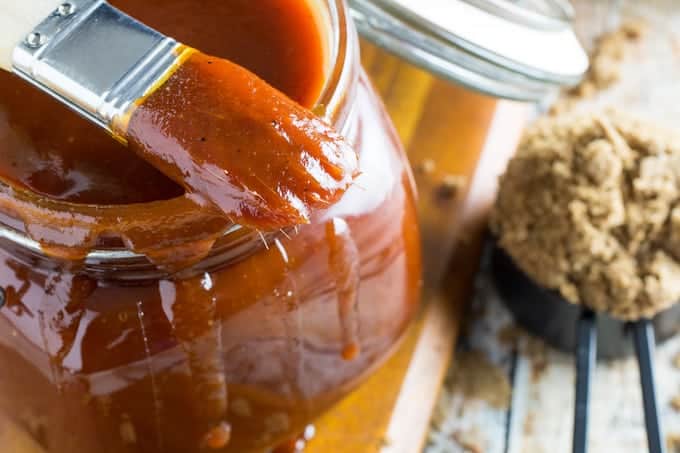 How to Make Homemade Barbecue Sauce
First, start with the recipe below. Suuuuuuuper easy. Trust me.
Ok, now that you have something to follow, I have a few more pointers for you!
You can technically just blend it all together. Shhhh… don't tell the hardcore BBQ-ers that I said that. But if you're really in a pinch and don't have time, just blend it and put it in the fridge (just do like, 1/3 of the onion instead of the whole thing). Cooking is what really blends all of those flavors together, and you get the caramelized onion deliciousness instead of the harsher raw onion flavor. But it's not a deal breaker.
The secret ingredient is always ketchup. I'm not even joking about this one. Seriously, ketchup. It makes it taste sweet and candy-like, but not in an overpowering gross kind of way. I don't know, it just works!
Figure out what you're going for before you start! This one is important. What are you trying to achieve? Sweet? Savory? Spicy? …All of the above? Plan it out, pick one of the sweet ingredients and one of the spicy ingredients I mentioned above, and try it out. Add a little at a time until you get a balance you love!
Don't worry, soon you'll know how to make homemade barbecue sauce like a pro! And you'll come up with all kinds of flavor combinations. And people will be coming to you for your recipe, but we all know that it's a secret, right?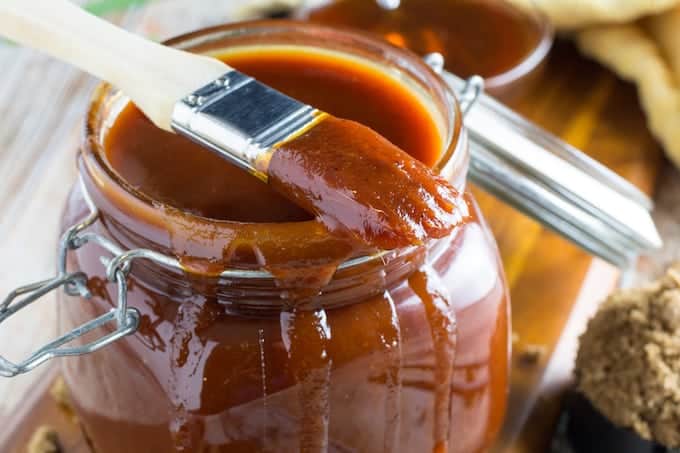 Let's Talk About Honey Barbecue Sauce
I'm sure you know this by now, but I can't say it enough. When you're making honey barbecue sauce, the bbq sauce ingredients can make all of the difference. Which is what I had in mind when I put this recipe together. You can use any old honey off the shelf, but personally I like to get some local honey. It's less processed, so I think it adds some extra flavor to the honey barbecue sauce.
And what would honey barbecue sauce be without the rum? Well, it would be still be honey bbq sauce. Maybe a little thicker. So you can leave it out if you really want to, or if you're making this for a meal with kids. It's entirely up to you how you'd like your honey bbq sauce recipe!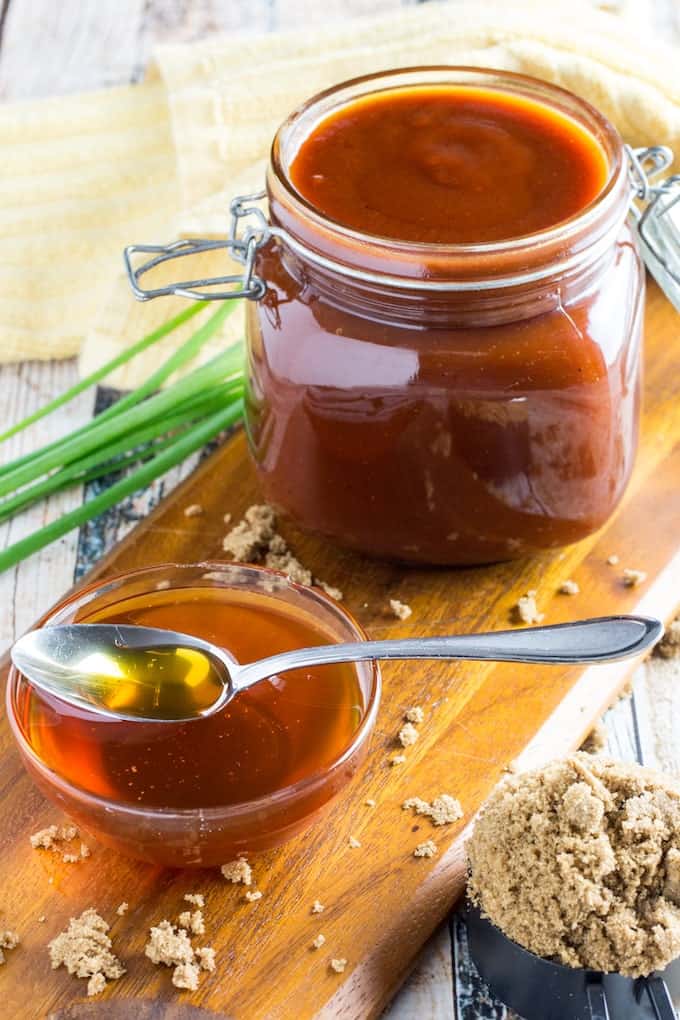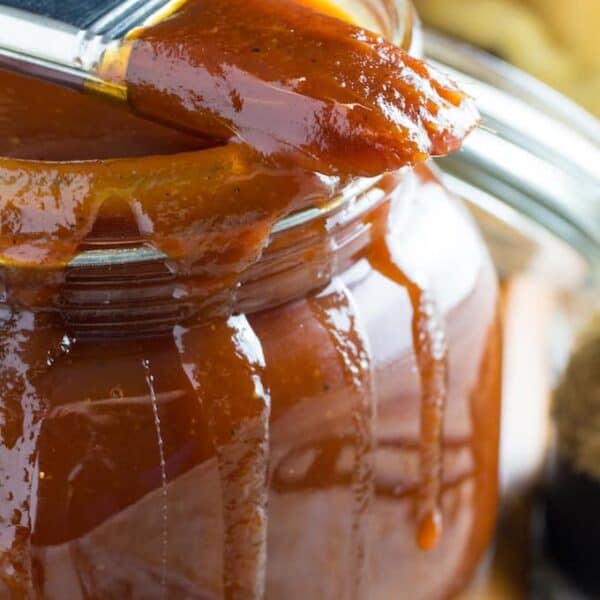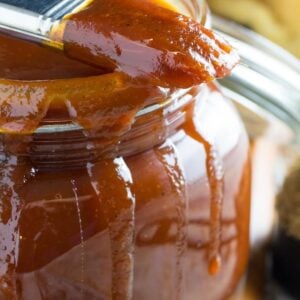 Honey BBQ Sauce - Gluten Free!
Finally, a gluten free Honey BBQ Sauce Recipe! And trust me, you'll want to bottle this up and share it with everyone. It's that good. It has the tangy BBQ flavor you love, with the sweetness and flavor of honey. Spicy, tangy, sweet, and basically the best thing you'll taste all year. Plus, it's super easy to make!
Ingredients
2

cups

ketchup

1

6oz can

tomato paste

3/4

cup

honey

3/4

cup

dark rum

1/2

cup

dark brown sugar

1/4

cup

apple cider vinegar

1

medium

yellow onion

,

quartered

3

tbsp

Worcestershire sauce (gluten free)

2

tbsp

unsalted butter

2

tbsp

liquid smoke flavor (gluten free)

1 1/2

tsp

garlic powder

1

tsp

black pepper

1

tsp

salt

1

tsp

paprika
Instructions
Over medium heat sauté butter and onion together. Add spices and rum and cook another

3-4 minutes

. 

Add all other ingredients and bring to a boil. Reduce to a simmer and cook another

8-10 minutes

, stirring frequently. Remove onion with slotted spoon and discard. 
Notes
Click on the time in the instructions to start a timer!
Make sure your Worcestershire sauce and liquid smoke say "gluten free" on the bottle. You can find them in GF and non-GF versions.
Nutrition
Calories:
132
kcal
(7%)
Carbohydrates:
25
g
(8%)
Protein:
1
g
(2%)
Fat:
1
g
(2%)
Saturated Fat:
1
g
(6%)
Cholesterol:
3
mg
(1%)
Sodium:
446
mg
(19%)
Potassium:
225
mg
(6%)
Fiber:
1
g
(4%)
Sugar:
23
g
(26%)
Vitamin A:
338
IU
(7%)
Vitamin C:
4
mg
(5%)
Calcium:
18
mg
(2%)
Iron:
1
mg
(6%)
We are a participant in both the RewardStyle and Amazon Services LLC Associates Program, which are affiliate advertising programs designed to provide a means for sites to earn advertising fees by advertising and linking to amazon.com and through RewardStyle.