Frozen Strawberry Margarita From Scratch
This post may contain affiliate links. Please check our privacy and disclosure policy.
Frozen Strawberry Margarita From Scratch is a really simple recipe using frozen strawberries, lime juice, orange juice, sugar, and (most importantly) tequila! They taste just like they came from your favorite bar or restaurant, and you can be sure they're gluten free!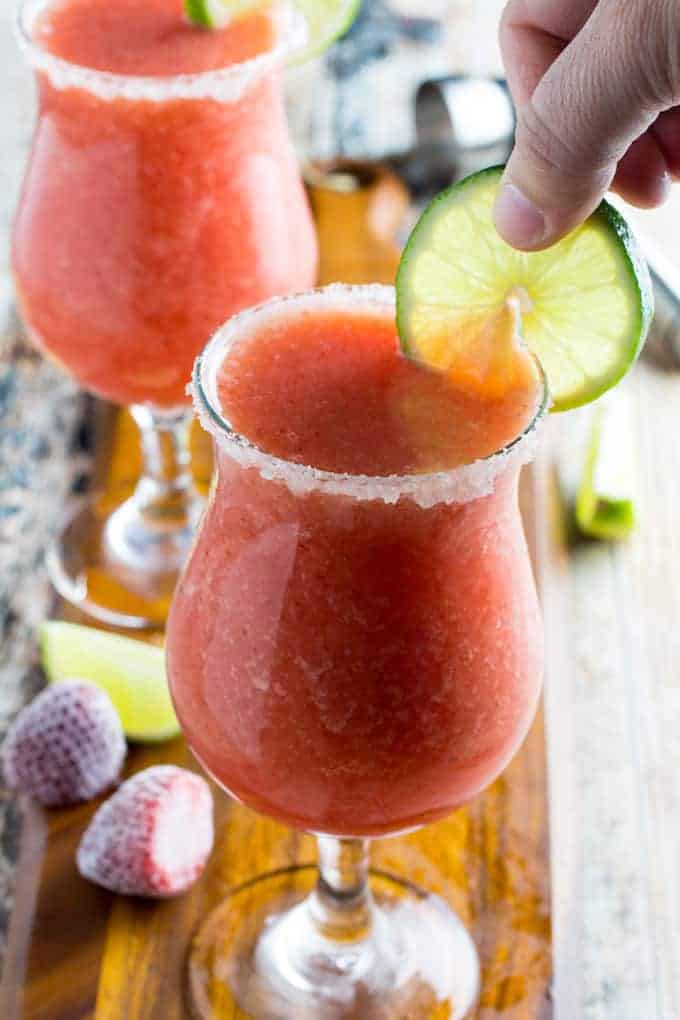 Frozen Strawberry Margarita From Scratch
It's finally Friday! And you know what that means – cocktails! At least in my house it does. And I have a really easy one for you that will be perfect to break out when Cinco de Mayo comes around. Or, you know, the next time you have your girlfriends over and you need to whip up something quick to serve that won't disappoint! There's nothing quite like a homemade frozen strawberry margarita from scratch. The best part is that you can control the flavor! Add more or less sugar for sweetness, or tequila.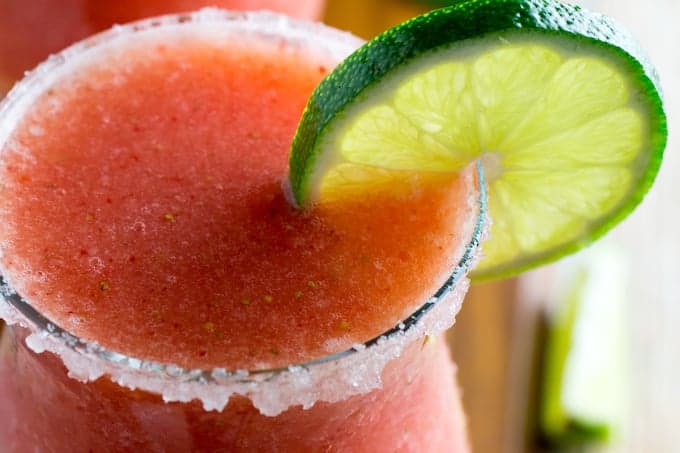 It's not easy making the perfect strawberry margarita recipe. But once you have it, there it is. The most perfect drink you will ever need when you have guests over. And just in case you want to get your hands dirty and experiment this weekend, I have a few quick tips for you.
How to Make the Perfect Strawberry Margarita Recipe
Start with a trusted recipe to make sure you have the right blend of margarita ingredients. This honestly can make or break your margarita recipe. Too much sour and not enough sweet, or too much sweet and not enough sour. Or too much tequila and not enough orange juice… Who am I kidding, we can never have too much tequila, right? You can play with these ingredients from here, but starting off with a solid base will give you a place to go back to if you find you're going too far in either direction.
Use fresh or frozen strawberries. Not syrup. I'm serious. Santa is watching, all year.
You can use salt OR sugar on the rim! In fact, I use sugar because these frozen strawberry margaritas are a little on the sweeter side to begin with. But if I went in a sour direction, I'd probably consider some salt. You can even get crazy and add some orange zest into your salt or sugar!
Shaken not stirred. Shake that margarita to make it a bit more frothy. Unless you're making frozen margaritas, then it doesn't matter.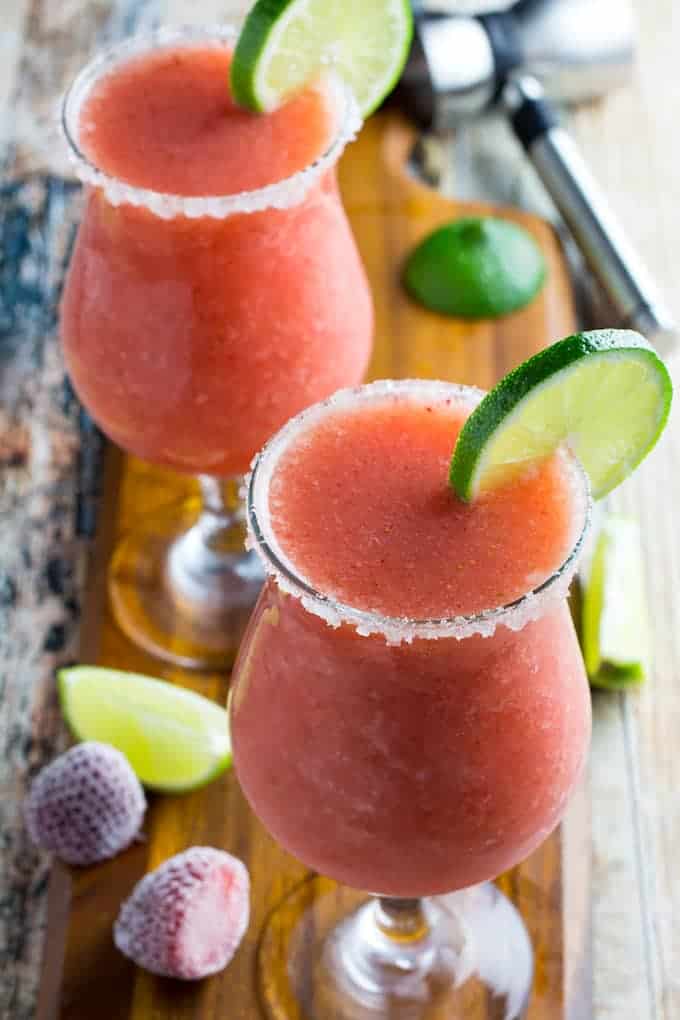 Let's talk about margarita ingredients…
Tequila. There are a lot of different brands or types of tequila out there, and they'd all technically work as margarita ingredients. If you want one that's going to taste as good as it looks, make sure you choose one that says 100% agave (or blue agave). This is made out of – you guessed it – the agave plant (which is gluten free!). It also goes great with my bacon wrapped tequila chipotle wings!
Triple Sec is less important than you'd think. There's a lot of back and forth in the gluten free community over triple sec, one of the more infamous margarita ingredients, and if you can trust its orangey-goodness. It's important to note that distilled liquors are gluten free because of the distillation process. That does not apply to anything added after the distillation process. So, I swapped this one out with orange juice. And guess what? Just as good, half the price!
Use some fresh ingredients. Nothing gets me more than taking something so full of flavor and freshness, and turning it into something that's basically pure sugar and artificial flavors. That's why I keep a lot of frozen fruit on hand! Use fresh, flavorful margarita ingredients, and you won't even want the restaurant version anymore.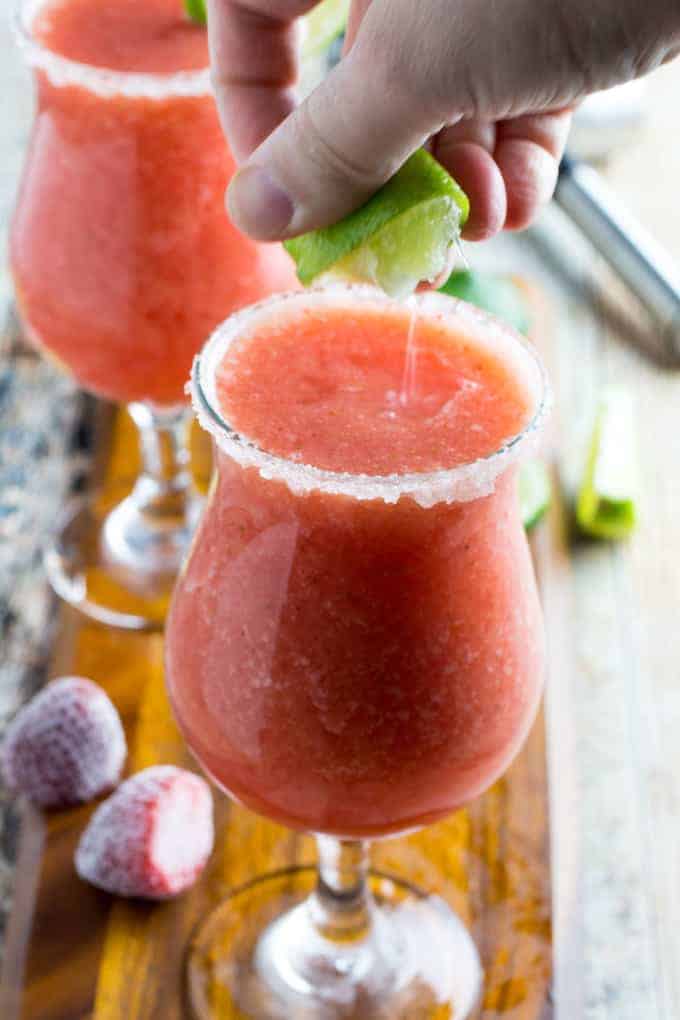 Is tequila gluten free?
This one is simple: Yes. Tequila is gluten free.
Tequila comes from the agave plant, which is found in Mexico. Have you ever heard of agave nectar, now being sold in the baking isle next to all of that sugar? That's the same plant, but less alcohol. Tequila – or, good tequila – should be 100% agave, which means that even after the distillation process you won't have any question about your tequila being gluten free.
You can find brands that are made with other ingredients, usually sugar, but I would be wary of anything added to tequila in its purest form. For one thing, it'll probably give you a hangover. For another, it won't taste as good in your margarita.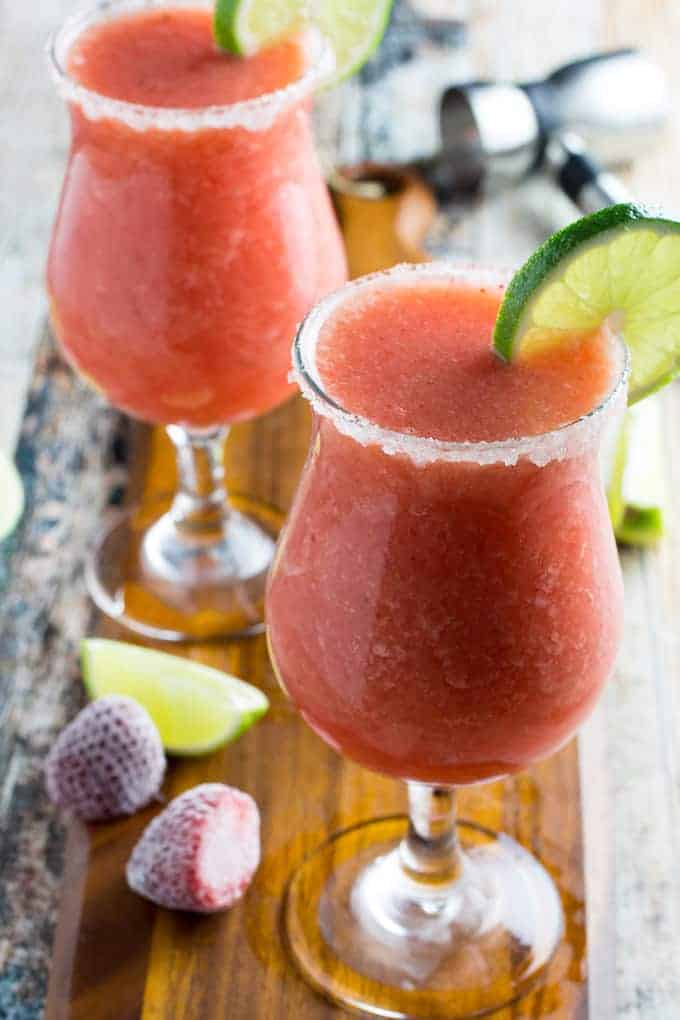 Regular vs Frozen Margaritas? Which Frozen Margarite Recipe To Choose?
This is really a personal preference. I live in Florida, which means it's 9,000 degrees F out at all times. Just kidding… but not really. It's hot out. So I like my drinks to be icy cold. Hence the frozen margaritas for the win! I also prefer my drinks to be a little sweet and a little fruity. You might have to try a few different types of frozen margaritas to learn which frozen margarita recipe to choose.
You can also take this recipe and swap out for your favorite fruit! I'd like to make a few suggestions:
Watermelon.
Blueberries.
Honeydew.
Grapes? I don't know, this one might be gross. Let me know.
Mango.
I would use whatever you have on hand! I happen to live next to an awesome strawberry farm, so I can get them for cheap in large boxes all winter (winter is strawberry season in Florida). So that's what I use the most in my kitchen. But go with what you love! And if you're still not sure which frozen margarita recipe to choose, try this one out first and let me know what you think!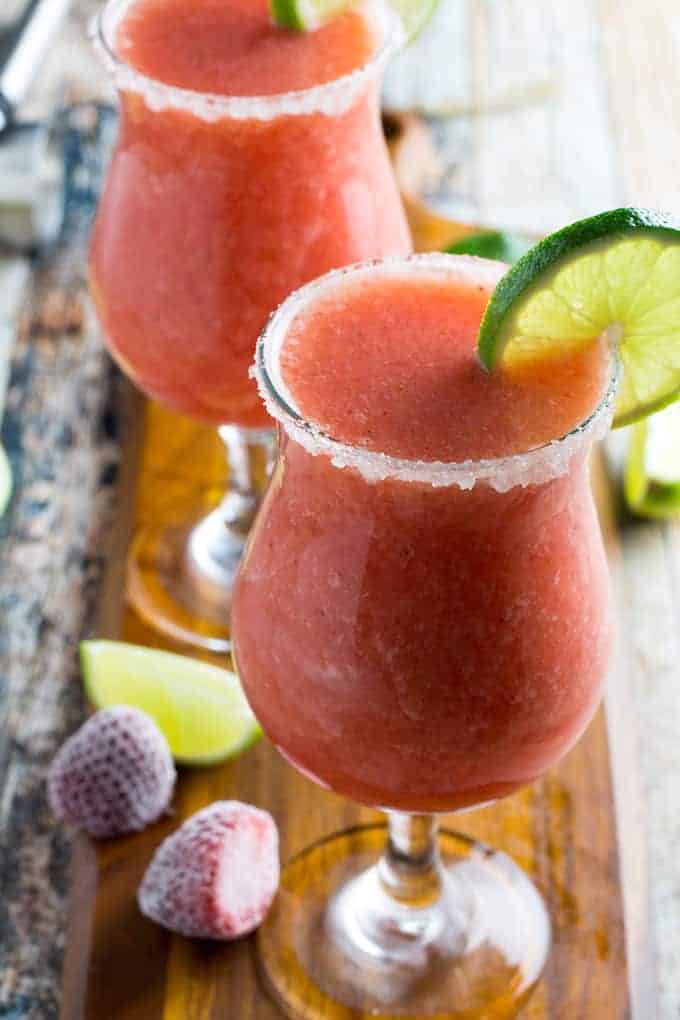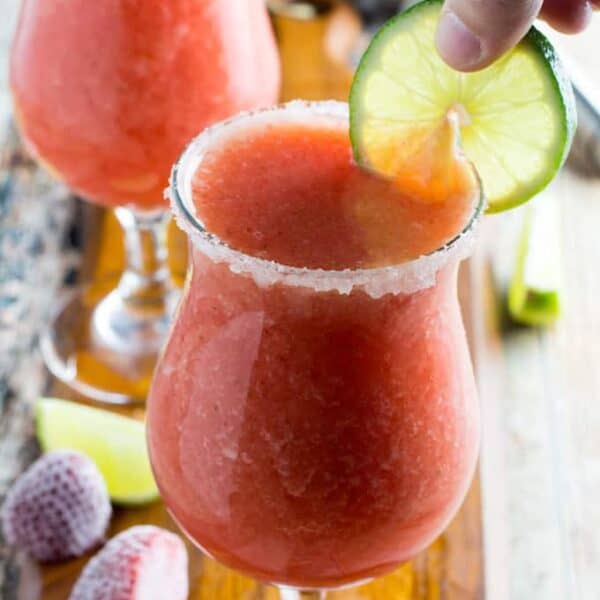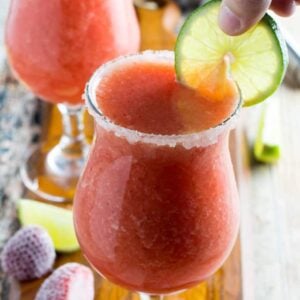 Frozen Strawberry Margarita From Scratch
Frozen Strawberry Margarita From Scratch is a really simple recipe using frozen strawberries, lime juice, orange juice, sugar, and (most importantly) tequila! They taste just like they came from your favorite bar or restaurant, and you can be sure they're gluten free!
Ingredients
8

fl oz

tequila (100% agave)

2

cups

frozen strawberries

,

hulled

3/4

cup

orange juice

4

oz

lime juice

4

tbsp

white sugar

1

cup

ice cubes

1

medium

sliced lime

,

(garnish)

1

tbsp

white sugar

,

for rim of glass
Instructions
Add everything (except garnish lime and sugar for the rim) to blender and blend until ice is crushed and well combined.

Pour sugar onto a plate and spread evenly. Get the rim of the glass slightly wet (I use a wet paper towel) and dip into sugar so it sticks to the rim. (If it's not sticking, get the rim of the glass more wet).

Pour margaritas into glasses and garnish with lime slices.
Nutrition
Calories:
238
kcal
(12%)
Carbohydrates:
28
g
(9%)
Protein:
1
g
(2%)
Fat:
1
g
(2%)
Saturated Fat:
1
g
(6%)
Sodium:
5
mg
Potassium:
236
mg
(7%)
Fiber:
2
g
(8%)
Sugar:
23
g
(26%)
Vitamin A:
107
IU
(2%)
Vitamin C:
74
mg
(90%)
Calcium:
21
mg
(2%)
Iron:
1
mg
(6%)
We are a participant in both the RewardStyle and Amazon Services LLC Associates Program, which are affiliate advertising programs designed to provide a means for sites to earn advertising fees by advertising and linking to amazon.com and through RewardStyle.