Low Country Shrimp Boil Recipe
This post may contain affiliate links. Please check our privacy and disclosure policy.
Low Country Shrimp Boil Recipe is just about the easiest thing you can make this summer for a house full of guests. It's shrimp, sausage, corn, and potatoes that are full of flavor from my homemade old bay seasoning, boiled together in a stock pot. Plus it's fun to eat!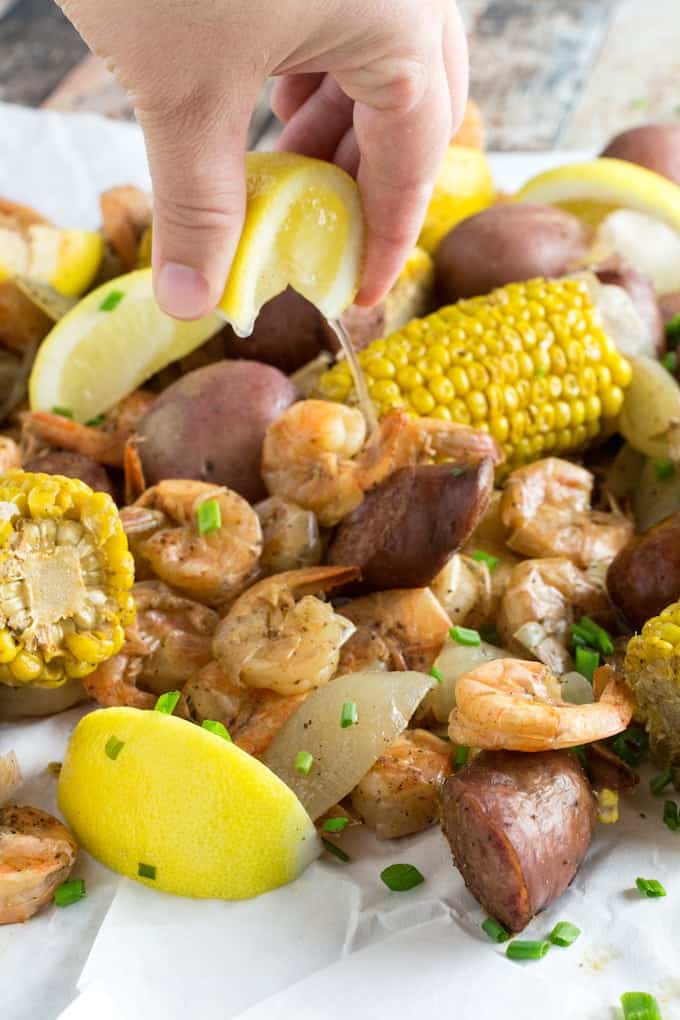 Low Country Shrimp Boil Recipe
It's time to jump into summer headfirst! Ok, maybe it's not quite summertime yet. But it's in the 80's here in Florida, so I'm in a summertime kind of mood. And with that mood brings delicious summer foods, like this low country shrimp boil. It's so easy to make that anyone could do it. Seriously! You just throw all of the ingredients into a pot and let it simmer to perfection. Then – and this is the fun part! – you dump it out onto parchment paper on the table and let everyone dig in. You can do this at home, at a BBQ, or even when you're camping!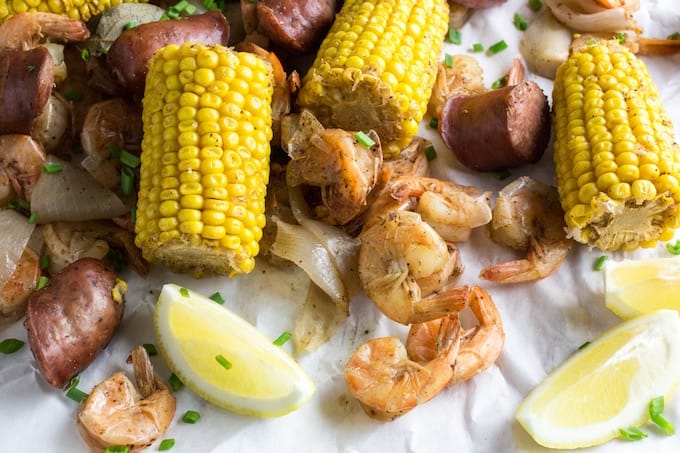 What is a shrimp boil recipe?
There are a few ways you can do a shrimp boil. But the key ingredients stay the same, as any seasoned boiler will tell you.
The Lemon & Seasoning. 

The golden rule is if you want to take something from just ok to how did you make that?!, you need to find the right seasoning combination. Typically for a shrimp boil recipe you're looking at Old Bay seasoning. In fact, this is often referred to as an Old Bay Shrimp Boil (more about this below). But the addition of lemon to bring out the brightness of the seafood, along with all of the great herbs and spices will give you a savory broth that can't be beat. I also recommend buying a few extra lemons to cut into wedges around the table.

The Seafood. 

Ok, here's where some people butt heads a little bit. It is my personal belief that you absolutely must buy the shrimp that is still in the shell (veins removed, of course). There's flavor that gets trapped in there and just adds a whole other level. But if all you have is peeled shrimp, at least try to keep the tail on. You can also throw in other seafood, like crabs, clams, mussels, or crayfish here, too. It all depends on what you like, and what's available to you in your area. I also add sausage because it's a low country shrimp boil.

The Veggies. 

Traditionally, we're talking about corn and potatoes. I like to throw in some onion, mostly because it gives the broth a really nice flavor. You could add whatever root veggies you have lying around, like carrots or turnips. Just remember the spices your adding will cover the veggie, so nothing too crazy. I also wouldn't add anything that will turn to mush when boiled.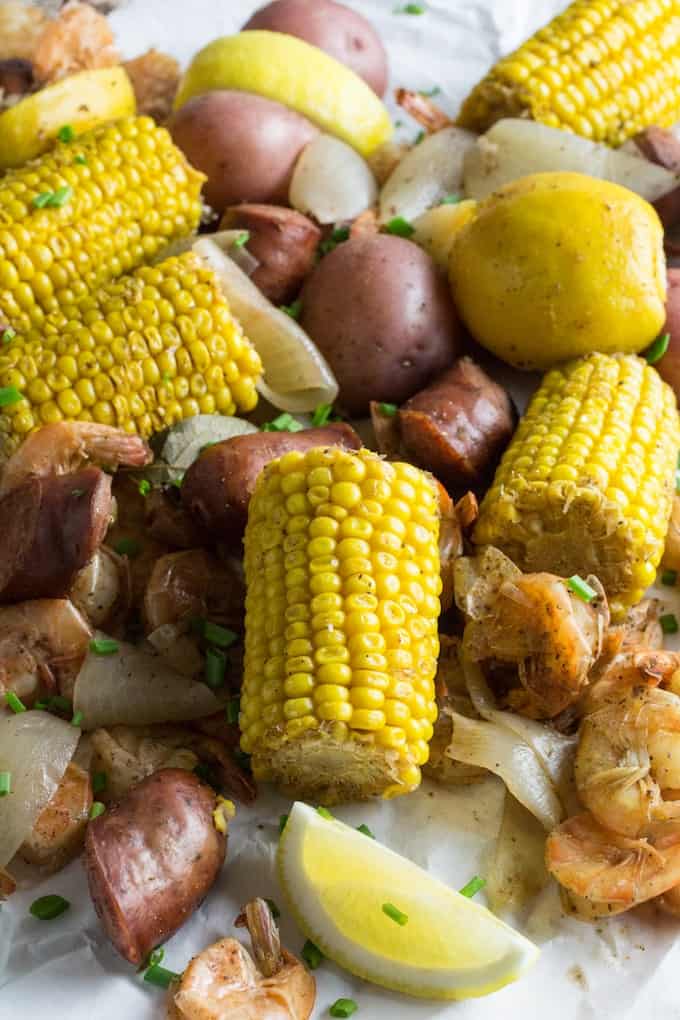 Old Bay Shrimp Boil or Cajun Shrimp Boil?
This is the age-old question, isn't it? Am I making an old bay shrimp boil? A cajun shrimp boil? A low country shrimp boil??
The answer is that they are all basically the same thing. You'll hear this recipe referred to a lot of different ways, but essentially they are all slightly different variations on the same recipe. You can make it to your taste, a little spicier or a little more lemon, whatever you'd like.
I made my own old bay seasoning for this post. You can also just buy old bay (use about 1/4 of a cup), but personally I have enough spices in my cabinet without having to buy one more thing. It's actually really easy to make!
Again, I had all of this in my cabinet already. But I'm a food blogger, so my spice cabinet may be more beefed up than the average person.
But here is what you need to make your own Old Bay.
bay leaves
celery salt
garlic powder
dry mustard
black pepper
paprika
white pepper
ginger
nutmeg
cloves
allspice
thyme
That's it! Ok, 12 is a big number. But if you already have it, it's one less thing to buy. If this list starts giving you anxiety, just pick up some Old Bay seasoning and use 1/4 of a cup in this boil recipe. Easy!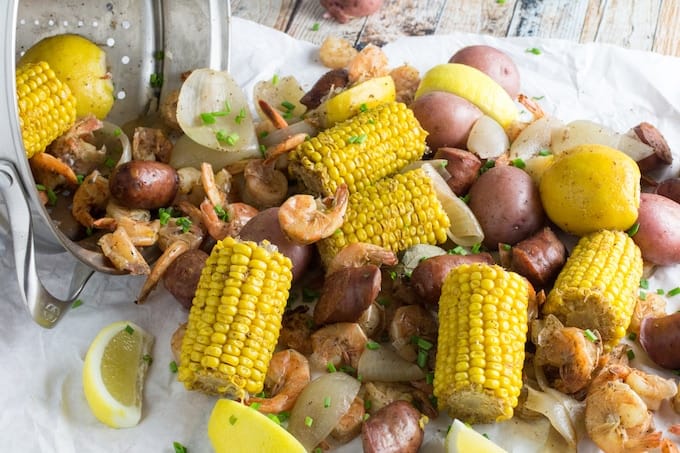 Low Country Shrimp Boil Etiquette 
The short answer is, there is none! The entire point of a low country shrimp boil is to have a bunch of people over to eat some good seafood and drink some gluten free beer. In fact, you don't even use silverware ghasp!
Have plenty of parchment paper handy. 

Or newspaper. But something about pouring food onto newspaper rubs me the wrong way. I know, that's how it's traditionally done. But I like to use parchment paper. Cover the entire table with it, then after you drain your low country shrimp boil, just dump it out right onto the paper, across the whole table. Place some fresh lemon wedges around, pop a few drinks open, and dig in!

Don't expect people to stay clean. 

If you're hosting this low country shrimp boil, then you're going to want to have some cleaning things or towels around for people's hands. That's one of the many reasons this is best done as an outside activity.

This recipe isn't that spicy. 

But you can certainly kick it up if you want to. Just keep your guests in mind when you're putting in your cajun shrimp boil spices.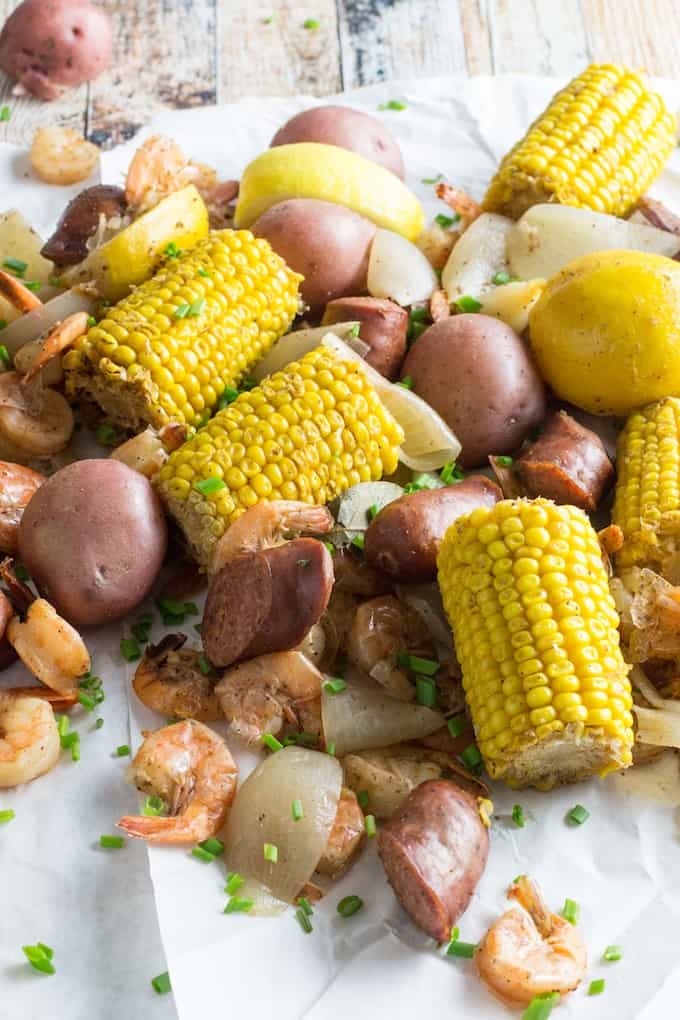 How long do you boil shrimp?
If you're wondering how long to boil shrimp, the answer is less time than you think! Shrimp boils really, really fast. I'm talking like, 2-4 minutes. If you have really big monster shrimp, maybe 5 minutes. Tops. If your water is already boiling. That's why it's the last thing to enter the pot in this recipe.
An easy way to tell if you've boiled your shrimp long enough is to look at the meat. It will turn from opaque to white, and look cooked-through.
I've heard of waiting for the shrimp to float to the top before, but there's so many things in this pot that I would not use that to judge the doneness.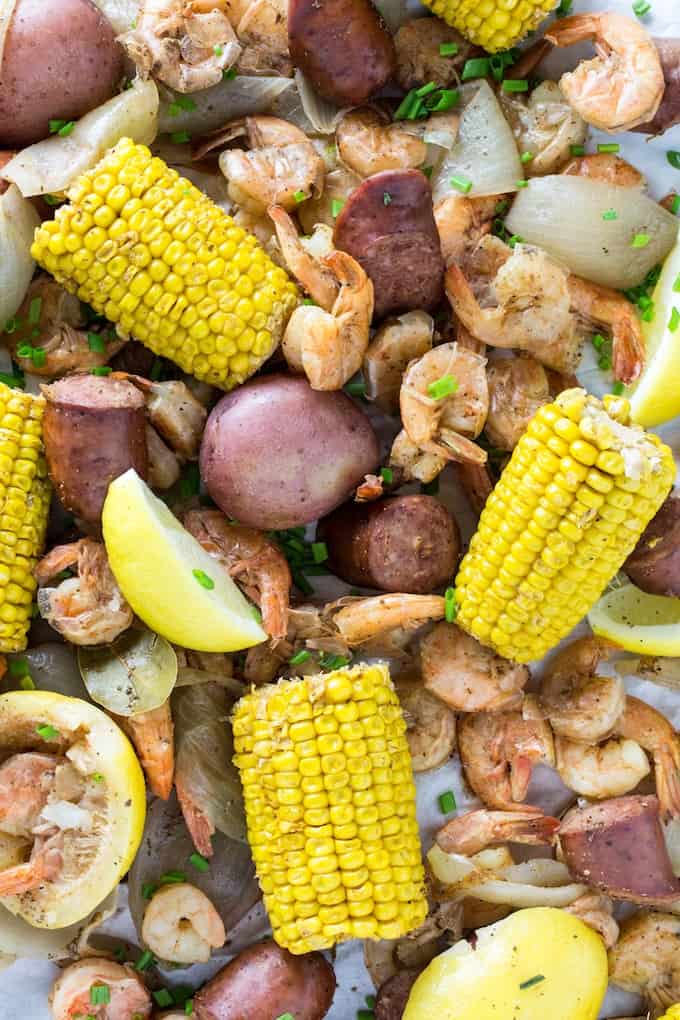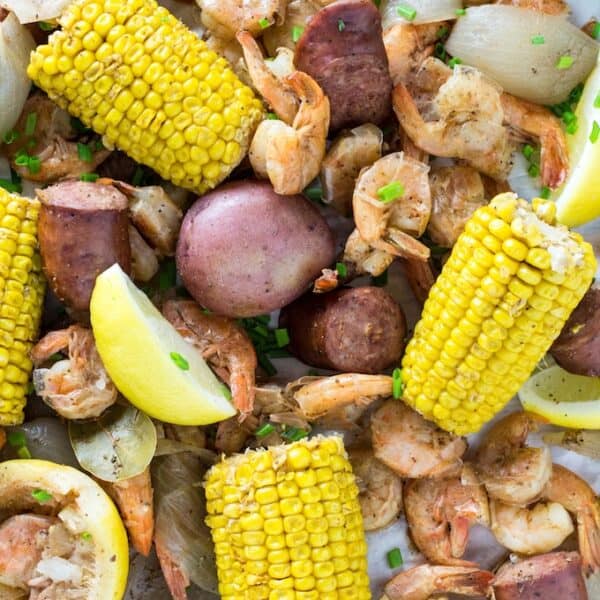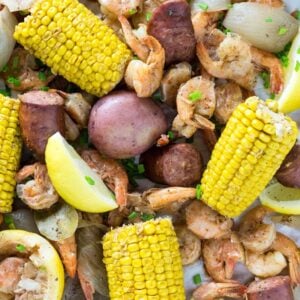 Low Country Shrimp Boil
Low Country Shrimp Boil Recipe is just about the easiest thing you can make this summer for a house full of guests. It's shrimp, sausage, corn, and potatoes that are full of flavor from my homemade old bay seasoning, boiled together in a stock pot. Plus it's fun to eat!
Ingredients
For the Shrimp Boil
2

medium

lemons

,

halved

1

large

Vidalia onion

,

quartered

1 1/2

lbs

baby red potatoes

4

medium

ears of corn

,

cut into 2-3 pieces each

2

lbs

large shrimp

,

shells on, veins removed

4

medium

kielbasa sausages

,

cut into 1-inch pieces

4

large

whole bay leaves

Extra lemon wedges, cocktail sauce, chopped fresh parsley

,

(optional toppings)
For the Seasoning
2

tbsp

celery salt

1

tbsp

garlic

1

tbsp

dry mustard

2

tsp

ground black pepper

1

tbsp

paprika

1

tsp

white pepper

1

tsp

ground ginger

1

tsp

ground nutmeg

1

tsp

ground cloves

1

tsp

ground allspice

1

tsp

dried thyme
Instructions
Fill a very large stock pot about 3/4 of the way with water. Add seasoning, bay leaves, lemons, and bring to a boil. Carefully add potatoes and cook about

5 minutes

. 

Carefully add sausage, onion, and corn. Cook an additional

5-10 minutes

, or until potatoes are almost cooked through. Lower to a simmer.

Carefully add shrimp to pot. Cook

2-3 minutes

, or until shrimp are cooked through. Drain water, saving about 2 cups in another container. Pour food onto parchment paper on the table. 

Place fresh lemon wedges around table, with reserved broth to dip in. Sprinkle with fresh parsley (optional).
Notes
Click on the time in the instructions to start a timer!
Nutrition
Calories:
338
kcal
(17%)
Carbohydrates:
41
g
(14%)
Protein:
37
g
(74%)
Fat:
4
g
(6%)
Saturated Fat:
1
g
(6%)
Cholesterol:
381
mg
(127%)
Sodium:
3545
mg
(154%)
Potassium:
979
mg
(28%)
Fiber:
6
g
(25%)
Sugar:
10
g
(11%)
Vitamin A:
685
IU
(14%)
Vitamin C:
43
mg
(52%)
Calcium:
269
mg
(27%)
Iron:
6
mg
(33%)
We are a participant in both the RewardStyle and Amazon Services LLC Associates Program, which are affiliate advertising programs designed to provide a means for sites to earn advertising fees by advertising and linking to amazon.com and through RewardStyle.