Shrimp Fried Rice – Gluten Free!
This post may contain affiliate links. Please check our privacy and disclosure policy.
Shrimp Fried Rice made with leftover white rice, shrimp, fresh vegetables, and seasoning is savory, filling, and you can make in under 25 minutes! Plus it's gluten free!
I love making my favorite restaurant dishes at home, because I can be 100% certain that they are gluten free. Like my Slow Cooker Honey Garlic Chicken, Slow Cooker Mongolian Beef, Slow Cooker Chicken Tikka Masala, and Hawaiian Fried Rice!
Shrimp Fried Rice – Gluten Free!
Shrimp Fried Rice is one of my favorite Chinese takeout dishes to make at home. It's full of veggies and fresh shrimp with seasoning, and only takes 25 minutes to make from start to finish! Plus, it's a great way to use up leftover rice and veggies the next day. This is my own take on the recipe, and I love making it at home because I can make sure everything is gluten free.
Does fried rice have gluten?
Restaurant fried rice is often made with soy sauce, which usually contains wheat. It is also often made in the same pans that were used for other dishes that use soy sauce or wheat products. Unless you have a restaurant chef that understands allergies, I would not risk it.
Is there a gluten free alternative to soy sauce?
You can find soy sauce without gluten. It is usually specifically labeled as gluten free, because regular soy sauce normally uses wheat as a flavor enhancer. Tamari is a good gluten free alternative to soy sauce. You can also use coconut aminos, which is also soy free, but I find that you need more of the aminos to equal the same flavor you'd get with tamari or soy sauce.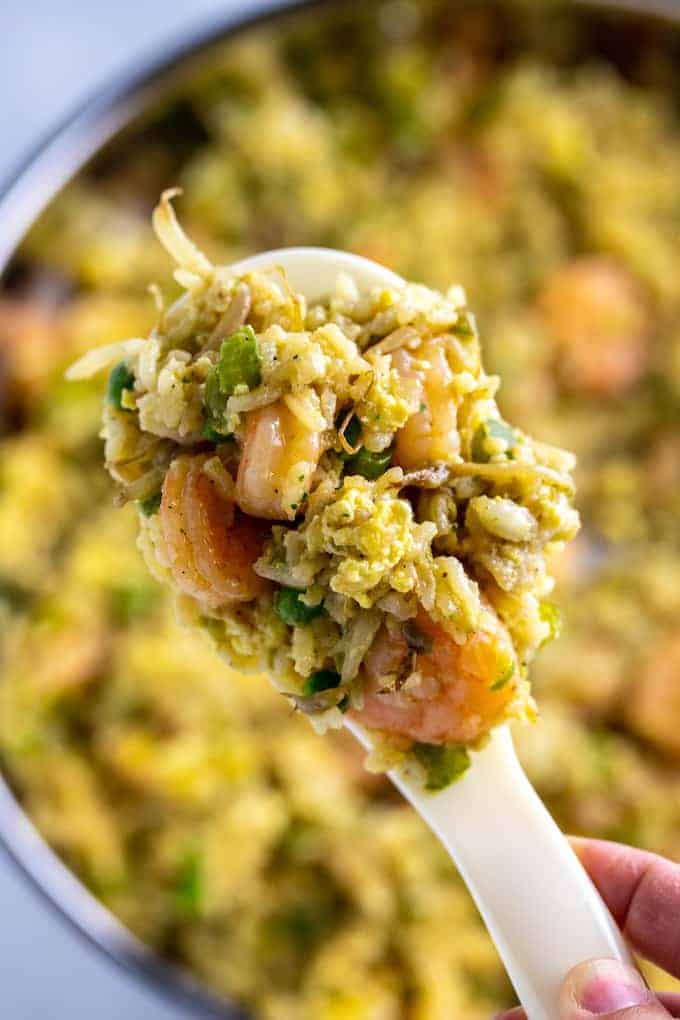 How long is shrimp fried rice good for in the fridge?
Shrimp fried rice will last in the refrigerator for 2-3 days, tightly sealed in an airtight container in the refrigerator. Reheat in a saucepan over medium-low heat with 2-3 tablespoons of water. You can also microwave it, but you may overcook the shrimp this way.
Why type of rice is used for fried rice?
Fried rice is usually made with either jasmine or long grain white rice. Both are good options and will hold up well to frying. If you're making the rice specifically for shrimp fried rice, use slightly less water than the recipe calls for to make the rice less soft and more sturdy.
Can I use fresh rice for fried rice?
I don't recommend using fresh rice for shrimp fried rice, because fried rice works best with leftovers. If you're going to make rice specifically for fried rice, I would make it in the morning and put it in the refrigerator for a few hours until you're ready for it.
Why is takeout fried rice yellow?
Some fried rice is yellow because the restaurant adds either turmeric, or a spice blend that contains food coloring to make it look more appealing. You can add 1/4 tsp of turmeric to your rice at home to give it a similar color.
Why is my fried rice mushy?
If your fried rice is mushy, the rice was overcooked. This can happen if you fry it for too long, or if it was cooked with too much water to begin with. It's also important to remember to rinse your rice before cooking it, to get some of the sticky starch off of the grains. Otherwise, your shrimp fried rice will be mushy.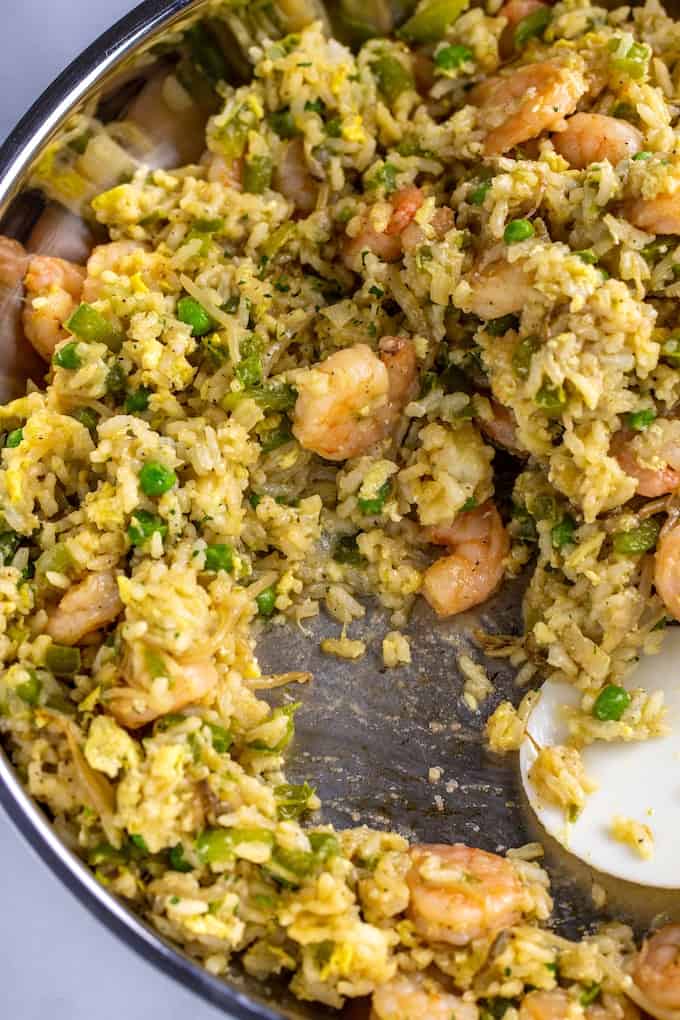 Tips for How to Make Shrimp Fried Rice
Add 1/4 tsp of cayenne pepper or red pepper flakes to make spicy shrimp fried rice!
Add 1 tsp of chopped fresh garlic with the onions to make garlic fried rice.
You can make this same recipe with other meats, like chicken or roast pork. You can also omit the meat entirely for a vegetarian fried rice!
If you want to make a soy free shrimp fried rice, try using coconut aminos instead of tamari.
You can also substitute the tamari with gluten free soy sauce. They are pretty much interchangeable.
Add other vegetables to your fried rice, like broccoli, green onions, carrots, or cabbage.
I like make my egg in the same pan as the rice, but if you want fluffier eggs in your fried rice then scramble them in a separate pan. Break them into small pieces before adding to the rice.
To add some more flavor, add crumbled cooked bacon at the end.
This shrimp fried rice cooks really quickly. I recommend prepping your ingredients ahead of time, before you start cooking.
You can make this in a large skillet or in a wok. The wok will give the dish a richer flavor because of the way it heats the food, and is usually how the restaurants cook it.
More Gluten Free Shrimp Recipes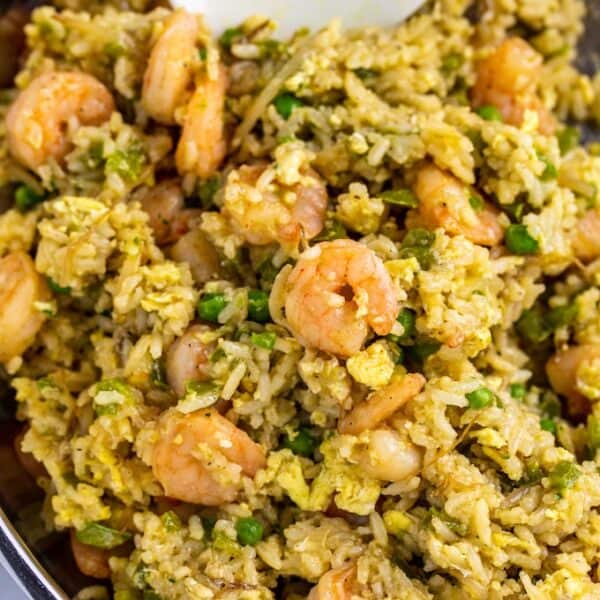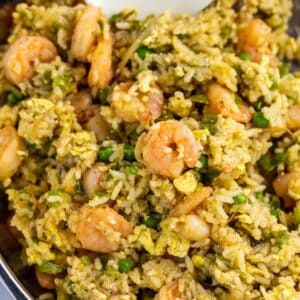 Shrimp Fried Rice - Gluten Free!
Shrimp Fried Rice made with leftover white rice, shrimp, fresh vegetables, and seasoning is savory, filling, and you can make in under 25 minutes! Plus it's gluten free!
Ingredients
1

lb

shrimp

,

peeled, deveined, tail removed

3

cups

cooked white rice

1

cup

bean sprouts

1/2

cup

onion

,

diced

1/4

cup

peas

1

medium

green bell pepper

,

seeds removed, diced

2

large

eggs

,

beaten

3

tbsp

vegetable oil

2

tbsp

gluten free tamari

1/2

tbsp

sesame oil

1/2

tsp

black pepper

1/2

tsp

garlic powder
Instructions
In a large skillet or wok, heat vegetable oil. Add onions, bean sprouts, peas, and bell pepper. Cook until onions are soft, about

5 minutes

. Add shrimp and cook until shrimp turn pink and are no longer opaque, about

3-4 minutes

, stirring.

Add rice, spices, tamari, and sesame oil. Stir everything together for

1-2 minutes

to heat through, then push everything to one side. Add eggs to empty side and scramble,

2-3 minutes

. When eggs are cooked through, mix in with rice. Stir everything together and serve.
Notes
Click on the time in the instructions to start a timer!
Nutrition
Calories:
447
kcal
(22%)
Carbohydrates:
41
g
(14%)
Protein:
33
g
(66%)
Fat:
17
g
(26%)
Saturated Fat:
10
g
(63%)
Cholesterol:
391
mg
(130%)
Sodium:
1429
mg
(62%)
Potassium:
333
mg
(10%)
Fiber:
2
g
(8%)
Sugar:
3
g
(3%)
Vitamin A:
332
IU
(7%)
Vitamin C:
37
mg
(45%)
Calcium:
203
mg
(20%)
Iron:
4
mg
(22%)
We are a participant in both the RewardStyle and Amazon Services LLC Associates Program, which are affiliate advertising programs designed to provide a means for sites to earn advertising fees by advertising and linking to amazon.com and through RewardStyle.