Cheesy Stuffed Pepper Casserole
This post may contain affiliate links. Please check our privacy and disclosure policy.
Cheesy Stuffed Pepper Casserole is a really quick and easy version of one of my favorite dishes. It's loaded with gooey cheese, fresh bell peppers, turkey, and spices. All of the flavor of stuffed peppers in one easy to clean casserole dish!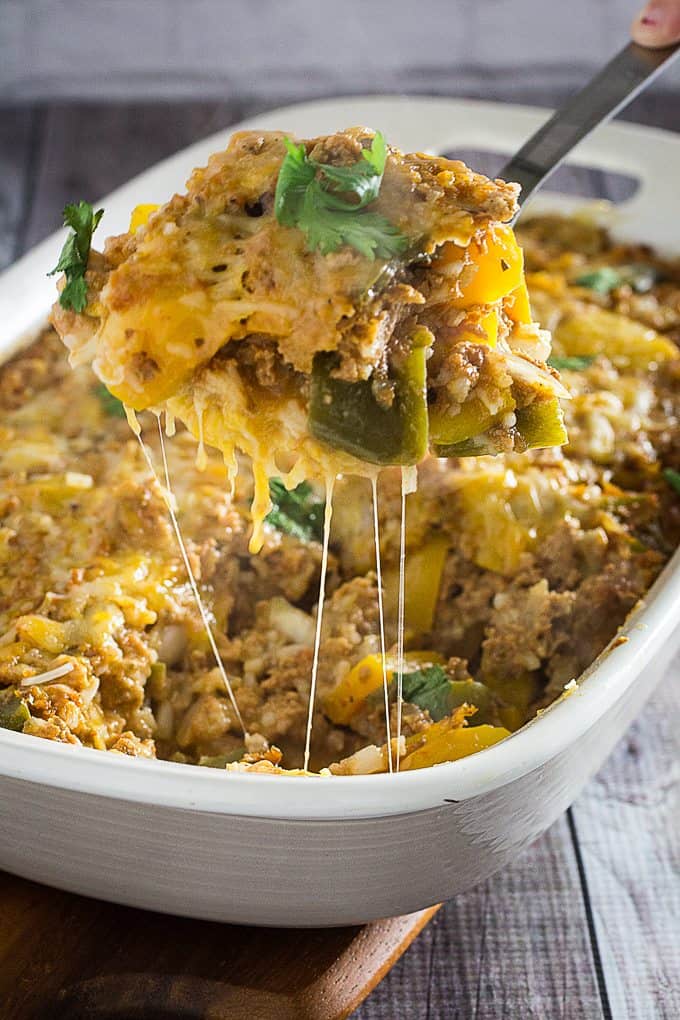 The weather is finally cooling down, which means it's comfort food season! My favorite season of them all. And today we're warming up the kitchen with Stuffed Pepper Casserole. It's full of gooey cheese, turkey, veggies, and savory spices.
Today I've taken one of my all-time favorite dishes and turned it into a comforting casserole. It has all of the things you love about stuffed peppers, with only half of the work and cleanup! Does it really get any better than that? Not to mention, this is quick to prepare and makes a big casserole dish, which is perfect for feeding a hungry family or even guests during this busy season.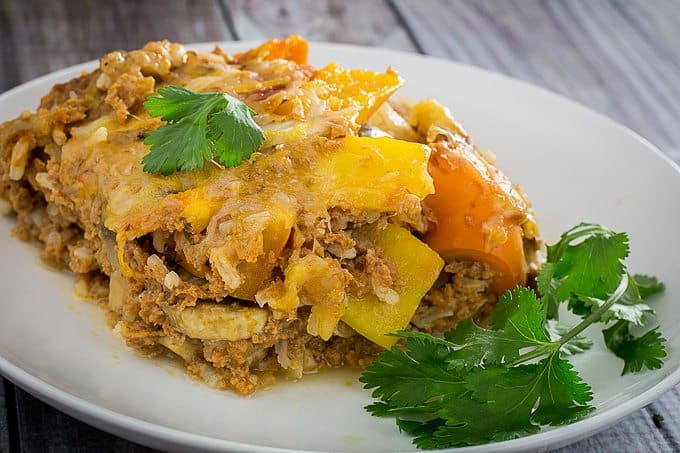 Stuffed peppers has been a long-time favorite dish of mine. It takes some time to cut the peppers right and stuff them, so I usually wait until the weekend to make a big pan of them. Because Andrew isn't the biggest fan peppers, I always end up freezing most of the dish and taking them to work for lunches. Which is fine, because a hot lunch is never a bad thing!
Stuffed Pepper Casserole, however, is a completely different story. It's incredibly quick and easy to throw together, and only has one dish to clean up afterwards. That's right, no need to worry about the multiple pans that usually comes with stuffed peppers. No browning of the meat (unless you really, really want to), no cooking of the rice. Just one and done!
To me, this is also the kind of meal I would make when I have family over. I don't have to worry about how many peppers I've made (erm, everyone gets one, right? Or is that two?), and people really just like that comforting feeling you get when you dig into a hot casserole dish.
Stuffed pepper casserole is the ultimate comfort food experience. It's like going to grandma's house, where you eat way to much and usually leave with leftovers. Nothing really compares to it, and only grandma knows how easy the dish actually was to make. That's the kind of experience I want my family to have when they sit down at the table.
Not to mention, who really wants to do dishes after work, anyway?
Well, there's one dish. But if you eat off paper plates, it'll stay one dish.
Right?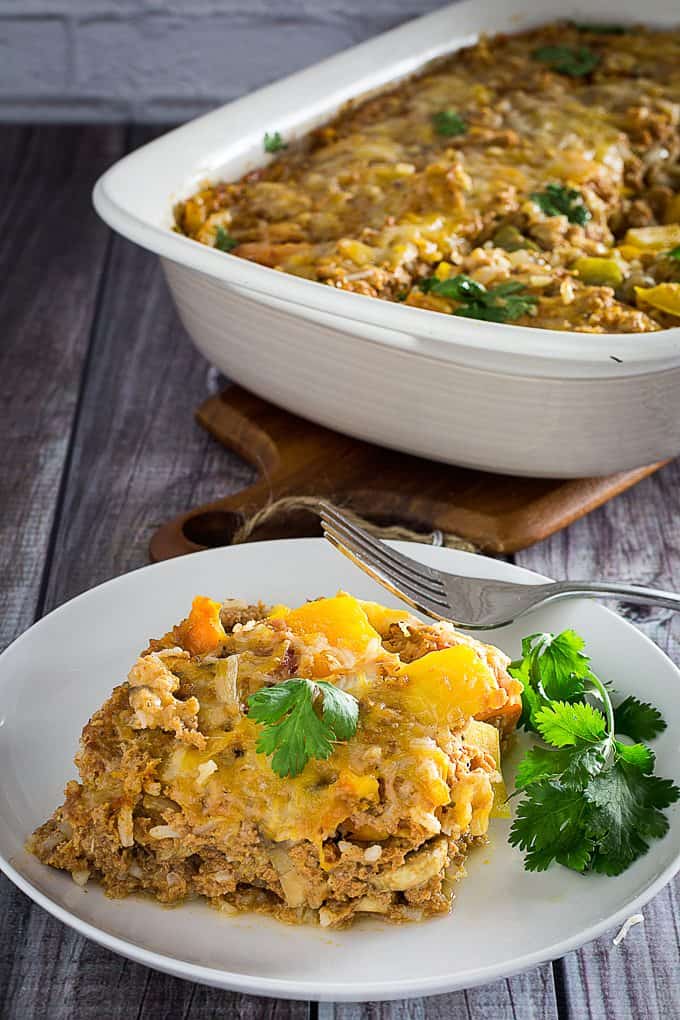 Did I mention that this is full of unbelievably melty-gooey cheese?
I think that's a key ingredient in stuffed peppers. At least in my house it is. You can cut some of the cheese out if you'd really like to, to save calories or whatever. But it would definitely be less melt-in-your-mouth comforting savory deliciousness. But you technically could do it, and I wouldn't stop you.
Because honestly, there's a million stuffed pepper recipes out there, and this is just my favorite one. You could technically make this casserole with your own favorite recipe. You may just have to tweak how much rice to add, to make sure you don't have too much water at the bottom of the pan. If you are seeing that, try adding 1/4 of a cup of rice the next time you make the dish, and that should clear up that problem.
You can also play around with the spices here. By adding no cumin and more garlic and marinara, and replacing the cheese with mozzarella, you'll get more Italian flavors in this dish. Or maybe you just want to add a bit of spice, and throw a dash of cayenne pepper in there. If you really want to shake it up, try adding some plain yogurt and garam masala. Garam masala stuffed peppers? I smell another blog post coming up! 
However you'd like it, this is an incredibly easy and versatile dish. You can really tailor it to your own taste (or to the taste of the picky eaters in your house), which is something I love about it!
Unless you have someone in your household who doesn't like peppers, like me. In that case, more stuffed pepper casserole for you.
Which I also consider a win.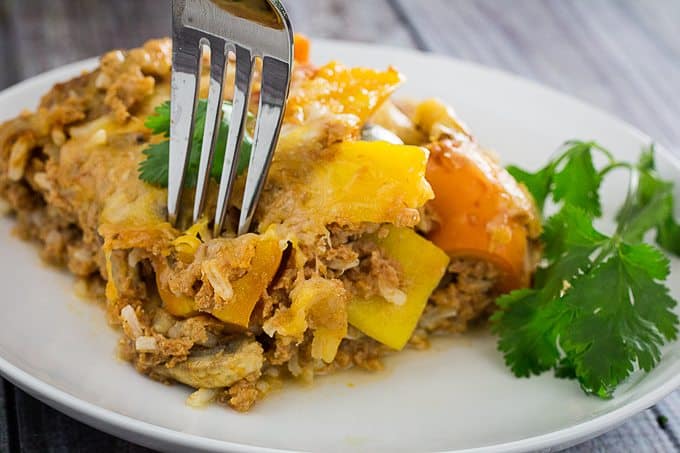 I know you're loving how easy this stuffed pepper casserole is right now. But have you ever stopped mid-recipe before and though, How could this get any better? Well, I assure you that it can get better! I've put together a quick little list to help you get your stuffed pepper casserole creativity on.
Easy Ways to Spice Up Your Stuffed Pepper Casserole
Add More Veggies. One of the things I love about this casserole is that you can throw in any leftover vegetables you have from the week. For me, that's usually a few carrots, peas, and spinach. You could even add a jalapeno or poblanos if you'd like to spice up the dish!
Add More Spices. You're never stuck to what a recipe says to do. These stuffed peppers aren't really spicy (at all). If you'd like to add more spice, try a half a teaspoon of cayenne pepper in your mix, or even some chili powder. Don't be afraid to get creative!
Make It Healthier. You can also make this even healthier by subbing in brown rice or quinoa instead of white rice. Just make sure you're using instant, or else you may need some more liquid in the recipe.
Use Whatever Meat You Like. Ground turkey is my personal preference, but it's definitely not a necessity here. Feel free to experiment with ground beef, chicken, or (if you're like my sister) even lamb.
Casserole… or Cups? You can also throw this into a muffin tin, for cute little serving-sized stuffed pepper cups. So adorable!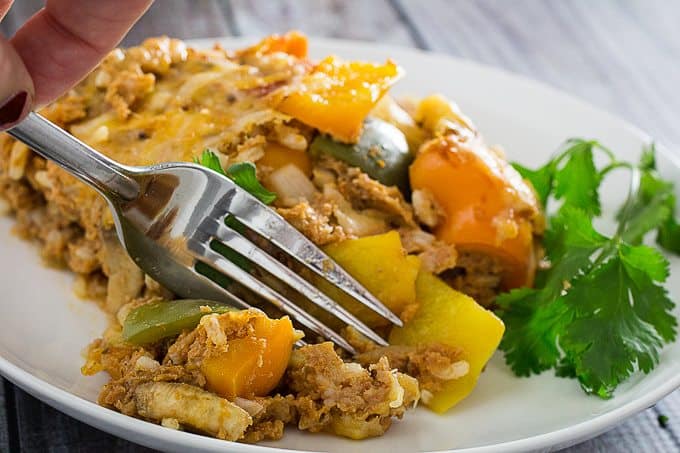 Now that you're a stuffed pepper casserole expert, you're ready to create your own version of this incredibly delicious dish! Or stick to this recipe. Whatever you're comfortable with, really.
As long as there's stuffed pepper casserole involved in there somewhere.
Priorities. ♡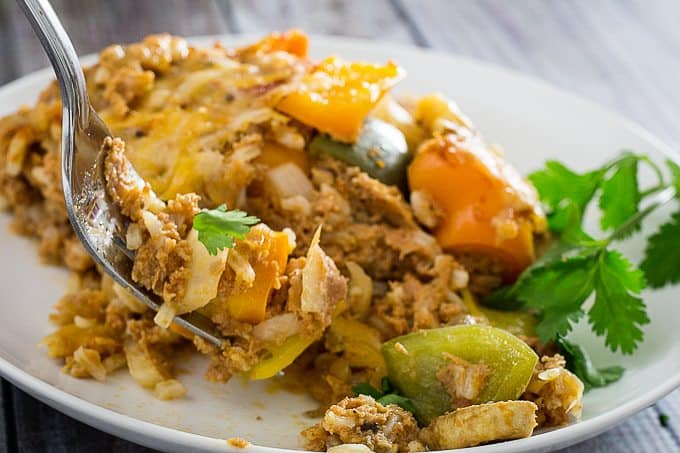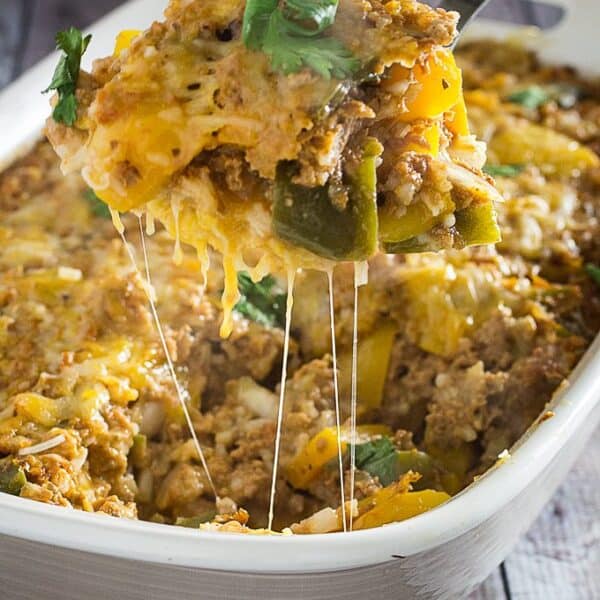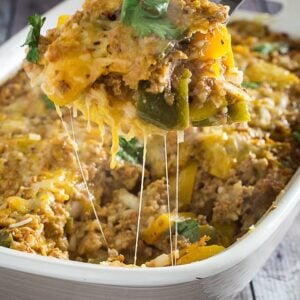 Cheesy Stuffed Pepper Casserole
Cheesy Stuffed Pepper Casserole is a really quick and easy version of one of my favorite dishes. It's loaded with gooey cheese, fresh bell peppers, turkey, and spices. All of the flavor of stuffed peppers in one easy to clean casserole dish!
Ingredients
1½

lbs

ground turkey

5-6

medium

bell peppers

1

medium

vidalia onion

,

chopped

8

green onions

,

chopped

8

oz

white mushrooms

,

sliced

2

cups

shredded Mexican cheese

2

cups

marinara sauce

1

cup

instant white rice

,

uncooked

2

tsp

cumin

1

tsp

kosher salt

1

tsp

pepper

cooking spray to grease baking dish

½

bunch cilantro fresh

,

chopped, for garnish
Instructions
Preheat oven to 375°F. Grease a large baking dish and set aside.

In a large mixing bowl, combine all ingredients except for 1/4 cup shredded Mexican cheese. Pour mixture into baking dish. Top with 1/4 cup Mexican cheese.

Cover baking dish with tinfoil. Bake

45-50 minutes

, or until meat is cooked though.

Remove tinfoil and bake an additional

10 minutes

.
Notes
Click on the time in the instructions to start a timer!
Nutrition
Calories:
300
kcal
(15%)
Carbohydrates:
22
g
(7%)
Protein:
31
g
(62%)
Fat:
10
g
(15%)
Saturated Fat:
5
g
(31%)
Cholesterol:
73
mg
(24%)
Sodium:
861
mg
(37%)
Potassium:
816
mg
(23%)
Fiber:
4
g
(17%)
Sugar:
9
g
(10%)
Vitamin A:
2926
IU
(59%)
Vitamin C:
104
mg
(126%)
Calcium:
224
mg
(22%)
Iron:
3
mg
(17%)
We are a participant in both the RewardStyle and Amazon Services LLC Associates Program, which are affiliate advertising programs designed to provide a means for sites to earn advertising fees by advertising and linking to amazon.com and through RewardStyle.