Slow Cooker Chicken Enchilada Soup
This post may contain affiliate links. Please check our privacy and disclosure policy.
Slow Cooker Chicken Enchilada Soup is a combination of savory spices, diced tomatoes, shredded chicken, and cheddar cheese. It's all of the flavor of enchiladas and as easy to make as a slow cooker dinner!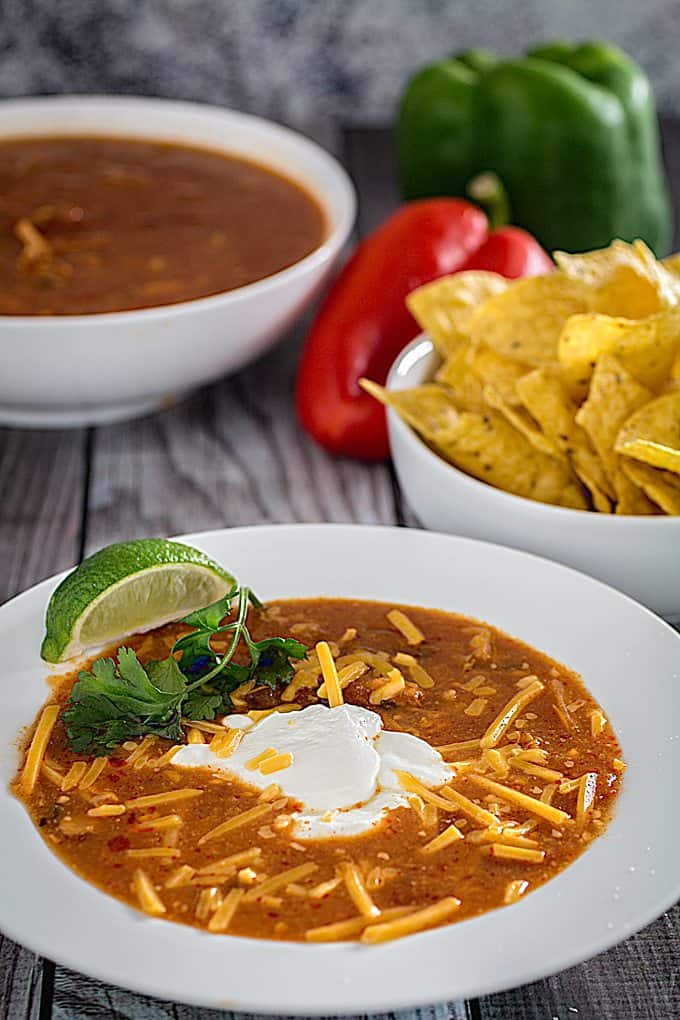 Slow Cooker Season. It's here, and it's in full swing now that the weather is cooling down. I have a personal favorite here for you today: Slow Cooker Chicken Enchilada Soup. It's basically the easiest thing you'll ever make, while simultaneously being the most delicious thing you'll ever have in your slow cooker.
Ok, maybe I'm exaggerating here, but I'm kind of on my 5th bowl of this stuff and I'm still really excited about it!
Either way, this is definitely one of my new favorite go-to slow cooker meals, with a mixture of flavors like cumin and cayenne pepper for just a hint of spice, along with diced tomatoes, cheddar cheese, and filling shredded chicken. I'm hoping you'll love it as much as I do!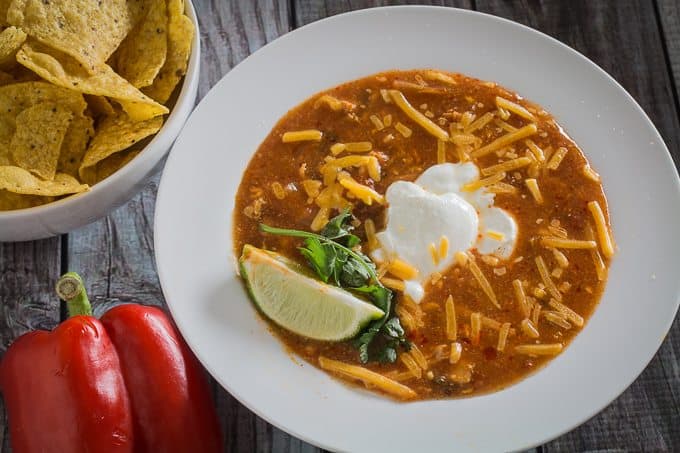 I spent the week visiting up north in good 'ole New York this week. It was a little chilly compared to Florida, but I kind of loved every minute of it. We visited my favorite place in the world – Grounds for Sculpture. It's like a beautiful garden ran into a park and a fantasy world at the same time and produced the most magical place on earth. Sorry, Disney, art wins out on this one today.
If I still lived up north, Andrew and I would probably be having our wedding here, I love it that much.
Overall, the trip went really well. New York is already rolling out pumpkin picking and chilly fall weather. In fact, some of the leaves were even changing, which I know I am going to miss more than anything once October hits. Something I don't get much of in the sunshine state.
So, I really loved that I had a chance to visit fall for the long weekend. Even if it's still technically summer. We won't talk about that. Shhh… it's pumpkin season. Plus, I've been really homesick lately, so it was nice to be able to visit with my family and friends.
I've been tracking my steps lately for a challenge we're doing at work, and I believe my friends and I put in 11,000 steps Friday, and another 10,000+ on Saturday. Today, I'm physically incapable of moving, but it's ok. I need more exercise in my life, and this is a really good start.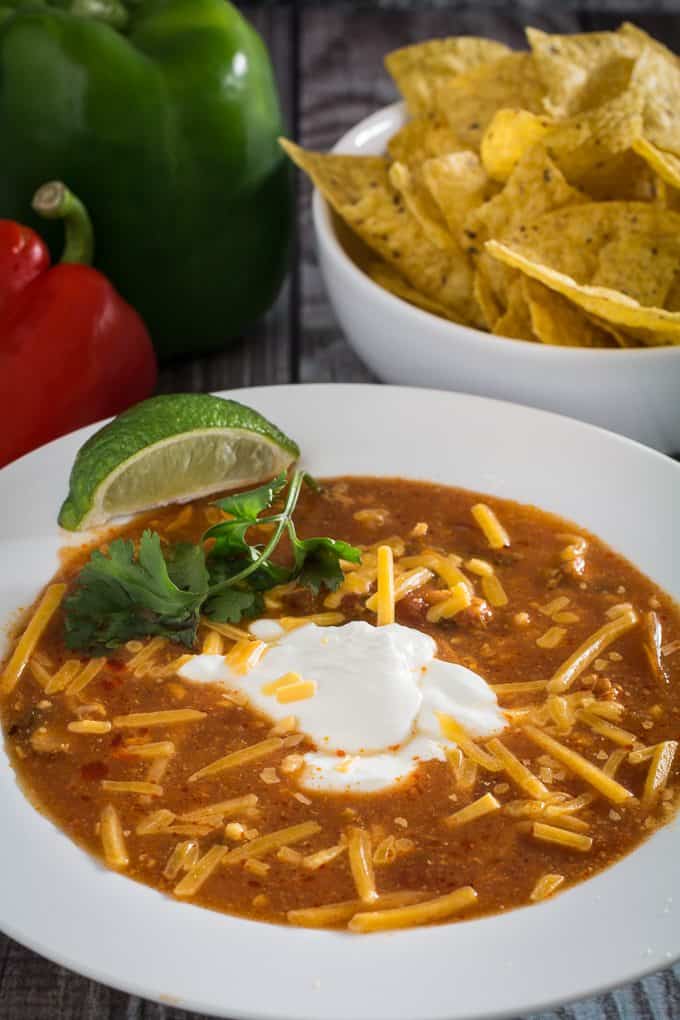 Ok, can we just stop for a minute and admire the absolute delish-ness of this slow cooker chicken enchilada soup? The feeling is kind of like when you don't know something is missing in your life, but then you wonder how you ever lived without it.
I know, some pretty strong emotions going on here about a simple slow cooker dinner. What can I say, I'm a big softie when it comes to easy comfort food. Not really because of the actual food, though.
Ok, maybe it's a little bit about the actual food. It's just so amazingly good, ok?
But comfort food has this other-world hidden quality to it that is 100% pure magic. It brings people together. That's right. You'll never see people run faster to your table than when you're offering something comforting and warm, with a familiar enticing aroma floating through the air and a big pot or baking dish sitting right there. It's almost like it's personally inviting everyone to come in, pull up a chair and get comfortable.
Ahem – in comes slow cooker chicken enchilada soup.
In my house, it brings everyone to the table faster than anything else on the planet. It also starts up some really interesting conversations. The food is the topic of conversation, which eventually leads to sharing everything else going on in your life with the people you love to have around. And, if you're my house, debating about local, national, and international politics. But that's a story for another time altogether.
For me, THAT'S exactly what comfort food means. Bringing people together.
Now you know what I mean when I say "comfort food". We can also touch on another myth that comes with the word: Comfort food takes hours to make. This statement is just plain untrue.
While a lot of dishes DO take a long time to make, not every comfort food dish has to. Which is exactly the idea with this slow cooker chicken enchilada soup. It's so incredibly simple to make, yet still gives you that warm-from-the-inside feeling. While simultaneously filling your house with fantastic aromas that will make people believe you've been cooking all day.
I've also come up with a list of more gluten free comfort food soups and stews for you. Are you ready?! Prepare to be comforted!
4 Soups and Stews To Add To Your Comfort Food List
Along With Slow Cooker Chicken Enchilada Soup
There you have it, your go-to list of 4 gluten free soups and stews for this fall and winter. And maybe spring. You never know with this crazy weather, right?
Something warm. Something comforting. Something that brings your family eagerly to the table.
That's what I'm talking about here.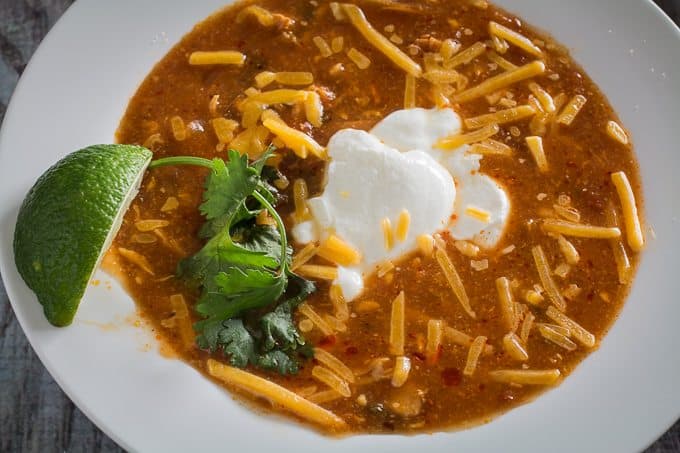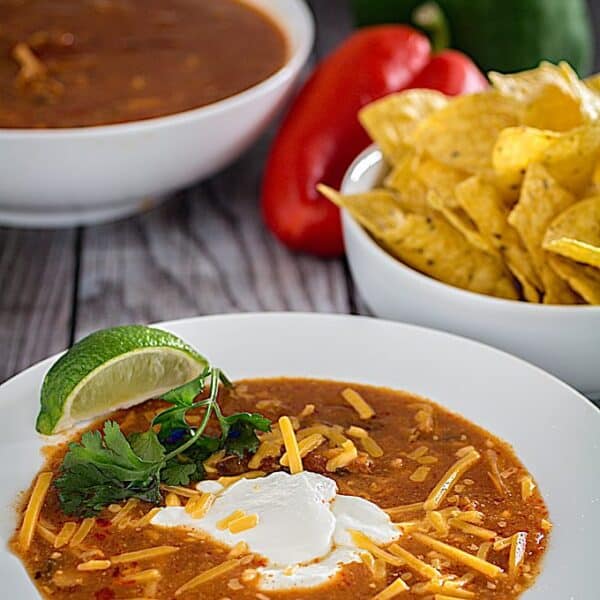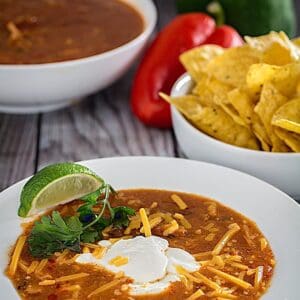 Slow Cooker Chicken Enchilada Soup
Slow Cooker Chicken Enchilada Soup is a combination of savory spices, diced tomatoes, shredded chicken, and cheddar cheese. It's all of the flavor of enchiladas and as easy to make as a slow cooker dinner!
Ingredients
5

medium

chicken breasts

,

boneless skinless

5

cups

vegetable or chicken stock

,

gluten free

1

large

yellow onion

,

chopped

3/4

cup

cheddar cheese

,

shredded

2-3

medium

poblano peppers

,

chopped, seeds removed

1

(28oz can)

diced tomatoes

1

(28oz can)

tomato puree

1/2

cup

cornmeal

,

gluten free

2

tbsp

vegetable oil

1

tsp

garlic powder

1

tsp

oregano

1

tsp

cumin

1

tsp

salt

3/4

tsp

cayenne pepper

,

or to taste

fresh cilantro

,

chopped, for garnish
Instructions
Place all ingredients except for cheese in slow cooker and stir together. Cook on HIGH

4 hours

or LOW

8 hours

.

Remove chicken and shred with two forks. Return chicken pieces to soup. Stir in cheddar cheese and allow to cook another

5 minutes

, or until cheese is melted. Top with fresh cilantro before serving.
Notes
Click on the time in the instructions to start a timer!
You may want some extra shredded cheddar cheese for topping.
Nutrition
Calories:
468
kcal
(23%)
Carbohydrates:
35
g
(12%)
Protein:
49
g
(98%)
Fat:
16
g
(25%)
Saturated Fat:
8
g
(50%)
Trans Fat:
1
g
Cholesterol:
135
mg
(45%)
Sodium:
1707
mg
(74%)
Potassium:
1710
mg
(49%)
Fiber:
6
g
(25%)
Sugar:
14
g
(16%)
Vitamin A:
1706
IU
(34%)
Vitamin C:
63
mg
(76%)
Calcium:
196
mg
(20%)
Iron:
5
mg
(28%)
We are a participant in both the RewardStyle and Amazon Services LLC Associates Program, which are affiliate advertising programs designed to provide a means for sites to earn advertising fees by advertising and linking to amazon.com and through RewardStyle.