Creamy Potato Leek Soup
This post may contain affiliate links. Please check our privacy and disclosure policy.
Creamy, savory, and with an (optional!) cayenne kick, this is a twist on a traditional French comfort food. This Creamy Potato Leek Soup is so incredibly easy to make that it's sure to become a staple in your house this winter. Just top with fresh chives and serve warm for a meal your family will love.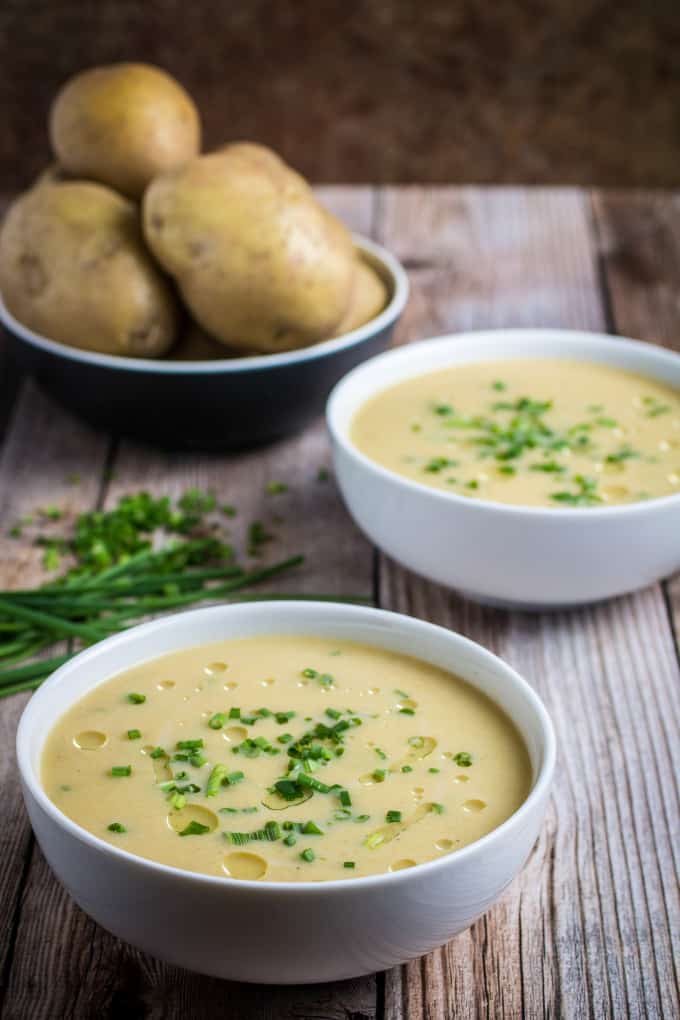 I've noticed lately that it's getting dark out much earlier now. Pretty soon I'll be driving to work in the dark, and leaving work in the dark. But that doesn't seem so bad when I think of the warm, home-cooked meal we'll be having that night.
It's the time of year where I want to hibernate and just sit in my cozy house with a good book, a crackling fireplace and a warm bowl of something hot to eat.
That's right. It's officially soup weather.
Nothing quite warms you to your bones the way a good bowl of hot soup does. This Creamy Potato Leek soup does exactly that, while also satisfying your comfort-food cravings. The best part? Besides for being really cheap to make (the main ingredients are potatoes and leeks), this fancy-looking soup is really, really easy to make.
I've made this in the past, but I'll be honest, I really resisted making it this winter. I'm not sure why. Andrew has been asking me to make this recipe for a few weeks now. I'm pretty sure I planned to a few times, but then conveniently "forgot". (Hey, there was Slow Cooker Kale and White Bean Soup to be made! Also, I'm over-worked. Feel bad for me.)
When I finally did make it, he had three big bowls of it.
Next time, I'm planning on making a double batch.
I think my hesitation has to do with the fact that we moved in August, and most of my kitchen stuff is now sitting in a storage unit. Including my immersion blender.
Did I mention that Andrew and I moved back in with my parents for the next few month? It turns out that weddings and houses are expensive, particularly in the North East US, so we're saving up for a down payment on a house, and a hall for the wedding. It's been a bit crazy, but so far, so good.
It's not quite my own kitchen, but I do like my parent's gas stove better than my old electric one. I just feel like cooking on real flame heats better than hot metal. That's just my opinion, though. I've still cooked many delicious things on my old electric stove.
So, immersion blender-less, I used my parent's big food processor for this recipe. My other option was a blender, which would have worked just as well, depending on what you have available to you. You may have to work in batches. I scooped the entire pot of soup into the food processor in one batch, it depends how big your appliance is.
After all was said and done, I'm really glad I made this.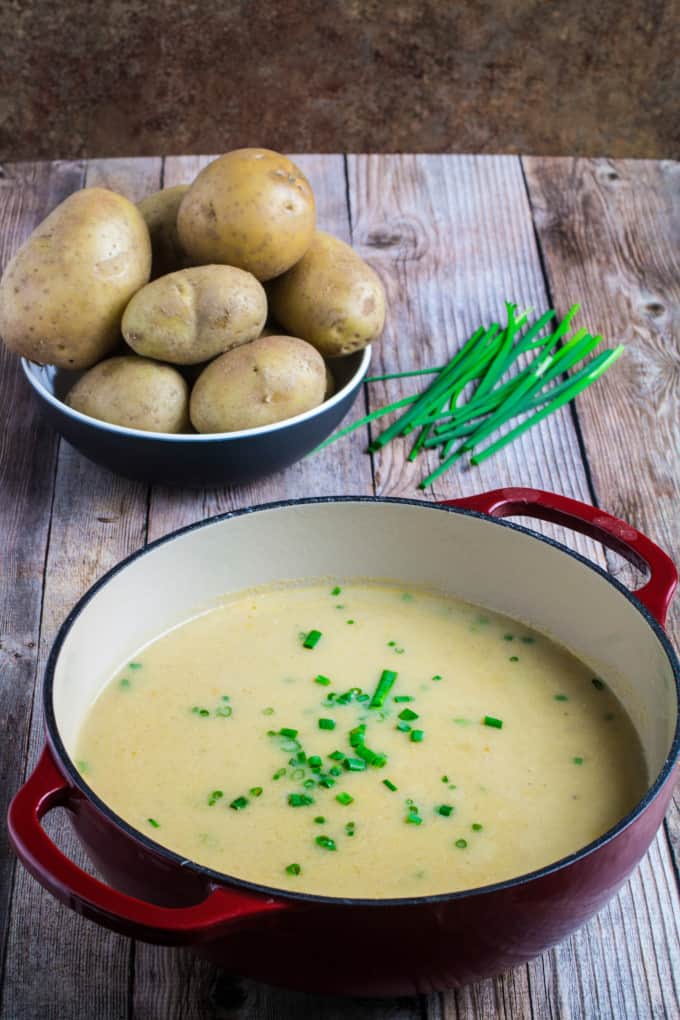 There's only a few ingredients in this one and they're all pretty cheap to buy (yay for easy/cheap recipes!). Potatoes, leeks, onion, butter, broth, garlic, cream, salt, pepper, and cayenne. You probably have half of these ingredients in your pantry already. Personally, this is what I do when I have leftover potatoes from another recipe. Even if I have to go buy leeks, it's so worth it.
The cayenne part is optional, if you like a bit of spice in your life.
We like spicy food.
Except for my mom.
She does not like spicy food. Which I remembered a bit late.
…Oops.
So, the cayenne is optional. If you hate spice, like my mom, then just leave it out. The soup will still be delicious, I promise.
I also used a Dutch oven to make this soup. If fact, I'm going to take a moment now to express just how much I love my Dutch oven. It's cast iron, but coated with enamel. It has superior heating abilities (we're talking even, delicious conductivity, people). I'm pretty convinced that everything that comes out of my Dutch oven takes like magic.
And food.
But mostly potato leek soup magic.
If you haven't invested in a Dutch oven yet, and you want to, I highly recommend checking Amazon. I don't have an affiliate link for you, but mine is a Lodge brand and I bought it from there. It's a great price as far as Dutch ovens go, and I can attest to the delicious, delicious food that's come out of mine. Maybe one day I'll drop $500 on a top-quality Dutch oven, but I probably won't.
If you don't have a Dutch oven, don't worry. It's not a make-it or break-it kind of deal here. Just pull out your big ole' (at least 3 quart) soup pot and follow the directions as usual.
If you're feeling particularly adventurous, you might even want to try chopping up some crispy cooked bacon to throw on top of this. I mean, come on, bacon and potatoes? It's a win-win situation.
Now if you'll excuse me, a bowl of warm, oh-so-delicious potato leek soup is calling my name.
Oh, hello, tasty soup….
If you like this recipe, be sure to follow me here on Pinterest!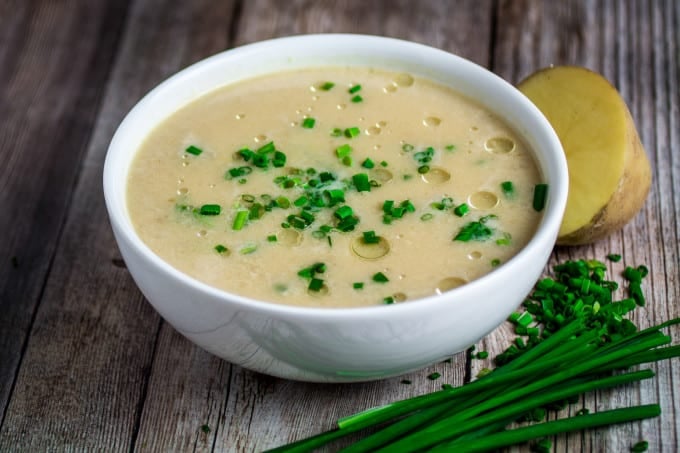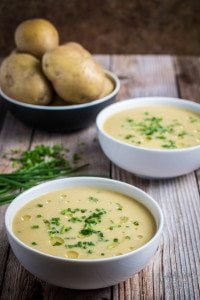 Creamy Potato Leek Soup
Creamy, savory, and with an (optional!) cayenne kick, this is a twist on a traditional French comfort food. This Creamy Potato Leek Soup is so unbelievably easy to make that it's sure to become a staple in your house this winter. Just top with fresh chives and serve warm for a meal your family will love!
Ingredients
3

tbsp

unsalted butter

2

cloves

garlic

,

minced

1

medium

yellow onion

,

chopped

3

large

leeks

,

washed and dark green parts/roots removed, chopped

3

large

Yukon gold potatoes

,

peeled and chopped into 1-inch pieces

1/2

tsp

salt

,

or to taste

1/2

tsp

black pepper

1/4

tsp

cayenne

,

optional

4 1/2

cups

vegetable broth

,

gluten free

1/4

cup

half and half

2

tbsp

chives

,

chopped
Instructions
Melt butter in 3-quart pot over medium heat.

Add garlic, onion, and leeks. Cook until softened (about

5 minutes

).

Add potatoes, salt, pepper, and cayenne. Stir ingredients together, cover pot and cook an additional 5 minutes, or until potatoes begin to soften (about

5 minutes

).

Add broth, stir and bring to a boil. Reduce heat to a slow simmer. Cook until potatoes are completely soft (about

10 minutes

).

Either use an immersion blender, or ladle soup into a big food processor or blender. Blend until pureed and return to pot. You may have to work in batches, depending on how big your appliance is.

Once pureed soup is returned to pot, reduce heat to low and stir in half and half. Cook for an additional

3-5 minutes

or until hot.

Top with chives and serve.
Notes
Click on the time in the instructions to start a timer!
Cayenne pepper is optional. This will make the soup spicy. You can also add more or less cayenne to taste.
You can also top with cooked and crumbled bacon, or drizzle with olive oil for extra flavor.
Nutrition
Calories:
262
kcal
(13%)
Carbohydrates:
39
g
(13%)
Protein:
5
g
(10%)
Fat:
11
g
(17%)
Saturated Fat:
7
g
(44%)
Polyunsaturated Fat:
1
g
Monounsaturated Fat:
3
g
Trans Fat:
1
g
Cholesterol:
28
mg
(9%)
Sodium:
1378
mg
(60%)
Potassium:
736
mg
(21%)
Fiber:
5
g
(21%)
Sugar:
7
g
(8%)
Vitamin A:
2114
IU
(42%)
Vitamin C:
37
mg
(45%)
Calcium:
85
mg
(9%)
Iron:
3
mg
(17%)
We are a participant in both the RewardStyle and Amazon Services LLC Associates Program, which are affiliate advertising programs designed to provide a means for sites to earn advertising fees by advertising and linking to amazon.com and through RewardStyle.