Flourless Oatmeal Cookies With Chocolate Chips
This post may contain affiliate links. Please check our privacy and disclosure policy.
Flourless Oatmeal Cookies With Chocolate Chips are really simple to make, and a hit every time I serve them! They're soft and chewy, with little bites of sweet chocolate and crunchy walnuts, and flavored with honey, cinnamon, and nutmeg. Best of all, they're gluten free!
Here it is, everyone. The moment we've all been waiting for. The perfect – and I do mean P-E-R-F-E-C-T – flourless cookie. And I'm not talking about that no-bake nonsense that seems to pop up every time the flour is taken out. These are truly chewy, melt-in-your-mouth chocolate-y, nutty and crunchy little bites of oatmeal heaven. Which, in the gluten free world, is something akin to pure gold.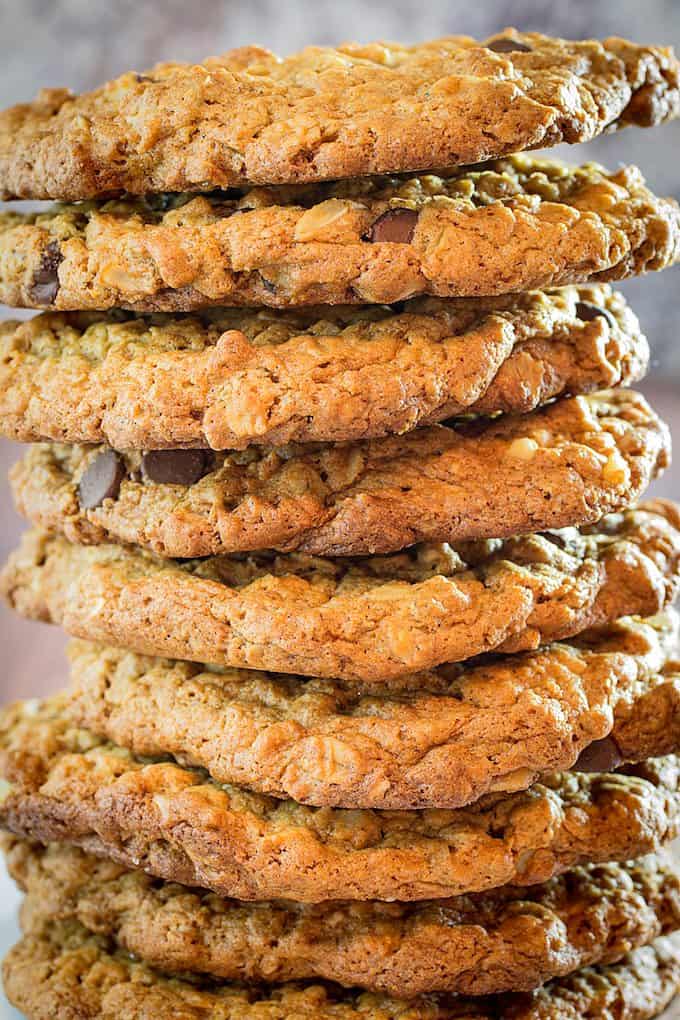 [adthrive-in-post-video-player video-id="0RnoKGA4″ upload-date="2018-11-19T21:12:28.000Z" name="flourless oatmeal cookies" description="Flourless Oatmeal Cookies"]
I've been eating really healthy lately. I'm on a fitness journey, and it's been all about healthy foods, exercise, and healthy habits. Well, let me tell you, these cookies are not part of that journey.
Not at all.
Not even a little bit.
Because you know what? Every so often, I still enjoy the foods that I love. And I'm still losing weight and gaining muscle. Because weight loss is not about never having all of the foods you like to eat. It's about balance. And while 80% of my diet is completely healthy, here's a glimpse at the 20% of my diet where I enjoy things like flourless oatmeal cookies.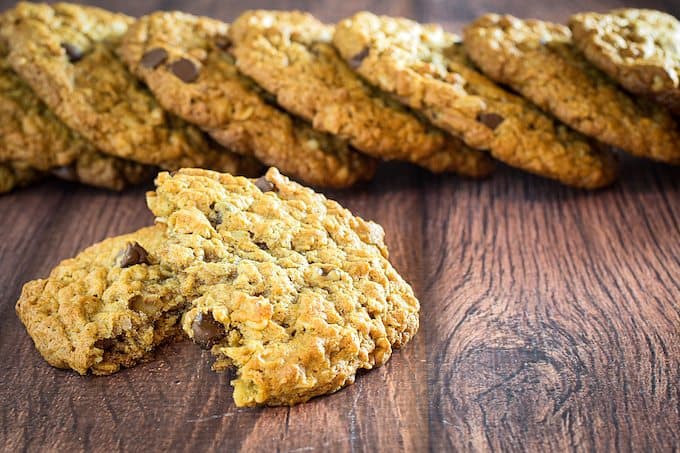 Also, I like to think the peanut butter adds some protein in here, and the oats are a great source of fiber. So, it's not all bad.
It's not like I'm eating an entire double chocolate cake here (which I'm planning on making for my birthday, btw).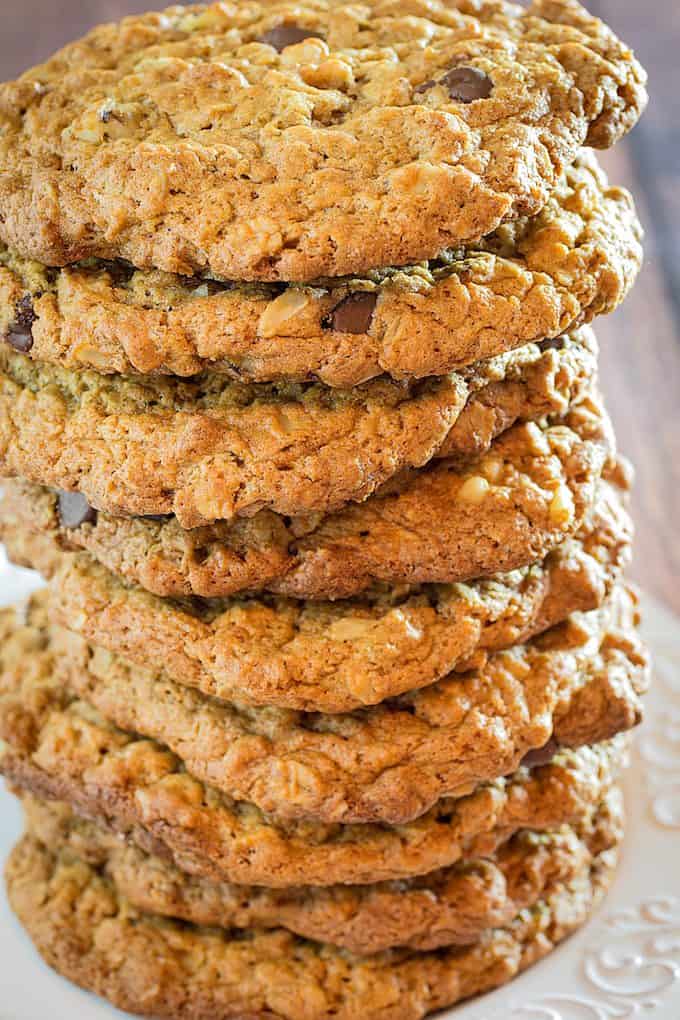 I crave foods like this when I'm stressed, and oh man, the stress levels have been rising. Andrew and I have been packing up our little apartment in preparation for the big move into our new (and first!) house. Yippee!
We're insanely excited to finally be homeowners! But there's also a TON of paperwork, cleaning, packing, work-box-hoarding, and flourless oatmeal cookies involved (aka Flourless Stress Cookies). And if you don't keep on top of the organization part, it can get away from you super fast.
Which is totally fine, because we're pretty organized in life when it matters, but sometimes it feels like there's just not enough hours in the day.
But even more exciting is the freedom I'm about to have! Now that we'll actually own a home, there's really no limit to the improvements we can make. I'll be able to do some fun DIY home posts on the blog, too. Which I can't wait to photograph and share with you!
But for now, we'll have to stick with these unbelievably delicious flourless oatmeal cookies. Which is still a win!
I added 50/50 chocolate chips and walnuts in these flourless oatmeal cookies, but you can throw in a mix of whatever you'd like. You could do a whole cup of chocolate chips, or white chocolate chips, or skip the chocolate and add all nuts. Or, you could even go a little crazy and add some raisins! Because those go really well in oatmeal cookies, too. I'm even working on a butterscotch oatmeal cookie recipes, so be on the lookout for that!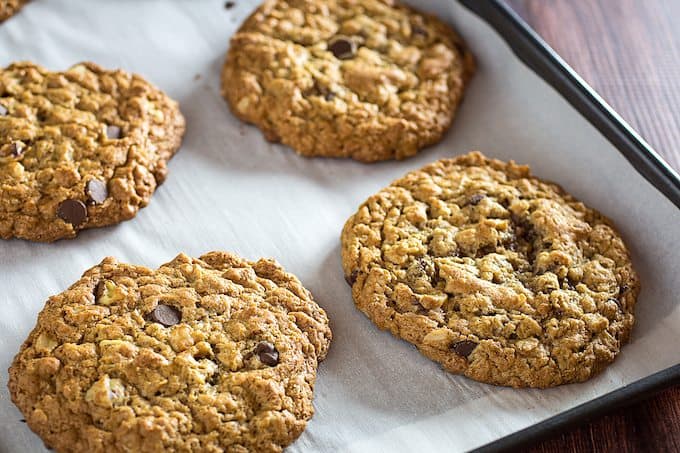 And just in case you have some leftover oats after flourless oatmeal cookies, here's a few more cookie and oatmeal recipes you might like!
1.) Soft Baked Gluten Free Pumpkin Oatmeal Cookies – Here's another one of my favorite oatmeal cookies. They're technically themed for the fall, but honestly I make them all year round. To me, it makes a lot more sense to incorporate the more delicious vegetables – like pumpkin – whenever I can, instead of waiting for an arbitrary season.
2.) Breakfast Oatmeal Craisin Cookies – Here's a cookie that you can eat for breakfast! And it uses craisins, which are basically cranberry raisins. They're sweet, and filling at the same time.
3.) Amish Baked Oatmeal With Cranberries And Walnuts – Here's an oatmeal bake, which is basically oatmeal in a casserole dish that feeds a whole family. It's simple to make (you just throw it all together), it's super flavorful, and it's perfect if you need to bring something to a brunch.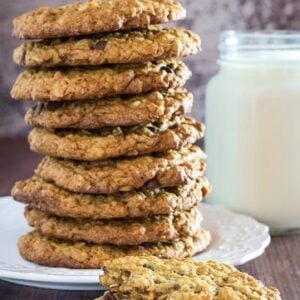 Flourless Oatmeal Cookies With Chocolate Chips
Flourless Oatmeal Cookies With Chocolate Chips are really simple to make, and a hit every time I serve them! They're soft and chewy, with little bites of sweet chocolate and crunchy walnuts, and flavored with honey, cinnamon, and nutmeg. Best of all, they're gluten free!
Ingredients
1/2

cup

white sugar

1/2

cup

light brown sugar

1/4

cup

unsalted butter

,

room temperature

1/4

cup

peanut butter

,

natural

1

tsp

baking soda

2

large

eggs

1/2

tsp

honey

1/2

tsp

vanilla extract

1/2

tsp

cinnamon

1/4

tsp

nutmeg

2 1/4

cups

gluten free rolled oats

1/4

cup

chocolate chips

1/4

cup

walnuts

,

chopped
Instructions
Preheat oven to 350°F. Line a baking sheet with parchment paper.

In a large bowl, use an electric mixer to beat together sugar, butter, and peanut butter.

While mixing add baking soda, eggs, honey, vanilla extract, cinnamon, and nutmeg.

Slowly add oats to the mixture. When everything is well combined, stir in chocolate chips and walnuts.

Place spoonfuls of batter on baking sheet in 24 even scoops. If you have a large ice cream scoop, it's about half of the scoop.

Bake for

10-15 minutes

, or until cookies begin to brown on the sides. 
Notes
Click on the time in the instructions to start a timer!
If you want really big cookies, use all of the batter to make 12 cookies instead of 24. This changes the nutrition, though!*
Nutrition
Calories:
119
kcal
(6%)
Carbohydrates:
16
g
(5%)
Protein:
3
g
(6%)
Fat:
5
g
(8%)
Saturated Fat:
2
g
(13%)
Polyunsaturated Fat:
1
g
Monounsaturated Fat:
2
g
Trans Fat:
1
g
Cholesterol:
21
mg
(7%)
Sodium:
67
mg
(3%)
Potassium:
63
mg
(2%)
Fiber:
1
g
(4%)
Sugar:
10
g
(11%)
Vitamin A:
86
IU
(2%)
Vitamin C:
1
mg
(1%)
Calcium:
16
mg
(2%)
Iron:
1
mg
(6%)
We are a participant in both the RewardStyle and Amazon Services LLC Associates Program, which are affiliate advertising programs designed to provide a means for sites to earn advertising fees by advertising and linking to amazon.com and through RewardStyle.