Blueberry Pie Filling
This post may contain affiliate links. Please check our privacy and disclosure policy.
Blueberry Pie Filling made with blueberries simmered in sugar with cinnamon, nutmeg, and a dash of lemon juice is the perfect fruit filling for the holidays and ready in 20 minutes!
If you like this recipe, you might also like my Apple Pie Filling. And of course my Gluten Free Pie Crust is the perfect way to use the filling this holiday season!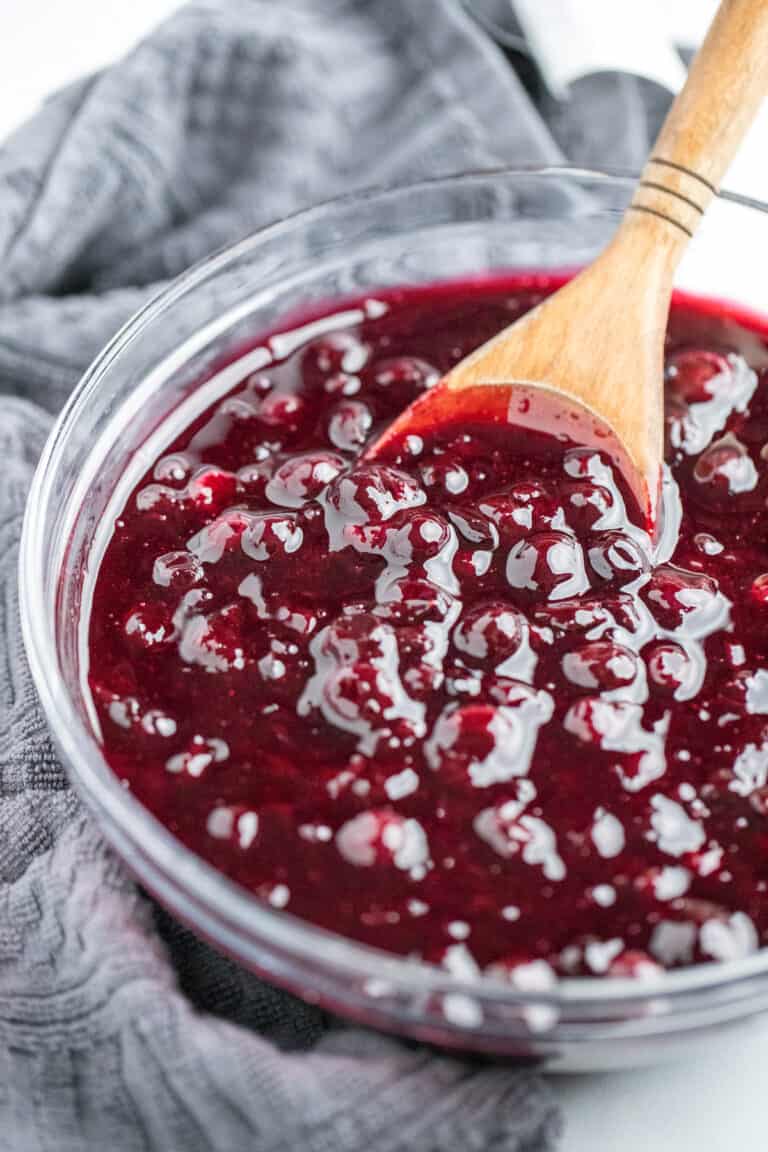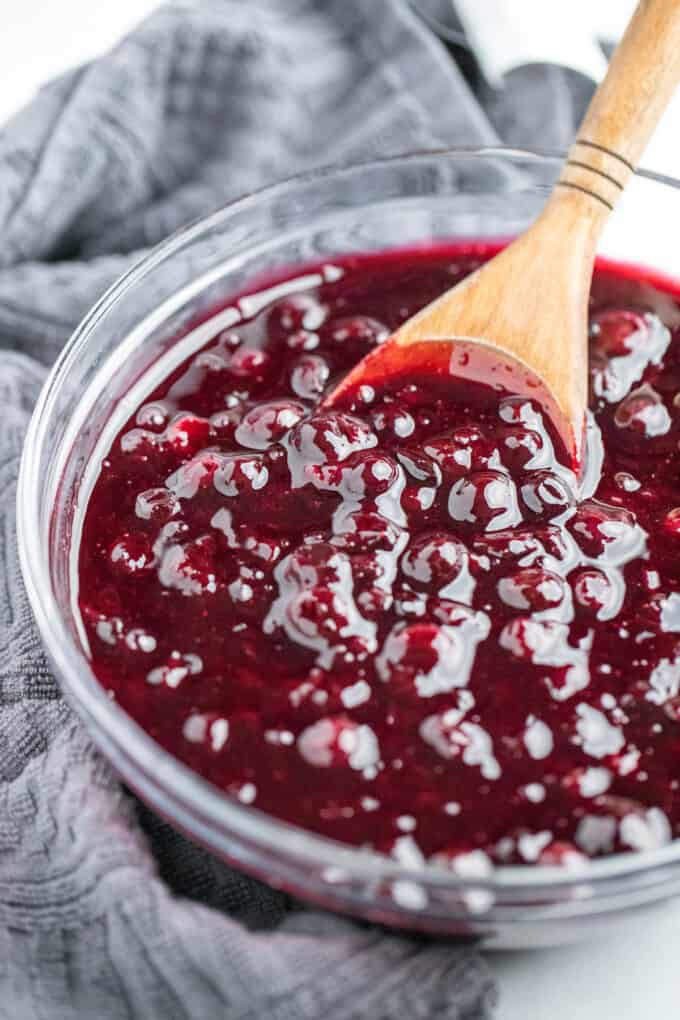 I love this blueberry pie filling because you can use fresh or frozen blueberries, along with a few pantry staples, making it really easy to throw together in a pinch. You can use this filling in a pie crust, as a topping for ice cream, or serve alongside gluten free pancakes or waffles on Christmas morning. You can make this recipe with any fresh berries that you have, too. Trust me, you'll never go back to store-bought canned blueberry pie filling again!
Ingredients You'll Need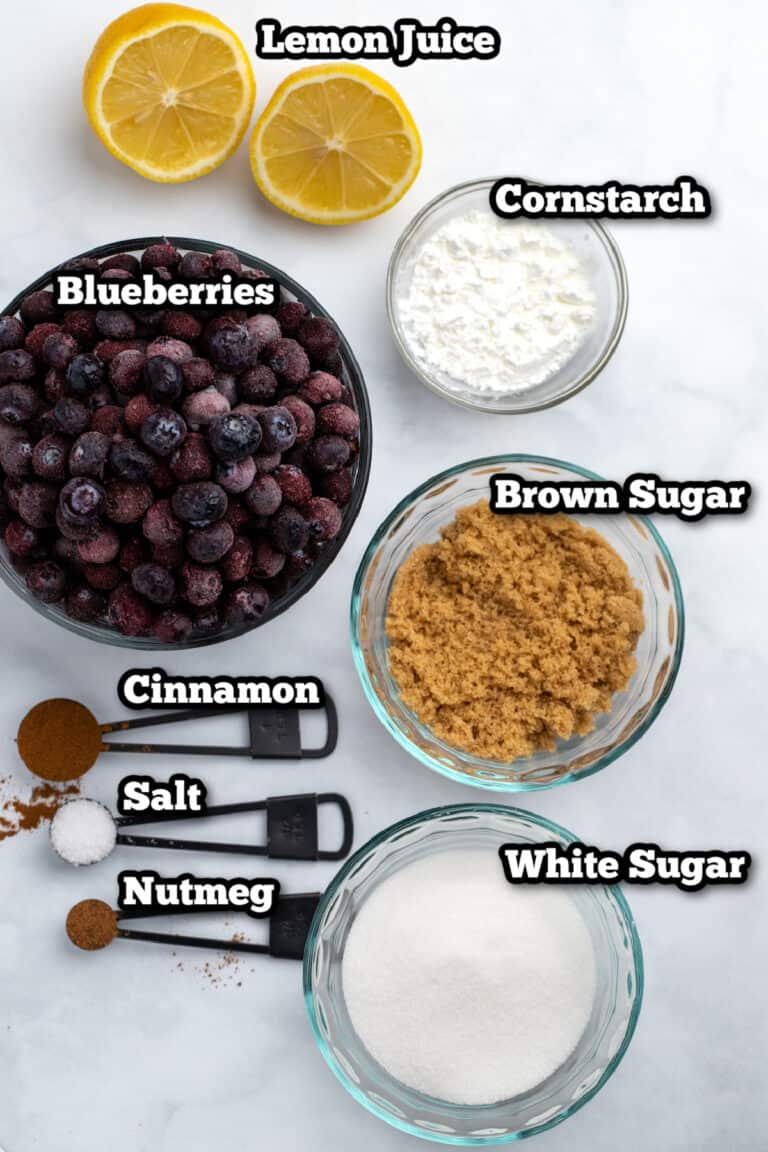 I've made sure each ingredient in this recipe will get you to the perfect level of sweetness and indulgence, so you'll keep coming back to this recipe every Thanksgiving and Christmas!
Blueberries. You can use fresh or frozen blueberries for this dish interchangeably. I like to keep a bag of frozen blueberries in my freezer for oatmeal or smoothies in the morning, so I almost always have frozen blueberries on hand! If you go with fresh blueberries, you may need to add more water to the recipe, depending on how much juice they release.
Sugar. I like to use a combination of white sugar and brown sugar. White sugar adds a lot of sweetness, and brown sugar will have hints of molasses that add a much deeper flavor to the dish. You can use all white sugar if that's what you have.
Lemon Juice. Lemon juice adds a brightness to the flavor of this filling, because of its acidity. It's a great way to balance out the sweet flavors in a lot of dessert recipes. If you're using a fruit like apples or pears, it also helps stop the fruit from oxidizing so it doesn't turn brown while you're prepping everything.
Corn Starch. This is a 100% necessity in this recipe, because it's what gives your homemade pie filling a thicker consistency. If you leave the corn starch out, the filling will either be too thin or have to be cooked down for a much longer time until it becomes thick and syrupy.
Cinnamon and Nutmeg. These spices are a personal preference, because I think they add a really delicious flavor that fits in with the holidays. You can leave these out if they're not your cup of tea, or add your own blend of spices instead.
Pinch of Salt. Adding a small amount salt to a dessert dish helps balance out the sweetness of the granulated sugar. This rounds out the flavor nicely, so you don't leave the dish thinking that it's overly sweet. But only a pinch! If you add too much, you'll get a sweet and salty flavor. While that's nice in recipes like salted caramel, we aren't going for that here.
How to Make Blueberry Pie Filling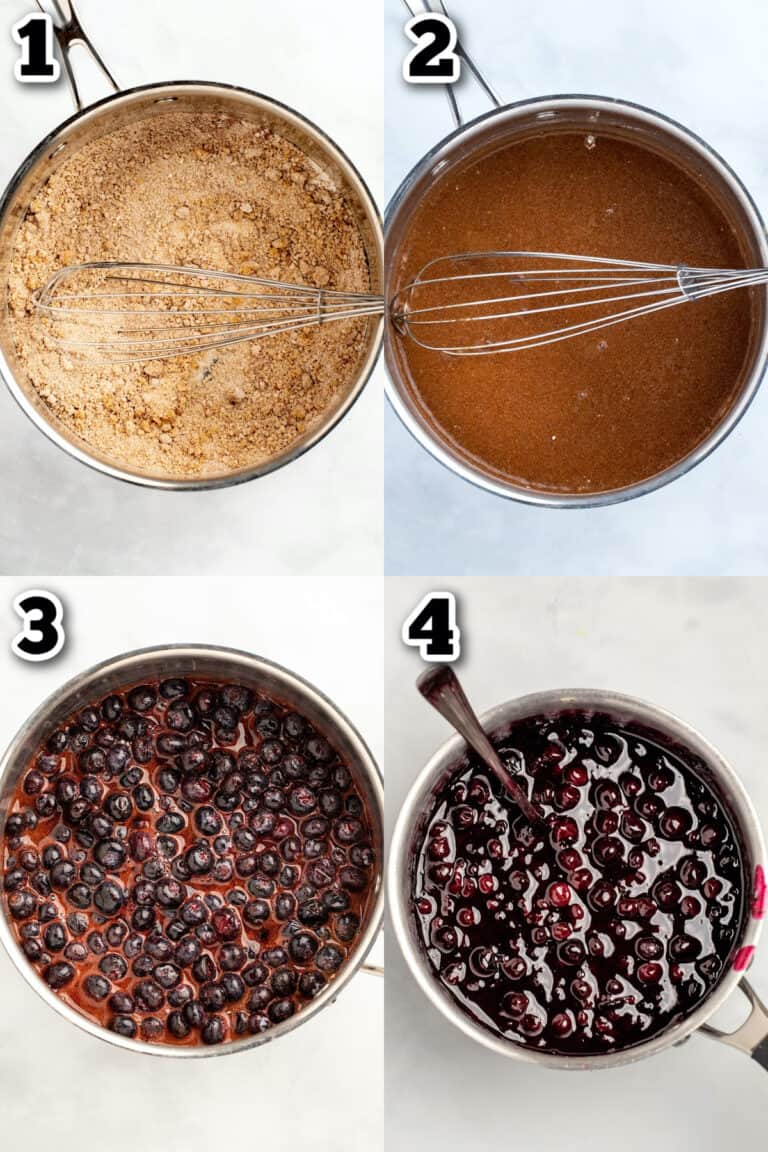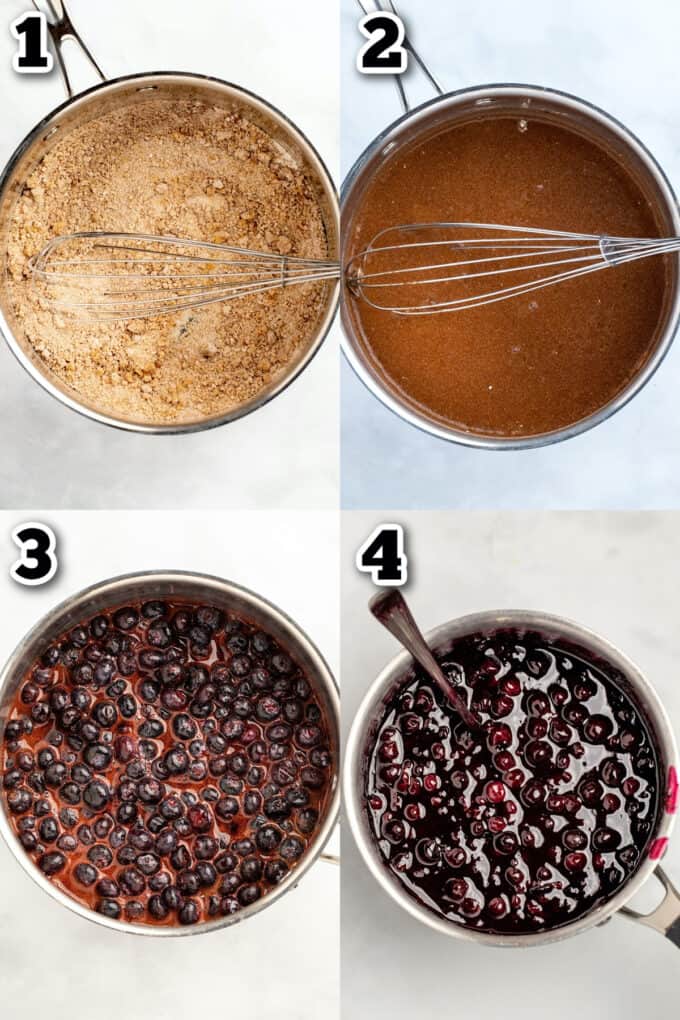 Whisk all of your dry ingredients together. Try to break up the cornstarch as much as possible to help prevent any lumps in your final syrup.
Whisk in your liquid ingredients. Still trying to break up any lumps you see and get everything mixed together. At this point I only add 1/4 cup of water, and reserve another 1/4 cup for later, depending on how much water the blueberries release. Frozen blueberries usually release more liquid, so wait and add more water as needed!
Add the blueberries. Use a spoon to stir everything together, coating the blueberries in the sugar mixture.
Cook until blueberries cook down and syrup thickens. The sugar will melt and the cornstarch will thicken the syrup while the blueberries cook down. You should end up with a sweet thick blueberry mixture. If it's too thick or hard to stir, slowly stir in a little bit of water at a time until it reaches the right consistency.
Jacqui's Tip! If your breadcrumbs aren't toasted as much as you'd like, turn the broiler on for a minute. Watch your casserole carefully during this, because it can burn really fast! 
How to Use Extra Blueberry Pie Filling
Over pancakes, french toast, or waffles on Christmas or Thanksgiving morning
On yogurt with a handful of granola
As an oatmeal topping
On top of a cake, ice cream cake, or cheesecake
As an ice cream topping
Use pie crust scraps to make mini blueberry pies!
Frequently Asked Questions
Why would you precook the fruit for pie filling?
You want to precook your pie filling because it lets you control the consistency and the moisture level. The fruit filling most likely won't set right, or it'll be too watery, if you just add everything to the pie crust and cook it all together. You can check out my pie crust recipe for instructions on how to prep the crust ahead of time. 
How do you thicken blueberry pie filling?
This recipe is using corn starch to thicken the filling. You have to add the corn starch to the other ingredients while it is still cold, and gradually heat it for the recipe to work properly. If you forget, you can add the corn starch to a little bit of cold water, whisk well, then add slowly to the blueberry mixture over medium heat. 
You can also thicken pie filling with gluten free 1-to-1 flour, using twice as much as you would have used for corn starch. Personally, I think the corn starch tastes and looks better. If you add too much flour, add a little bit more water and stir until desired consistency.
How do you store pie filling?
In the refrigerator, this blueberry pie filling recipe will keep for up to 1 week in an airtight container. 
In the freezer, this blueberry pie filling recipe will keep tightly wrapped in the freezer for 3-4 months. Make sure it's airtight, to avoid freezer burn.
Jacqui's Tip! Let your homemade blueberry pie filling cool completely, then freeze it in a metal pie pan lined with a double layer of plastic wrap. The frozen filling will take the shape of your pie, and you can pop it out of the pan and store it in the freezer. You can add the frozen filling directly to your pie crust and bake, adding roughly 30 minutes to the cooking time.
More Holiday Dessert Recipes
Tips and Tricks
If you want to add some color, you can grate some lemon zest on top of your filling for presentation and some fresh flavor.
If you want to try canning your pie filling check out this home canning guide.
If you're making a pie, let the filling cool completely before adding it to the pie crust to prevent the crust from baking unevenly or too quickly.
This goes exceptionally well in fresh blueberry pie or over vanilla ice cream!
You can use any berries with this recipe, or substitute a few cups of blueberries for another fruit and mix them together. Any of the usual juicy berries or good quality fruits will work in this recipe.
For a more natural version, substitute 1 cup sugar for 3/4 cup honey or maple syrup.
This recipe works with both frozen blueberries and other fresh fruit.
If your filling is too sweet, try adding a tablespoon lemon juice and a pinch salt to balance out the sweetness.
For a less traditional option, check out my gluten free graham cracker crust!
If you loved this recipe, be sure to leave a 5 Star review below, and tag me with a photo of your finished recipe on instagram @Jacqui_DishingDelish!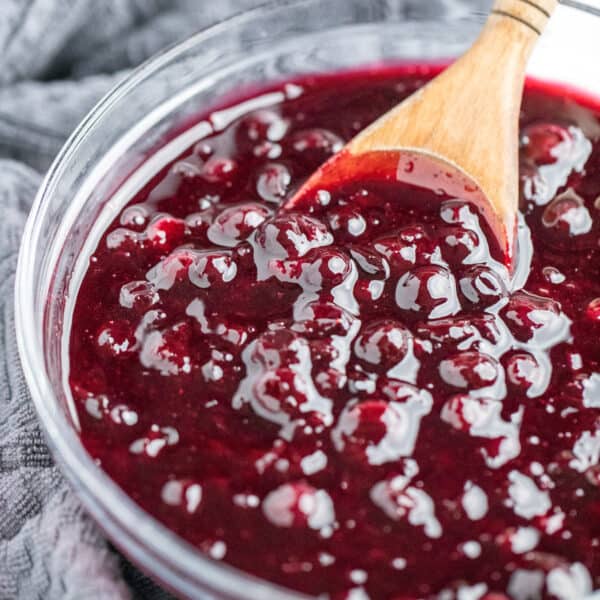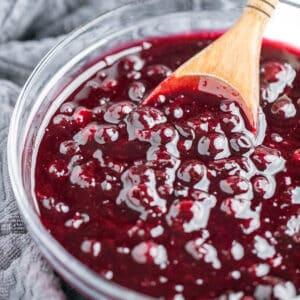 Blueberry Pie Filling
Blueberry Pie Filling made with blueberries simmered in sugar with cinnamon, nutmeg, and a dash of lemon juice is the perfect fruit filling for the holidays and ready in 20 minutes!
Ingredients
1/2

cup

light brown sugar

1/2

cup

white sugar

2

tablespoons

cornstarch

,

gluten free

1

teaspoon

ground cinnamon

1/2

teaspoon

salt

1/4

teaspoon

nutmeg

1

tablespoon

lemon juice

1/2

cup

water

6

cups

frozen blueberries
Instructions
In a saucepan mix together sugar, cornstarch, and spices, breaking up any lumps. Whisk in lemon juice and 1/4 cup of water. Stir in blueberries until coated in sugar mixture.

Cook over medium heat, stirring until blueberries cook down and syrup thickens, about

10-15 minutes

. Add reserved 1/4 cup of water as needed until syrup reaches desired consistency.

Remove from heat and allow to cool completely before storing.
Notes
Click on the time in the instructions to start a timer!
Syrup Thickness. Reserve 1/4 cup of the water to add if your syrup is too thick. This is because frozen blueberries can release a lot of water as they cook down, and I don't defrost them first. Add water as needed. You want the syrup to be thick but not difficult to stir. 
Syrup Creaminess. I like the filling to be a simple sugar syrup, but you can add 1/2 – 1 tablespoon of butter if you want it to be more creamy.
Fresh blueberries. If you're using fresh (not frozen) blueberries, you may need to increase the amount of water you add. Start with the recipe as written and add a few tablespoons of water at a time, to avoid adding too much. It depends on how juicy your blueberries are. 
Storage. This recipe will keep in the refrigerator for 1 week, or frozen for up to 4 months. Store in an airtight container to avoid freezer burn.
Spices. I add these for flavor but you can leave them out completely if you want a simple base recipe. 
Sugar. You can replace the brown sugar with more white sugar for this recipe if that's what you have. You can also substitute the sugar for 3/4 cup of maple syrup or honey if you want a natural alternative. 
Sweetness. If you feel like your pie filling is too sweet, balance it out with lemon juice, lemon zest, or a pinch of salt.
Other fruit. Use this recipe with other fruits like strawberries, raspberries, or blackberries for different pie fillings.
Nutrition
Calories:
115
kcal
(6%)
Carbohydrates:
30
g
(10%)
Protein:
1
g
(2%)
Fat:
1
g
(2%)
Saturated Fat:
1
g
(6%)
Polyunsaturated Fat:
1
g
Monounsaturated Fat:
1
g
Sodium:
101
mg
(4%)
Potassium:
72
mg
(2%)
Fiber:
2
g
(8%)
Sugar:
25
g
(28%)
Vitamin A:
41
IU
(1%)
Vitamin C:
8
mg
(10%)
Calcium:
14
mg
(1%)
Iron:
1
mg
(6%)
We are a participant in both the RewardStyle and Amazon Services LLC Associates Program, which are affiliate advertising programs designed to provide a means for sites to earn advertising fees by advertising and linking to amazon.com and through RewardStyle.