Cauliflower Au Gratin
This post may contain affiliate links. Please check our privacy and disclosure policy.
Cauliflower Au Gratin made with fresh roasted cauliflower, onion, and bell peppers in a creamy, cheesy sauce topped with breadcrumbs broiled for a crispy crust!
This is one of my favorite recipes to make for Thanksgiving, along with this Broccoli Cauliflower Casserole and Loaded Baked Potato Casserole! Or try these quick and easy Baked Potato Bar Ideas!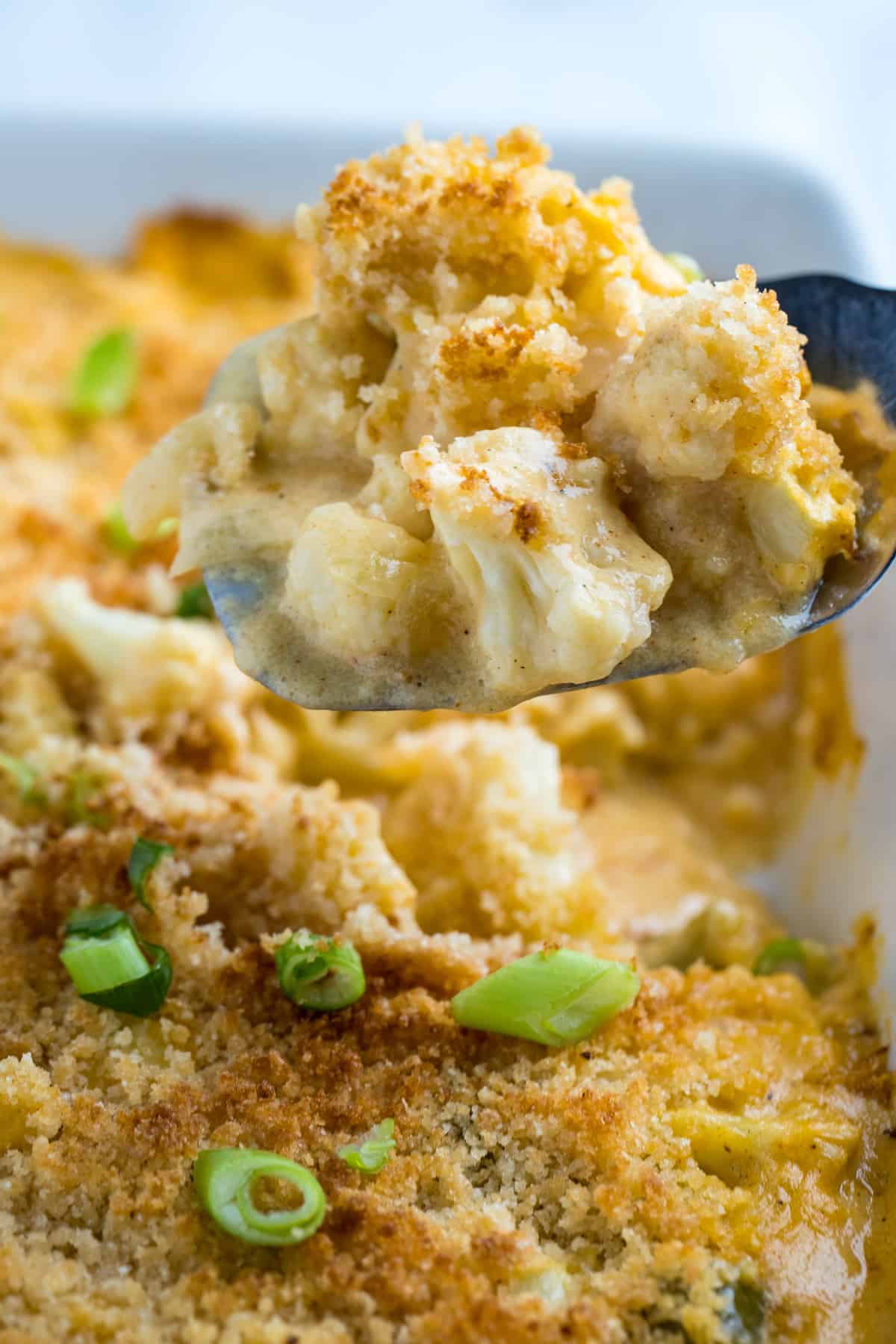 Cauliflower Au Gratin is one of my all-time favorite dishes to make for the holidays, and always gets requested for Thanksgiving and Christmas dinner. It's a great side dish that has a lower carb vegetable, while also having the indulgence of the creamy cheese sauce and a crispy crust on top. It's great for potlucks, too!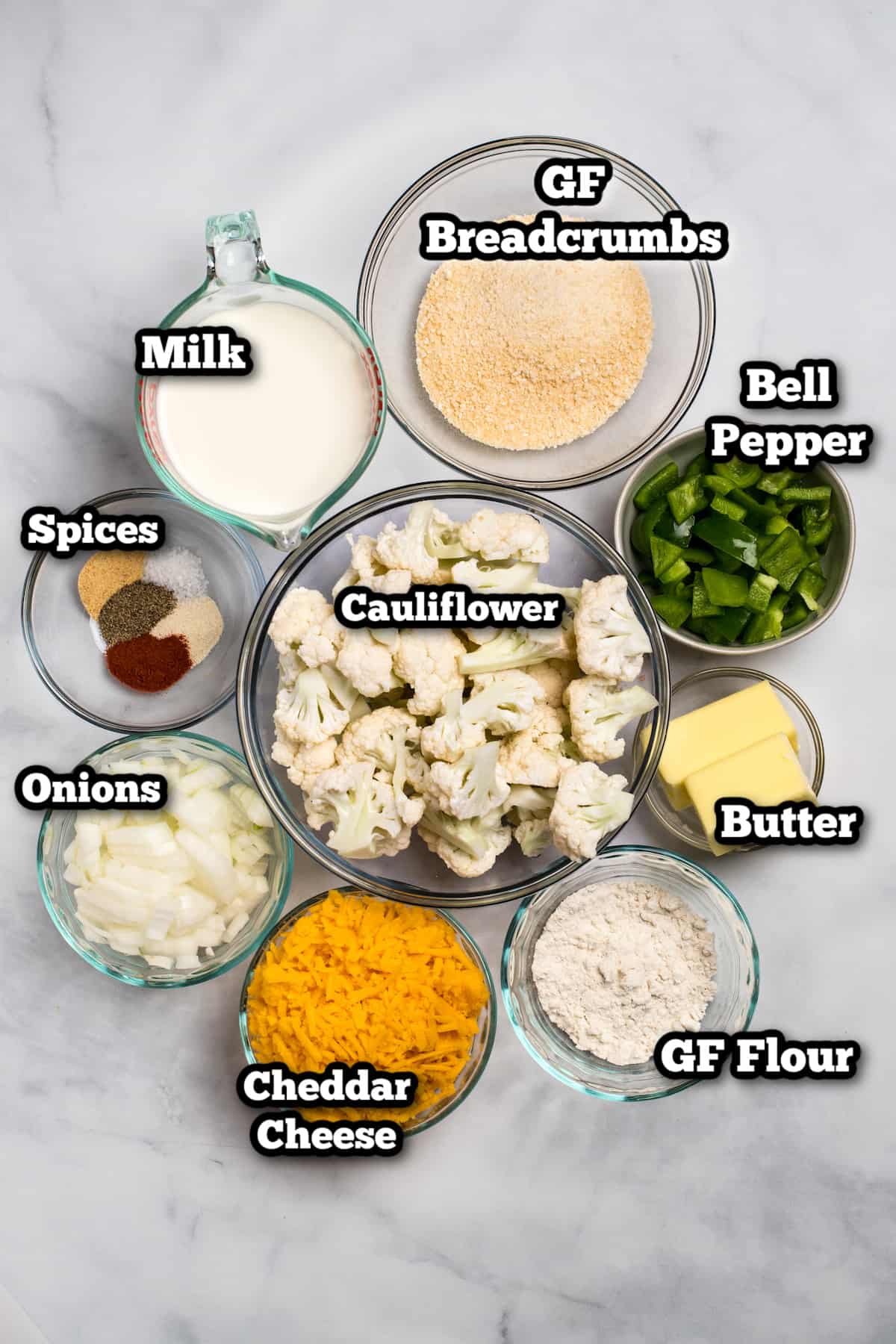 What You'll Need
Cauliflower – The star of the show here. You can also make this recipe with other veggies like broccoli or zucchini. Or try a mix of all three!
Onion & Bell Pepper – I like to add the onion and bell pepper for flavor and variety. If you don't have them, just leave them out.
Cheddar Cheese – I like to use the same sauce that I usually use for mac and cheese, which calls for sharp cheddar. You can swap this out for any melting cheese that you have, including mozzarella and parmesan cheese, gruyere cheese, or even Monterey jack cheese.
The key here is to buy the actual block, and shred it yourself. The pre-shredded cheese usually has added ingredients that will make the sauce gritty.
Gluten Free Breadcrumbs – You can use seasoned, unseasoned, or gluten free panko breadcrumbs here. The most important part is that they're mixed thoroughly with the butter, so they'll get crispy in the oven.
Butter – I like to use unsalted butter, so I can add the salt to taste later.
Gluten Free Flour – The amount of flour here controls how thick your sauce turns out. If the sauce is too thick for your taste, whisk in more milk until you reach the desired texture.
Milk – I use regular or 2% milk for most my my home cooking, but you can also use heavy cream or half and half here if you want more richness.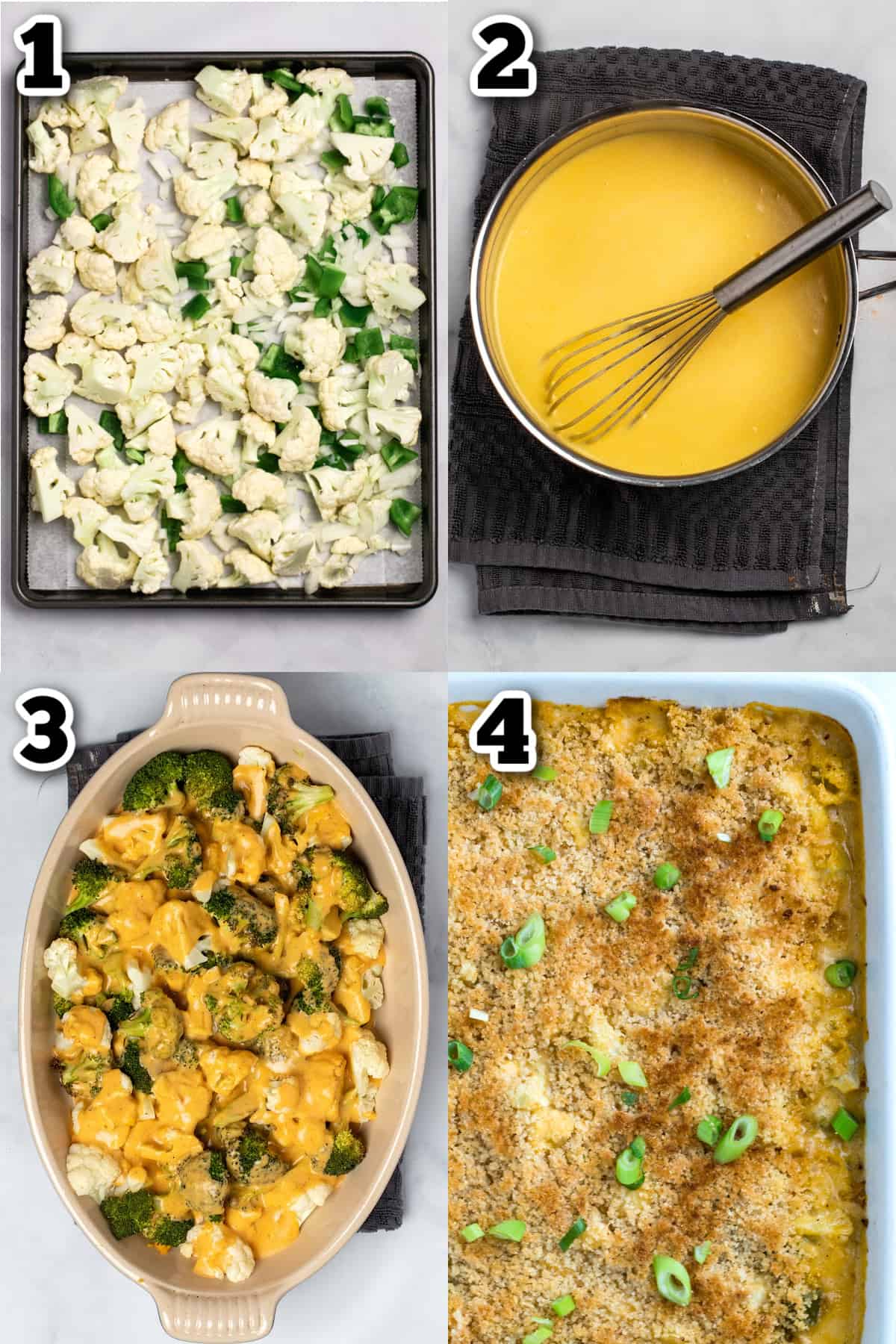 How to Make Cauliflower Au Gratin
Preheat oven to 400°F. Place your cauliflower, onion, and bell pepper on a baking sheet lined with parchment paper. Spread out evenly and bake for 20 minutes.
While that's baking, melt the butter in a saucepan over medium heat. Whisk in flour and cook for another 2-3 minutes, whisking until the flour starts to brown. Add your salt and black pepper.
Whisk in milk, stirring often until it starts to thicken. Then add the shredded cheddar and stir until the cheese is melted and mixed through. Remove from heat and set aside.
Grease a large baking dish and transfer vegetables into the dish. Cover with cheese sauce and use a big spoon to stir everything together.
Combine breadcrumbs and remaining 4 tablespoons of melted butter, and sprinkle evenly on top of the cauliflower. Bake for 15-20 minutes, or until browned on top. Turn on the broiler for the last 1-2 minutes for an extra crispy topping (watching carefully so it doesn't burn).
Jacqui's Tip! When you turn the broiler on, watch it really carefully so it doesn't burn! It'll happen quick!
Frequently Asked Questions
Why does cauliflower cheese go watery?
Your cheesy cauliflower au gratin might end up with a watery cheese sauce because the cauliflower released a lot of water when cooking. To prevent this, make sure you cook your veggies beforehand and drain off any excess water. 
What does au gratin mean?
Au gratin basically means browned on the top. It's usually done with grated cheese but breadcrumbs are also acceptable, and often used with potatoes.
Can you make this cheesy cauliflower casserole recipe ahead of time?
Yes this is the perfect recipe to make the day before! Just follow the recipe as-is, and instead of baking the dish, carefully cover it and place it in the refrigerator. When you're ready, just finish the last 15-20 minutes in the oven at 400°F. Turn the broiler on for the last minute to crisp up the breadcrumbs.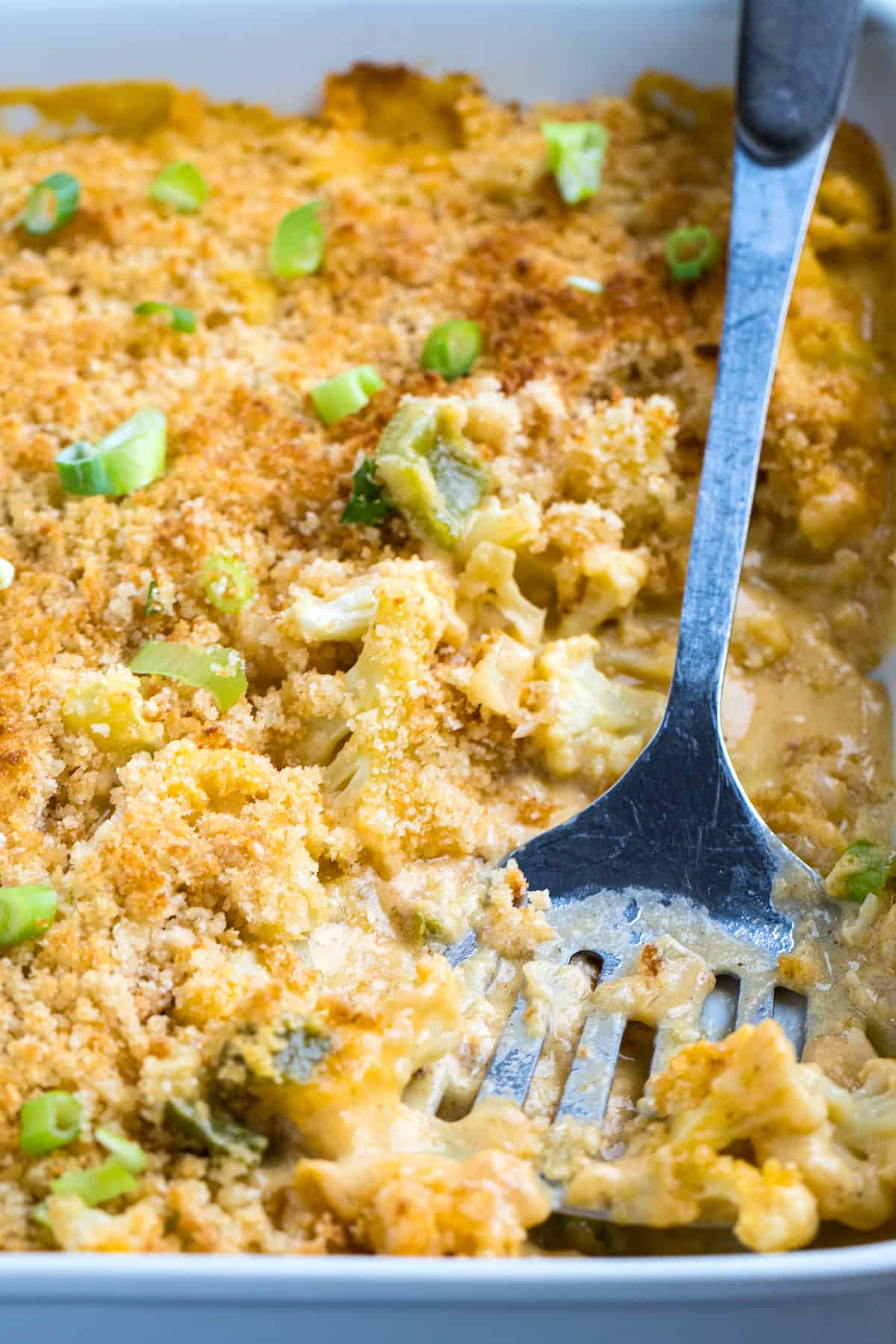 Jacqui's Tip! Cut up a cooked rotisserie chicken and mix in before baking for an all-in-one dish!
What to Serve with Cauliflower Au Gratin
This is a great holiday dish, so it goes really well with a Thanksgiving turkey or Christmas ham. If you're looking for more side dishes, try one of these!
Tips and Tricks
You can add whatever spices you'd like to this dish. I like to keep it simple with garlic powder, onion powder, paprika, salt and pepper. Some ideas to try would be taco seasoning, chipotle, extra garlic powder, or ranch seasoning. Or use some roasted cloves garlic!
Try adding 1/2 teaspoon cayenne pepper or red pepper flakes for a spicy dish.
This recipe works with other veggies like broccoli, zucchini, string beans, or potatoes. It's a great way to use up leftover veggies from the night before!
Make this a loaded cauliflower casserole by topping it with crispy cooked bacon and green onions, and serving with sour cream. You can use regular slices bacon or turkey bacon to keep it lighter.
This recipe works best with fresh cauliflower. I cut my own cauliflower florets from a head cauliflower, but if you have frozen you can steam them and drain off the excess liquid before baking. I let steamed cauliflower sit for a few minutes to make sure the water is all drained out.
How many cups cauliflower florets you get depends on how big your initial head of cauliflower is. I usually buy 2-3 heads of cauliflower for this recipe. Any leftovers I'll throw into a salad for lunch the next day.
I like to use a deep casserole dish, so I can add as many layers of veggies as I want.
You can use steamed cauliflower rice for this recipe, but you'll end up with more of a creamy cauliflower instead of the texture you'd get with whole cauliflower florets.
Make this a cauliflower potato bake by adding some thinly sliced potatoes, or a bag of hash browns (defrosted and drained).
If you loved this recipe, be sure to leave a 5 Star review below, and tag me with a photo of your finished recipe on Instagram @Jacqui_DishingDelish!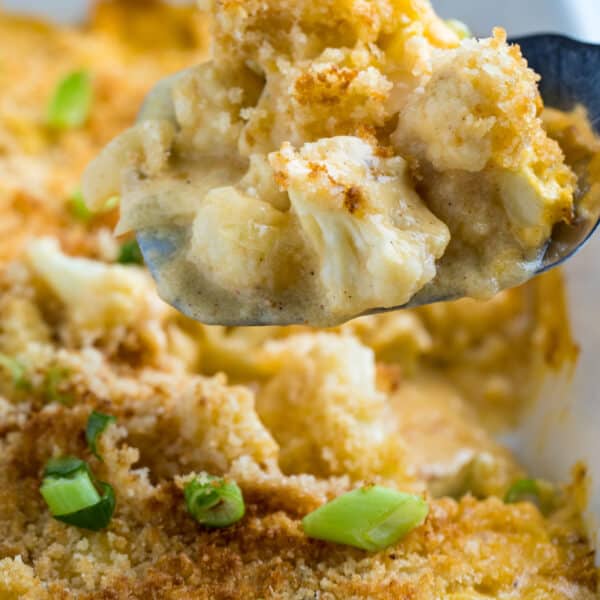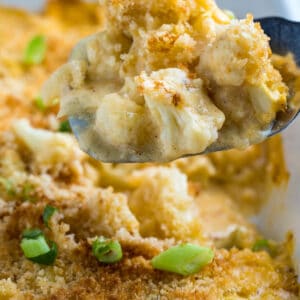 Cauliflower Au Gratin
Cauliflower Au Gratin made with fresh roasted cauliflower, onion, and bell peppers in a creamy, cheesy sauce topped with breadcrumbs broiled for a crispy crust!
Ingredients
Casserole
9

cups

cauliflower florets

,

chopped

1

medium

bell pepper

,

chopped

1

medium

Vidalia onion

,

chopped

4

tablespoons

unsalted butter

3

tablespoons

gluten free all-purpose flour

3

cups

2% milk

1 3/4

cups

cheddar cheese

,

shredded

1/2

teaspoon

salt

1/2

teaspoon

black pepper

1/2

teaspoon

garlic powder

1/2

teaspoon

paprika

1/2

teaspoon

onion powder
Breadcrumb Topping
2/3

cup

gluten free breadcrumbs

,

plain

4

tablespoons

unsalted butter

,

melted
Equipment
1 baking dish

1 Saucepan

1 baking sheet
Instructions
Preheat oven to 400°F. Line a baking sheet with parchment paper. Place cauliflower, bell pepper, and onion on the baking sheet and bake for

20 minutes

.

While the vegetables are cooking, melt 4 tablespoons of butter in a saucepan over medium heat. Add flour and whisk until flour begins to brown, then whisk in spices.

Add milk and whisk until mixture begins to thicken. Add cheese and stir until melted. Remove from heat and set aside.

Grease a large casserole dish. When vegetables are done, remove from sheet pan and add to casserole dish. Pour cheese sauce over cauliflower and stir to mix everything together.

In a separate bowl stir together breadcrumbs and melted butter. Make sure breadcrumbs are completely wet. Sprinkle on top evenly.

Bake uncovered for

15-20 minutes

, or until breadcrumb topping is golden brown. Turn on broiler for the last

minute or two

if the topping isn't browned, watching closely to make sure it doesn't burn.
Notes
Click on the time in the instructions to start a timer!
Cheese. It's best to shred the cheese yourself from a block. This prevents any unnecessary ingredients that might prevent the cheese from melting into your sauce.  
Substitutions.
Swap the cauliflower for broccoli, green beans, or squash. 
Use heavy cream or half and half instead of 2% milk for a richer texture. 
You can swap the spices for Ranch seasoning or taco seasoning! Or try fresh herbs like parsley or thyme. Or add cooked chicken.
Add red pepper flakes, cayenne pepper, or diced jalapeños to make it spicy.
Make it Vegan
Swap the butter with vegan butter
Use plain almond milk or vegetable broth instead of milk. If you use broth, it will be more like a gravy, but still tasty!
Use a good melting vegan cheese. 
Storage
You can store cauliflower au gratin in an airtight container in the refrigerator for 3-4 days. 
This recipe does not freeze well.
Make Ahead
You can make this recipe the day before. Follow all steps as written, but right after you add the breadcrumb topping, wrap tightly and refrigerate. 
Right before serving, bake for about 20 minutes at 400

°

F, or until topping is golden brown. If the top is getting too toasty, cover with tinfoil until it's done baking (careful – it's hot!).
Nutrition
Calories:
263
kcal
(13%)
Carbohydrates:
18
g
(6%)
Protein:
10
g
(20%)
Fat:
18
g
(28%)
Saturated Fat:
11
g
(69%)
Polyunsaturated Fat:
1
g
Monounsaturated Fat:
4
g
Trans Fat:
0.4
g
Cholesterol:
50
mg
(17%)
Sodium:
310
mg
(13%)
Potassium:
457
mg
(13%)
Fiber:
3
g
(13%)
Sugar:
8
g
(9%)
Vitamin A:
973
IU
(19%)
Vitamin C:
60
mg
(73%)
Calcium:
257
mg
(26%)
Iron:
1
mg
(6%)
We are a participant in both the RewardStyle and Amazon Services LLC Associates Program, which are affiliate advertising programs designed to provide a means for sites to earn advertising fees by advertising and linking to amazon.com and through RewardStyle.