Asparagus Stuffed Chicken with Swiss
This post may contain affiliate links. Please check our privacy and disclosure policy.
Tender chicken breast stuffed with healthy asparagus, swiss cheese, and savory pesto. Asparagus Stuffed Chicken with Swiss is so simple to make, yet super fancy. This may be your favorite go-to Valentine's Day meal!
Ok, this Asparagus Stuffed Chicken with Swiss is SERIOUSLY easy to make!
All you have to do is roll some fresh asparagus and swiss with a spoonful of pesto inside of a chicken breast, stick a toothpick in it, and bake.
That's it! It doesn't get much easier than this. And the best part? It looks so fancy, that the special person you're cooking for this year won't know that you didn't spend hours making it!
Do you remember earlier this week when I shared with you some of my FAVORITE chocolate recipes from other gluten free bloggers? Well, here's the dinner you can serve beforehand this Valentine's Day!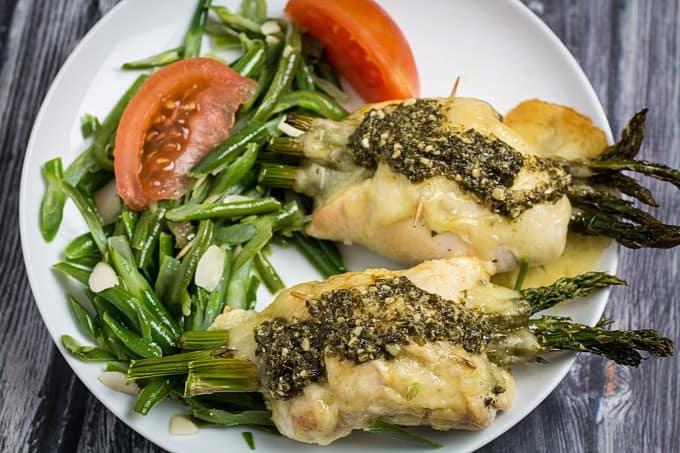 So, big news first! I received a job offer last week, and Andrew and I are moving to Florida! My sister already living there, along with some relatives of mine. I've been visiting Florida at least twice a year since I can remember, so I know that we already love the area.
As much as I love New York City, Andrew and I are just ready for some southern living. Don't get me wrong, you'll never be able to take the Broadway or Central Park out of the girl. But for now, I'll take dolphins, sunsets, and some of the best damn seafood in the country.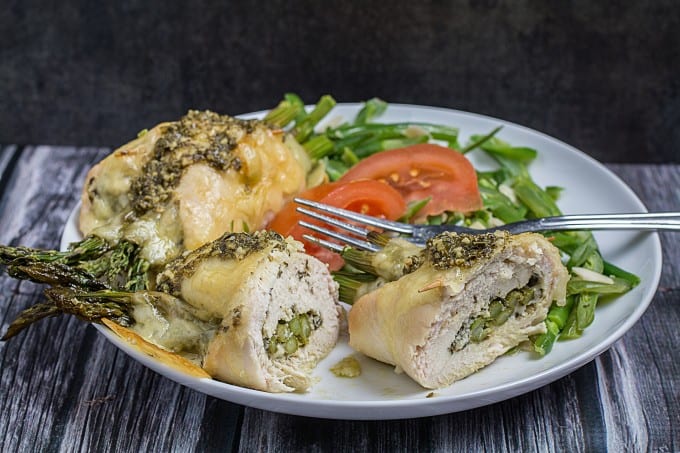 Reminiscing on my own romance, I'm especially excited to talk to you about one of my ALL TIME favorite authors, Nicholas Sparks. I'm really, really, really, really looking forward to seeing the new Nicholas Sparks movie, The Choice, which is out in theaters on February 5th.
The main characters are first brought together due to an encounter between their dogs! Their adorable pets play an important role in the story, which I absolutely love considering how much Andrew and I adore our two cats, Jazzy and Jupiter.
In fact, here are my writing partners now!
(aka The most spoiled kitties in the world. Seriously, Jupiter just gave me the cold shoulder for saying hello to Jazzy first when I got home today.)


Like many other Nicholas Sparks stories (ahem – not that I've read them ALL… but I may have read them all), the setting is coastal Carolina, and North Carolina plays a big part in the story. Southern living? Yes, please. It might not be Florida, but I'll still take it!
The novel was published in 2007, so this movie has really been a long time coming. It's about a man (Travis) and a woman (Gabby) who have separate lives, until Gabby moves in next door to Travis. They fall in love in the face of some pretty intense circumstances. This movie is about making difficult choices of the heart to find your destiny and perfect match.
Seriously, this is an amazing story. It has romance, tragedy, suspense, you name it!
Ok, I don't want to give too much away, so I'm going to stop there. I just love a good romance novel, and I love it even more when they turn those romance novels into movies.
Especially when it involves Nicholas Sparks.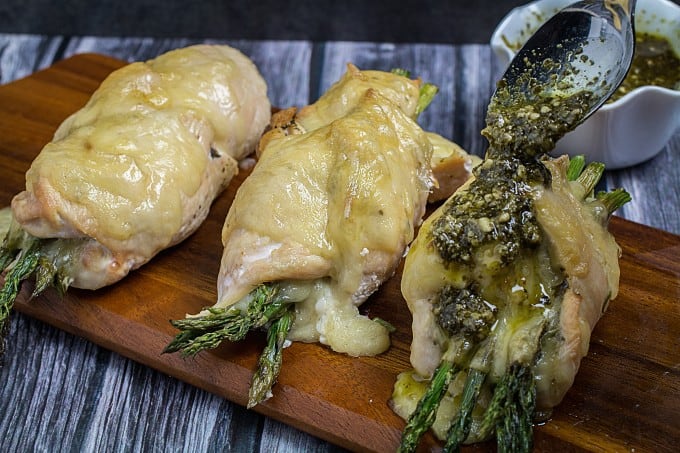 And in the spirit of romance, I'm so excited to share this dish with you. Not only is it REALLY easy to make, it's also the first thing my fiancé Andrew ever cooked for me. Which is perfect considering Valentine's Day is right around the corner!
This dish will always hold a special place in my heart. I still remember the smile on Andrew's face when he made it for us for the first time. We had only been dating a few weeks at this point, and he wasn't much of a cook.
Now, 6 years later, we're planning our wedding. We've been engaged for over a year and a half now, and we've FINALLY started to move forward with the planning. Since we'll be in Florida, we're thinking of venues on the beach, and in the early spring. It won't be too hot, there's a nice ocean breeze, and the water is nice and clear in the Gulf of Mexico.
I'm sure whatever we pick will be beautiful. There's also talk of the Tampa aquarium. Either way, I can't wait to get down there and start looking.
Until then? I'll be in my kitchen.
Enjoying this incredibly EASY-to-make Asparagus Stuffed Chicken with Swiss. It really don't get much better than this. All you have to do is roll the chicken around the asparagus, cheese, and pesto, put a toothpick in it, and bake. The result? Savory, cheesy deliciousness.
Simple. Easy. Impressive.
Date night, anyone?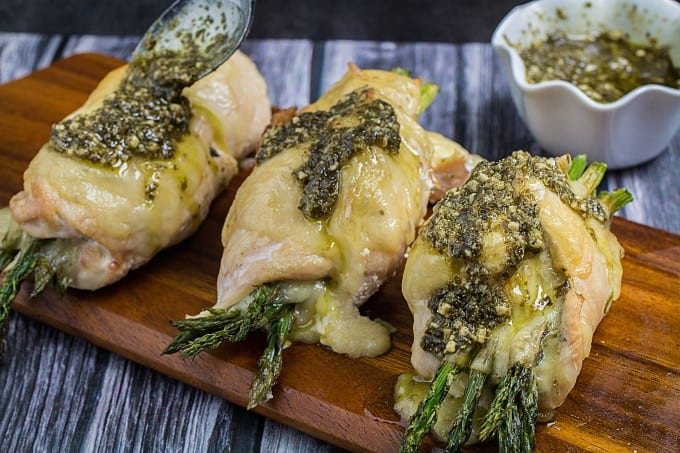 If you like this recipe, be sure to follow me Here on Pinterest!
You can also check out gluten free recipes from other food bloggers Here on Facebook!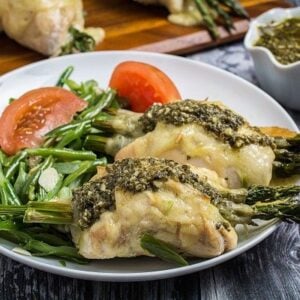 Asparagus Stuffed Chicken with Swiss
Asparagus Stuffed Chicken with Swiss is tender chicken breast stuffed with healthy asparagus, swiss cheese, and savory pesto. It's so simple to make, yet super fancy!
Ingredients
For the Chicken
4

large

chicken breasts

,

cut in half lengthwise

20

medium

spears of asparagus

,

(about 2 bunches)

12

slices

Swiss cheese

4

tbsp

pre-made pesto

,

gluten free
Instructions
Preheat oven to 375°F.

Place about 1 tbsp pesto on chicken breast. Place 1 slice Swiss cheese and 4-5 spears of asparagus over pesto.

Roll chicken around asparagus and use a toothpick to hold chicken in place. Place in a greased baking dish, top with remaining Swiss, and spoon any remaining pesto over chicken evenly.

Bake for

40-50 minutes

, or until chicken is cooked through.
Notes
Click on the time in the instructions to start a timer!
Nutrition
Calories:
525
kcal
(26%)
Carbohydrates:
7
g
(2%)
Protein:
64
g
(128%)
Fat:
26
g
(40%)
Saturated Fat:
11
g
(69%)
Polyunsaturated Fat:
1
g
Monounsaturated Fat:
5
g
Trans Fat:
1
g
Cholesterol:
193
mg
(64%)
Sodium:
502
mg
(22%)
Potassium:
1037
mg
(30%)
Fiber:
2
g
(8%)
Sugar:
3
g
(3%)
Vitamin A:
1398
IU
(28%)
Vitamin C:
7
mg
(8%)
Calcium:
458
mg
(46%)
Iron:
3
mg
(17%)
I was selected for this opportunity as a member of Clever Girls and the content and opinions expressed here are all my own.
We are a participant in both the RewardStyle and Amazon Services LLC Associates Program, which are affiliate advertising programs designed to provide a means for sites to earn advertising fees by advertising and linking to amazon.com and through RewardStyle.