Baked Parmesan Turkey Meatballs
This post may contain affiliate links. Please check our privacy and disclosure policy.
I'm writing today's post while mid-flight on my way to the IFT food science convention in Chicago. I'm really excited to check out some of the new and interesting products coming to the food industry this year. And, you know, eating my way through Chicago… since that's what these conventions are really about, right?
In retrospect, I should have prepared a more appropriate recipe, like a deep-dish Chicago style pizza. Unfortunately, it has been an incredibly busy week and I just did not think that far ahead.
While I may not have a Chicago-style recipe for you (sorry!), I am excited to know that by this evening I will diving into a gluten-free Chicago style deep dish pizza, and I am SO EXCITED. The restaurant I found has dedicated-gluten-free equipment for their pizza, and makes their own dough by hand. For gluten-free diners, finding pizza at a restaurant is tough, especially since they're usually the same pre-packaged crust brand no matter where you go, so unique flavors can be hard to come by.
Alas, the woes of a gluten-free foodie.
I was diagnosed with celiac disease when I was 14 years old, back when gluten free food was virtually non-existent. While I love traveling, sometimes it can be difficult to do so when eating gluten free is not a choice. For anyone who knows me personally, I apologize ahead of time for the giant nerd-out I will be having when I recount the delicious, cheesy Chicago-style pizza-goodness that I will be experiencing in T-minus 4 hours and counting.
Seriously guys, this is kind of a big deal.
For me, at least.
Gluten free pizza goodness aside, I do have a delicious recipe prepared for you today. For you, my wonderful readers, I have Baked Parmesan Turkey Meatballs. I'll admit it; I'm a parmesan snob. Living in the New York City area, I have access to some of the best Italian food available in the United States. Parmesan, fresh hand-made mozzarella, aged provolone, not to mention the prosciutto (ahem… REAL prosciutto), and porkroll (you may know this one as Taylor Ham, depending on what neighborhood you're from, but I will always stubbornly know it as porkroll).
So, when you make these meatballs, feel free to use any parmesan you have on hand. But keep in mind that the better quality your cheese, the tastier they will be, and in my opinion, the sharper the better. You may also want to look into Romano, Parmesan's tasty cousin. Either would work well for turkey meatballs.
I usually make these parmesan turkey meatballs in giant batches and freeze whatever we don't eat for later. I used an ice cream scoop to speed up making the actual meatballs and put them straight onto the baking sheet.
I work time, and sometimes I just don't have it in me to prepare a big meal after a 12-hour day.
Sometimes I haven't worked all day, and I'm just being lazy.
Either way, it's nice to have a backup option besides for fast food. Try freezing these turkey meatballs in batches of 5-10 (or however many you need depending on how many people you're feeding). Throw in some pasta and you have a tasty meal.
These turkey meatballs also go great with my Easy Marinara Sauce. Seriously, you'll never want to open a jar of marinara sauce again. I also used 4C gluten-free breadcrumbs for this recipe.
So, without further adieu, and because the flight attendant really wants me to put my laptop away now, I give you Baked Parmesan Turkey Meatballs.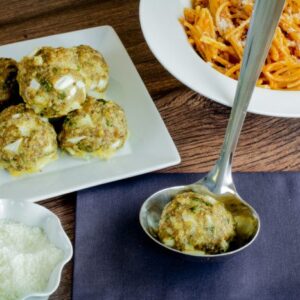 Baked Parmesan Turkey Meatballs
Baked Parmesan Turkey Meatballs are a quick and delicious addition to your dinnertime routine. Stuffed with herbs, cheese and lean turkey, these meatballs are a definitely crowd pleaser. Make ahead of time and freeze for later for a quick and healthy meal.
Ingredients
3

lbs

ground turkey

3

large

eggs

1

large

white onion

,

finely diced

1 1/4

cup

gluten free breadcrumbs

,

plain

1

cup

Parmesan cheese

,

grated

1

cup

mozzarella

,

shredded

1

cup

fresh parsley

,

chopped

2

tbsp

garlic powder

1

tbsp

basil

,

dried

1

tbsp

oregano

,

dried

1

tsp

kosher salt

1

tsp

black pepper
Instructions
Preheat oven to 375°F.

In a large mixing bowl combine breadcrumbs, parmesan cheese, parsley, garlic powder, basil, oregano, salt and pepper. Add ground turkey, mozzarella, onions and eggs.

Gently mix all ingredients together using hands until well combined. Using either your hands or an ice cream scoop, form meat into 1 1/2-inch balls (about 25 meatballs) and place them on a greased baking sheet, leaving space between each meatball.

Bake meatballs for

25-30 minutes

, or until golden brown and cooked through.
Notes
Click on the time in the instructions to start a timer!
If you are adding meatballs to marinara sauce, bake for about 15-20 minutes and finish cooking meatballs in simmering sauce for an additional 10 minutes.
Cooking time can vary depending on the size of your meatballs.
Nutrition
Calories:
126
kcal
(6%)
Carbohydrates:
6
g
(2%)
Protein:
17
g
(34%)
Fat:
4
g
(6%)
Saturated Fat:
2
g
(13%)
Polyunsaturated Fat:
1
g
Monounsaturated Fat:
1
g
Trans Fat:
1
g
Cholesterol:
59
mg
(20%)
Sodium:
263
mg
(11%)
Potassium:
220
mg
(6%)
Fiber:
1
g
(4%)
Sugar:
1
g
(1%)
Vitamin A:
318
IU
(6%)
Vitamin C:
4
mg
(5%)
Calcium:
94
mg
(9%)
Iron:
1
mg
(6%)
We are a participant in both the RewardStyle and Amazon Services LLC Associates Program, which are affiliate advertising programs designed to provide a means for sites to earn advertising fees by advertising and linking to amazon.com and through RewardStyle.