Raspberry Balsamic Pork Tenderloin
This post may contain affiliate links. Please check our privacy and disclosure policy.
Raspberry Balsamic Pork Tenderloin is quick and easy to make, made with juicy pork tenderloin cooked in a sweet sauce of raspberry jam, balsamic vinegar, and spices. It's the perfect blend of sweet and savory!
Boneless pork tenderloin is the perfect tender, juicy, and cost-effective cut to make on holidays. If you need more pork loin recipes, check out my Instant Pot Pork Loin Roast, or BBQ Slow Cooker Pork Loin & Sweet Potatoes!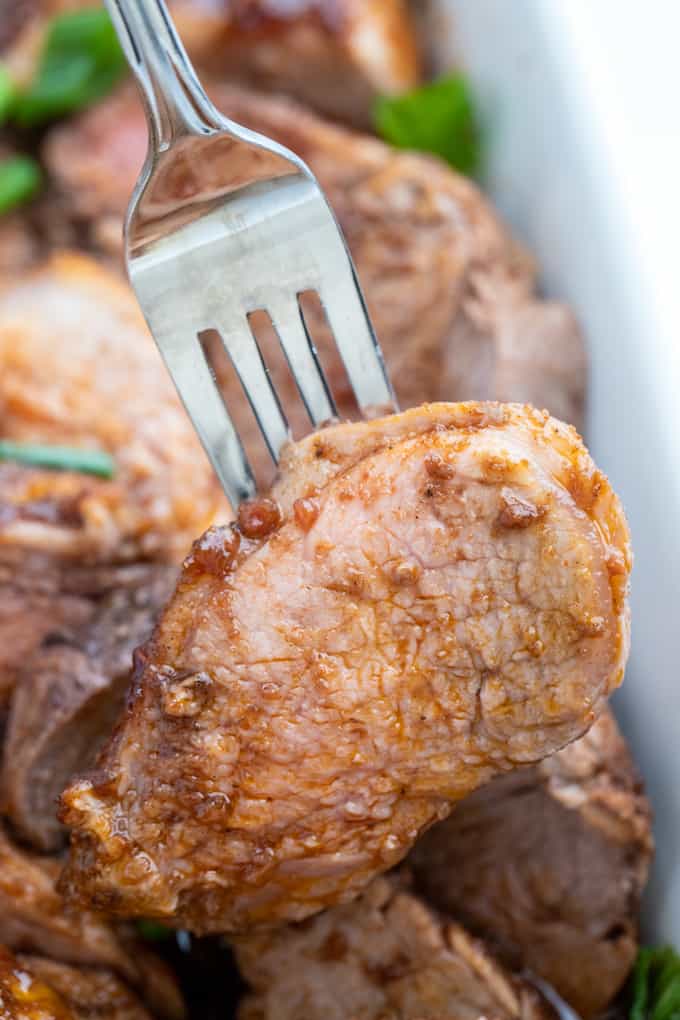 Raspberry Balsamic Roast Pork Tenderloin
Raspberry Balsamic Pork Tenderloin is one of my favorite pork recipes for special occasions, and a really easy and quick weeknight dinner. It's savory and sweet, and perfect for leftovers the next day. You can substitute the raspberry jam with other flavors like apricot or orange preserves depending on your preference.
At what temp should you cook pork tenderloin?
Pork tenderloin should always be cooked to a safe internal temperature of 145°F along with a 3 minute rest time, for a medium-rare result, according to pork.org. For medium cook to 150 – 155°F, medium-well 155 – 160°F, and well done at 160°F with a meat thermometer.
This temperature used to be 160°F, but the USDA changed this based on the advanced farming standards for foods in the US. You can read about it on the USDA website here, and in more detail at The Noshery over here. If you're not in the United States, check with your local authority on safe cooking temperatures in your country.
Over-cooking your pork tenderloin will result in a dry tough piece of meat, so watch it closely. This cut generally starts out on the leaner side, so it dries out easily.
Should you cover pork tenderloin in the oven?
You can cover pork tenderloin in the oven if you want to, but I usually don't. If I were cooking the pork tenderloin on top of vegetables or potatoes, then I would cover it to make sure the veggies don't undercook or burn on the edges.
If you notice any burning or accidentally set your oven too high at first, you can cover it with tinfoil until it reaches a safe internal temperature to prevent burning on the outside.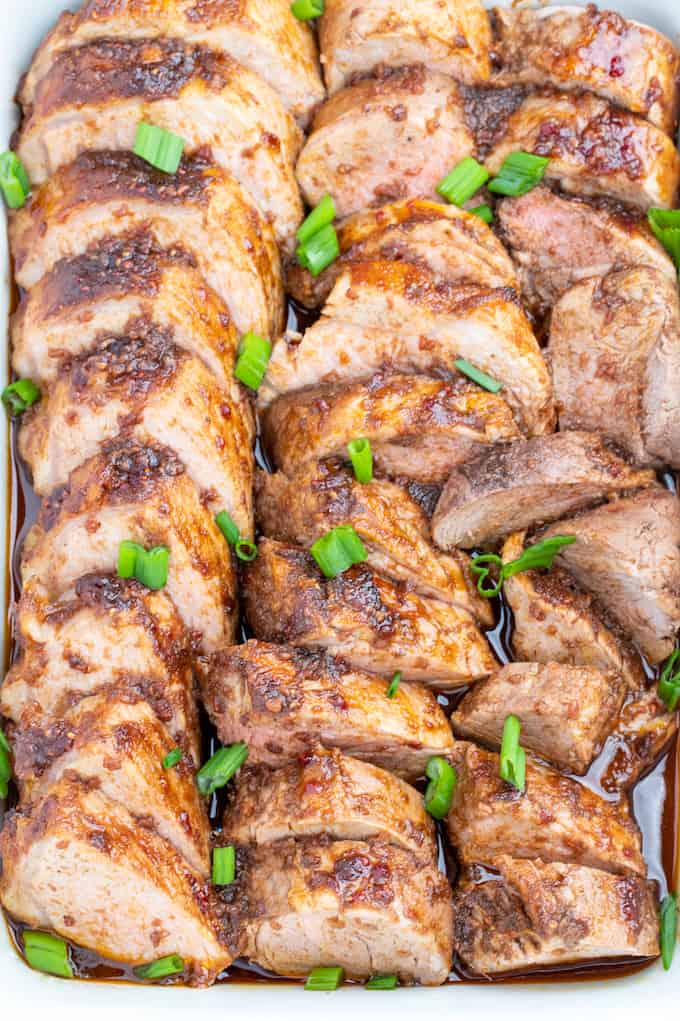 What is the difference between pork loin and pork tenderloin?
Pork loin can be bone-in (ribs) or boneless, comes from the back of the animal, and usually has a flatter appearance and is a more fatty cut. Pork chops are cut from pork loin. Pork loin is perfect for slow cooking methods, like the slow cooker, grill, roasted, or smoker.
Pork tenderloin is long and narrow, boneless, and also comes from the back of the animal. It's considered a lean cut, and perfect for faster cooking methods with higher heat like grilling or stir frying.
Can you substitute pork loin for pork tenderloin?
Pork loin and pork tenderloin are often confused because they sound very similar, but in the end they are different cuts of meat and generally cannot be substituted for each other.
Can you freeze pork tenderloin?
This is a great dish to make ahead and freeze in metal catering trays to save you some time. Cook completely, let it rest for at least 3 minutes, then cut into slices and place into the tray. Pour any leftover glaze or juice over, then let it cool down for 15-20 minutes. Wrap tightly in foil and then in plastic wrap to keep any freezer burn out.
When you're ready to serve, remove the plastic wrap and place in the refrigerator the night before to defrost completely, then leave covered and reheat in the oven at 325°F until it comes back to the safe internal cooking temperature.
What to serve with balsamic pork tenderloin?
I like to include one savory side dish like potatoes, along with some fresh ingredients like a spring mix salad or arugula. The pork itself is on the richer side, so it's important to balance out your dinner with some fresh picks.
Tips for Making This Recipe
The pork itself may release a lot of juice while cooking, which will mix with the glaze to make a sweet sauce. I usually cut it up after the 3 minute resting period, then put it back into the juices to serve.
This is also the perfect pork tenderloin recipe to soak in a garlic based marinade beforehand.
I always sear this cut first on all sides on medium-high heat in a large skillet with a tablespoon olive oil, before baking. The sear helps keep the cut juicy throughout the cooking process, and adds a really nice flavor to your final dish.
You can make this recipe with other cuts of pork, or use the glaze in another recipe like pork chops. Cooking times can vary depending on the size and cut you choose.
Add some more flavor with some fresh rosemary sprigs on the side of the pork before baking.
I make this with 2 pounds boneless pork loin because they are often sold in pairs, as one boneless pork tenderloin is usually around 1 pound.
Sometimes these are sold with silver skin, which looks like a thin layer of fat on top. Cut this off before cooking.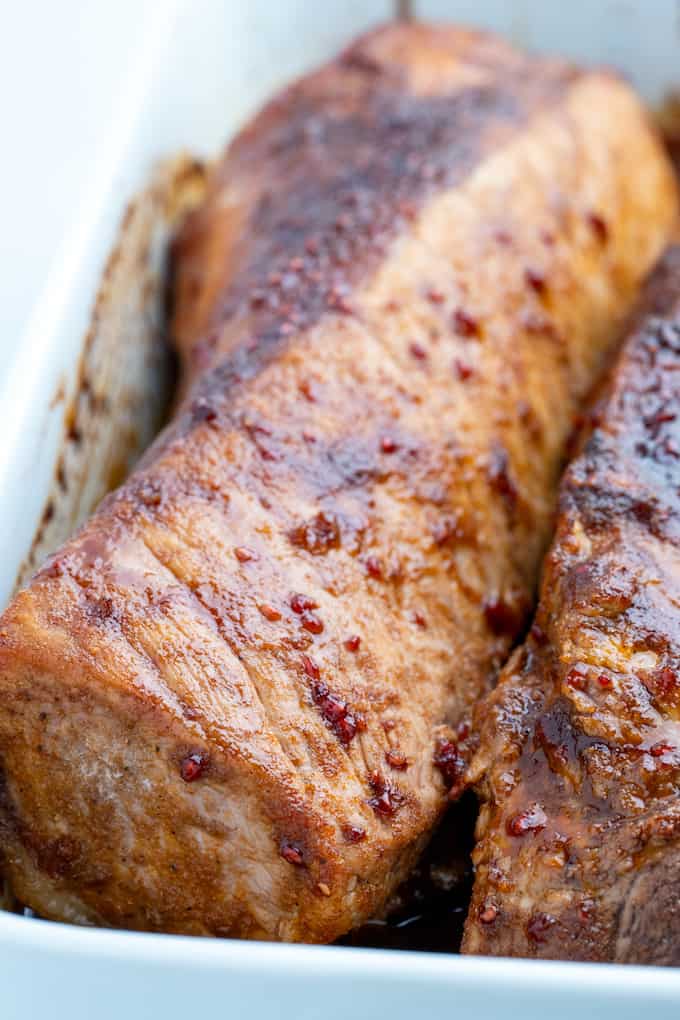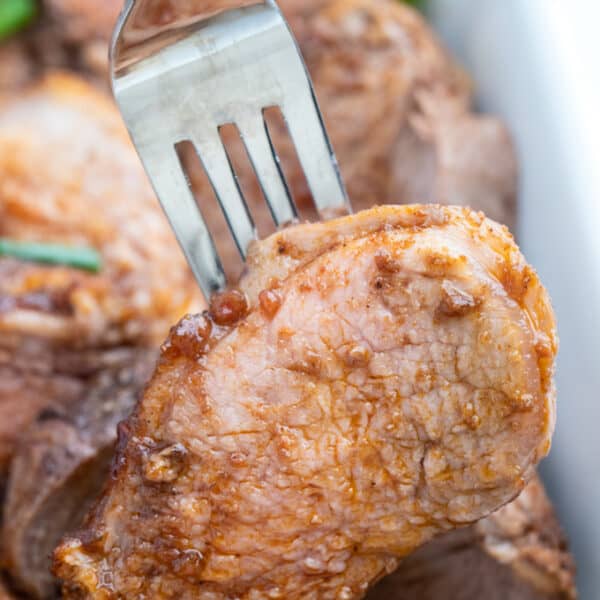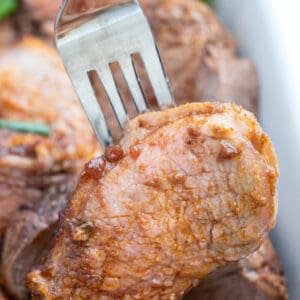 Raspberry Balsamic Pork Tenderloin
Raspberry Balsamic Pork Tenderloin is quick and easy to make, made with juicy pork tenderloin cooked in a sweet sauce of raspberry jam, balsamic vinegar, and spices. It's the perfect blend of sweet and savory!
Ingredients
2

lbs

pork tenderloin

,

(or 2 x 1 lb cuts)

3

tbsp

extra virgin olive oil

1

tsp

salt

1

tsp

black pepper
For the Glaze
1

cup

raspberry preserves

3

tbsp

balsamic vinegar

1

tbsp

paprika

2

tsp

onion powder

2

tsp

garlic powder
Instructions
Preheat oven to 425°F. Grease a large baking dish and set aside.

Heat olive oil in a large skillet over medium-high heat. Sprinkle salt and pepper on all sides of the tenderloin and quickly transfer to skillet. Brown on all sides, about

2-3 minutes

on each side. Transfer to baking dish.

Bake tenderloin for

15 minutes

uncovered. While this is cooking, whisk together all ingredients for the glaze in a small bowl.

Once

15 minutes

is up, carefully brush pork with glaze and bake another

15 minutes

, or until it reaches an internal temperature of 145°F. Rest for

3-5 minutes

before serving.
Notes
Click on the time in the instructions to start a timer!
Nutrition
Calories:
418
kcal
(21%)
Carbohydrates:
42
g
(14%)
Protein:
32
g
(64%)
Fat:
13
g
(20%)
Saturated Fat:
3
g
(19%)
Trans Fat:
1
g
Cholesterol:
98
mg
(33%)
Sodium:
488
mg
(21%)
Potassium:
696
mg
(20%)
Fiber:
1
g
(4%)
Sugar:
29
g
(32%)
Vitamin A:
579
IU
(12%)
Vitamin C:
5
mg
(6%)
Calcium:
30
mg
(3%)
Iron:
2
mg
(11%)
We are a participant in both the RewardStyle and Amazon Services LLC Associates Program, which are affiliate advertising programs designed to provide a means for sites to earn advertising fees by advertising and linking to amazon.com and through RewardStyle.